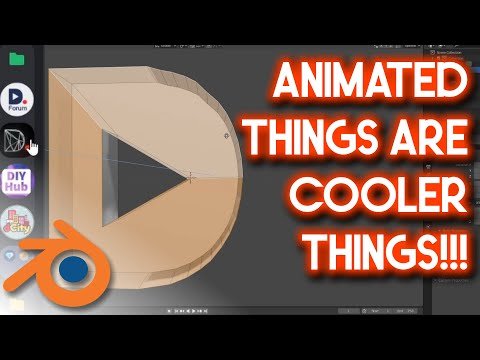 ---
Today I want to reveal how I have created the new animated DTube discord server icon. I tried to structure this tutorial a bit different than normal and I would like to hear some feedback of you!
I did the whole animation with (free) blender 2.81, a (payed) shader pack (but you can do that by your own of course) called komikaze and exported the result as an avi file.
For extracting the D. out of a svg file I used (free) inkscape and openAviToGif 0.6 was used to convert the my finished avi to a highres gif.
Also you would need a discord server with at least 2 server boosts of course. You can read more about that here: https://support.discord.com/hc/de/articles/360039337992-Server-Boosting-Buy-a-Level
All the downloads I recommend & you would need to recreate this:
blender: https://www.blender.org/download/
inkscape: https://inkscape.org/
avitogif: https://sourceforge.net/projects/openavitogif/
komikaze: https://blendermarket.com/products/komikaze
I would like to share the project file because but I have used non-free shaders. But if you have those shaders feel free to comment and I can share this project with you.
Thanks for your feedback!
music credits:
Above The Clouds by | e s c p | https://escp-music.bandcamp.com
Music promoted by https://www.free-stock-music.com
Creative Commons Attribution 3.0 Unported License
https://creativecommons.org/licenses/by/3.0/deed.en_US
a few other links:
📸 main camera: https://amzn.to/34MKcYk
📸 vlogging lense: https://amzn.to/34LJElG
📸 second lense: https://amzn.to/2RSfxnh
🎤 main mic: https://amzn.to/2VzSIWo
🎤 wireless mic: https://amzn.to/3ay3xiC
🌐 My 360 cam: https://amzn.to/2RE5gKC
📸 My webcam: https://amzn.to/2NRB9y9
🎙️My desktop mic: https://amzn.to/3awoJW9
📸 IG: https://www.instagram.com/tibbifox
💬 TW: https://twitter.com/tibfox
💻 Hive: https://peakd.com/@tibfox/
📧 norman.fischer@gmail.com
🎁 support me via ethereum: 0xd3e33b3f5b421c45b0a5ec0ee7209f7e3777d994
☕ buy me a coffee: https://ko-fi.com/tibfox
---
▶️ DTube