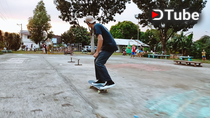 ---
Hey guys!
On February 14, 2021, Sunday the days of love or Valentine's Day we skated and shredded every corner of the spot. We don't miss playing skateboarding even on Valentine's day. We celebrated Valentine's day to play skateboarding that's why I put on my title "A Valentines Day Special". In this video some of my crews hitting the ground so badly. Joshua hit the rail when he tried to Ollie 50-50 he did not land his board in rail that's why he bailed. Danico tried the Backside 50-50 in ledge but the wheel shot into the hole of the ledge that's he separated to his board and threw away smacked into the ground and thanks he is fine. Thanks for watching and have a nice day!
---
Youtube Version:
---
P.S: I've been playing skateboarding since 2005 and start filming and editing in 2011. On TWS skate video you'll find a random of tricks and behind skateboarding, we are not pro skaters we just skate for fun and I really love this.
---
"WE SKATE FOR FUN NOT FOR AGENDAS"
---
---
Stay safe, Stay home.
Thanks For Visiting My Article I appreciate Your Precious Time!
---
▶️ DTube
▶️ IPFS