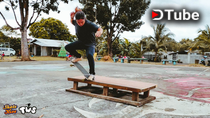 ---
Hey guys!
Here is our newest skateboarding sesh last Sunday, January 17, 2021. On behalf of our crew, I wanted to share with you our enjoyable sesh and some of our random skateboarding clips. With a joyful explanation, we build a DIY skate ledge so finally, we have a skate box ledge so we can do tricks not just to rail but also to our newest skate ledge. I apologized I don't want to explain more details about that ledge because I wanted to post the video of how we build that skate ledge maybe on my next Dtube video.
After we build our DIY skate ledge we tested that ledge for the trial version because we wanted to know if the ledge is stayed strong. Before we skate we eat some pieces of bread we share with each other and after we ate we started to shred that skate ledge. Everyone is very happy they do the tricks to the ledge that we can't do to rail and of course, I'm the one so happy because we have finally our very own skate ledge. If you wanted to see our skate ledge and some random tricks please watch the video. Thanks for your support have a nice day!
---
P.S: I've been playing skateboarding since 2005 and start filming and editing in 2011. On TWS skate video you'll find a random of tricks and behind skateboarding, we are not pro skaters we just skate for fun and I really love this.
---
Stay safe, Stay home.
Thanks For Visiting My Article I appreciate Your Precious Time!
---
▶️ DTube
▶️ IPFS