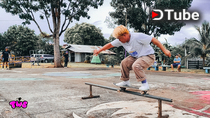 ---
Hey guys!
This TWS skate video was filmed last Sunday, January 24, 2021, with the 5 members of the crew including we still skating even the raindrop falls. Every Sunday we gather together to our skate spot and we skated together. Last Sunday we have good days and bad days the good day is we fixed the frame of our skate box ledge. The bad days are the rain came during our skate time so we don't have the choice to take a shelter for a little bit of time. Another good news is after a half hour the rain stopped so we back to our spot and shredded again.
I filmed a lot of tricks of my crew and thanks to my homie name Danico he filmed my Ollie on a piece of styrofoam and he also filmed my Boardslide to the skate ledge. After an hour of straight skating and filming, I've so thirsty so I've been a cup of soda with a cube of ice to quench my thirst. We started to skate at 2:00 afternoon and ended at 6:00 of the evening. After we skated we packed our stuff and leave the spot immediately because the rain starts again. This is, for now, see on my next TWS skate video.
---
P.S: I've been playing skateboarding since 2005 and start filming and editing in 2011. On TWS skate video you'll find a random of tricks and behind skateboarding, we are not pro skaters we just skate for fun and I really love this.
---
Stay safe, Stay home.
Thanks For Visiting My Article I appreciate Your Precious Time!
---
▶️ DTube
▶️ IPFS