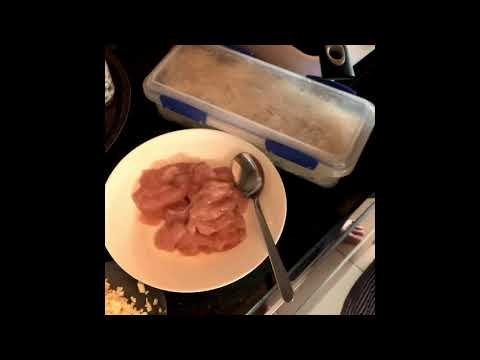 ---
Ingredients: For 2 pax
3 Tbsp Coconut Oil
6 Cloves Garlic(peeled)
2 Eggs
150g chicken fillet (marinated)
2 cups Bee hoon (Jasmine brand -silky effect)
2-3 Tbsp light soya sauce
2dash white pepper
1/4tsp sesame oil
1/2tsp dark soya sauce (caramelised colour)
Preparations: (In a medium bowl, marinade 150g of chicken fillet with
1tsp corn starch
1/4tsp salt
1/4tsp chicken stock
2dash white pepper ) -For smooth & silky chicken effect (Washed & chopped broccoli into smaller pieces then placed it into a steamer for 20 minutes) (Minced 6 cloves of garlic and place it into a small plate/bowl) (Soak bee hoon into warm water for 15 minutes to soften it)
Method:
On high heat (electric stove: heat no. 9), heat up the pan with 1 Tbsp of coconut oil.
Stir fried garlic until fragrant and turned light brown.
Add in chicken fillet with 1 Tbsp of coconut oil and stir fried until it turn white in colour.
Remove chicken from heat into a medium bowl.
Add 1 Tbsp coconut oil with 2 eggs and stir fried until eggs are half cooked.
Add in bee hoon, soya sauce, sesame oil, white pepper, dark soya sauce and some hot water. Stir fried bee hoon with the cooked chicken fillet until fully cooked.
Finally add in the broccoli. Mix well and it's ready to serve.
Before that, taste it first whether it's enough salty. If not enough, add a pinch of salt and stir well.
Hope you love our healthy homemade fried bee hoon recipe!
---
▶️ DTube