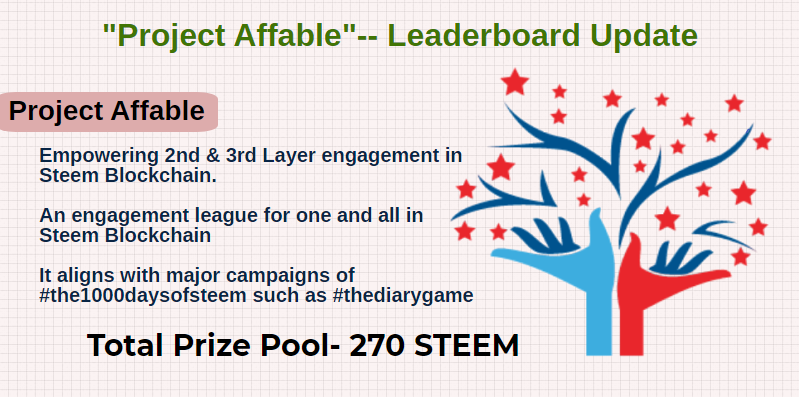 Background
On 1st September 2020, project Affable was announced to empower 2nd and 3rd layer engagement in Steem Blockchain. On 16th September 2020, it went global to become an Engagement league for one and all in #thediarygame, thanks to the Steem Contest Management tool #SCM developed by @neerajkr03 to automate the Affable Ratio, helping Project Affable scale globally.
#thediarygame season 2 will come to an end on 25th September 2020. Each month Project Affable will organize Engagement league in Steem Blockchain. The modalities(in the context of different tags to be considered) could be different from what it is now. But the objective will remain the same- to empower 2nd & 3rd layer engagement.
We have now 45 numbers of participants in this ongoing engagement league.
This publication will be an update on the leaderboard as on 23rd September 2020, so that the participants will get to know where do they stand and how close they are to the top 11 ranks.

List of Participants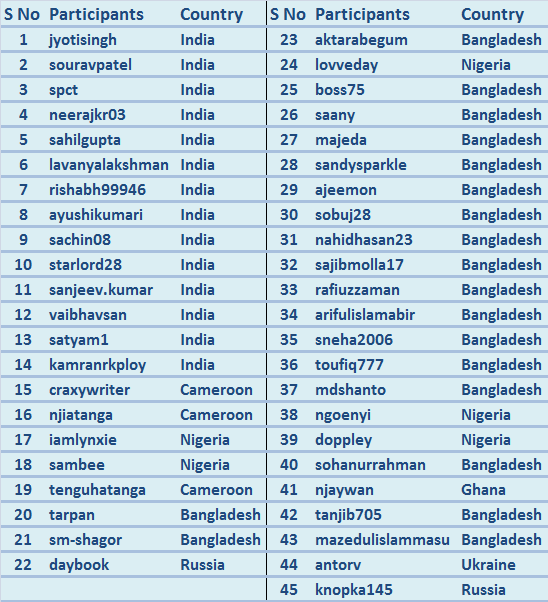 Any user who has visited this post and left a comment-- "I'm affable, Country name" is considered as a participant in this engagement league.
If you are using the #affable tag and not yet commented on this post, then I would suggest you visit the post and comment with "I'm affable, Country name"; then I will update you on the participants' list.

List of Active Participants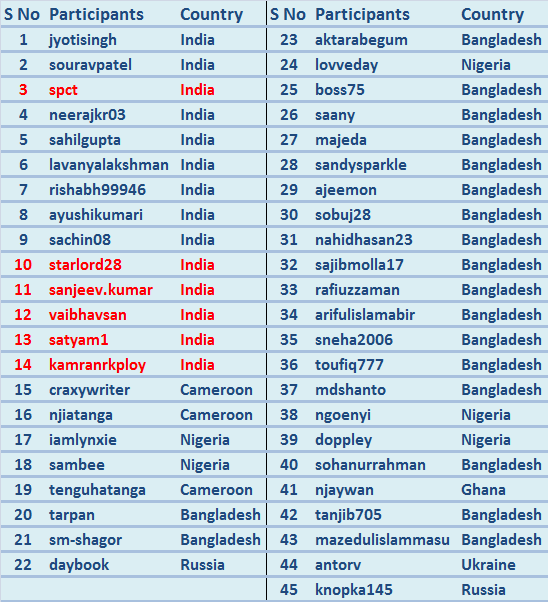 Anyone who does not engage with other's diary post for 4 consecutive days is no longer an active participant. The participants(red marked) are inactive participants in this list. To know more about "Active Participant Criteria", visit this post.

List of Active Participants & their Affable Ratio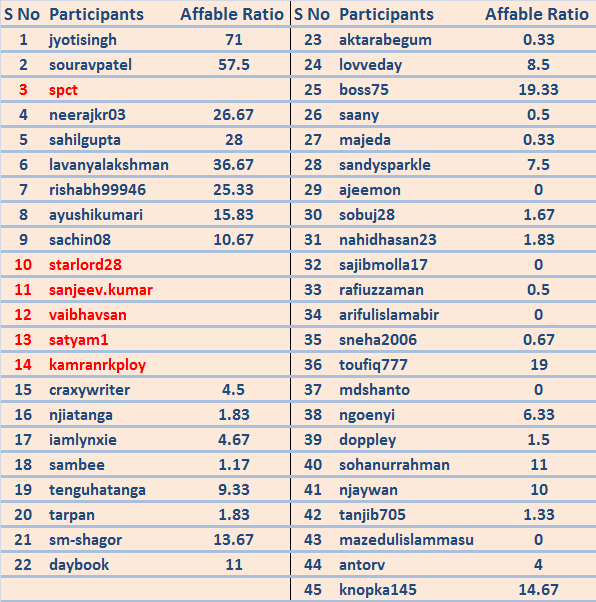 You can check your Affable Ratio by using this tool. For more details on "how to check Affable Ratio", please visit this post.

Leaderboard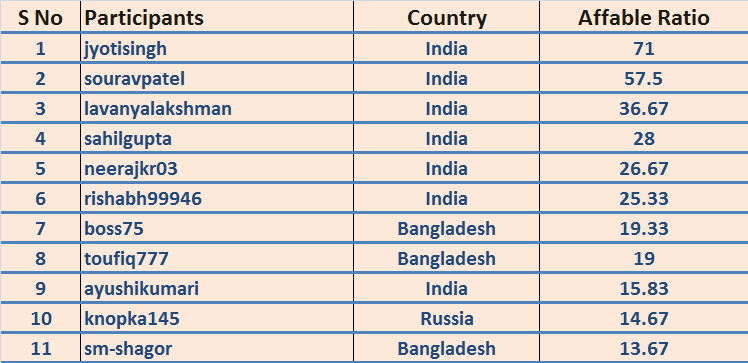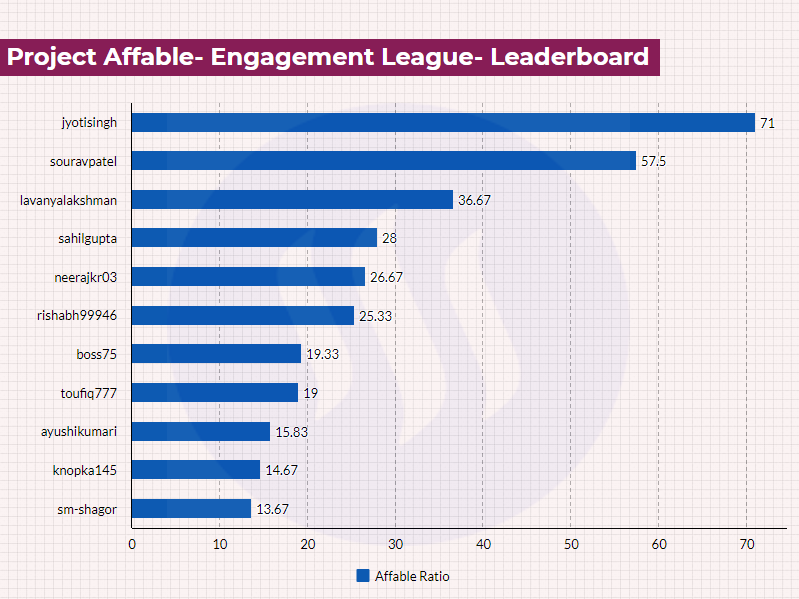 Important Remarks
This leaderboard is tentative. This publication aims to give a projection of leaderboard based on Affable Ratio & Active Participant Criteria. "No Spam/Plagiarism" is yet to be checked which will be done manually.
We will still go through manual checks to ascertain any act of spam/plagiarism/repeated comments. Any such act will have you disqualified and your affable score will not be taken into consideration to determine the winners.
That said, we would encourage the participants to step up their game in the final days of #thediarygame so that they can win a spot in the top 11 and become a beneficiary of the reward pool of 200 STEEM. The game is still on.
If you have not participated yet in this Engagement league then you can visit this post and comment-- I'm affable, Country name.
If you are already in this league, using the tag #affable, but do not feature in the list of participants, then visit this post and leave a comment- I'm affable, Country name. For example, I'm affable, INDIA.

Affable Ratio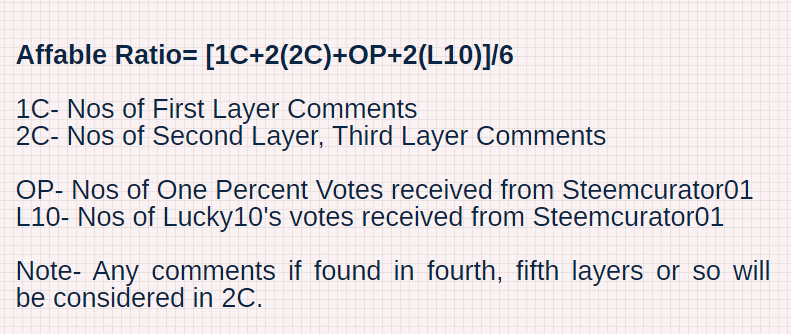 Although project Affable empowers 2nd, 3rd layer engagement, the "affable ratio" is not just about 2nd, 3rd layer engagement. The affable ratio is a weighted average ratio of your comprehensive productive engagement and reflections, taking into account primary engagement(1st layer), 2nd layer(3rd layer, or extended layer, if any), nos of onepercent votes & Lucky10's votes from Steemcurator01.

Prize Pool (Total 270 STEEM)
The top 11 winners will share a total pool of 200 STEEM
Project Affable will allocate 50 STEEM to compensate for the time and effort by @neerajkr03 for the #SCM tool, automating the Affable Ratio.
A 20 STEEM pool is created to reward the whistleblowers to help find any abuse of contest Affable(Read the rules and this post for a better understanding of abuse).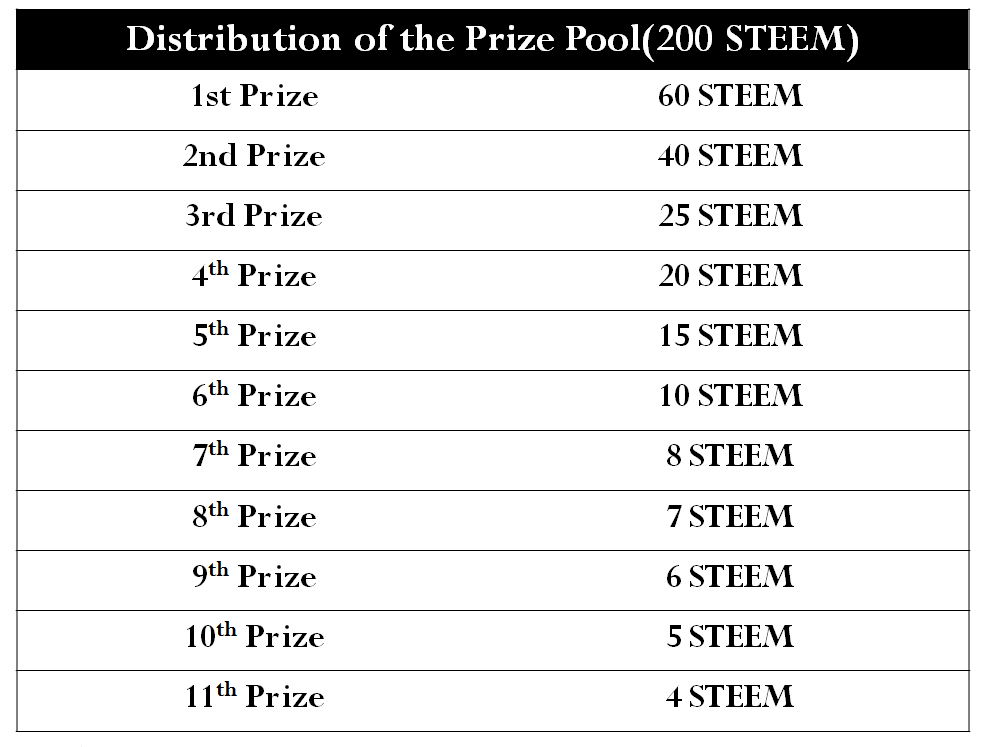 Result Announcement Date
Thank you.
(If you have any doubt related to the project "Affable", feel free to ask in the comment section.)

Cc:-
@steemitblog
@steemcurator01
@steemcurator02
@neerajkr03
Cc to all the CR's:-
Cameroon (@njiatanga), Ghana (@oppongk, @njaywan), Nigeria (@beautychicks, @focusnow), Uganda (@yohan2on), Argentina (@belenguerra, @fendit), Venezuela (@adeljose, @anasuleidy, @edlili24, @mariita52, @tocho2), Bangladesh (@tarpan, @toufiq777, @rex-sumon), India (@neerajkr03, @rishabh99946, @sapwood), Indonesia (@anroja, @ernaerningsih, @nazarul, @radjasalman), Japan (@cryptokannon), Pakistan (@rashid001), Sri Lanka (@besticofinder, @randulakoralage), Italy (@girolamomarotta), Russia (@filinpaul, @knopka145), Ukraine (@antorv, @olesia), New Zealand (@kiwiscanfly), Turkey(@alikoc07), Mexico(@leveuf).

Unless otherwise stated, all the images, infographics, charts, tables, etc(if any) are my original works.

To know more about Project Affable, click here.
To participate in this contest, comment-- I'm affable, Country name.
For example, I'm affable, INDIA