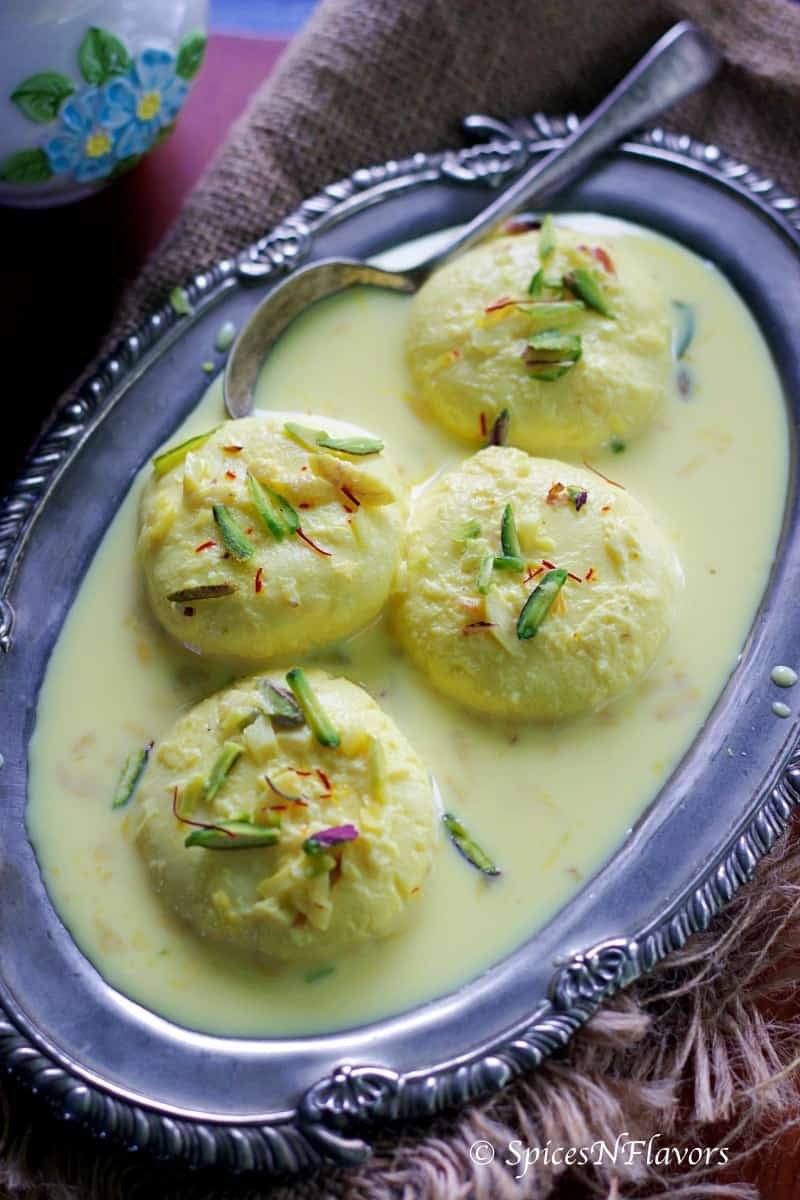 Hello readers,
     Today I came to share with you a famous dessert recipe "Rasmalai".It is believed to have originated somewhere in eastern India. Presumably in the Odisha and Bengal region.
Ingredients:-
1. Full fat milk- 5 cups.
2. Fresh cream-1 cup.
3. Lemon juice or vinegar- 5 tbsp(mix with 3tbsp water).
4. Baking powder- A pinch.
For sugar syrup:-
1. Sugar-1-1/2 cup.
2. Water- 4cup.
3. Cardamom powder-1/2 tsp.
4. Rose water- 1/2tsp.
For Malai:-
1. Full fat milk- 4cups.
2. Saffron- 8-10 strands.
3. Sugar- 3-4tbsp.
4. Pistachios- 3tbsp(crushed).
Preparation Method:-
For Malai-
Step 1- Place a sauce pan on medium flame. Pour 5cups of milk and boil. Once milk start boiling add saffron and sugar. Reduce the flame and stir occasionally.
Step 2- When a layer of cream forms,just move it aside. Boil milk until thickens and reduces to half quantity. Set aside to cool.
Step 3- Keep half portion of malai in the fridge and remaining warm.
For cottage cheese:-
Step 1- Pour 5cups of milk in a saucepan and bring to a boil. Once milk will start boiling add 1 cup of fresh cream. Stir well for a minute and turn off the flame.
Step 2- After 1 minute add lemon juice and stir continuously until milk curdled completely. If required can add more lemon juice.
Step 3-  Add ice water or ice cubes to the saucepan and set aside for 3-4 minutes.
Step 4- Now drain to a Muslin cloth lined over a colander. Pour fresh water or can also rinse under running water to vanish the sour taste.
Step 5- wrap the cheese in the cloth, squeeze of excess whey. Make a knot and hang the cheese pouch for 1 hour for discard dripping whey.
Step 6- After 1 hour. Transfer the cottage cheese to a plate. Add pinch of baking powder. Knead well for 4-5 minutes until smooth.
Step 7- Now divide the cheese dough into equal portion. Make cheese discs with the each portion of cheese dough. Make sure there shouldn't be any cracks on the sides. Set aside.
Sugar syrup:-
Step 1- Bring 4cups of water to a boil with 1-1/2 cups of sugar. Stir until sugar dissolves completely. Then add Cardamom powder and rose water.
Step 2- When syrup begins to boil rapidly,slide the discs in the syrup. Cook about 10-12 minutes on high flame. Turn off flame. Remove the pan from the heat and cover the pan with lid. Keep aside for 15-20 minutes.
Assembly:-
Step 1- After 15-20 minutes, take off the discs to a plate and cool them.
Step 2- Squeeze them gently with the help of your palm to remove extra syrup.
Step 3- Now add cottage cheese discs in the half portion of warm malai. Rest them for 2-3 hours.
Step 4- After 2-3 hours. Add another portion of chilled malai to this. Now garnish with crushed Pistachios.
Step 5- Now it's ready to serve.
## Thank you for giving your precious time to read my post and your support.😍🙏😊❤️
image credit: source
N.B. This article was also published on my personal blog :
https://sduttaskitchen.blogspot.com/