Hello everyone what's up , hope everybody had a great day. With new energy I'm here for another diary game so let's start summary for the day hope you all gonna like it....
MORNING 🌞 EVERYONE.......
Hello everyone, what a refreshing day it was finaly I woke up at 6 am today, did some stretching and warm up it was quite unusual for me to wake up this much early but I'm telling you this act made me energise and that I did my whole days charoes in a very active manner. Actually this was one of my good habit during my school days but this year of 2020 made me so lethargic and I got use to late night work and waking up late.
I had Chila and Tomato chutney in my breakfast must tell you it's healthy and tasty enough it is a pure home product made by my Mother. Chila is my all time favourite dish it gives me slight taste of dosha. Today I eat 3 to 4 Chila it was sufficient to hold me energise till my lunch time.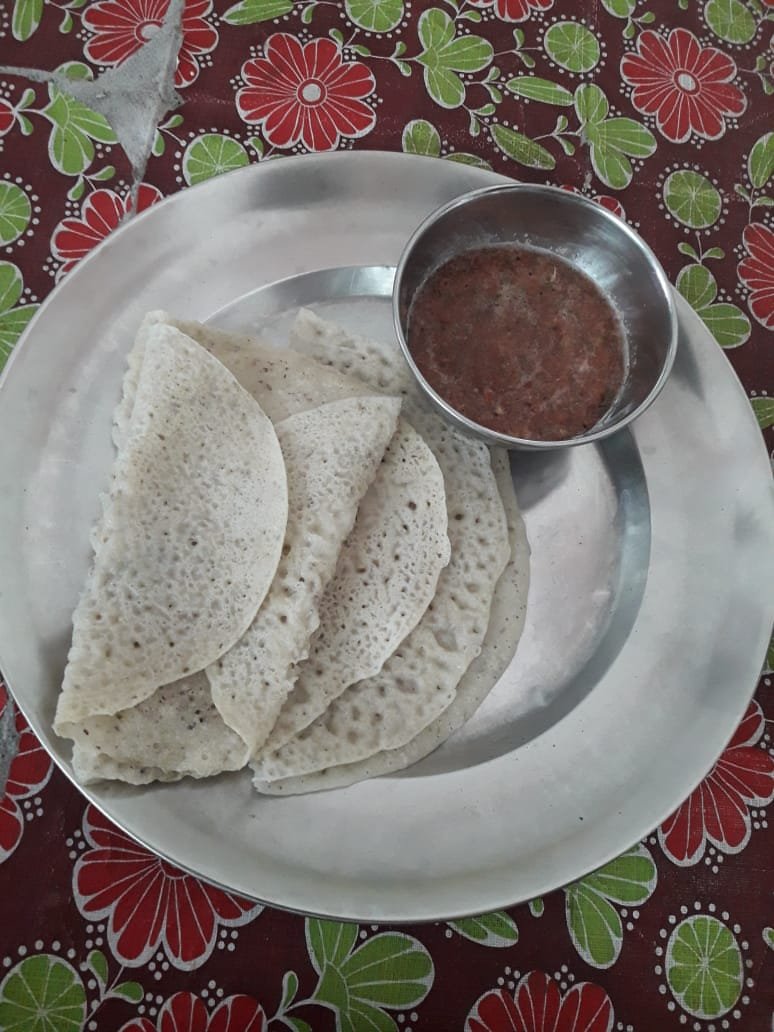 Breakfast time
READ NEWS PAPER......
After this went to read some news articles and took a little update on rising cases of corona at world wide. Guys this situation so critical we people need to understand that even a silly step taken out side to our door for meaningless purpose may led to our whole family in trouble so be aware.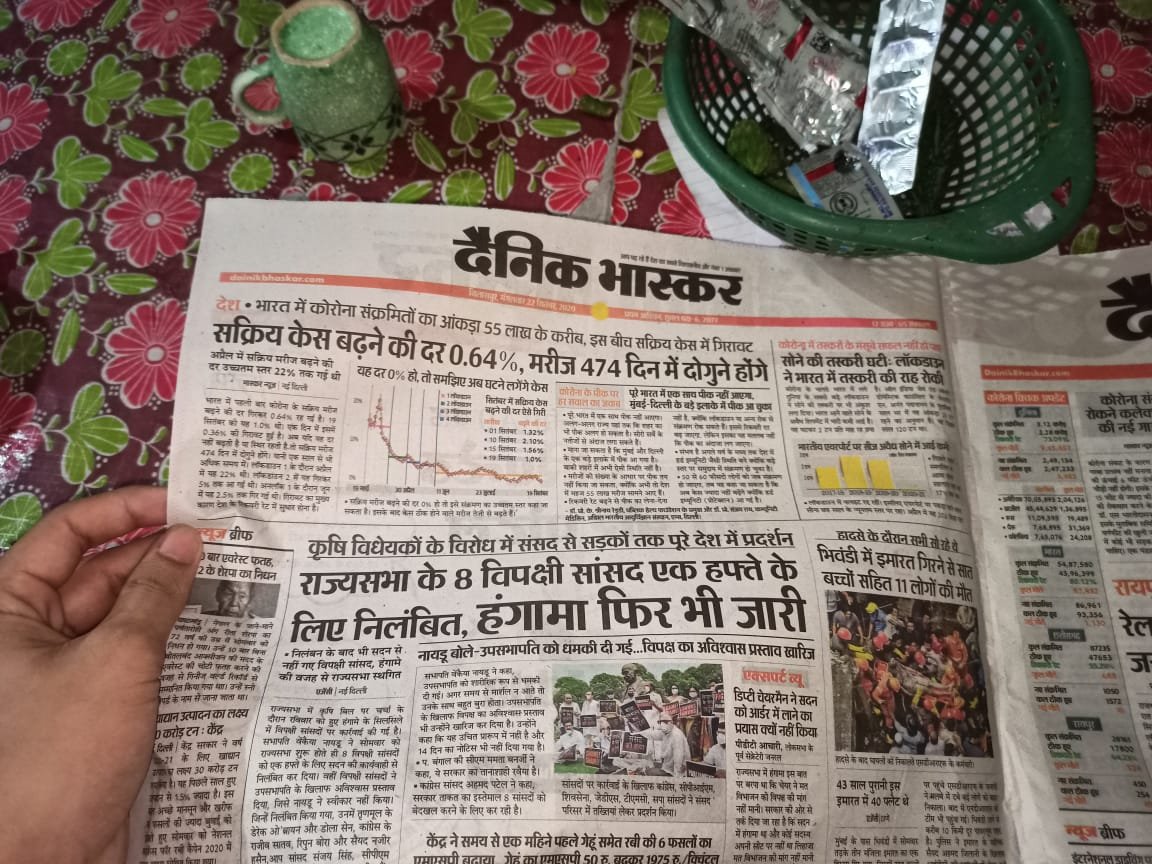 Also there is a order from chhattisgarh government that there will be complete lockdown from tomorrow for 7 days
AFTERNOON TIME......
I was still in a fresh mood , I enjoyed some veg Pulaw, Aloo bhujiya and my favourite nilons ka aachar in my lunch the graphic of same is shared with you all. It was as delicious as it look.
Then after I got busy with my phone had chat with my school buddies, watched some of my favourite you tubers namely Bhuvan Bam, Vir Das then I listen few songs randomly like wise time passed.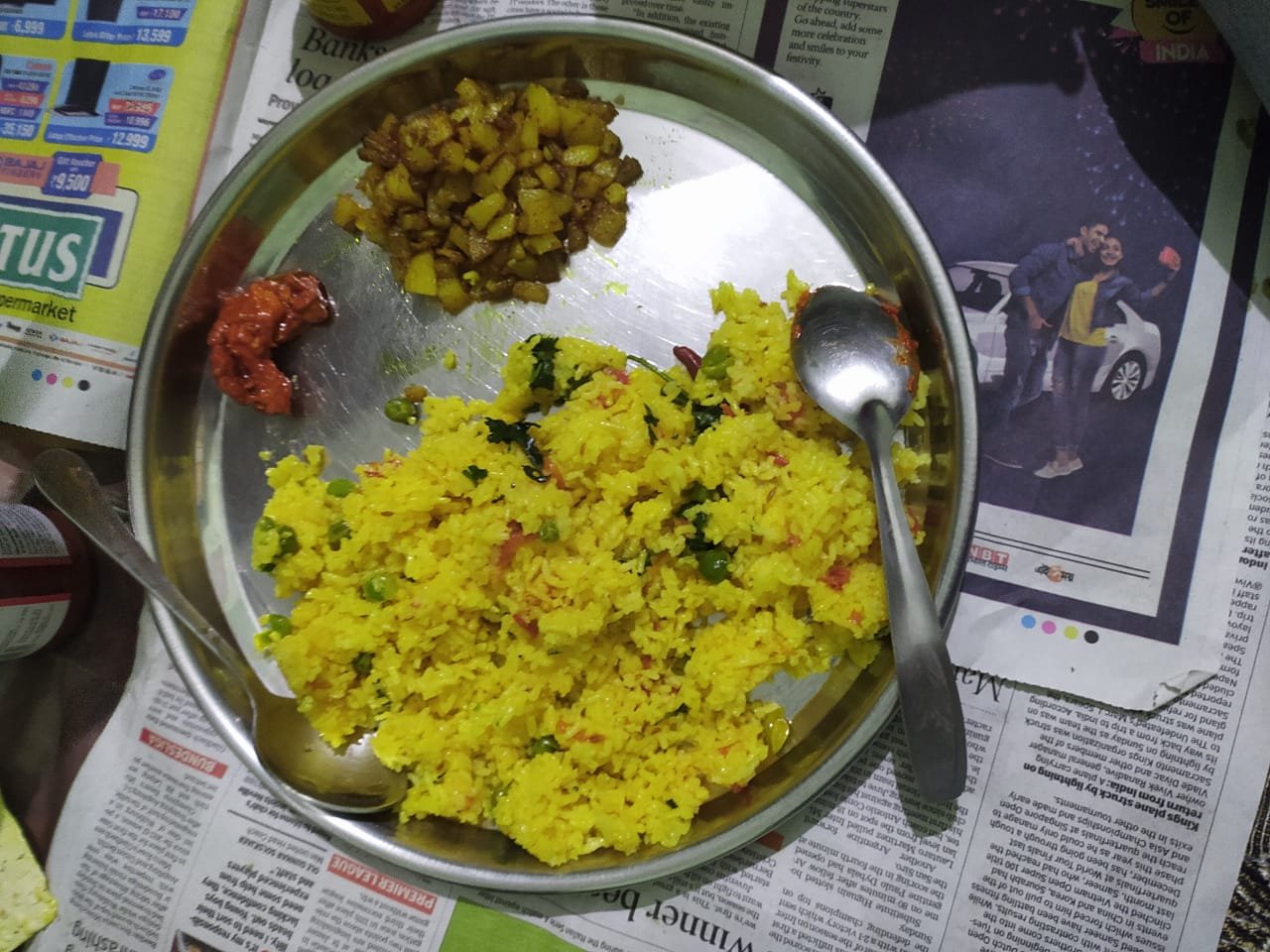 Its lunch time
ROSOGULLA SPECIAL.....
In the Evening time I had Rosogulla it is such a sweet dish in look and in taste as well. The speciality of this dessert was that it was my made my sister I appreciated her cooking idea, she always surprise me with her extra ordinary cooking skills. While having those sweet we shared my ideas on cooking stuff which was considered pointless and got rejected at instant as I was deliver. But never mind ever one good at cooking.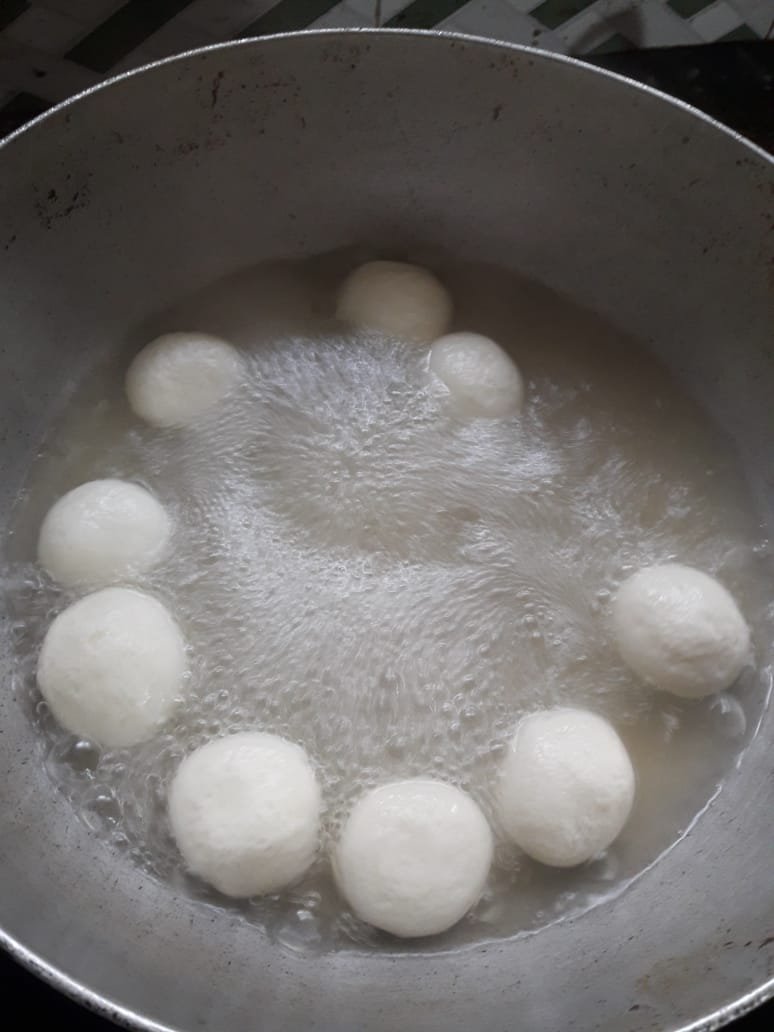 Preparing rosogulla
DRIVING TIME.......
Post then my evening prayer I got so excited that papa offered me to take me to the driving session on a round nearby my house so I went to learnt car driving. I drove it well as per papa directed me but there are lots of techniques yet to be learnt it's a time taking process, I will learn all soon, after all practise makes man perfect. I believe it was a productive hours I spend on this evening.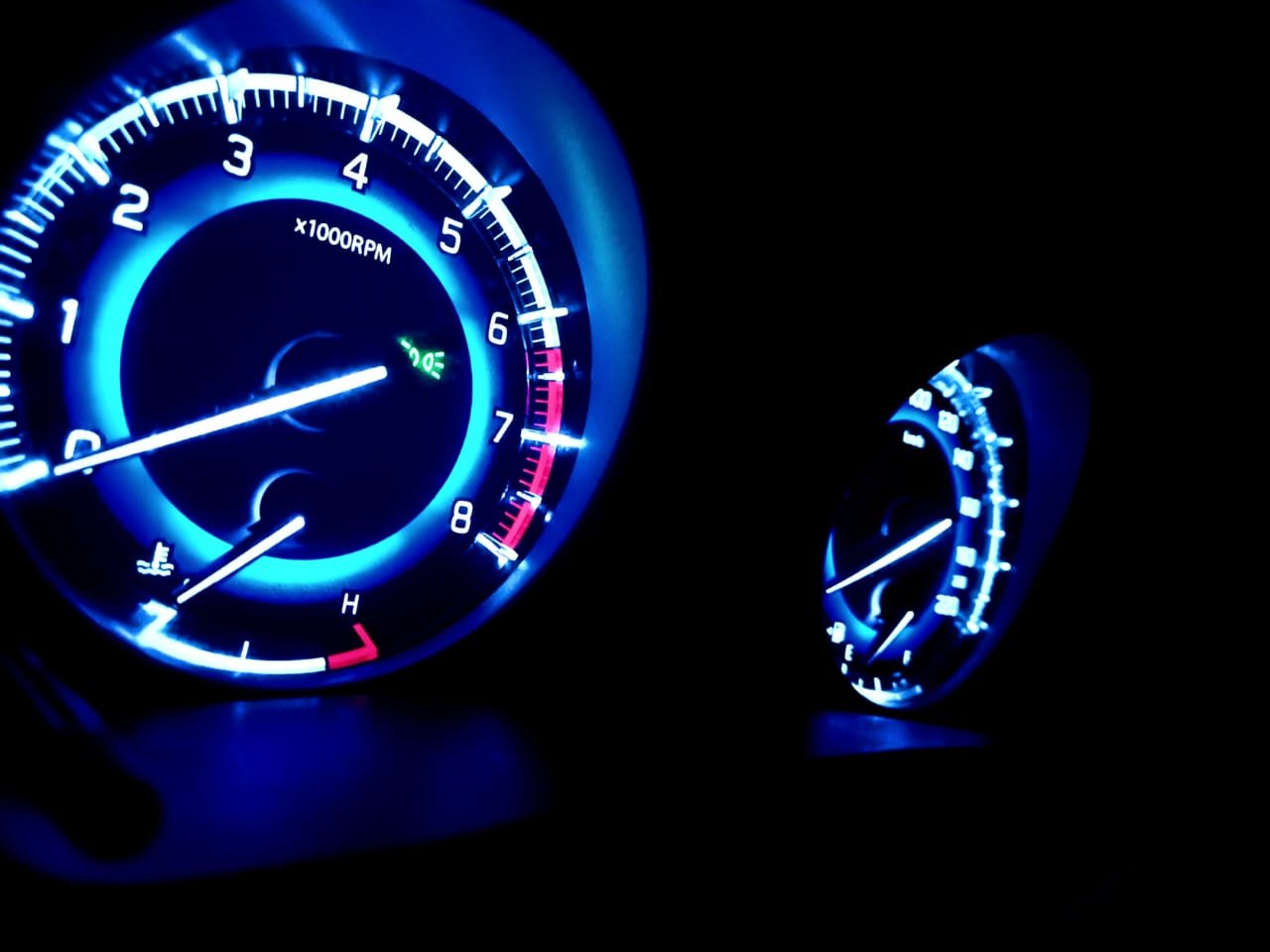 So today i am gone in gandhi stadium for learnt car. Plus code - 45HQ+V6 Ambikapur, Chhattisgarh
NIGHT TIME......
When we came back IPL match of Sun Risers Hyderabad vs Royal Challengers Bangalore had already been started and I got stuck on TV as I couldn't move my eyes from Virat's performances though he only could scored 14 runs still I'm his die heart fan. The great thing that accelerated my joy was RCB won the match.Actually it's not dinner time, my family already done with it I had my dinner late waiting Ipl match to over. So there was no one available in the kitchen to help me for food since its too late every one got busy to ready for bed I took 2 Roti and some dal on a plate ate it while chatting and expressing my happy mood for match win with my friends I couldn't stop myself to post some shots in social media even I have shared it here too.
Since it's a not so busy day but a good start here I got tired and felt sleepy still saved energy for this write-up and competing this went to bed hoping to rise up early with sun.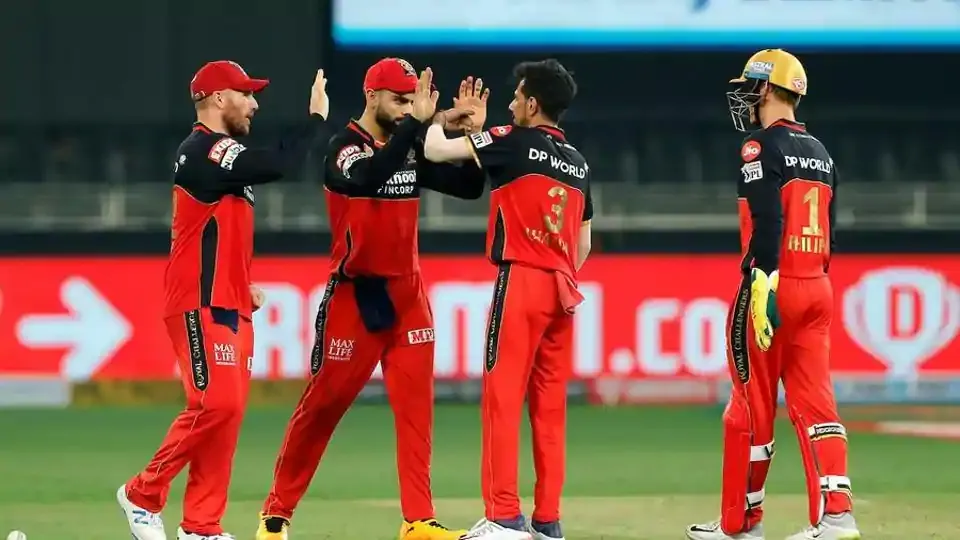 The source from i get this image
Thats all for today activities i will come tomorrow with my another diary game till then stay safe and stay healthy.
The post reward is set to 100% power up