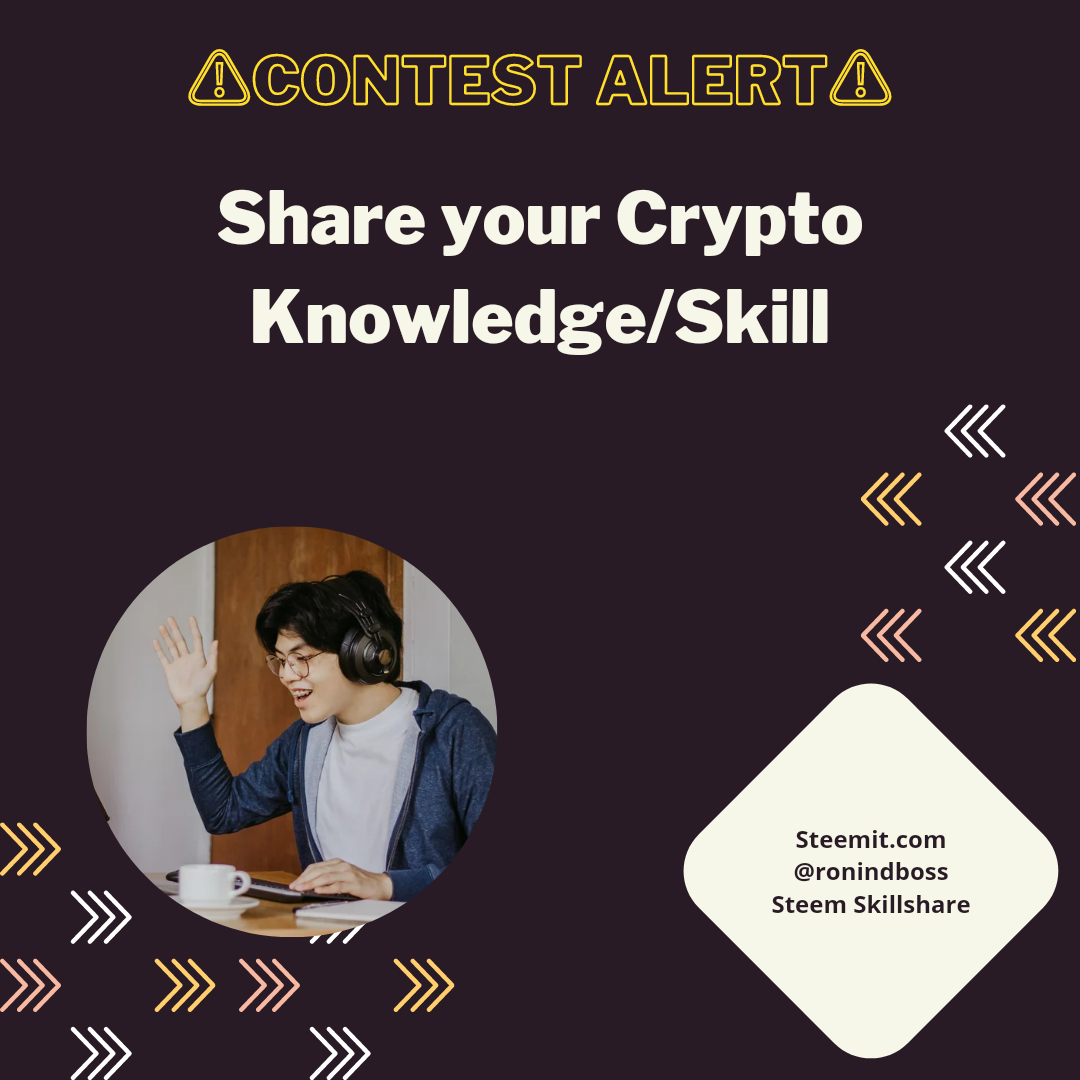 Designed With Canva

Greetings,
Dear members of steem skillshare, It's my pleasure to be hosting a contest here in our lovely community, about 6 months ago when I discovered the community and I have been posting and participating in the contest been organized by the members. Today is my turn conduct a contest and I hope you all will participate in it.
There are many crypto knowledge and skills out there that we have gain a substantial amount of it and use it to maximize our investment to gain profit. I was able to gain a lot of knowledge about cryptocurrencies when I joined steemit so I'm pretty sure you all have something to share.

What Is Expected Of You In This Contest?
The contest focuses on crypto knowledge and skills, so I would like you to share anything related to Crypto Trading, Investment Tips, Outcome, Analysis etc. Literally that involves cryptocurrencies and blockchain can be discussed.

Rules Of The Contest
The entry of this contest should be in the steemskillshare community.

The format for your tittle should be :- CRYPTO SKILL || sharing My Crypto Knowledge/Skill || @Username

Plagiarism is an offense, do not plagiarise, post must be #steemexclusive

Set at least 15% to @steem.skillshare for community support.

Set at least 25% to @null in support to #burnsteem25. Optional

Use #crypto-skill and #learnwithsteem among your 3 tags for me to identify.

Invite at least 2 of your friends to participate in the contest.

Follow Me, Resteem and upvote this publication.

Images must original and free from copyright and properly sourced.

Ensure you submit the link to your post in the comment section.

Contest will run from now till the payout of this post .

Prizes
1st place gets booming with 75% curation trail
2nd place gets booming with 50% curation trail
3rd place gets booming with 25% curation trail
Note:
if any of the conditions stated above are not met, you'll be disqualified.
Winners will be selected based on the quality of his/her entry.
This contest aims to increase engagement in the Steem Skillshare Community.
25% to @null, 10% to @steem.skillshare
Cc. @steem.skillshare, @milakz, @lhorgic, @disconnect
---
Join SteemSkillshare Community
---
Alternative links delegates to @steem.skillshare :
50100200300400500
10002000300040005000
10000