Hallo liebe Steem Freunde
Heute möchte ich euch ein paar schöne Stücke von der Mineralien Messe 2019 vorstellen. Nicht ich selbst habe diese tollen Stücke gefunden. Ich hoffe sie gefallen euch.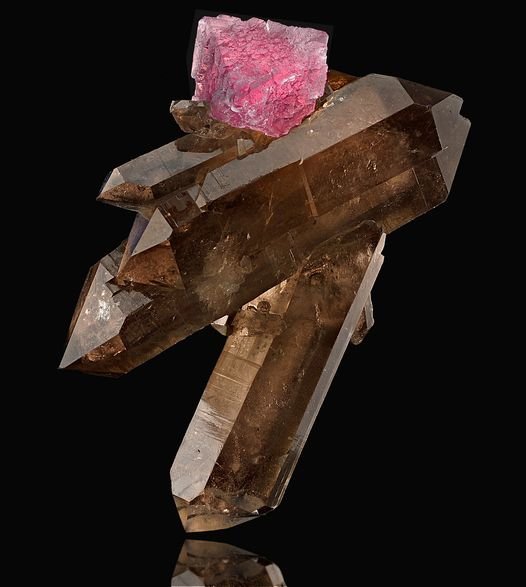 Rauchquarz (oder Morion) ist eine Varietät des Minerals Quarz, die durch natürliche oder künstliche Gammastrahlen graubraun (rauchfarben) bis schwarz (Morion) gefärbt wurde. Meistens ist brauner Rauchquarz durchsichtig bis durchscheinend. Gut ausgebildete Rauchquarz-Kristalle sind zwar seltener als vergleichbare Bergkristalle, aber dennoch relativ oft zu finden.
Fluorit, auch unter der bergmännischen Bezeichnung Flussspat oder seiner chemischen Bezeichnung Calciumfluorid bekannt, ist das Calciumsalz der Flusssäure und ein sehr häufig vorkommendes Mineral aus der Mineralklasse der einfachen Halogenide. Fluorit kristallisiert im kubischen Kristallsystem mit der chemischen Zusammensetzung CaF2 und entwickelt kubische Kristalle mit vorwiegend würfeliger oder seltener oktaedrischer Kristallform sowie Durchdringungszwillinge, aber auch körnige, massige Aggregate.
Reiner Fluorit ist farblos und transparent, durch Verunreinigungen auch grau. Er kann jedoch durch Fremdbeimengungen fast alle Farben, zumeist in schwacher Intensität, annehmen. Verbreitet sind grüne, violette bis schwarzviolette und gelbe Kristalle ("Honigspat"), aber auch blaue, rote und braune Fluorite werden gefunden. Ebenso kann häufig ein zonarer Farbwechsel beobachtet werden. Die Strichfarbe ist dagegen immer Weiß.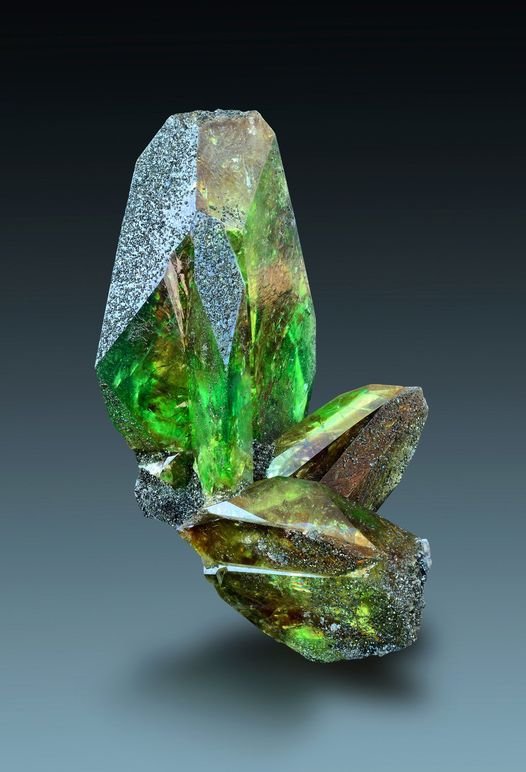 itanit, auch Sphen genannt, ist ein häufig vorkommendes Mineral aus der Mineralklasse der "Silikate und Germanate" mit der chemischen Formel CaTi[O|SiO4][1] und ist damit chemisch gesehen ein Calcium-Titan-Silikat. Strukturell gehört Titanit zu den Inselsilikaten.
Titanit kristallisiert im monoklinen Kristallsystem und entwickelt meist tafelige oder keilförmig zugespitzte Kristalle und Zwillinge mit glas- bis diamantähnlichem Glanz auf den Oberflächen. Er kommt aber auch in Form körniger bis massiger Mineral-Aggregate vor. In reiner Form ist Titanit farblos und durchsichtig. Durch vielfache Lichtbrechung aufgrund von Gitterbaufehlern oder polykristalliner Ausbildung kann er aber auch durchscheinend weiß erscheinen und durch Fremdbeimengungen eine grüne, gelbe, rote, graue oder braune bis schwarze Farbe annehmen.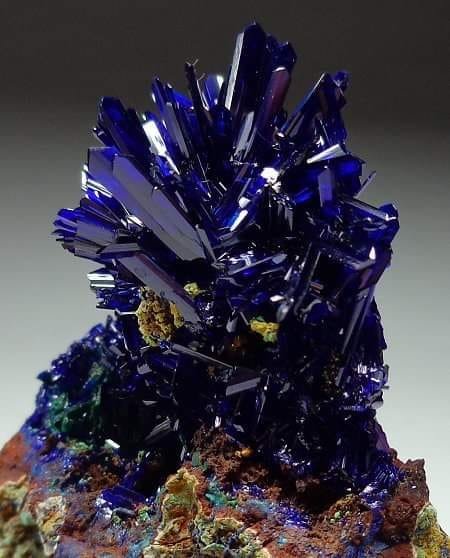 Azurit, auch unter seiner bergmännischen Bezeichnung Bergblau, Kupferblau oder Kupferlasur bekannt, ist ein häufig vorkommendes Mineral aus der Mineralklasse der "Carbonate und Nitrate". Es kristallisiert im monoklinen Kristallsystem mit der chemischen Zusammensetzung Cu3(CO3)2(OH)2 und ist damit chemisch gesehen ein basisches Kupfercarbonat.
Azurit findet sich meist in Form kleiner, im Gestein eingebetteter Kristalle mit prismatischem, kurzsäuligem oder tafeligem Habitus, kommt aber auch in Form kugeliger, nieriger oder pulvriger Mineral-Aggregate sowie verwachsen mit Malachit vor. Das Mineral ist von charakteristischer, tiefblauer Farbe und seine Kristallflächen zeigen einen glas- bis fettähnlichen Glanz. Auf der Strichtafel hinterlässt Azurit einen blauen bis hellblauen Strich.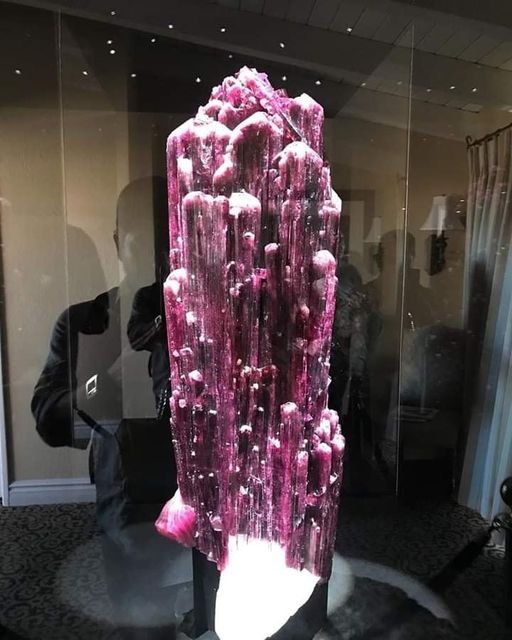 Die Turmalinobergruppe (Turmalingruppe, Turmaline) ist eine Gruppe von Mineralen aus der Abteilung der Ringsilikate, die alle den gleichen strukturellen Aufbau haben.
Turmaline kristallisieren zumeist mit trigonaler Symmetrie und bilden häufig gut ausgebildete, prismatische Kristalle mit einer typischen Streifung auf den Prismenflächen, die in seltenen Fällen mehrere Meter lang werden können. Die Kristalle sind mit einer Mohshärte von 7 bis 7,5 ungefähr so hart wie Quarz, die Strichfarbe ist weiß. Turmaline gehören zu den Mineralen mit den meisten Farbvariationen. Je nach Zusammensetzung sind sie farblos bis schwarz oder zeigen Farbschattierungen zwischen blau, violett, rot, gelb und grün, wobei an einem Kristall Zonen verschiedener Farben auftreten können. Die Farben können vor allem in ihrer Intensität stark mit der Richtung wechseln, mit der das Licht durch den Kristall fällt (Pleochroismus), was man sich bei der Verwendung als Polarisationsfilter zunutze macht.
Eine weitere Besonderheit des Turmalins ist der an seinen Kristallen auftretende piezo- und pyroelektrische Effekt: dabei bewirkt eine mechanische Beanspruchung durch Druck oder Torsion bzw. eine Temperaturänderung, dass sich gegenüberliegende Kristallenden elektrisch entgegengesetzt aufladen.
English Version:
Hello dear Steem friends
Today I would like to present you a few beautiful pieces from the Mineral Fair 2019. I did not find these great pieces myself. I hope you like them.
Smoky quartz (or morion) is a variety of the mineral quartz that has been coloured grey-brown (smoky) to black (morion) by natural or artificial gamma rays. Mostly brown smoky quartz is transparent to translucent. Well-formed smoky quartz crystals are rarer than comparable rock crystals, but nevertheless relatively often found.
Fluorite, also known under the mining name fluorspar or its chemical name calcium fluoride, is the calcium salt of hydrofluoric acid and a very common mineral from the mineral class of simple halides. Fluorite crystallises in the cubic crystal system with the chemical composition CaF2 and develops cubic crystals with predominantly cubic or rarely octahedral crystal form as well as interpenetrating twins, but also granular, massive aggregates.
Pure fluorite is colourless and transparent, also grey due to impurities. However, it can take on almost all colours through foreign admixtures, mostly in weak intensity. Green, violet to black-violet and yellow crystals ("honey spar") are common, but blue, red and brown fluorites are also found. Likewise, a zonal colour change can often be observed. The line colour, however, is always white.
Titanite, also called sphene, is a frequently occurring mineral from the mineral class of "silicates and germanates" with the chemical formula CaTi[O|SiO4][1] and is thus chemically a calcium titanium silicate. Structurally, titanite belongs to the island silicates.
Titanite crystallises in the monoclinic crystal system and usually develops tabular or wedge-shaped pointed crystals and twins with a glassy to diamond-like luster on the surfaces. However, it also occurs in the form of granular to massive mineral aggregates. In its pure form, titanite is colourless and transparent. However, due to multiple light refraction caused by lattice structure defects or polycrystalline formation, it can also appear translucent white and take on a green, yellow, red, grey or brown to black colour due to foreign admixtures.
Azurite, also known by its mining name mountain blue, copper blue or copper glaze, is a frequently occurring mineral from the mineral class of "carbonates and nitrates". It crystallises in the monoclinic crystal system with the chemical composition Cu3(CO3)2(OH)2 and is thus chemically a basic copper carbonate.
Azurite is mostly found in the form of small crystals embedded in the rock with a prismatic, short-columned or tabular habit, but also occurs in the form of spherical, kidney-shaped or powdery mineral aggregates and intergrown with malachite. The mineral is of a characteristic deep blue colour and its crystal faces show a glassy to greasy luster. Azurite leaves a blue to light blue line on the graduated table.
The tourmaline upper group (tourmaline group, tourmalines) is a group of minerals from the division of ring silicates, which all have the same structural composition.
Tourmalines mostly crystallise with trigonal symmetry and often form well-formed, prismatic crystals with a typical striation on the prism faces, which in rare cases can grow several metres long. With a Mohs hardness of 7 to 7.5, the crystals are about as hard as quartz, and the line colour is white. Tourmalines are among the minerals with the most colour variations. Depending on their composition, they are colourless to black or show colour shades between blue, violet, red, yellow and green, whereby zones of different colours can appear on a crystal. The colours can vary greatly in intensity with the direction in which the light passes through the crystal (pleochroism), which is exploited when used as polarising filters.
Another special feature of tourmaline is the piezoelectric and pyroelectric effect that occurs on its crystals: here, mechanical stress through pressure or torsion or a change in temperature causes opposite crystal ends to become electrically charged in opposite directions.
(All Picture from Facebook)
Wenn euch meine ausgewählten Stücke gefallen , lasst mir ein Vote da und folgt mir für weitere!
If you like my selected pieces, leave me a vote and follow me for more!
Liebe Grüße