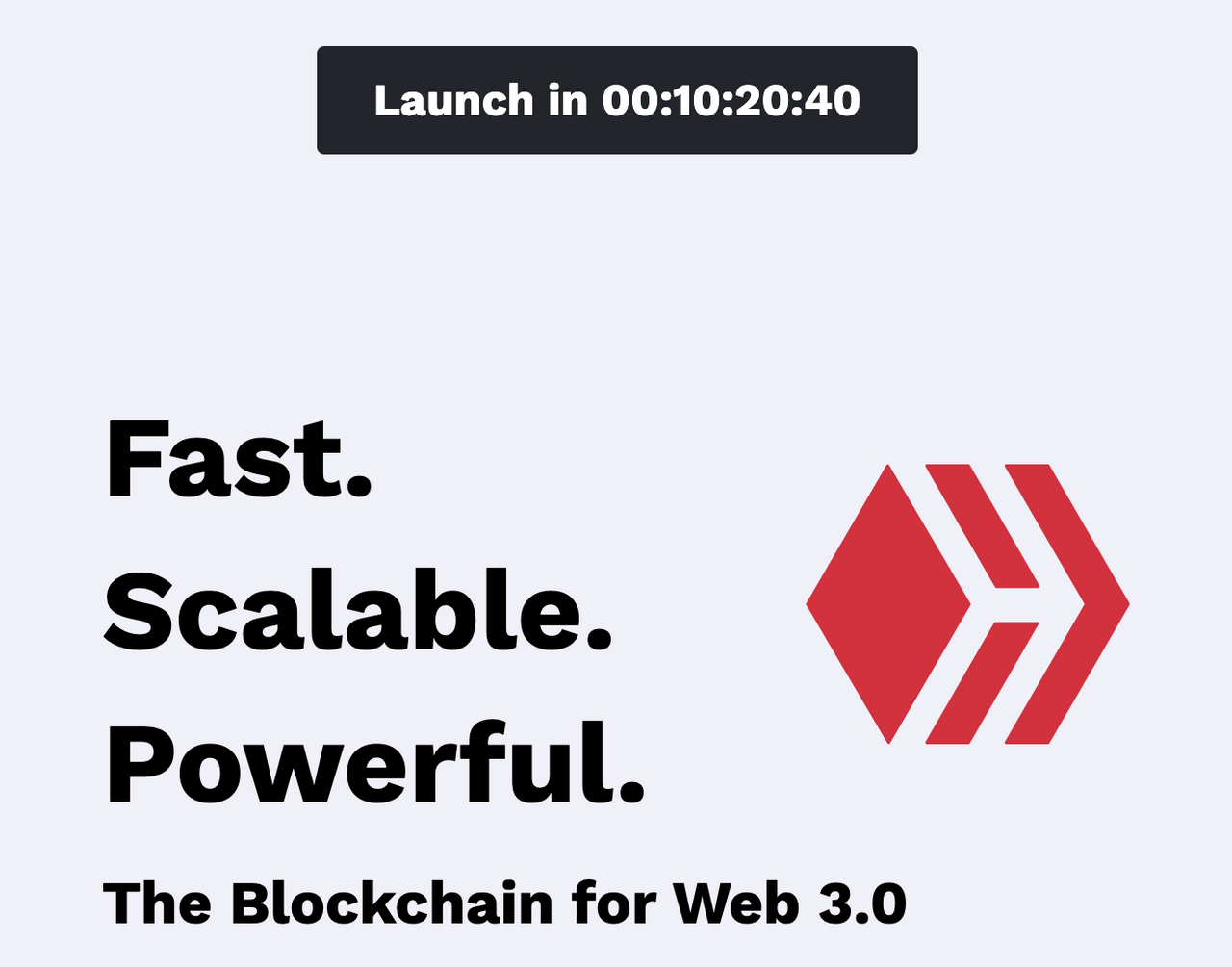 We are about 10 hours away from the launch of the Hive blockchain! It's an exciting time and an historic moment for decentralized communities and blockchain governance.
The Hive website can be found here: https://hive.io/ with a block explorer here: https://hiveblocks.com/
As of this post, I'm in witness position 29 on the Steem blockchain. At the time of the hardfork, my v0.23.0 witness node will follow a fork which will include everything from the Steem chain (with some adjustments - see below) but will now be producing blocks for the Hive chain. I will be somewhere around position 15, assuming votes don't change much in the next 10 hours.
I don't intend to leave the Steem blockchain entirely right away, so I will, after the fork time on the Steem chain, switch a machine over to producing on v0.22.1. My intention is to keep that running long enough for those who want to power down their STEEM and don't trust the centrally-controlled witnesses to keep the chain running.
I understand not everyone supports leaving the Steem chain. As someone who has been here since June 2016, I fully understand how hard it is to let go. Here are my personal reasons for why I am leaving to Hive and why I think you should also:
Blockchains are designed to be distributed, decentralized, byzantine fault tolerant systems. If they are centrally controlled, they no longer function as blockchains. Steem was taken over and centrally controlled. Many in the community fought back to decentralize the chain again, but were only able to create a stalemate.

I do not trust Justin Sun, and he has too much influence over the Steem blockchain using the ninja-mined stake that was never supposed to be used for governance. He tricked exchanges into powering up user funds and voting for sock puppets to centralize the chain and his recent actions to censor posts on the steemit interface are inexcusable to me.

All attempts to come to a mutual understanding for mutual benefit have failed. It's possible there is a difference in perspective as to what a blockchain actually is. A true blockchain can not be censored or controlled by a single individual. Those who support Justin Sun and want to stay on Steem seem to be okay with this. I am not. Censorship resistance and decentralized governance are too important to me.
If you don't care about the features a blockchain gives you, I suggest using a centralized communication platform. There's no need to pretend you have these features on Steem if the protocol is centrally controlled.
You can view the code for v0.23.0 here: https://github.com/openhive-network/hive
I've looked through a diff of the code on Gitlab and the important, most controversial part of the Hive fork are the accounts which will not be included in the Hive airdrop. That means the accounts will exist on the Hive chain, but their balances will be moved to steem.dao (this will most likely be renamed to a hive account at some point in the future). You can view which accounts were not airdropped to here.
I've been told this is the criteria that was used to exclude accounts from Hive:
Exclude accounts who voted a minimum of two sockpuppets and who didn't unvote before the hive announcement with more than 1k sp

The intention, as far as I understand it, is to not include those who actively participated in centralizing the Steem chain to witnesses Justin Sun and Steemit control. As for the original Hive announcement:
The only accounts who will not be included in the initial airdrop are those containing the Steemit Inc ninja-mined stake, and those who actively contributed to (and publicly declared support for) the centralization of the Steem Blockchain.
When I first read that, I wasn't too concerned because I figured very few people "publicly declared support" for centralizing Steem. When I ran v0.22.2, it was very clear which accounts were involved: the Steemit owned ninja-mined stake. As for which accounts have been excluded from Hive, the reasons are less clear to me and the criteria seems more subjective. I thought about this long and hard and seriously considered disabling my witness to not participate in launching Hive under this subjective criteria.
After much discussion and debate, I decided to move forward because I've been told if any of the excluded accounts feel they were improperly treated, they can submit a proposal on the Hive chain to have Hive funds equal to their Steem funds at the time of the fork distributed to them. Of course, those with Hive tokens would have to agree and support their proposal (which I find very unlikely), but it does, at least, create an opportunity for them if that's the right path forward.
I understand not everyone in the community thinks leaving the Steem blockchain behind and moving to Hive is ideal. I understand some are quite fine with Justin Sun centrally controlling things and with his actions so far. The beautiful thing about blockchains is they are completely voluntary. We are all free to go our separate ways and participate how we choose.
If you feel like your views haven't been well represented by the witnesses, please reply below, and I'll discuss this with you as best I can. It may take me a while to respond as I have to get some sleep for tomorrow, but I will do what I can. I hope to see you on Hive.