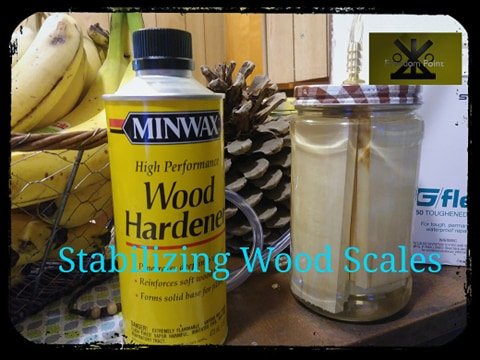 The next step to making my newest custom knives is probably the coolest. I have never done this before so it came with a whole set of new skills. Stabilizing knife scales is a very important part of making an awesome blade, but I have never been in a position to actually do it. The knives I have made in the past have been raw wood, but heavily oiled. This will keep them nice, but it won't perform the same.
If you can imagine a piece of wood, maybe even a wooden door. When moisture comes it changes the wood, and it makes it swell. Have you ever noticed when it is raining alot and the humidity is very high that your doors don't really close like they are supposed to? That is because all of the moisture in the air has made your door swell, and now you are stuck with a door that doesn't work right. The same thing can happen with knife scales if they are left raw. It will cause the wood to swell and potentially break the bond between the metal blade tang and the handle.
This has been years now that I have been trying to figure out how to make this happen, and low and behold I watched the right video and read the right article and have figured it out. For this I am going to use a large smuckers natural peanut butter jar, a bit of epoxy, a brake bleeder from Harbor Freight, and a can of Minwax wood hardener.
I started by drilling a hole in the lid of the peanut butter jar. I chose this jar because it had a lid with a rubber seal, and it was a taller jar that could fit the 5 inch scales in. After I drilled the hole I inserted a 1/4 inch hose fitting that I bought at Home Depot. It was part of an air hose repair kit. One side is threaded and the other is barbed to receive the plastic hose. I threaded the fitting into the lid the best I could, and then used a bit of epoxy to glue it into place and to help create an air tight seal.
It had to set up over night, and I was terribly antsy to get it all set up and going. This morning I found that the epoxy had set up and it looked like it was ready to go. I attached the brake bleeder and hose to the top of the jar and gave it a shot. Sure enough, with enough lid tightening, it held pressure. I didn't waste anytime getting the cut pieces of wood into the jar and filling it up with wood hardener.
I filled the jar up until the liquid was at the top of the pieces of wood, and then put the lid on. So this was my first time doing this and I didn't know what to expect, and I wasn't disappointed. I began to pump the handle of the brake bleeder and bubbles came busting out of the wood and it started foaming like a volcano.
I have been checking on it about every 30 minutes. I feel like maybe if I keep looking at it something amazing will happen. Unfortunately, nothing is happening haha. So this is just the waiting part now. I can see that the liquid level is getting lower in the jar, so it must mean that the wood is soaking it up.
Maybe tomorrow or the next day I will take them all out and set them up to dry. After that they will be all set and ready to be used to handle any of my custom knives. I am hoping to pair this beautiful light colored maple handle with a pretty stainless steel bolster.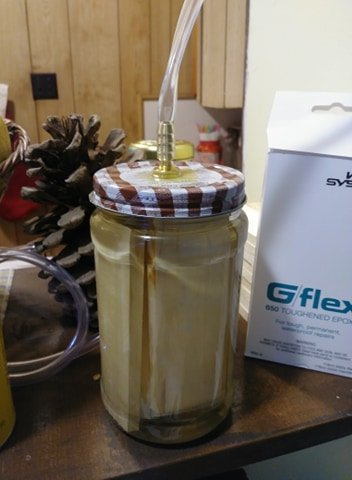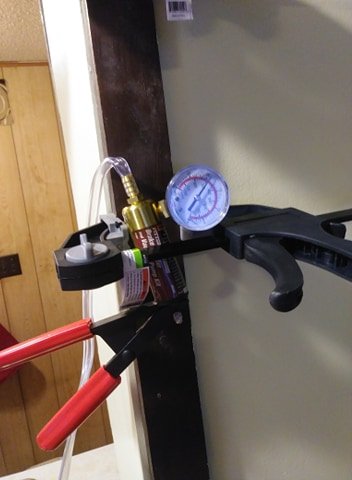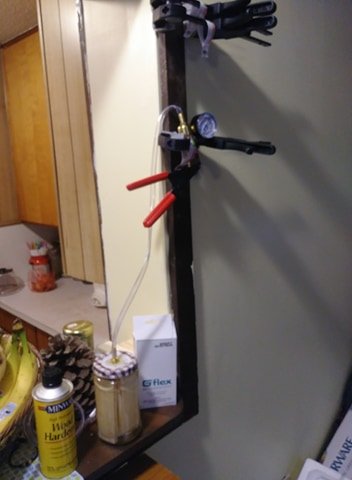 It's all starting to come together.
Stay tuned for what's next.
The Yeti
https://steemit.com/@freedompoint
https://twitter.com/the_alpha_yeti
https://www.instagram.com/thealphayeti/