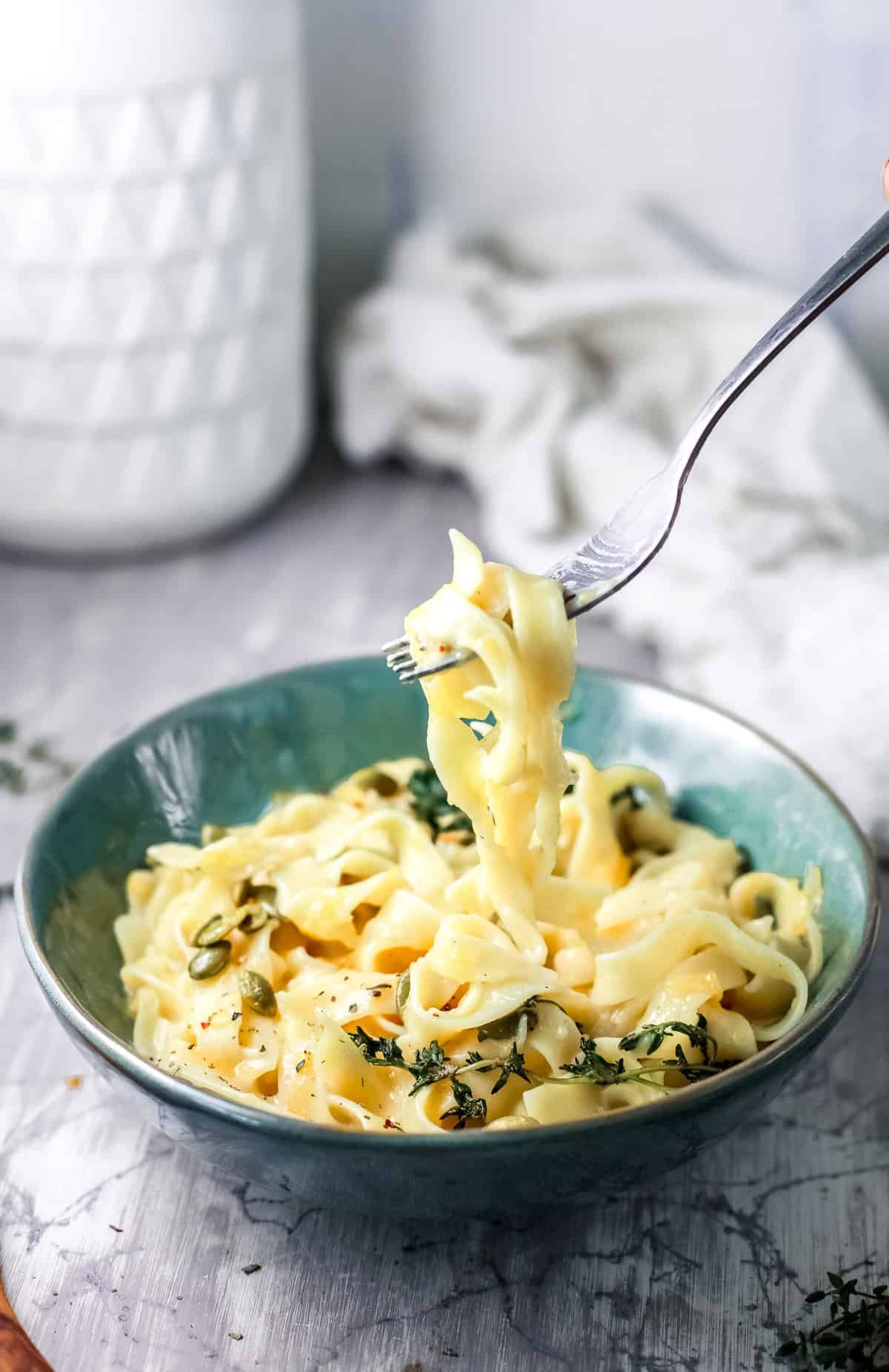 This creamy butternut squash pasta is the perfect Fall and Winter pasta recipe, it's restaurant quality while also being super easy to make at home. Packed with flavor thanks to a sauce made with real roasted butternut squash and a healthy dose of spices you'll find yourself making this every time you can!
I was the type of person that though delicious pasta = cheese. If a pasta recipe didn't have a good (and by good I mean huge) addition of parmesan cheese and cream it was a hard pass for me. That was until I discovered that you can get the same creaminess with veggies. 
That's when I became obsessed with finding the perfectly creamy sauce made with roasted veggies. I tried some ideas, tested other and then fell hard in love with this creamy butternut squash pasta. The reason? This is creamy, really creamy. The type of smooth and velvety sauce you expect to find at a high-end restaurant. 
It's also incredibly flavorful and while it definitely has a couple more steps than your traditional weeknight recipe it's also really easy to make, trust me when I say nothing in the pasta recipe is complicated. 
How to make roasted butternut squash sauce?
The star of this fall pasta recipe is obviously the sauce. The secret here is roasting the squash, slowly at 425 degrees until the outer layer is just a bit caramelized, that when it's super soft and the flavors are at their peak. While the butternut squash is roasting, melt some butter, cook onion and garlic and it and transfer everything, including the cooked squash + some milk, stock and flour to a blender to puree everything. 
Return to the pan, add cooked pasta and let it reduce for some minutes and voila. The most flavorful pasta sauce you'll have is done and ready to be served. Delicious comfort food that is healthy, too!
[socialpug_tweet tweet="Packed with flavor thanks to a sauce made with real roasted butternut squash and a healthy dose of spices you'll find yourself making this every time you can! #pasta #butternutsquash #fallrecipe #comfortfood" display_tweet=""]

How do I cook the pasta for this recipe?
To make perfect pasta, you will want to make sure to have plenty of water in the pot. More room for the pasta to move=less chance of it sticking together. A good guideline is 1 quart of water for every 2 ounces of pasta. 
Other pasta cooking tips:
You will want to season with salt the pasta water. I usually add 1/4 cup of salt for 8 quarts of water. It's very salty, but the it's really your only chance to season the pasta itself.
Cook the pasta al dente, which means it's just done. You want it to still be firm, not mushy. Linguine usually takes 8-10 minutes in the boiling water.
Once the time is up, drain the pasta fully, but don't rinse. The gluten in the pasta will allow the sauce to stick better, and rinsing diminishes some of that. I would recommend that you save 1/2 cup of the pasta water before draining. You can use it to loosen the pasta sauce, if necessary. 
What toppings are perfect for a Fall pasta?
For a delicious fall pasta, you can try some of these ideas:
Butter and Parmesan Cheese
Cream Sauce (fettuccine alfredo)
I forgo the cheese in this recipe is favor for some browned butter with thyme, and some pepitas. Even for me, a confessed cheese lover, this is the best topping you can make for Fall, Winter, or just any season. 
What are some good side dishes for this pasta recipe?
I love a good crusty
French bread
or
homemade Artisan bread
. A nice green salad would round out this meal as well. For dessert, try some
French macarons,
or this delicious
pumpkin cream pie
!
[mv_create title="Other Recipes You Are Sure To Enjoy" key="133" type="list" layout="circles"]

Ingredients
1 Butternut squash, peeled and diced
1 Tbsp olive oil
Salt and pepper to taste
8 Ounces linguine, cooked according to package directions
¼ Cup onion, diced
1 Garlic clove, minced
½ Cup milk
½ Cup stock
3 Tbsp flour
6 Tbsp butter
Fresh thyme
¼ Cup pumpkin seeds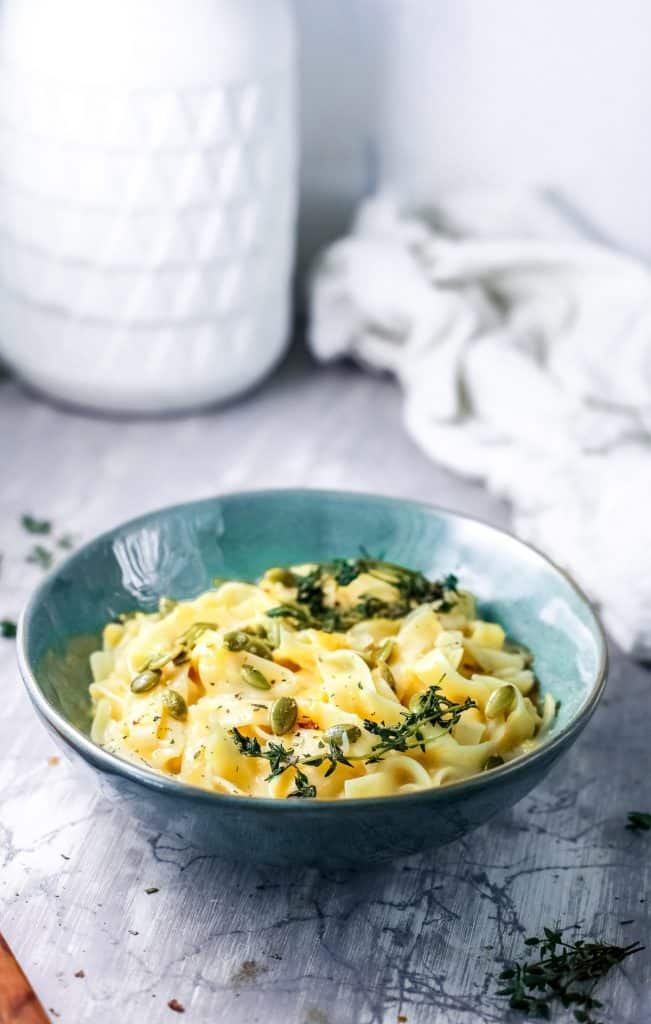 Instructions:
Preheat oven to 425 degrees. Place butternut squash in a baking pan, drizzle with oil and sprinkle with salt and pepper and toss so everything is coated. Take to the oven and bake for 35 minutes or until roasted.
In a large skillet over medium heat, melt half the butter. Add onion and cook for 5 minutes or until translucent. Add garlic and cook for 3 more minutes. Remove from fire.
Place the roasted butternut squash in a food processor and puree until creamy and smooth. Add the cooked onion and garlic, milk, stock and flour and pulse until everything is well incorporated.
Take sauce to the same skillet used for cooking the onions and bring to a gentle simmer, add salt and pepper to taste. Incorporate cooked pasta and toss to coat well. Remove from fire.
While the sauce is reducing, prepare the topping. In a small saucepan over medium heat, melt butter, add thyme sprigs and pumpkin seeds and cook until the butter has browned. Make sure to scrape the browned bits from the bottom.
Serve the pasta and top with a drizzle of herbed butter and some pumpkin seeds. 
What is your favorite comfort food? Will you try this creamy butternut squash pasta soon?
[mv_create title="Creamy Butternut Squash Pasta" key="132" type="recipe"]
---
Posted from my blog with SteemPress : https://recipesfromthehomestead.com/creamy-butternut-squash-pasta/
---