Slip straw is a technique that we've come to love over the years. It's a great blend of natural building with conventional stud framing.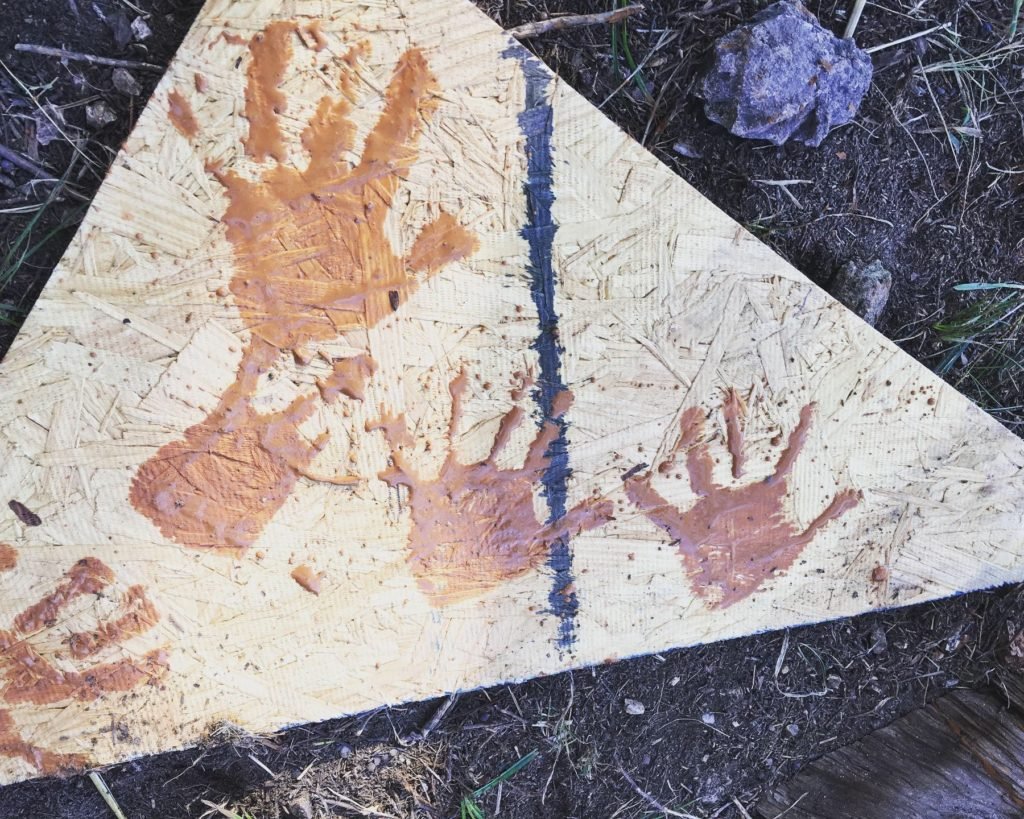 Also known as light clay straw, slip straw is as simple as the name suggests: straw mixed with a clay slip (clay slaked in water and blended to very liquid consistency.) At this point, forms are put up on the studs and the slip straw is pounded into the cavity. When the forms are removed, the clay binds the straw together in a matted hair effect which is perfect for the application of earthen plasters. In future posts, I'll get into the specifics of the technique, but this is the gist.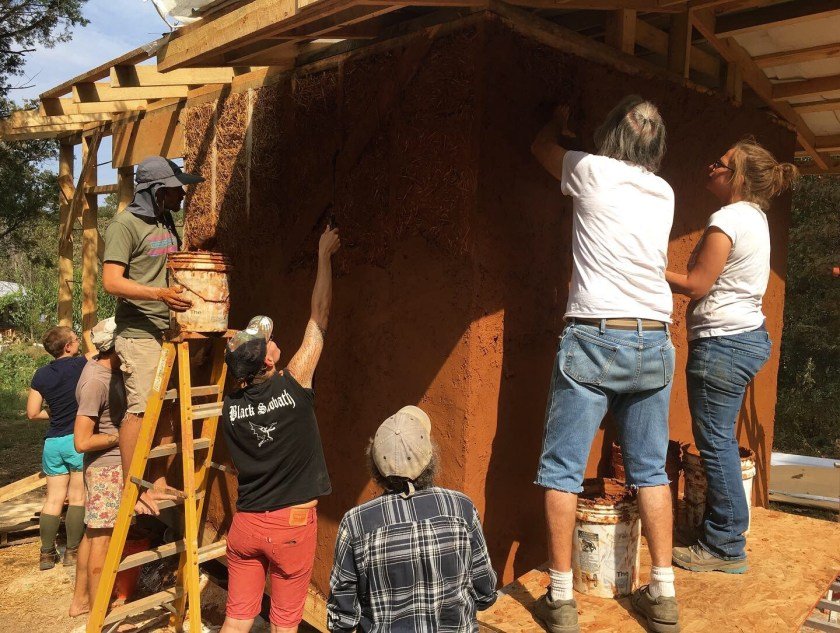 Many hands make light work applying clay slip and the first coat of earthen plaster!
Less than a month ago we began the sauna. As mentioned in a previous article, we decided to pause on the straw bale house and prioritize a sauna because it became obvious we weren't going to close in the straw bale before winter and we wanted a place to get hot and wet. Each previous winter we've put aside our on-demand propane outdoor shower when freezing temps come and have settled into the world of boiling hot water for showers in the high tunnel on warm days. A sauna was in order.
A sauna holds its place in human culture as a space of rest and holistic rejuvenation. In some cultures they are revered as something for everyone and in others thought of as something for the upper classes. By building a sauna using low cost natural methods and indeed basically using materials directly from the earth, we hope to instill a people's sauna tradition.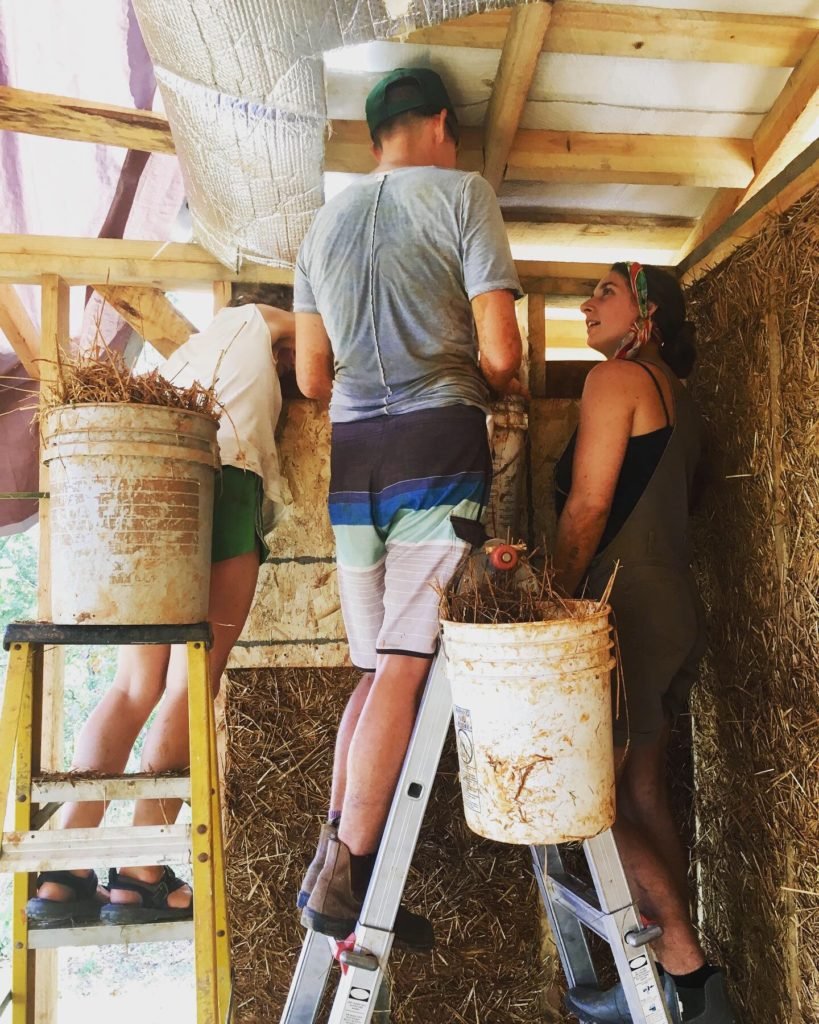 Chelsea, me (Wren) and Mary pounding slip straw together. It was close quarters, but very fun!
In another article I'll highlight the steps we've undertaken when building the sauna from start to finish: including site location, foundation, material selection and acquisition, and the building process, but in this article I want to focus on a component of our build that greatly propels our progress, boosts our morale and fills our spirits. I want to focus on work parties.
In rural dwellings the world round, community members gather to help their neighbors build. Traditionally called a "barn raising" in the United States, communities come together, share food, and get sweaty raising walls, roofing, and putting finishing touches on houses everywhere. Locally and nationwide this tradition has fallen out of favor in an age where other people build our homes, just as others are responsible for growing our food. In this I think we have lost a great deal.
As someone succinctly stated the other day in response to an article that I'd written about a work party- when people help us build they're doing more than raising walls, they're putting their energy into the building, literally becoming a part of our house.
Before you write that off as too esoteric, consider the process of us building our earthen sauna. Unlike in modern buildings where materials come from hundreds if not thousands of miles away and are subject to any number of industrial processes (most of which are polluting, exploitive and toxic) these materials are local and each step of the way they are touched, even massaged into place. Take, for example, our process:
Put up locally grown and milled pine conventional stud framing
Take local straw and put a light clay slip on it by tossing it like a salad
Pound the slip straw into forms using a 2x4 piece of wood
After this sufficiently dries, massage a clay slip into the slip straw using your hands
Apply layers of earthen plaster (all local materials) with hands or trowel and smooth to taste
As we have invited community members in and they've shown up with gusto, dozens of people have tossed, pounded, massaged and smoothed our building.
Inch by inch and layer by layer these walls have gone up and it's due to the very literal input of human energy. Local materials and local people make up this sauna and it is our hope that many will also come to enjoy a sweat, let out some deep breaths and find restoration and community in it as well.
Thus far we've had 3 work parties for the sauna. The first one included starting on the slip straw and some local people who live at a nearby community called Oran Mor came out. They were really excited to learn about this technique and were amazed at how much lighter and easier it was than using cob! They left excited to perhaps make some interior walls in their earthen home.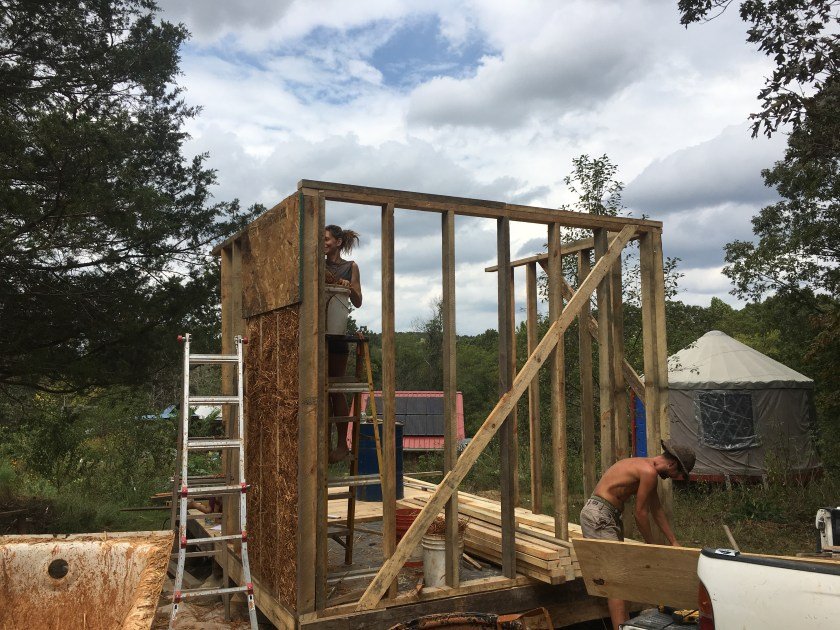 Dez of Oran Mor trying her hand at slip straw.
Next we had another work party where friends from 30 minutes to even 2 hours away, all living close to the land, came to help continue the slip straw mixing. This was the day after we were able to share slip straw at the 40th annual Ozark Area Community Congress. As always when we have work parties, we share some food and company and that is as important as working on the buildings. We are simultaneously building structures and community bonds.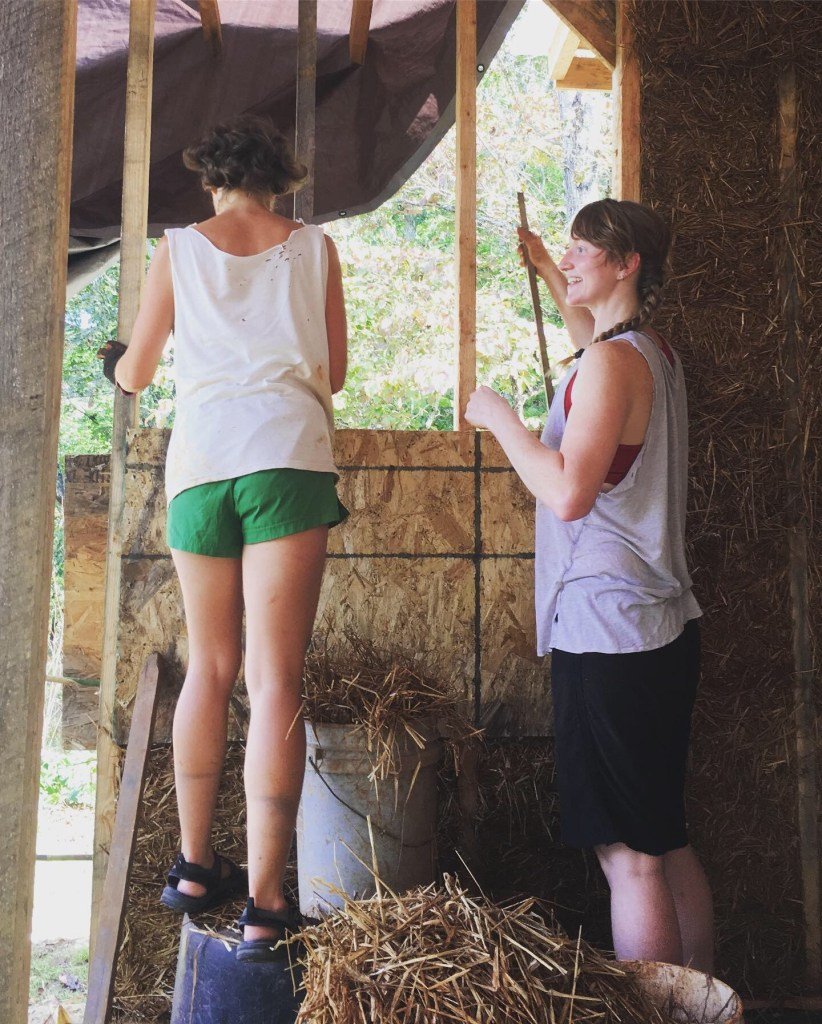 Chelsea and Kaci pounding slip straw into the forms. After this section is done, the form is then leap frogged up to the next section. You can take the form off right after you finish the section.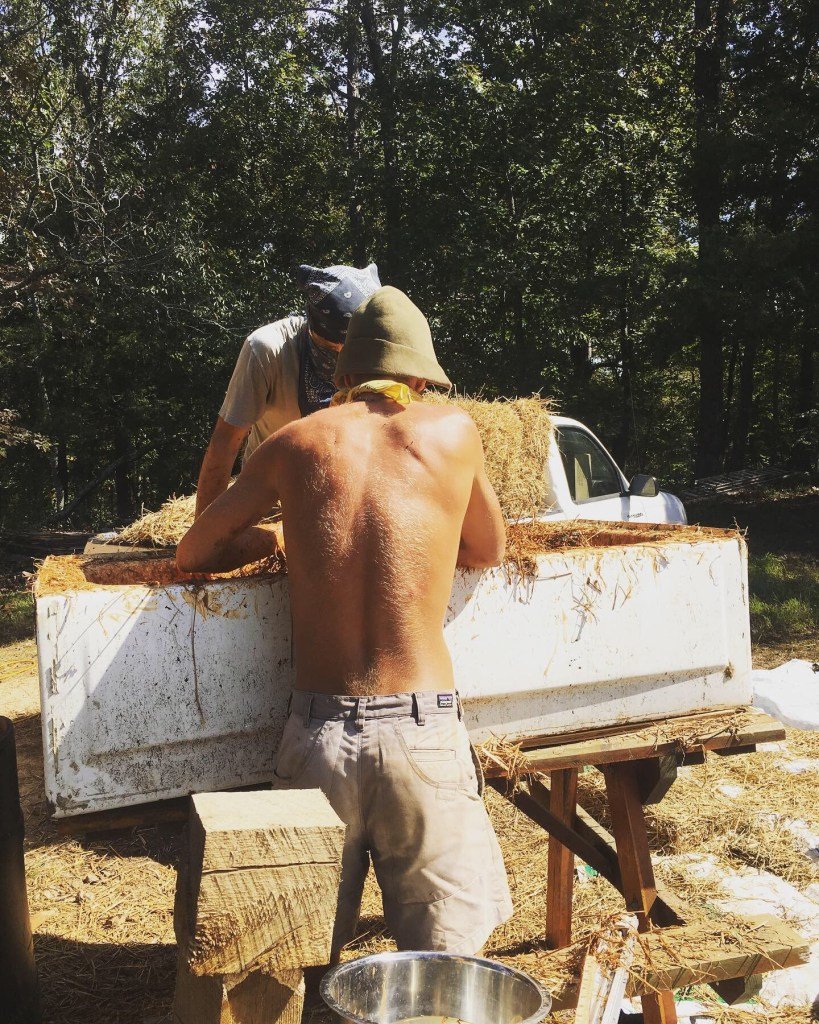 Ini and our local friend mixing slip straw to stuff into the walls. It was great to have people working constantly mixing slip straw while others pounded it into the walls!
Over the last week Ini and I have been working tirelessly to build walls and prep for this weekend. We were planning on applying a clay slip and a first base coat of plaster on the dried sections of walls. Many people were writing to say that they would be coming to help and we needed to prepare materials and organize the day.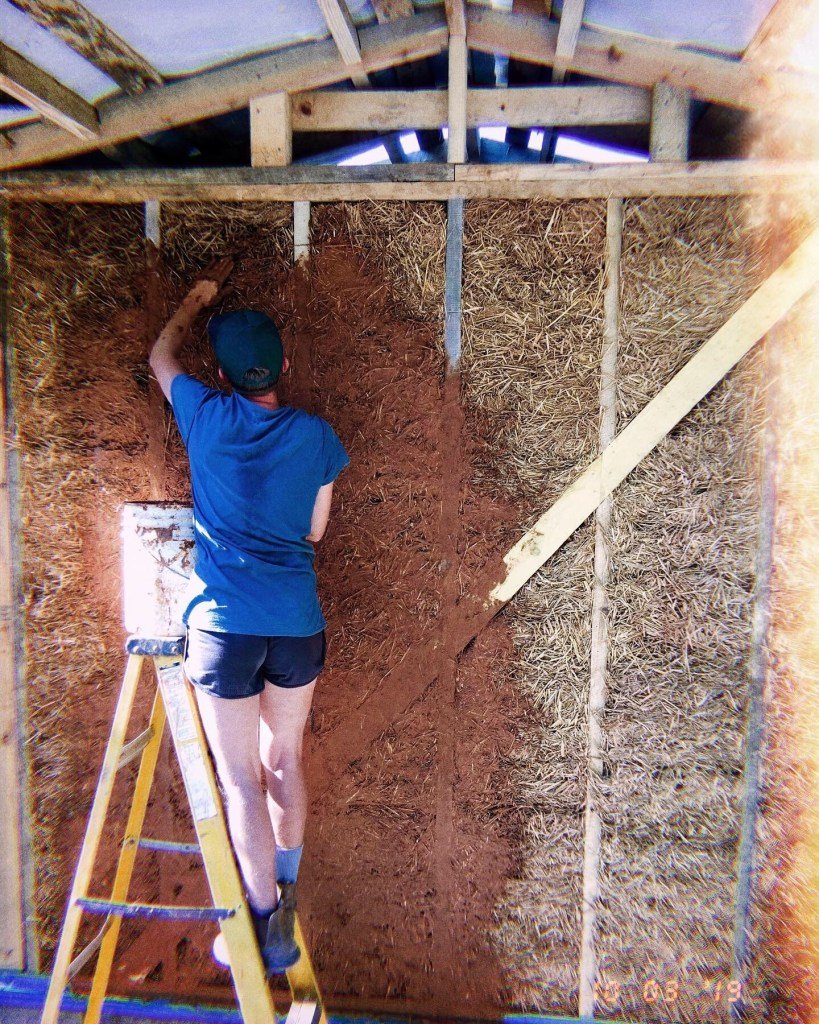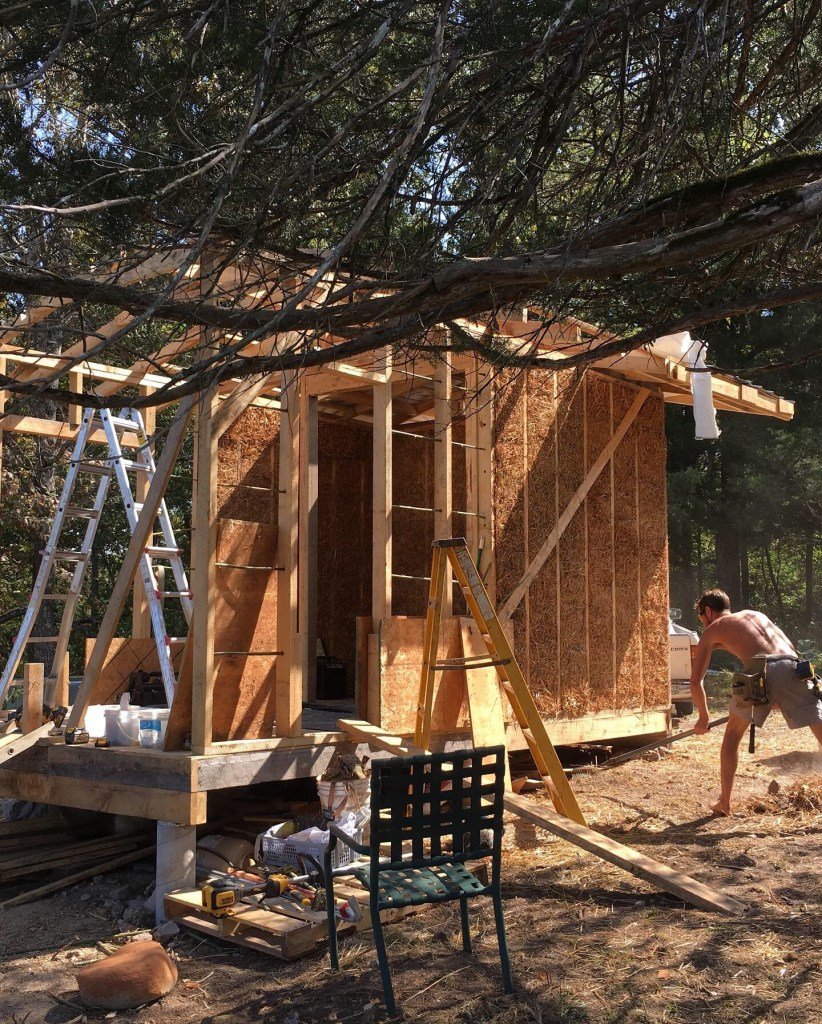 Ini clearing the site for Saturday's work party. Safety first!
Over 20 people came out yesterday to help with the sauna!
Our group included music-making friends we've met over the years, a group from East Wind (a nearby income sharing community- you may know them for their famous nut butters), friends building a cordwood house, stone's throw neighbors, local friends with kids, and our Wwoofer from London who arrived a few days ago. It was a challenge to instruct and provide materials as fast as their hands were using them, but the motivation was infectious and we managed to keep up.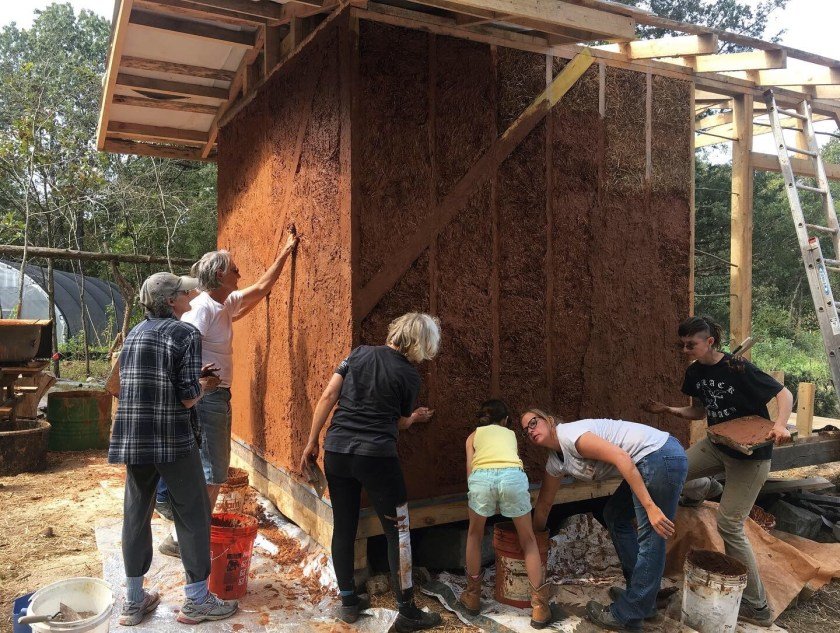 Clay slip is applied directly to the slip straw wall and one can then apply the first coat of earthen plaster, sometimes called a scratch or base coat, onto the sticky clay slip.
The day before we had strained six 5-gallon buckets of slaked clay with chopped straw (so it could ferment for 24 hours which helps break down the straw and increases the stickiness and bonding.) We also prepared buckets of clay slip for the wall, defrosted a large beef bone from nearby Elixir Farm, a biodynamic and grass fed beef operation, soaked beans for the soup, harvested veggies, made seed cheese, charged batteries and got a good night's rest.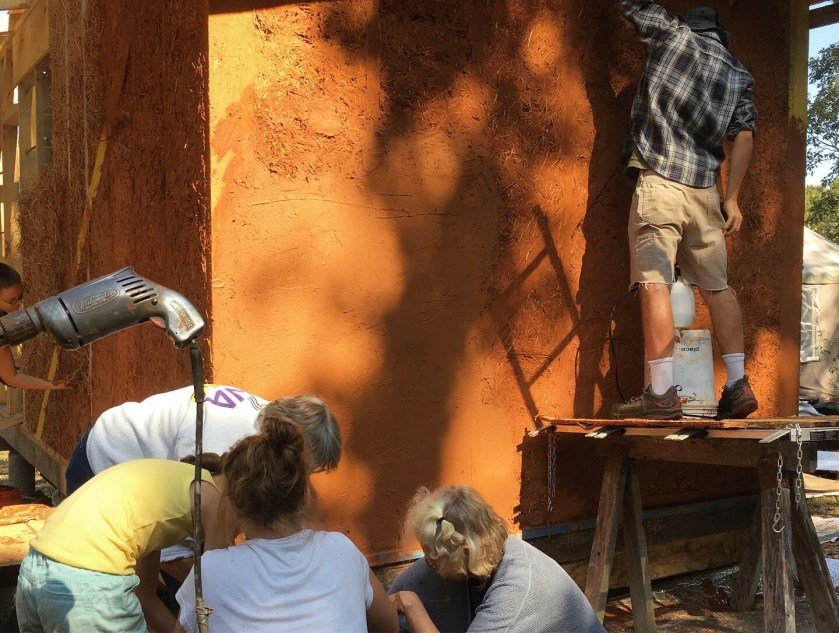 Hobi stapling fiberglass mesh onto exposed wood as others sift large aggregates out of the slaked clay.
As people joined us the next morning, we got to work applying the clay slip to the slip straw walls. We also had people stapling fiberglass mesh to the studs as the clay will not bond to wood and our goal is to make a contiguous plaster skin over the slip straw walls. This creates a "stressed skin panel" and strengthens the wall system.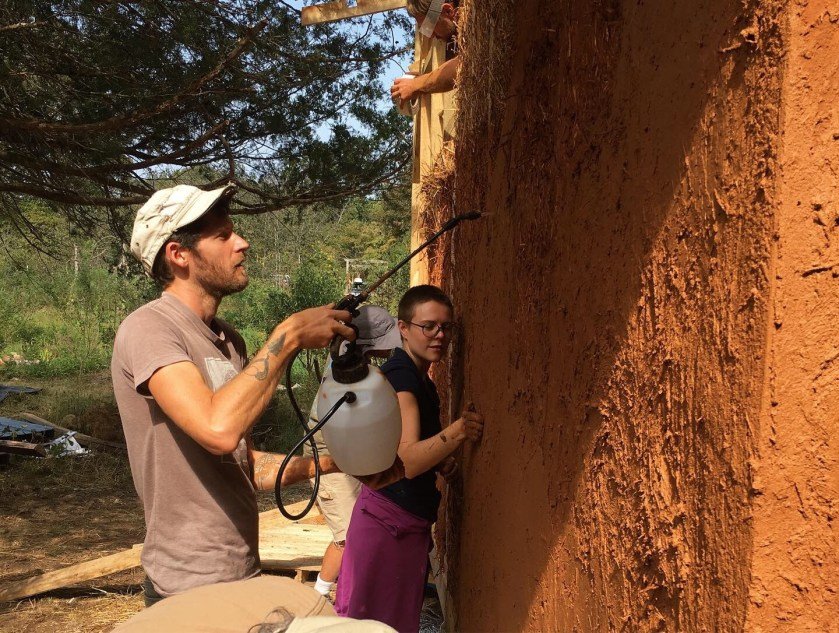 Petey wetting down clay slip I'd applied two days prior. It's important to wet the substrate to insure good suction with future clay rich layers.
We started the morning off explaining the method: massage the clay slip (simply clay slaked in water and mixed well) thoroughly into the walls. The clay binds well to the slip straw and provides ample base for the next coat which is a base or scratch coat of earthen plaster. Without the clay slip, it's quite difficult to get a plaster to stick to the slip straw. Clay (when wet – always wet before adding a next layer,) however, provides ample suction and traction for the next layers of plaster.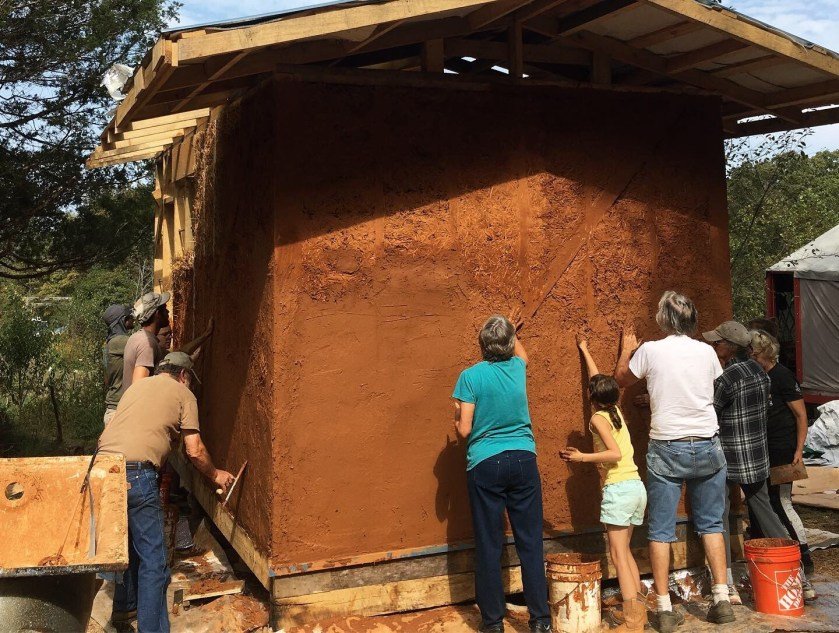 Local people of all ages lended a hand. This accessibility is a strong suit of natural building.
Ini and I mixed batch after batch of plaster and it got a bit overwhelming trying to keep up with demand. Petey from East Wind who has been to work parties galore commended us at how well we had prepared and were able to keep up with the group. Let it be known that it took quite a bit of work to simply keep up with the group and anyone planning a work party should take this into consideration.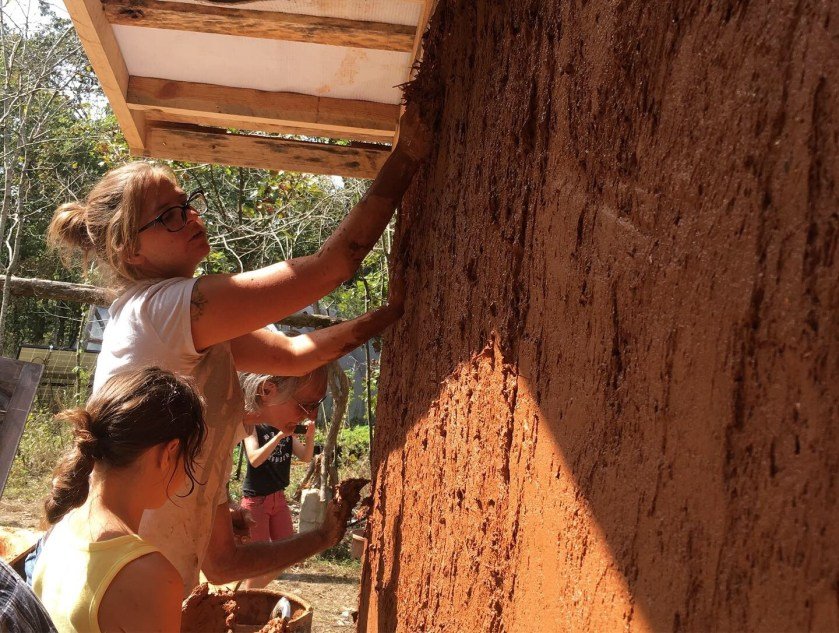 Chelsea and John applying a base coat of earthen plaster with their hands.
At certain points we had a dozen or more people massaging clay slip onto the walls, stapling fiberglass mesh, and applying a base coat of earthen plaster which was 1 part clay, 1 part straw and 1 part sand.
All of these loving hands putting their energy into our building!
Days of work for us done in a couple of hours! It was incredibly heartening to see so many people come out, lend a hand and get jazzed up about slip straw, clay, earthen plasters and natural building. Many left with ample inspiration and folks at East Wind might even endeavor a natural sauna build next year!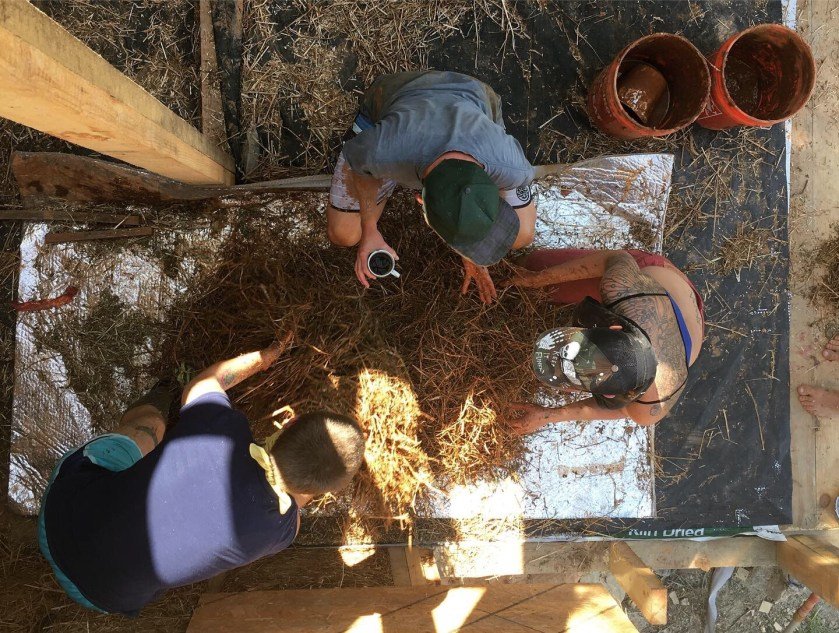 Discussing just how coated the slip straw needs to be with the light clay slip. Like tossing a salad, each straw just needs to be lightly coated with the slip - not wet.
To me, this is the bright light of the community-based homesteading life. In our increasingly monetized, expert based and isolated culture, we lack strong community bonds. We lack non-monetized helping hands, potlucks, skinny dips in the creek afterwards and a good riff on the banjo.
Our sauna build is embedded with our community (most are over a half an hour drive away!) showing up amidst full schedules, their own projects and busy lives to learn something new and simply to help. It's spiritually fulfilling to me and Ini and I remarked at how amazing it was to witness and be a part of as we drifted off to sleep last night. Sharing, teaching and connecting are at the heart of what we aim to do and we both felt incredibly satisfied from yesterday's efforts.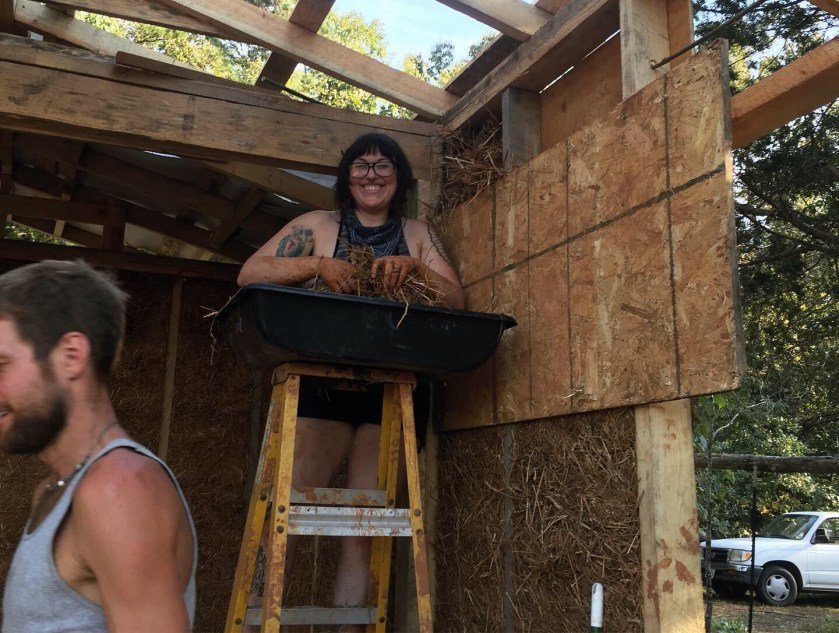 Sarah stoked to be getting muddy learning slip straw!
There is something special about working with earthen materials. Something deep and ancestral seems to awaken in many who get their hands muddy and gather in community to build healthy and locally based buildings. You can see it on people's faces as the dive in to the process.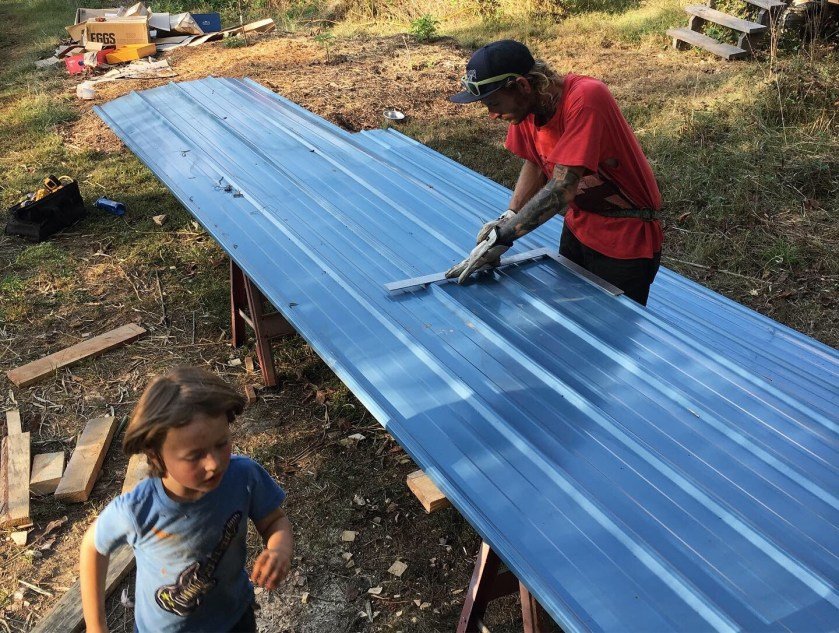 Ryan cutting roofing
We used all of the prepared materials and skilled friends who came later helped us cut all of the metal roofing and get the radiant barrier roof insulation up and nailed in before the night's storms rolled in.
Building a slip straw sauna with an earthen plaster finish is more than the sum of its parts. Along with the clay and straw walls covered with layers of sand, clay, straw, and manure mixtures at varying degrees, these walls are built by the soul of our community which is the empowerment that happens when we all get together. Thanks to everyone who put themselves in this building – we hope you'll come by for a sweat this winter.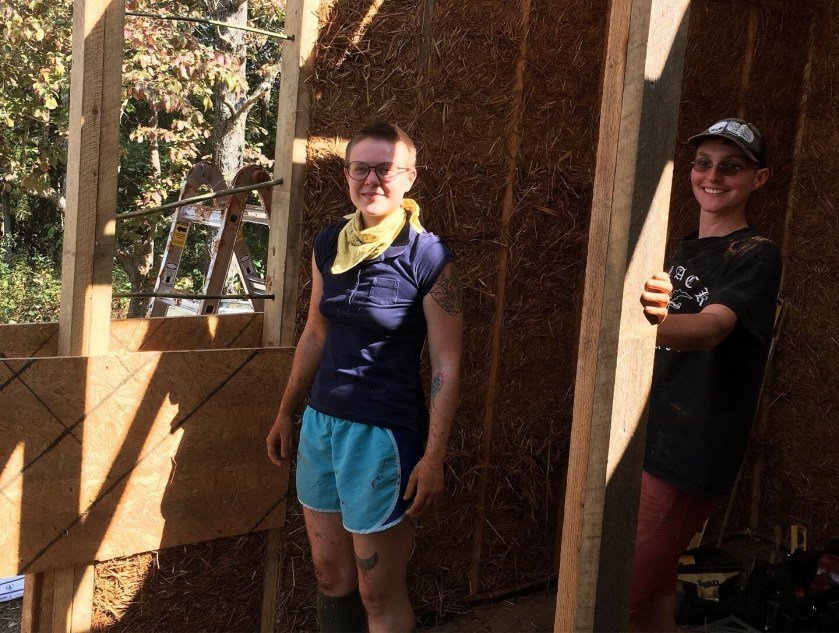 Beauxb and Cody from East Wind satisfied with their work.
---
Posted from my blog with SteemPress : http://www.ozarkmountainjewel.com/2019/10/06/building-the-walls-of-the-slip-straw-sauna/
---