Welcome to the time of the woodstove. Stacking wood, cold mornings, copious amounts of tea, of winter dreaming. Welcome to book after book, abundant rest after another busy year, seeds, nuts, deer hunting season, eternal pots of stew.
It is that time of year again and it hit me before I was fully ready for it or expected it to come. As it gets colder, everything slows down, including my pace and thoughts. I welcome the season of reflection.
Some of the books I've been reading lately include Jean M Auel's Earth's Children series. You may be familiar with the first bestseller of that series, Clan of the Cave Bear.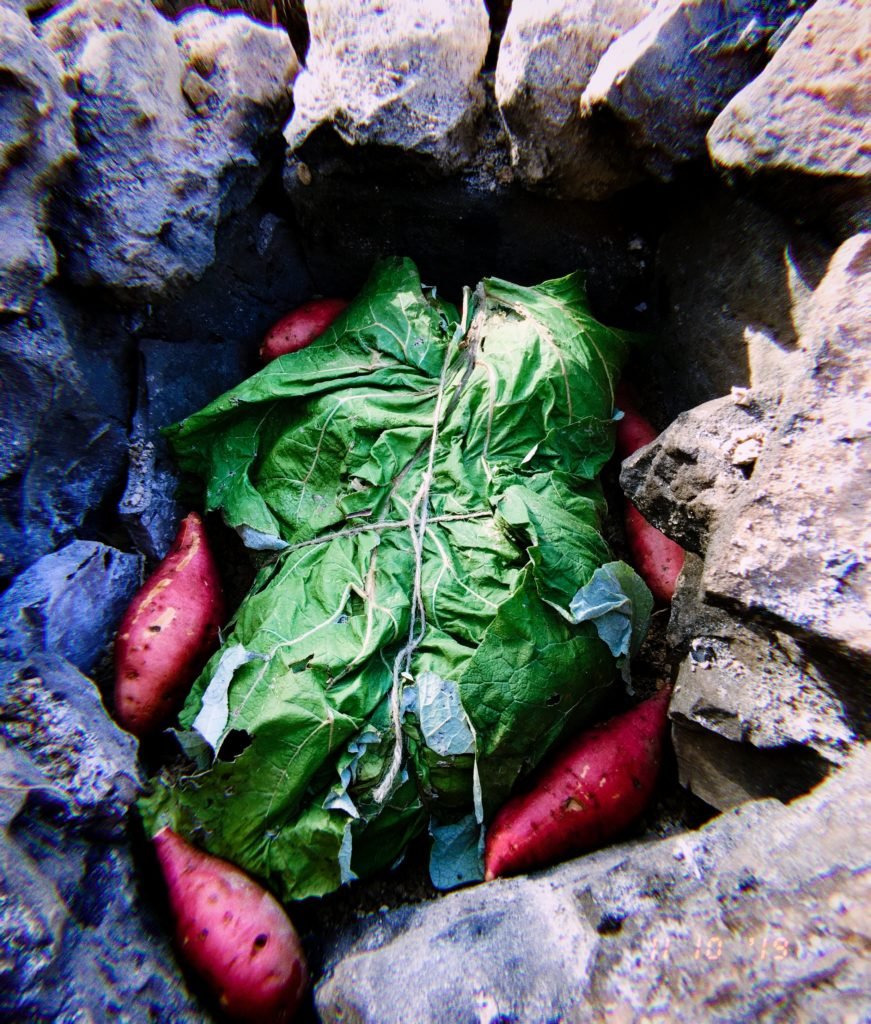 Venison ready to roast in stone pit.
The story tracks Ayla (Cro-Magno), an orphan who lost her family in an earthquake, as she is taken in by Neanderthals and then is cast out of the clan and has to survive on her own while looking for her own people. The book has quite a cult following and though at times the human drama was a bit much (I just skipped a lot of Jondalar's waffling), it is also filled with interesting tidbits into how our European ancestors were possibly living 29,950 years ago.
This inspiration coupled with watching all 3 seasons of Live Free or Die (thanks to my friend Joan who sent me a thumb drive of the seasons), a show showcasing homesteading, rewilding, primitive skills, hunter gatherer and tracker/trapper lifestyles, invigorated me to dig in deeper into experimenting with primitive skills.
For example in Auel's final book in the Earth Children's series, The Land of Painted Caves, we read this excerpt about a stone cooking pit Ayla makes in order to steam meat. It sounded especially tasty and I was also inspired by seeing Matt in Season 3 of Live Free or Die demonstrate this technique after he successfully hunted a turkey.
Zelandoni had watched Ayla dig a hole in the ground with a small shoulder bone that had been shaped and sharpened at one end and used like a trowel. To remove the loose dirt, she transferred it by small shovelfuls onto an old hide; then gathering the ends together, she hauled the hide away. She lined the hole with stones, leaving a space not much bigger than the meat, then built a fire in it until the rocks were hot. From her medicine bag, she took out a pouch and sprinkled some of the contents on the meat; some plants could be both medicinal and flavorful herbs. Then she added some of the tiny rootlets growing out of the wood avens rhizome, which tasted like cloves, along with hyssop and woodruff.
She wrapped the red deer roast in the burdock leaves. Then she covered the hot coals in the bottom of the hole with a layer of dirt so they wouldn't burn the meat, and dropped the leaf-wrapped roast in the little oven. She piled wet grasses on top and more leaves, and covered it all with more dirt to make it airtight. She topped it with a large, flat stone that she had also heated over a fire, and let the roast cook slowly in the residual heat and its own steam.
"It wasn't just cooked meat," Zelandoni insisted. "It was very tender and had a flavor that I wasn't familiar with, but it tasted very good."

The Land of Painted Caves by Jean M Auel pgs 212,213
Stone Cooking Pit
While Ini didn't dig the hole using a shoulder bone, we did try to follow this description pretty closely. Here is our process.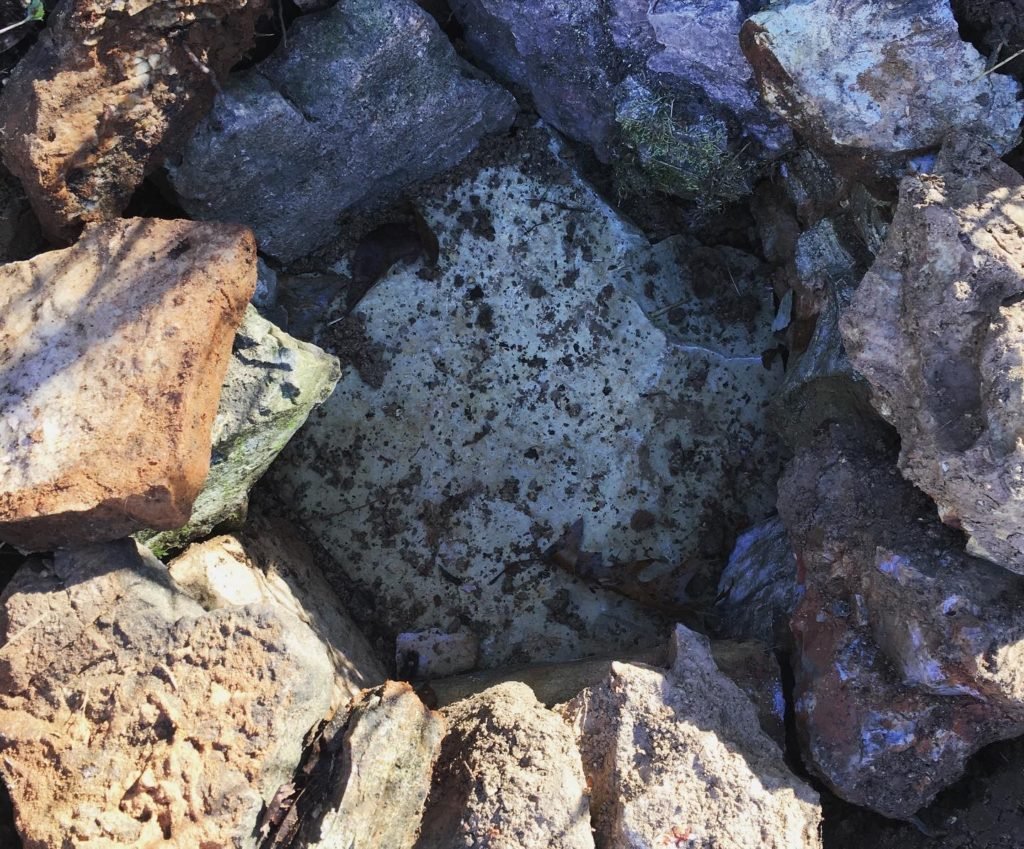 Ini dug a hole and I lined it with a large stone that covered the entire bottom and then placed stones on the sides.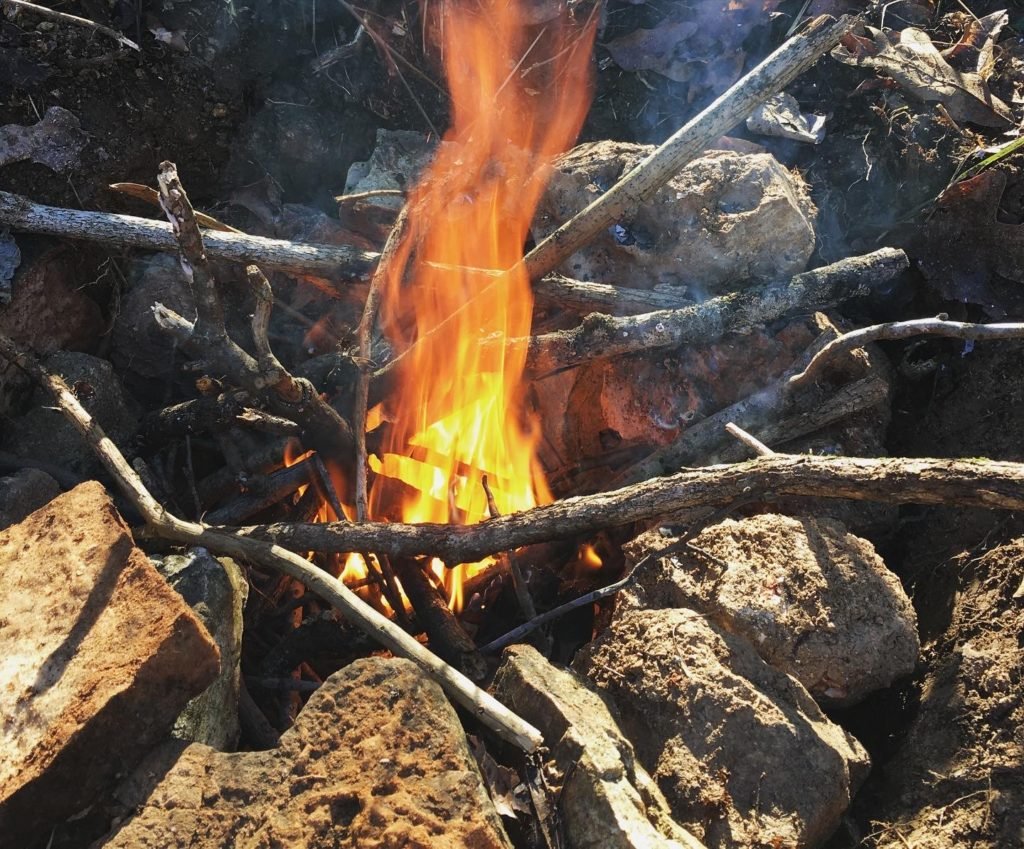 Next I made a fire and stoked it and added wood for 4 hours. I had a really good coal base and the rocks were really hot. One even popped and broke!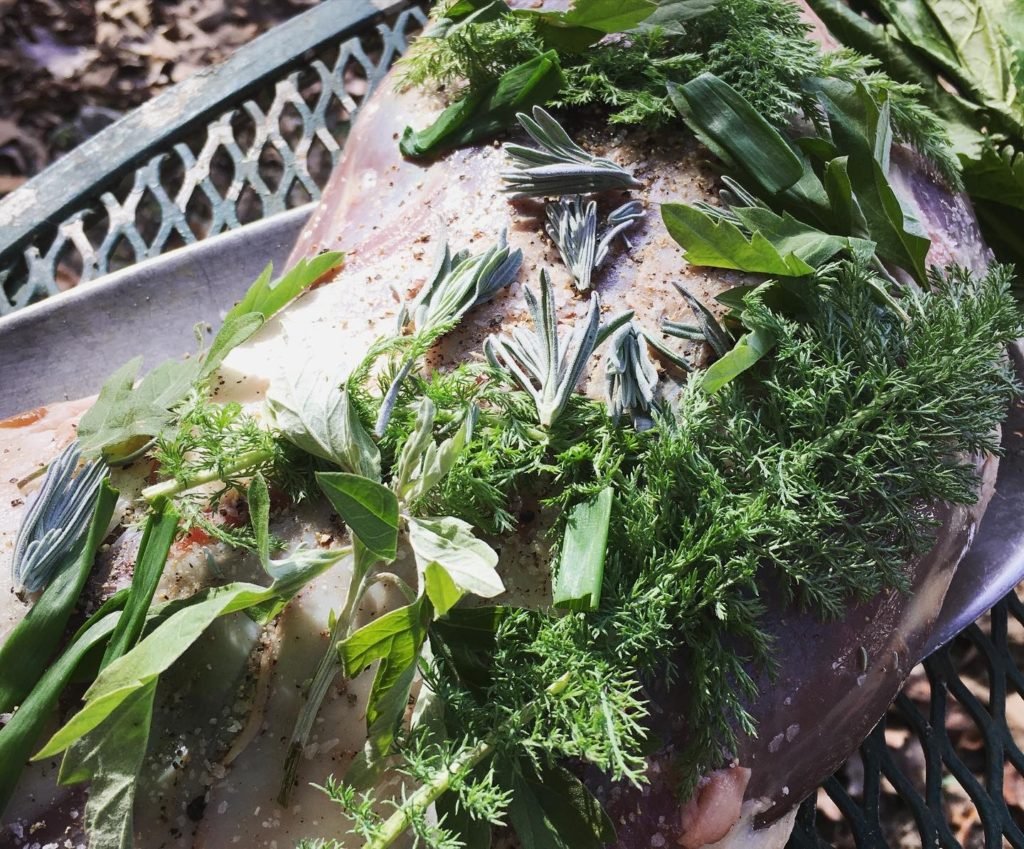 We defrosted the deer shoulder and coated it in salt and cracked pepper. I harvested herbs from the garden and put them on the meat. Herbs include yarrow, mugwort, lavender, and green onions. All of these herbs are surviving after many hard frosts!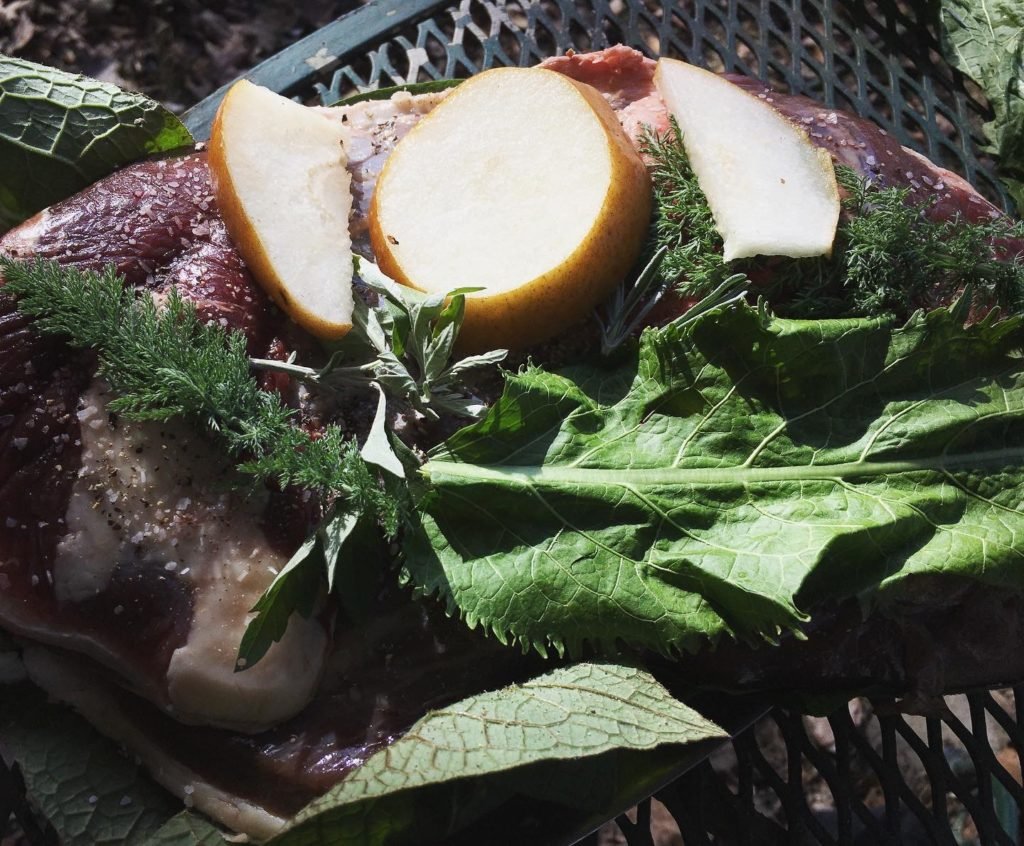 Then we flipped it and put some pears and horseradish leaves in the mix.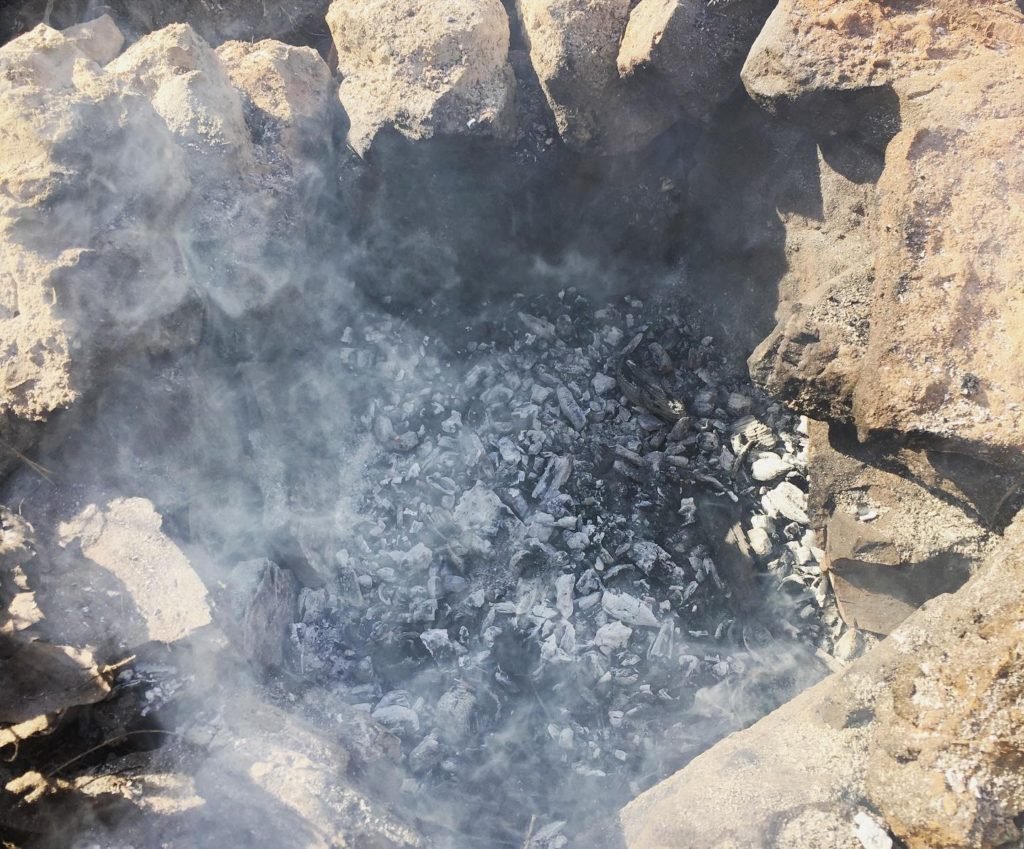 At this point, the coals were ready! We put some dirt on top of them as to not burn the meat and then put the shoulder in.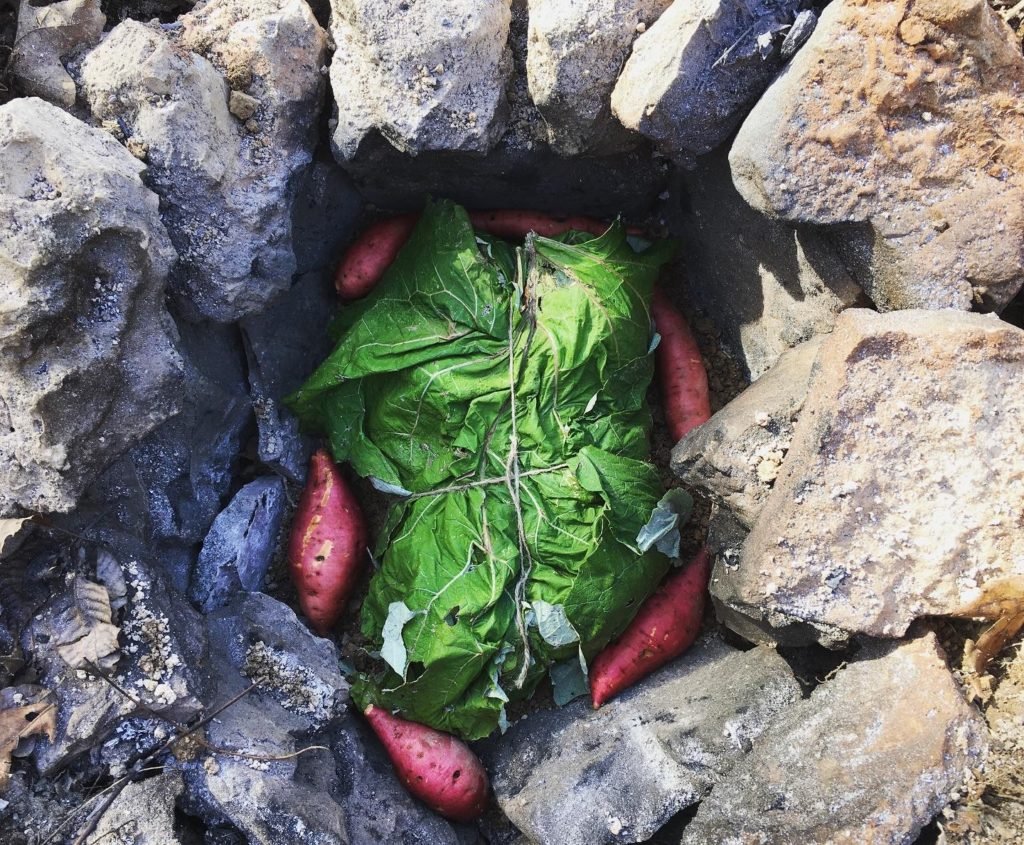 We also harvested sweet potatoes today and tucked them around the shoulder that was wrapped in horseradish, comfrey and burdock leaves. A sweet little bundle!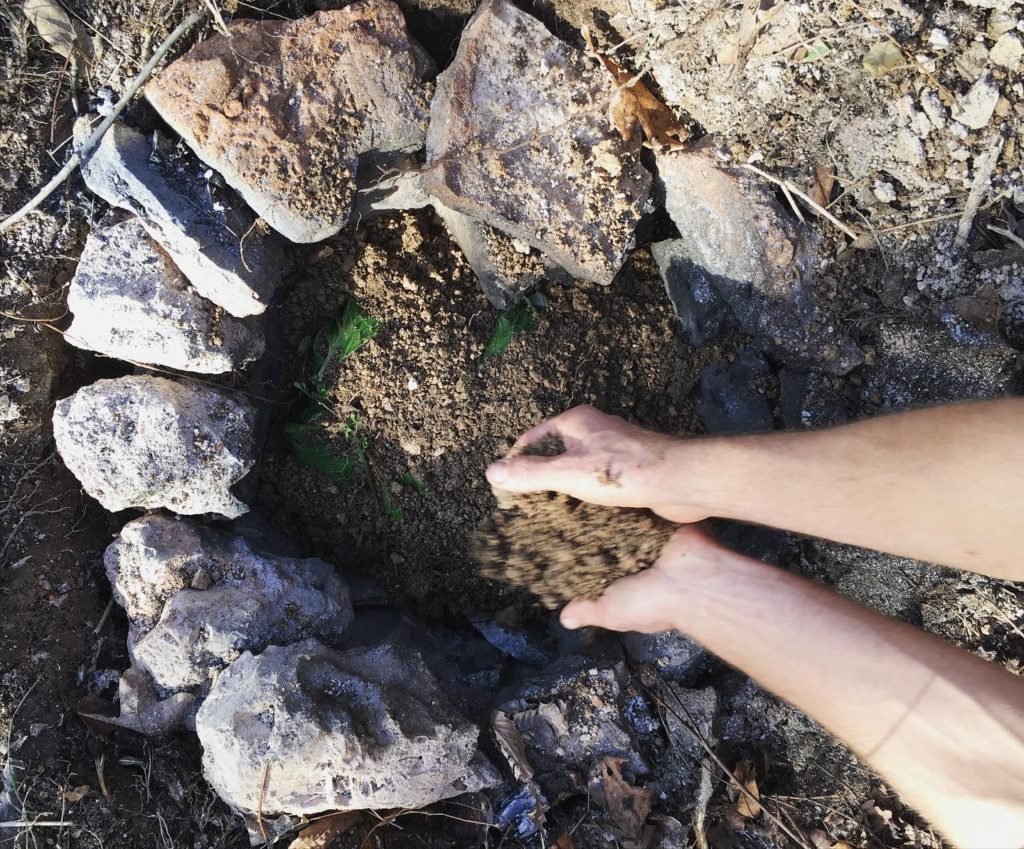 Next we covered the bundle with dirt all the way up to the top edge of the rocks.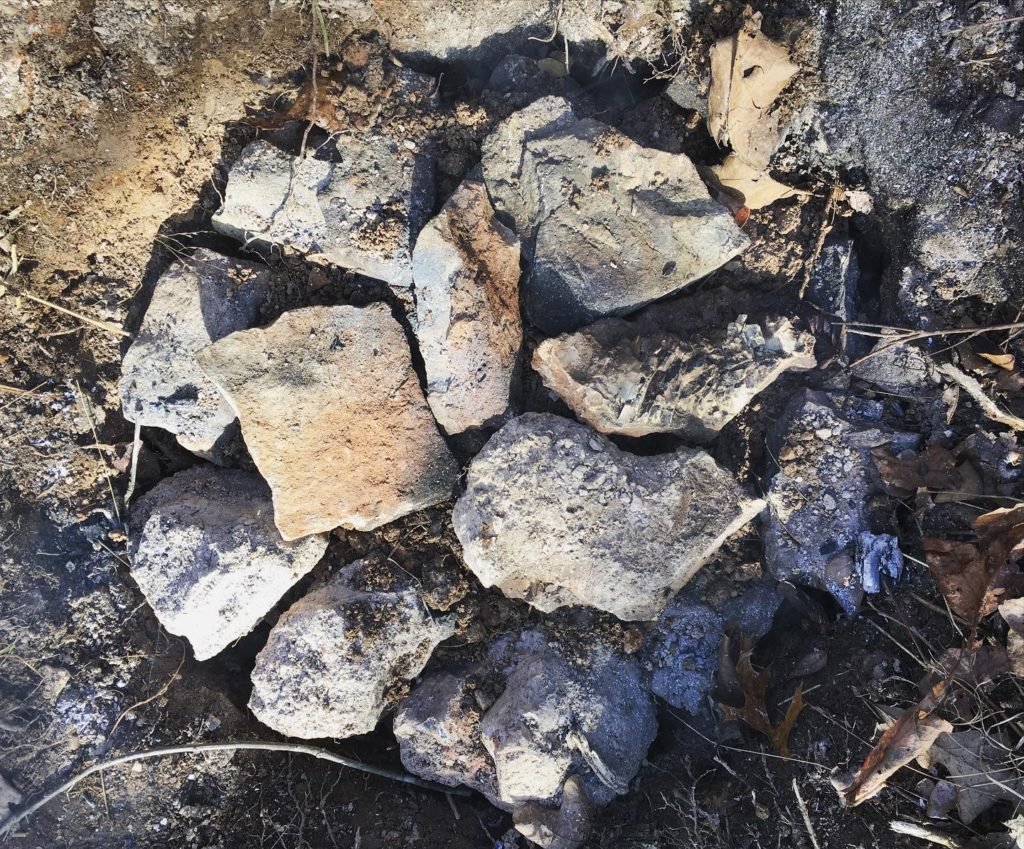 We then turned the top rocks onto the dirt- they were quite hot!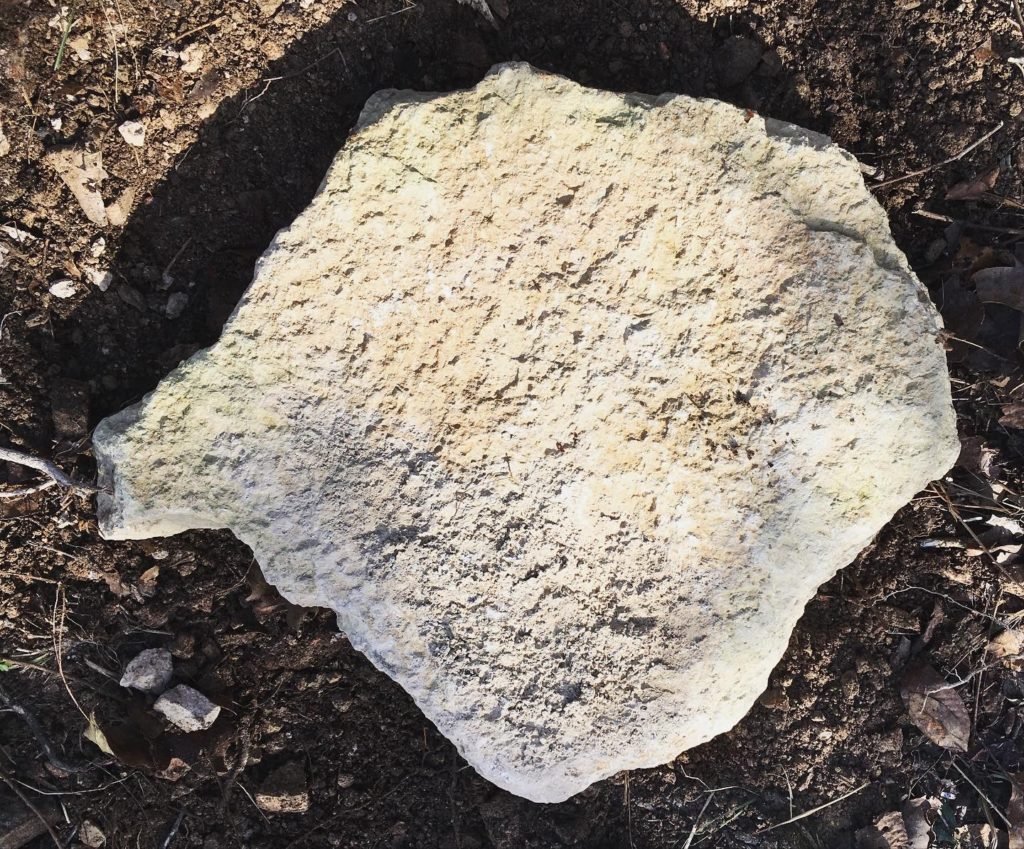 We put a large flat stone on top.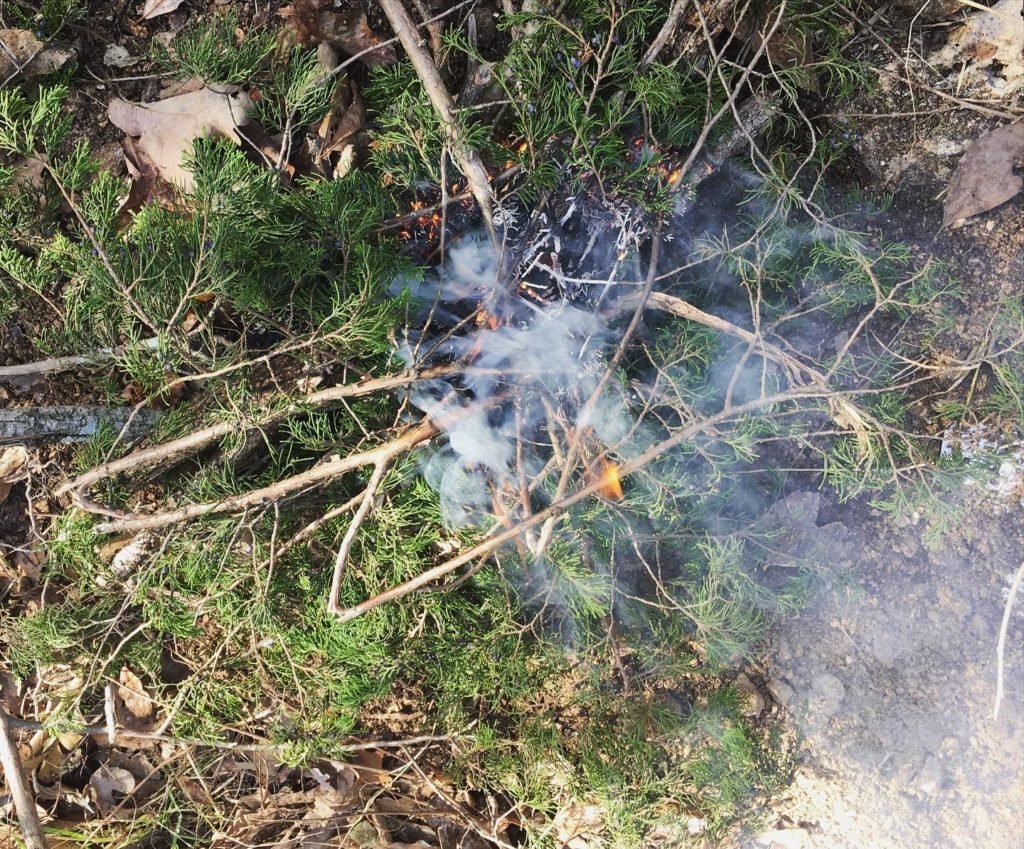 And then lit a fire on top of the stone to encourage the heat to stay in and to perhaps send some heat into the pit.
This roast has been cooking for 4 hours and we want to cook it for at least 6 hours. The longer the better, really, especially with a tougher meat like a deer shoulder. We have made cooking pits in the past, but never before have we lined them with stones and used dirt or a top stone! We're really curious to see how this turns out and will be sure to share updates in the comments after we dig in!
That's not all..
Hide Tanning
Also featured extensively in the Earth Children series is the hide tanning process. Over the summer, I practiced on a couple of hides and made my first buckskin!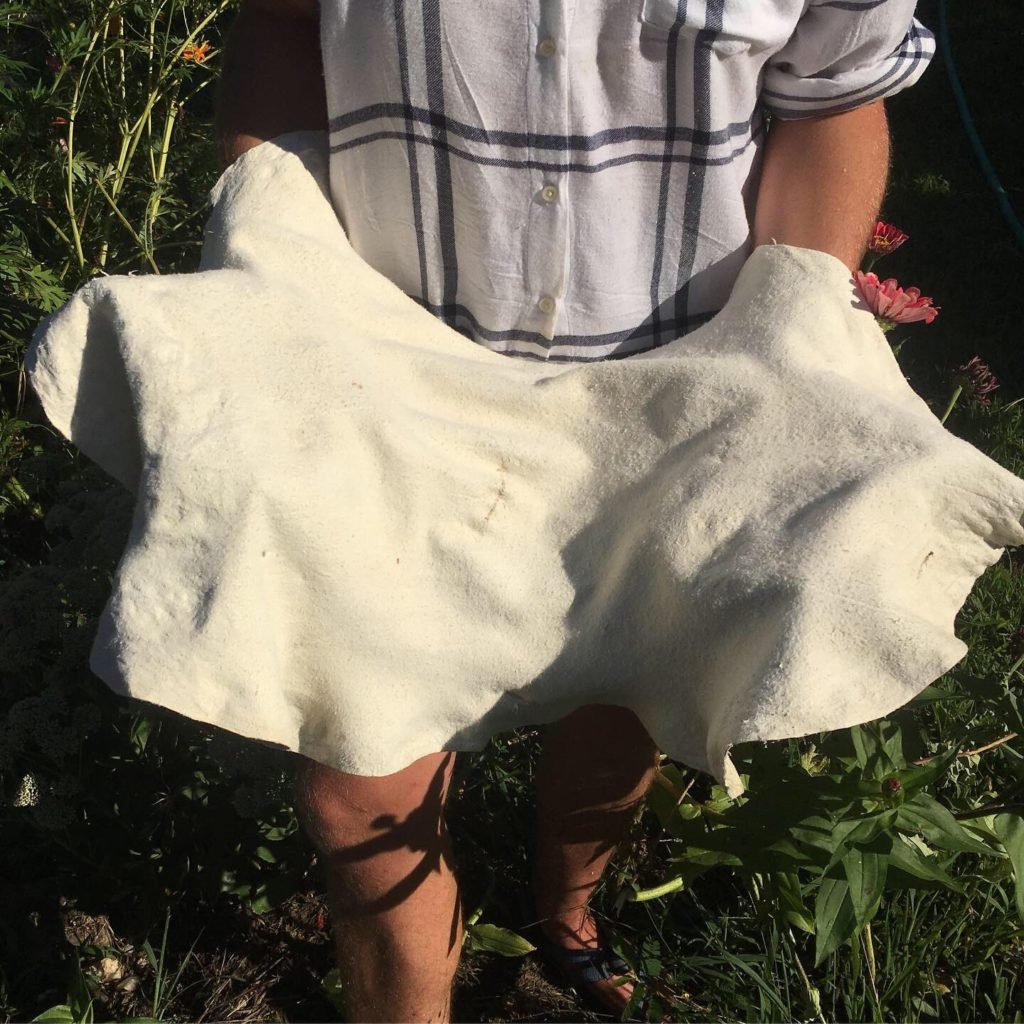 My first buckskin I did over the summer. As soft as velvet. I smoked it after this so it remains soft and pliable even after it gets wet.
Luckily our friend Drew had gotten a deer this season and let us know to come pick up the hide. Perhaps I'll make a full post on the process at some point - although Wild Abundance has an awesome tutorial on their website.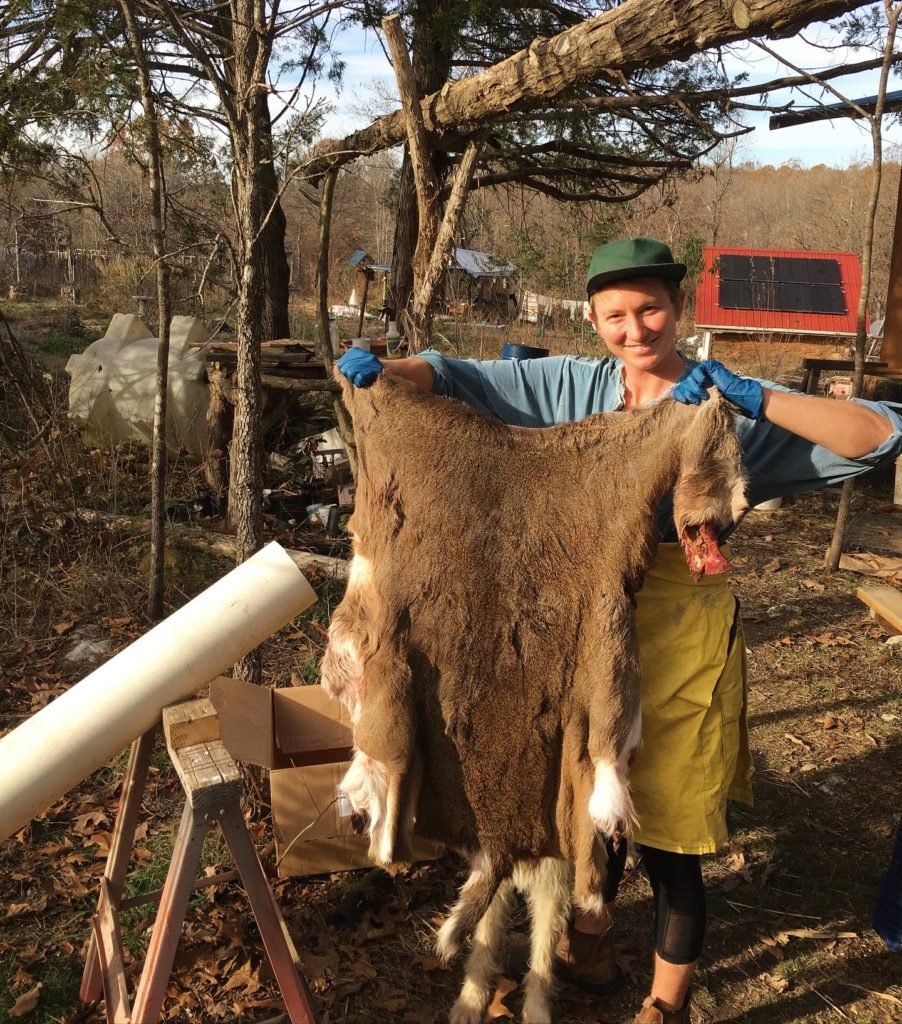 Thanks, Drew!
First things first, one must flesh the hide once it's off the deer. This includes scraping off any residual meat and fat.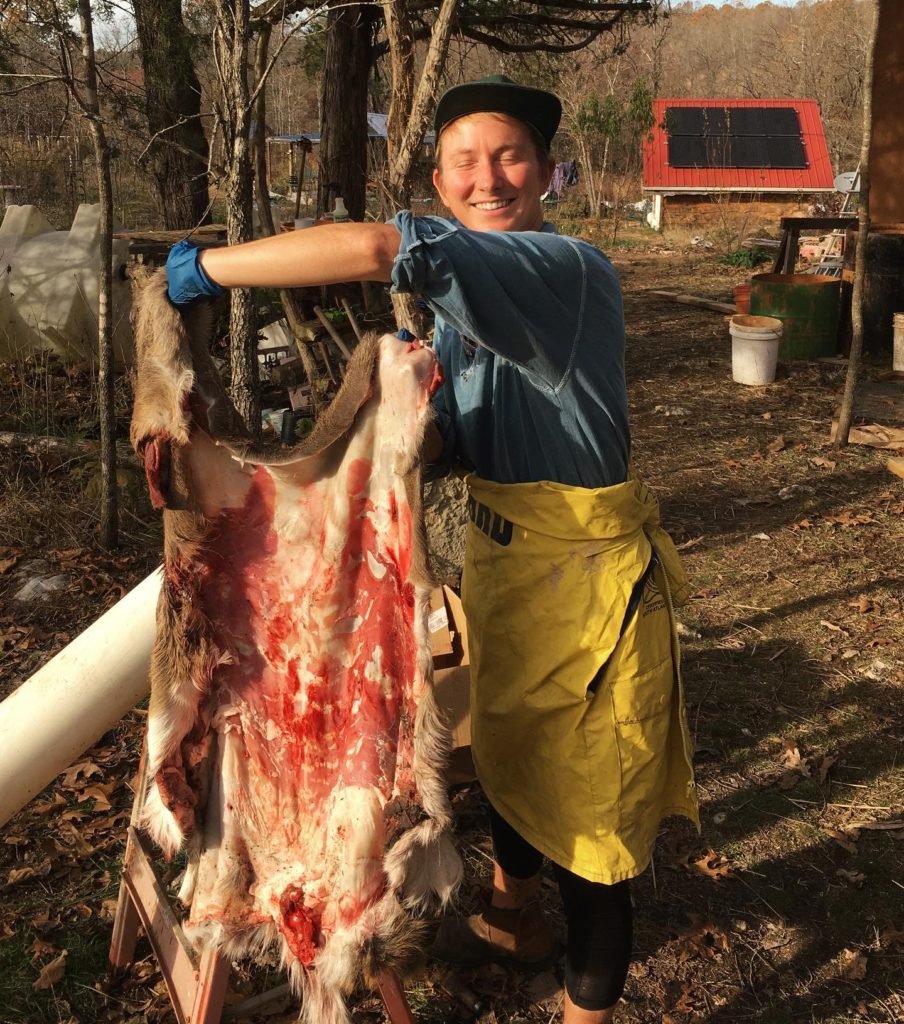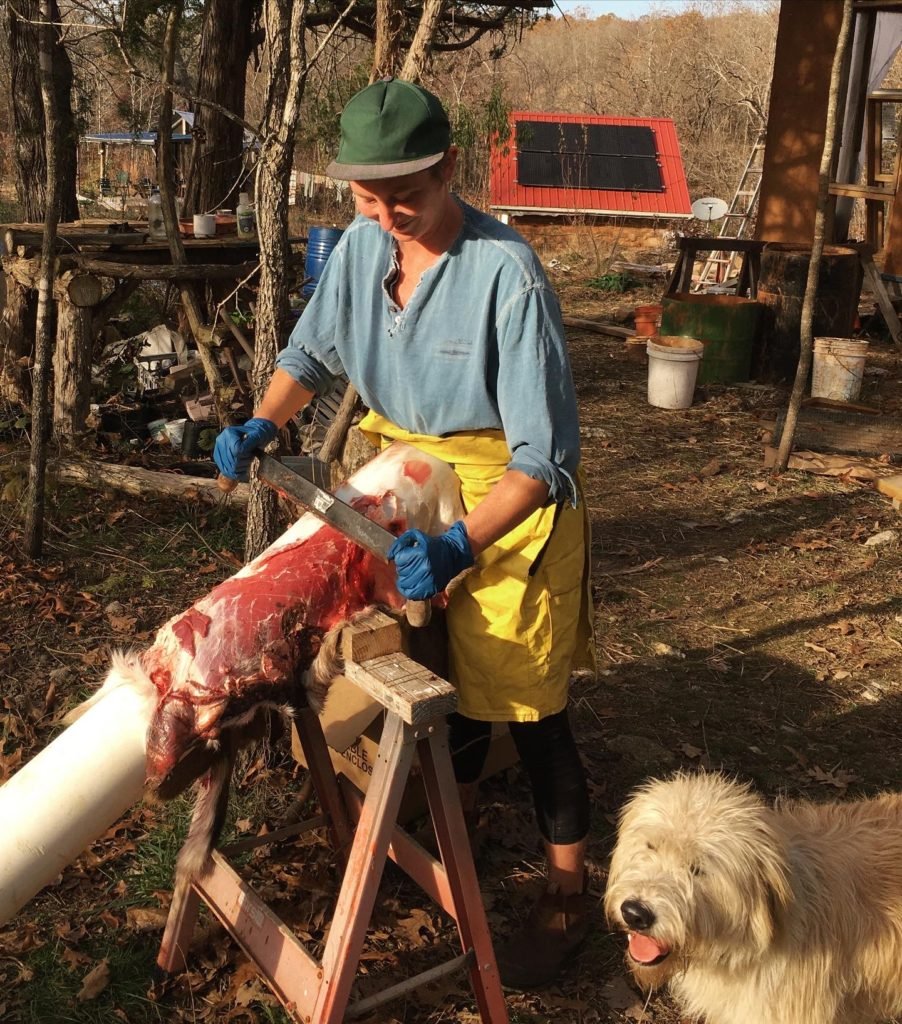 After the scraping is finished, you'll have a hide free of flesh. At this point, you can soak the hide in a lye solution or water in a 5 gallon bucket (agitate daily) to cause the hair side of the hide to slip the hair off and free up the membrane (layer beneath the hair.)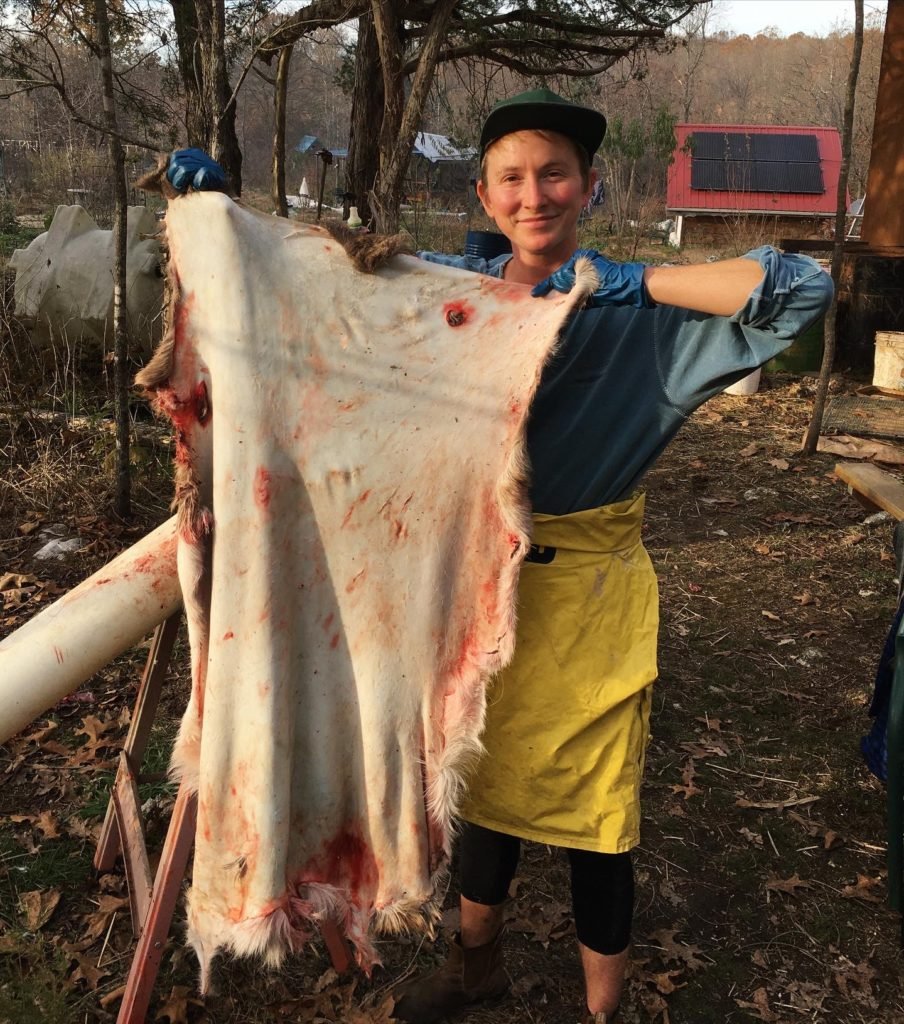 Today was a warm (75 degrees!) day and I felt inspired to work outside, but it will be freezing tomorrow with a low of 18! Not sure how quickly the next step of this process will move along, but happy to be engaging with these skills ancient humans were proficient at.
Many of us are seeking to regain these longstanding skills that have largely been forgotten in this day and age and I have to say it can be a lot of hard work, but it's sufficiently worth it. I'm thankful for Auel's books and the examples of so many humans who have blazed the trail before me.
Our connection with earth is such a gift and it is so rich. I give thanks and make it my life's work as a human to set an example of a healthy relationship with the earth.
---
Posted from my blog with SteemPress : http://www.ozarkmountainjewel.com/2019/11/10/stone-cooking-pits-and-hide-tanning-primitive-skills-inspiration/
---