Today marks a very important day. We have been been trying to share our homestead stories for a little while now. The reason that we wanted to start sharing our story is because this ultra modernized tiny country packed with people has forgotten how to grow it's own food.
In the past there were a lot of people who grew their own food and most families had a family milk cow. If you couldn't afford that you at least had a goat. We love our potatoes and went to protest over it in 1917, bread was rationed at the time but when the potatoes were gone we went mad.
Don't touch our taters!
Aside from our crops these bird loving people also developed a range of chicken breeds and took great pride in that.
Somehow that all vanished and the reality is we are stuck with hydroponic tomatoes and trying to figure out how to vacuum up cow burps before they hit the air. Really??
Nowadays the word "homestead" does not exist anymore however it is fashionable to grow one perfect head of lettuce. Lots of people here are vegan now and animals are not supposed to be in the landscape.
Just yesterday a man got attacked by a cow in some nature reserve, it leads to the discussion if we should allow large animals to roam in these areas in the first place. Just two weeks after fuzzing over house cats being outside.
Are we insane? Are we the only species that is allowed to walk in the outside world?
I really wonder if these people are my kin. I have my roots here,
I am bound to this cold, wet and muddy. It's in my blood more than anything but it feels so hard to deal with those around me.
If we could just build a little community, a few like-minded people would make a huge difference already.
My big dream would be a "Homesteaders of Holland" conference, that would be the most amazing thing ever!
If you have a dream, take the first step. We stepped away from the nonsense of our food system and later on moved to a rundown place which has been a homestead before (we didn't knew at the time).
Since about a year I had the idea to start sharing a bit more of our story and show there is still a place to grow your own food in a country like this.
We do have a lot of wind so vlogging is a challenge, I'm still trying to figure out what the best approach might be on that.
Ofcourse the wind is no issue when it comes to writing so that is the main way to connect with all of you and what a blessing that has been!
Sharing our story as we build this place is a way for us to say:
Here is a dutch homestead come build a community with us.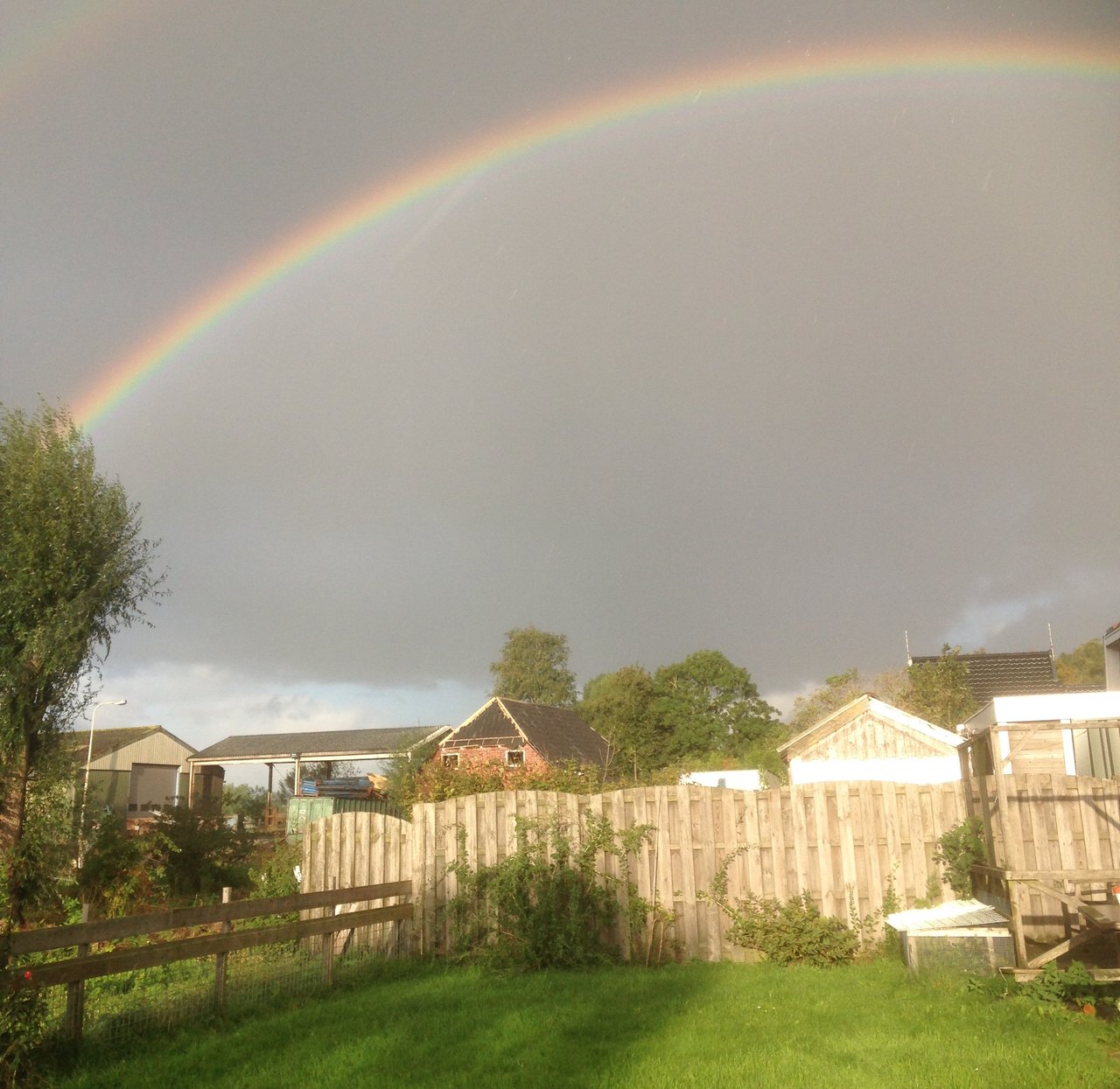 yard pic from november, we had a rainbow on the exact same day one year earlier too
So today I've noticed we've been spotted by someone from my own country and in a positive way also! This means so much to me.
Don't get me wrong: this global network has helped me learn different techniques when it comes to gardening and food prep, held seed swaps and sharing ideas.
Yet having someone notice your effort close-by may just be the first to help people get control of their own food and health once again.
To me, this day is a great one.