Families of about 80 victims of enforced disappearance relive tragic events, still expect govt to wake up to their cries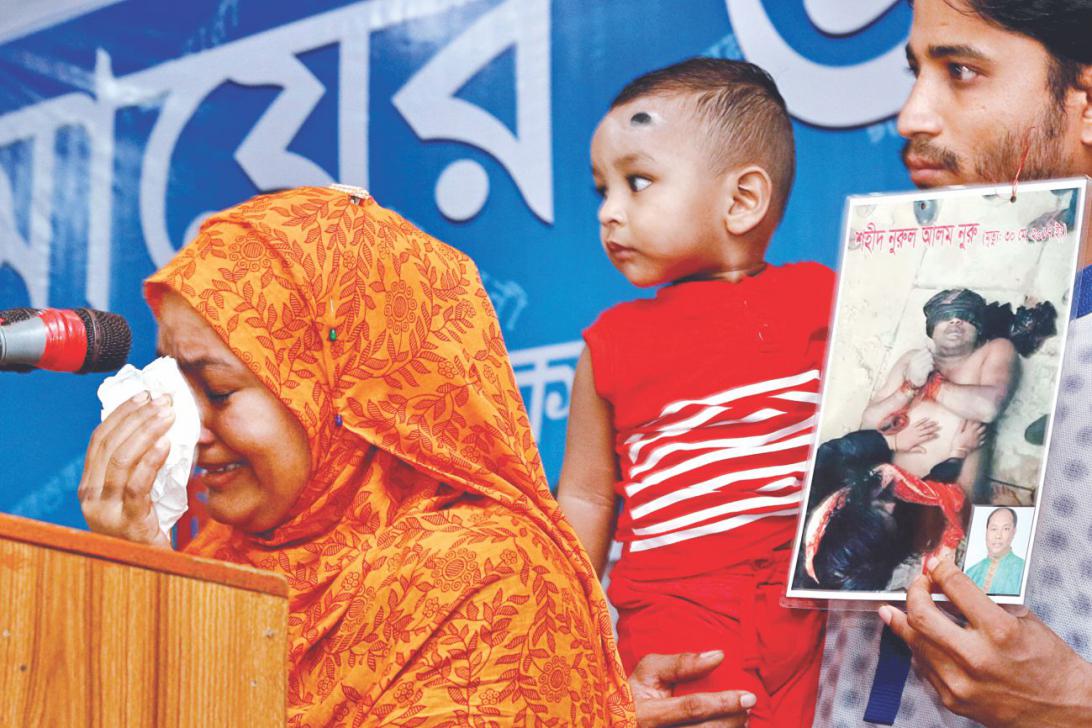 Sumi Akhter sobs as she demands justice for her husband Nurul Alam, who was found dead after he was allegedly picked up by law enforcers last year. Photo: Anisur Rahman
Staff Correspondent
For Rehana Banu Munni, visiting morgues and other places has become routine as she checks unidentified bodies to know if any of those was her younger brother's.
Selim Reza Pintu, a leader of Sutrapur Chhatra Dal, was picked up allegedly by plainclothes law enforcers from one of his relative's house in the capital's Pallabi on the night of December 11, 2013. He has been missing ever since.
Rehana and other members of her family desperately searched for Selim at every possible places, including police stations and Rab offices.
"You cannot live like this," an emotional Rehana told a "mass hearing" on enforced disappearance at the Jatiya Press Club yesterday.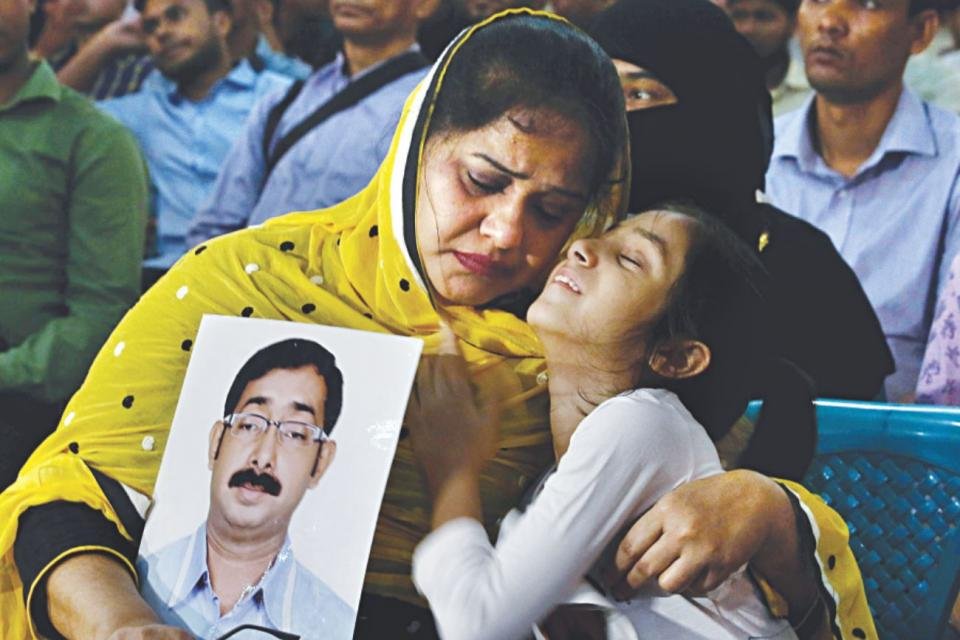 "Don't you hear us cry and see our tears? Why have you turned deaf and dumb?" she asked the government.
Members of around 80 families joined the programme under the banner of "Mayer Daak", a platform of victims' family members, from across the country.
Speaking at the event, supported by rights activists, family members slammed the state for denying justice to their dear ones.
According to them, the incidents of enforced disappearance took place in between early 2012 and late last year. Some victims never returned home while bodies of a few were recovered later.
While the families made repeated pleas for tracing the whereabouts of the missing people, the government on several occasions denied the involvement of law enforcement agencies in the incidents.
Ferdausi Rahman, elder sister of missing BNP leader Sajedul Islam Suman, said only eight families, including her own, came to Jatiya Press Club over four years ago to join a programme seeking the whereabouts of their relatives.
More families have joined in programmes over the years, but their pleas have fallen on deaf ears, she said.
Suman, general secretary of ward-38 BNP in the capital, along with five others was allegedly picked up by Rab-1 men from Bashundhara residential area in the evening of December 4, 2013.
His younger sister Sanjida Islam said they have so far organised about 25 programmes, including human chains and press conferences, demanding the government find the victims.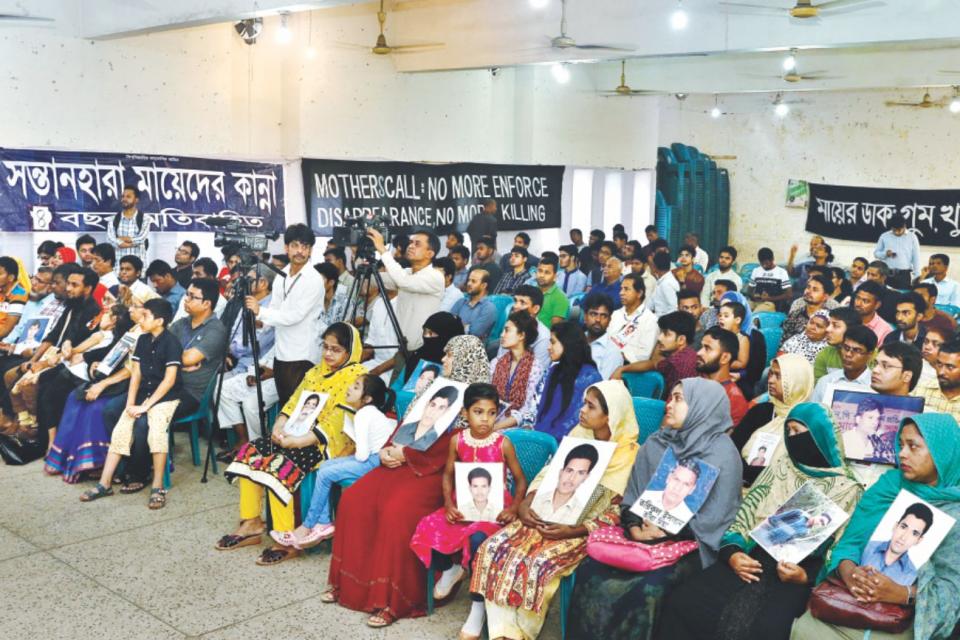 Family members of victims of such enforced disappearance gathered in the Jatiya Press Club yesterday, demanding the return of their loved ones. Photo: Anisur Rahman
The victims' families filed a writ petition with the High Court over the enforced disappearances and the case was pending at the court. They also sought support from the United Nations over the issue, but the government authorities concerned were yet to respond to the UN's queries.
Sumi Akter, wife of slain JCD leader Nurul Alam, alleged that her husband was picked up by some uniformed and plainclothes policemen from his Chittagong house around midnight on March 29 last year. He died after being tortured for his involvement in BNP politics, she said.
"We thought my husband was taken to the police station and the cops would send him to a court the next morning… Around 4:00am, we came to know that his body was floating on the Karnaphuli river, with his hands tied."
She expressed frustration over the delay in bringing the killers to book as law enforcers were yet to make any arrest.
Mehedi Hasan, brother of Shahnur Alam who died in a hospital after allegedly being tortured in Rab custody in Brahmanbaria in May 2014, said he didn't want justice anymore as four years have already passed.
"I now just want to know why my brother was killed brutally. If I at least get the answer, I would think I have got enough justice," said a frustrated Mehedi.
Seven-year-old Adiba Islam Hridi, daughter of Chhatra Dal leader Parvez Hossain who remains missing since 2013, requested Prime Minister Sheikh Hasina to take steps to find her father.
"Now I move holding my father's photograph in my hand. I don't want to do it anymore. I want to move holding his hand. Hasina aunty, please return my father to me."
Addressing the programme, Prof CR Abrar of Dhaka University said he joined the event not to express sympathy to the victims' relatives, but in his own interest. "I don't want to see any of my dear ones become a victim of enforced disappearance."
Incidents of enforced disappearance have been on the rise as students, political leaders and even a former diplomat have become victims, Abrar said. "Now there is no guarantee of a natural death."
He said investigations into these incidents, the minimum demand of the families, were yet to be carried out by the government authorities concerned.
"Where is the problem [in conducting probes] if the law enforcers are not involved in these incidents?" he asked.
Rights activist Nur Khan Liton, moderator of the programme, said three leaders of the quota reform movement were blindfolded and picked up recently, but they were freed in the face of protests by students.
"The number of crossfire incidents went up at times. But when the issue remained under discussion, number of such incidents decreased and the incidents of enforced disappearance rose. Things cannot go like this," he said.
Mahmudur Rahman Manna, convener of Nagorik Oikya, said victims' families cannot even pray for their relatives as they didn't know whether their relatives were dead or alive.
"This has been going on for years, but there is no remedy for it…. Hearing the screams of the victims' families and watching those shedding tears, it seems to me that they are appealing to a stone," he said.
Prof Asif Nazrul of DU said an incident of enforced disappearance is a more gruesome crime than that of a killing.
When a man is killed, he is buried, his inheritance is determined and the sufferings of his family end at some point. But the wait and worries of the relatives of a victim of an enforced disappearance never end, Asif said.
Blaming law enforcers for enforced disappearances, the law teacher said such crimes should be stopped. Otherwise, anyone could become a victim of the crime anytime, he warned.
Zonayed Saki, chief coordinator of Ganosamhati Andolon, said a strong movement has to be waged as enforced disappearances have been taking place due to a culture of impunity.
The "state has failed" to provide security to its citizens, he said.
Would you like to add some points?
Then comment And also Follow Me