Opening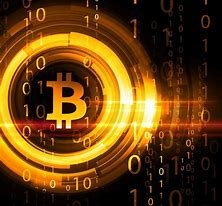 The presence of bitcoin is one of the important milestones in the rise of the crypto currency. The presence of bitcoin cannot be separated from the emergence of problems over the role of financial institutions in a transaction. The role of financial institutions is a form of system / model of trust (trust model / system) of two parties who agree to conduct a sale and purchase transaction.
Even so, the existing system / model of trust can make the transaction process not easy and fast if there are differences between financial institutions, especially in terms of processing transactions. The loss of the role of financial / government institutions is an advantage of crypto / bitcoin. This is what makes bitcoin not necessarily recognized by various countries but bicoin is also traded in various countries
Today, Cryptocurrency is growing rapidly in the world. Even not only Bitcoin, cryptocurrencies such as Ethereum, Ripple, Litecoin, Bitcoin Cash, and EOS are increasingly rising in popularity.Meanwhile, the world community has been literate with the name Cryptocurrency, this is marked by the many new platforms that provide cryptocurrency trading services.
For this reason, this article was created with the aim of providing a brief overview of how you can easily start trading cryptocurrencies.
The First, I will introduce HOTBIT .
Introducing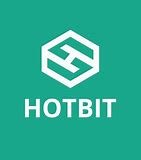 Are you interested in using HOTBIT ?
HotBit is a cryptocurrency exchange founded by global team of professionals that had gained in-depth experience on both traditional and crypto markets and decided to create their own platform.Hotbit offers trading in many very unusual cryptos and also hotbit website is available with any languages, including English.
A Hotbit serve no less than 327 active markets and trading pairs, both fiat-to-crypto and crypto-to-crypto trading pairs. They seem to have an extensive selection of altcoins listed, including many exotic cryptos or digital assets.
How to start your jouney with HOTBIT ?
You can register with Hotbit from nearly any page on the website, including the homepage. You will be asked to enter your email and agree to the terms and policies. From there, you fill in account information. At this point, you will need to confirm your account with the key code you receive in your email. beacuse HOTBIT have High Secuirity System you need two-factor authentication activations, with your choice of Google Authenticator or Mobile Text Message. Enter the authentication code you receive to finish setting up your account. Now, you will be ready to log in and your journey has begun.
Active On Trading Trading cryptocurrency on hotbit is very easy, but as information I will provide some basic information.
Deposit and Withdraw
Depositing to Hotbit is fast and free, making it possible to make a deposit without worrying about decreasing your token amount. However, there are some currencies that have a minimum deposit. Deposits on HOTBIT are not charged, it's all totality free.
There is no deposit fee for blockchain transfers to Hotbit, which is another added value of this exchange. This is the norm in this sector, but some crypto exchanges charge you when you send coins to them. While the withdrawal fee varies greatly depending on the currency you choose, it is very cheap.
Another advantage of Hotbit is that all deposit and withdrawal transactions are processed automatically and therefore faster. The BTC transfer confirmation process usually takes less than or a few hours. Regarding ERC20 tokens, this process usually takes a few minutes to less than 1 hour.
One important thing you should to know that to make deposits and withdrawals at HOTBIT you don't need to complete KYC, we all know that many exchanges require it and it is boring for us.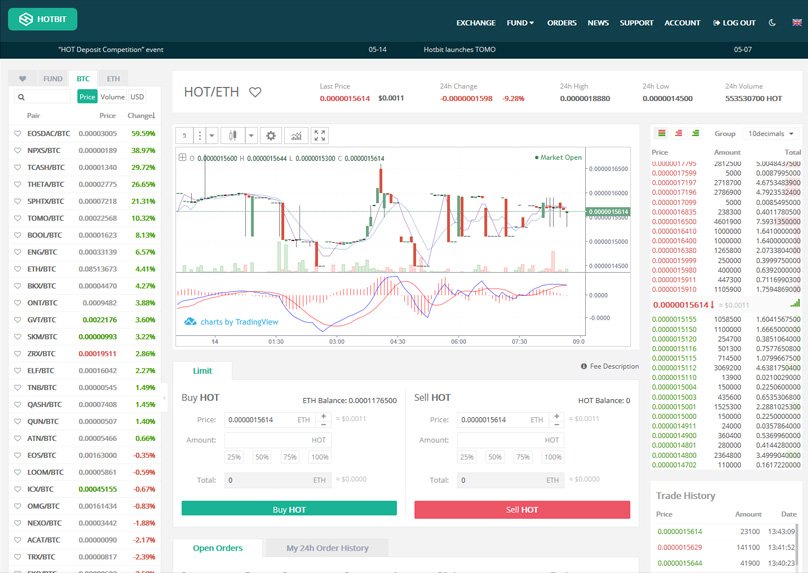 Both the web-based trading platform or the mobile app provided by Hotbit are well designed and equipped with all the needs of crypto investors. What I like most about this platform is that there are plenty of fairs available and all information related to trading activities is presented perfectly both in terms of charting, the latest transaction on the market and of course all your activities.
Keep in mind that all trading pairs on Hotbit involve either ETH or BTC since those are the two most popular cryptocurrencies. When you go to the "Exchange" page of the Hotbit website, the default currency pair is ETH/BTC. This appears near the top of the page, along with the last price, both in terms of cryptocurrency and dollars.
Advanced traders can click on the symbol of a graph immediately above the graph and find dozens of indicators to look at. You can also completely customize the graph in terms of colors, price line thickness, scale location and type, backgrounds, and time zone.
Join Competitions And Giveaway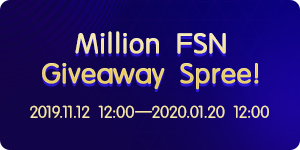 Unrelenting Hotbit presents a breakthrough, besides you are looking for profit through short, medium, or long trade, you can also get profit by following the competition event on hotbit. Hotbit offers a number of competitions, typically announcing them on the homepage and in the news section.
By looking at the exchange's news page, you can get a feel for some previous competitions.
Very easy right ? You just need to :
open an account
active trading
take part in several competitions and Giveaway
So what are you waiting for ? join HOTBIT Right now !
Additional Information
As I said above that the hotbit is endlessly delivering breakthroughs, recently they announced and launched their new breakthroughs " Future Trading " and " Investment - Risk Free" Both of these breakthroughs will help you to get the maximum profit
To Update your informations you can follow :