A Drawing---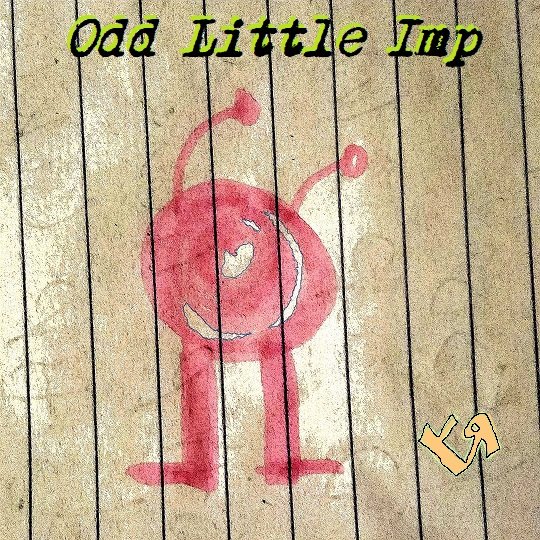 ["Odd Little Imp" by me. Highlighter on notebook paper with digital embellishments and color tweaking. 2019.]
First up, is a drawing that I did, last night, using a highlighter and drawing on my wife's recipe for molasses cookies (I was properly scolded.) I then photographed the thing with my phone, used some photo filters to change the contrast and add some noise, and then sent it to an app (called "Sketch") where I added the signature, some color wash, and a few minor details. After THAT, I emailed the drawing from my phone to my laptop, where I used MS Paint to add the words and a few more bits and bobs. And "TA DA!" that was that. I THINK it's a microscopic electro-imp with malicious intent, but it might also be a medical nano-bot on his day off. Hard to say without a interview…
A Phobia---
Here's where things take a turn for the less-than-pleasant, as I vent about the horror I've been experiencing of late. My wife works for a large university as an optician, and occasionally, they have to send her to satellite offices to cover when folks are out sick, or whatever. For the last three weeks, she's had to drive two or three times per week to Astoria, Oregon, which is about an hour drive from our house, on old Highway 30… (That particular highway is important to the story, so remember it, please…) Our regular car is broken, so she's had to RENT a car (extra expense) to drive long distance, so it's not just inconvenient AND expensive for her to do this (it's also in her contract that she can't say no,) BUT in addition, I have a HORRIBLE phobia about cars.
When I was 14 years old, the last day of school my freshman year of high school, my mom was killed in a car wreck. Even though this happened more than 30 years ago, I was permanently scarred by the event---and I have since developed a horrible anxiety / fear whenever folks that I know are driving any kind of distance away. BUT, in the case of my wife having to drive to Astoria, not only do I have my normal horrible anxiety (nearing on panic attack, if the person doesn't send me a text message letting me know they made it to their destination in a reasonable time,) but the HIGHWAY that my mom was killed on was HIGHWAY 30---the exact same road that Mariah is driving to get to work. It's excruciating for me---and normally, I would just drive her there myself, so that I don't panic the whole time she's gone---but because of my own work AND babysitting the Little Kid, I haven't been able to do it this time…
Luckily, she's survived every trip so far (I'm not being glib, here, either---I am genuinely terrified the entire time she's gone,) AND THANKFULLY tomorrow is her LAST trip out of town for the foreseeable future---so if I can make it through all of tomorrow without having a heart-attack or stroke, we should be good for a while!
I am, genuinely, a neurotic, sad mess---but I hide it well, and I manage to get through most social situations without too much trouble! One day at a time---and writing and making art really do help! (Keep my head focused on MAKING STUFF and less on all the possible HORRORS that might occur!)
Okay, moving on!
A New MINECRAFT Video---
Day 0007! Here's what I wrote in the show notes:
Return of the Undead Video Quality! AAAAAAAHHHH!!!! The FUZZ is BACK!!! I don't get it. I lit the incense, I shook the chicken bones, I chanted, I sprinkled a bit of booze on the keyboard, and I double checked all the settings---but for some reason the FUZZ has returned from the digital dead. This kind of junk drives me CRAZY! (It's not as bad as it was in Day 0005, a bit at the beginning and a bit at the end, but it's still aggravating.)
So... I'll keep on keeping on. At least I did more weird voices in this episode, and I'm pleased with the progress that I made on my tower (which was REALLY looking ugly in my previous video, but looks a bit better now...)
Not many notes in today's show...(cuz I'm too busy grinding my teeth about the video quality issue...) But I have ONE! The MAIN one!
GOOFY GALS CRAFTS!
https://www.facebook.com/Goofy-Gals-Crafts-101484207933657/
And here's the video itself:

A Really Long Playlist---
I'm babysitting the Little Kid again tomorrow, and Mariah (that's my wife, if you've forgotten) was amused enough by my actions that she started telling people she sees at work that I've done this, but I've been a DJ for THREE DECADES, what do you expect!?!? I made a PLAYLIST, on YouTube, for babysitting... (Doesn't seem weird to me.) Just some stuff to have playing in the background while I'm hanging with the baby. It's evolved a bit since I first mentioned it, gotten longer—although I have taken some things out and made way for a few other bits---and I'm refining the thing as I go. I'm pretty happy with it at the moment…
To listen through some of the playlist (unless you have about 8 hours, you won't make it through the whole thing) go HERE!!!
And here's what's on it:
Thompson Twins – "Doctor Doctor"
Split Enz – "One Step Ahead"
The Muppets – "I Get By With a Little Help From My Friends"
Steve Martin – "Maxwell's Silver Hammer"
"Popeye the Sailor Meets Sinbad the Sailor"
The Prodigy – "Charlie"
Candy Flip – "Strawberry Fields Forever"
David Bowie – "Ashes to Ashes"
"A Beginner Plays MINECRAFT – Day 0001!" (Yep, my own show. I learn to seeing what mistakes I've made in the past…)
The Muppets – "Jabberwocky"
Faith No More – "We Care a Lot"
"Astro Boy Theme"
"Frankenstein Jr. & The Impossibles: The Monsters of Rock" Mini-doc.
"Space Ghost Coast to Coast – 05 – Bobcat" (Full episode)
The Chemical Bros. – "Out of Control"
New Order – "Fine Time"
"Johnny Sokko and His Flying Robot" Official Trailer
Brandon's Cult Movie Reviews - "Infra-Man" (NOT kid friendly!!!)
Lipps Inc. – "Funky Town"
Boney M. – "Young Free and Single"
Sesame Street – "The Martians Discover a Telephone"
Carole King – "Alligators All Around"
"Attack of the Killer Tomatoes Theme Song"
"Where the Wild Things Are" (Full animated show)
Pink Floyd – "Time"
The Beatles – "Yellow Submarine"
The Beatles Animated Series – "Nowhere Man"
Bonzo Dog Band – "You Done My Brain In"
"A Grandpa Plays MINECRAFT – Day 0002"
Harry Nilsson – "Coconut"
The Kinks – "Apeman"
Madness – "Our House"
Dexy's Midnight Runners – "Come on Eileen"
Kermit the Frog – "Once in a Lifetime" (Talking Heads cover)
"H.R. Pufnstuf Theme"
Soul Coughing – "Circles"
"Marine Boy" Intro
"The Banana Splits Theme"
Spongebob Squarepants – "F.U.N. Song" and clips
Weird Al Yankovic – "I Love Rocky Road"
Weird Al Yankovic – "Pac-Man"
Buckner & Garcia feat. Jace Hall – "Pac-Man Fever (Eat 'Em Up)"
Michael Jackson – "Billie Jean"
"A Grandpa Plays MINECRAFT – Day 0003"
Ren & Stimpy – "Log"
Ren & Stimpy – "Happy Happy Joy Joy"
"Kazoo Kid – Trap Remix"
"Charlie the Unicorn"
Onision – "Banana Song (I'm a Banana)"
The Prodigy – "Everybody in the Place"
a-Ha – "Take on Me"
"Family Dog" clip
The Dead Milkmen – "Punk Rock Girl"
Pointer Sisters – "Pinball Number Count" (from Sesame Street)
"A Grandpa Plays MINECRAFT – Day 0004"
"Thundarr the Barbarian" Intro & Closing
Ramones – "Spider-Man"
Invisible Hands – "Satisfaction" clip
"Snake 'n' Bacon" episode one
"Josie and the Pussycats Theme Song"
Bosco – "The Booze Hangs High"
"A Grandpa Plays MINECRAFT – Day 0005"
Popeye the Sailor – "Blow Me Down" cartoon
"A Grandpa Plays MINECRAFT – Day 0006"
Lancelot Link and the Evolution Revolution – "Magic Feeling"
Red Hot Chili Peppers – "Fight Like a Brave"
Fuzzbox – "Love is the Slug"
Prince – "Batdance"
"Land of the Lost Theme Song"
"The Powerpuff Girls" Intro
Devo – "Go Monkey Go"
Fishbone – "Sunless Saturday"
Pat Benatar – "We Belong"
Talking Heads – "Burning Down the House"
Bob & Doug McKenzie – "Donut Shop Parking"
"Mr. Bill Learns Karate"
Shel Silverstein – "Sarah Cynthia Sylvia Stout Would Not Take the Garbage Out"
SNL – "Landshark"
Square Pegs – "Open 24 Hours" clip
Square Pegs – "Open 48 Hours" clip
Devo – "Whip It"
Bill and Ted Philosophize with Socrates (clip)
Thompson Twins – "Hold Me Now"
Men Without Hats – "Safety Dance"
The B-52's – "Rock Lobster"
Supergrass – "Pumping on Your Stereo"
Superfriends – "Wassup"
Neneh Cherry – "Buffalo Stance"
Blondie vs. The Doors – "Rapture Riders (Go-Home Productions Mash-Up)"
"A Grandpa Plays MINECRAFT – Day 0007"
Shel Silverstein – "Sick"
SNL – "Landshark III"
Harry Belafonte and The Muppets – "Earth Song"
That's it! Done… Now, I'm going to bed. It's going to be a LOOOOOOONG day tomorrow…
---Richard F. Yates (Tired Holy Fool)