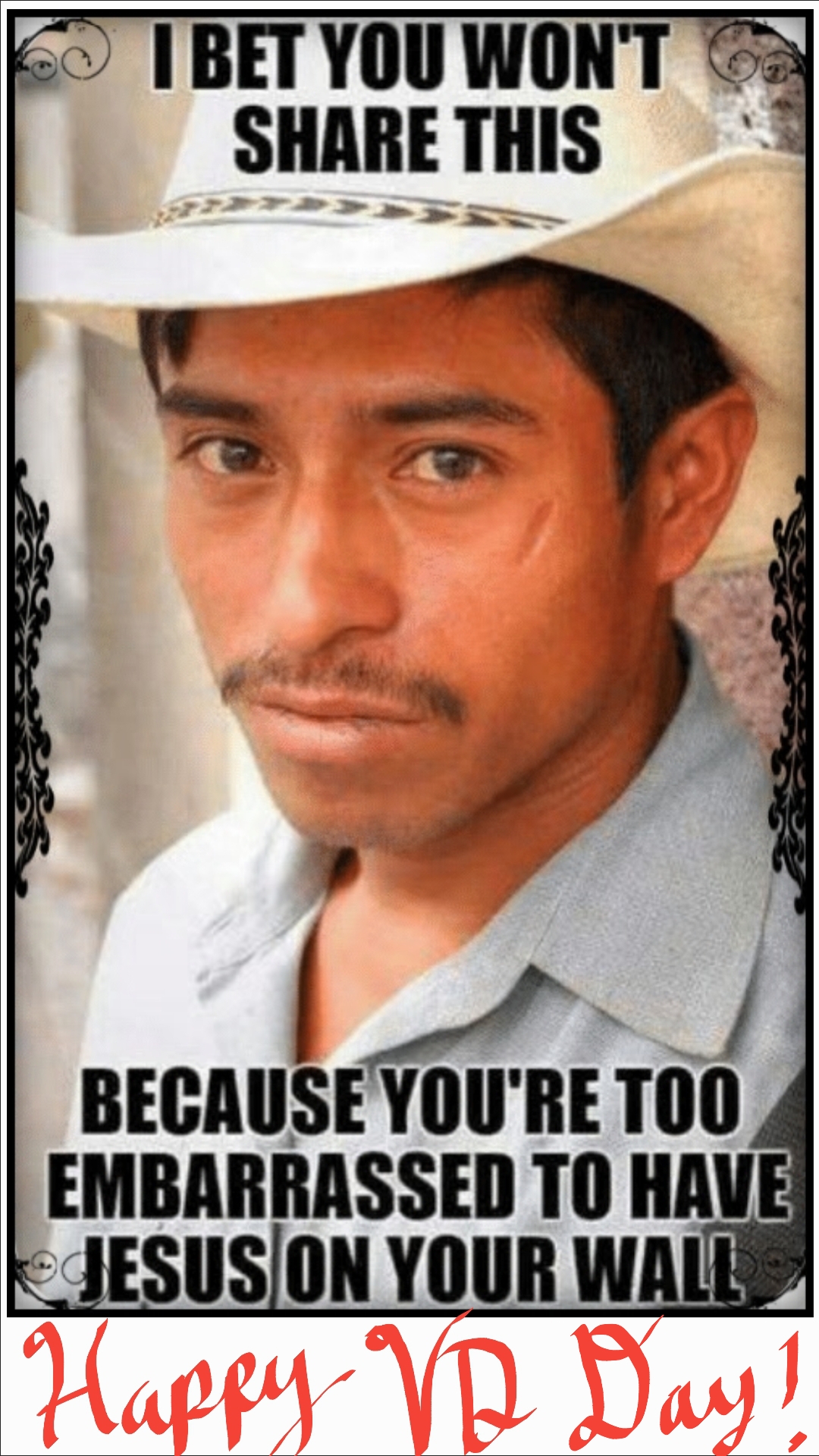 HAPPY VD-DAY STEEM-O-SAPIENS!!
We could all use a little Jesus today... To score brownie points with our ladies when we tell her WE did all the lanscaping they've been nagging us about :P!!
• ♡ • ♡ • ♡ • ♡ • ♡ • ♡ • ♡ • ♡ • ♡ • ♡
---
Seriously though chica's & chico's - Happy Valentine's Day! I hope everyone had an amazing day! Whether you're single or you're with the love of your life; find a way to enjoy this day any way that you can! The world needs all the love you can give! Make the world a warmer place and share the love, God knows there's not genuine goodness and love in the world these days! Fight the negative power, rebel against the darkness, be kind, empathetic and light-hearted!
---
The Crypto Alchemist
Weapons Grade Media
The world's best source for your FAVORITE crypto media & news! Covering Bitcoin (BTC) / Tron Coin (TRX) / Verge Coin (XVG) / Litecoin (LTC) / Etherium (ETH) / Etherium Operating System Coin (EOS) & the rest of the top 100 Cryptocurrencies! Also, now covering specially picked and personally favorited current & upcoming ICO's!
°•°•°•°•°•°•°•°•°•°•°•°•°•°•°•°•°•°•°•°•°•°•°•°•°•°•°•°
STEEMIT FTW!!! Don't forget - if you like my content:
UP-VOTE & FOLLOW ME PLEASE! <3
☆☆☆☆☆☆☆☆☆☆☆☆☆☆
Other Posts By Me:
PART 2 - SPONGEBOB COLORED WITH NEW PENS!
PART 1 - SPONGEBOB OUTLINE WITH NEW PENS - Black and white
STEEMIANS!!! MUST READ THIS!! - So how much should SBD REALLY be evaluated at? $1,125? If you only knew...
STEEM & SBD BACK UP!!! $5.25 HIGH TODAY!!! CHOO CHOO TO THE MOON!!!
The Great Victor Hugo - An idea whose time has come cannot be stopped by any man or any army! Crypto IS that idea! Bitcoin - Currency? Or Monetary Jesus!