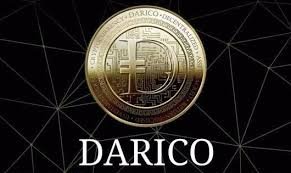 The Darico ICO has just 8 days remaining.
Let's face it, you can invest in so many different things nowadays, and companies that use blockchain technology are always looking at various areas to expand into. Darico is one of those companies, and they are currently in the process of linking the price of gold with the value of different cryptocurrencies. While this is not unique, it is still a potentially interesting project that is worth exploring in a bit more detail to ultimately see if it is worth taking part in their ICO.
What is Darico?
https://darico.io/en/
With this new project, their intention is for people to purchase their token with this then giving them access to the moving markets of gold, Bitcoin and Ethereum at the same time. It all seems rather simple, although it does always come with a number of risks, but they see it as you being able to take advantage of the more stable price of gold while you can also gain from the way in which the cryptocurrencies can increase in price over a short period of time.
Ultimately, you have a number of ways in which you can benefit from all of this, which does provide you with more confidence in being able to make some money from it all.
The Technical Aspect of Darico
The new platform is built on the Ethereum blockchain, and the digital token that they have created is an ERC-20 token allowing it to be used with a number of Ethereum wallets. There is also the understanding that Ethereum will offer stability for the platform as well as the option of scaling things upwards due to the hopeful future success of the network.
The way in which it all works is very easy. A Darico token results in you effectively gaining access to the three different assets. They are also going to have a genesis account where coins are going to be released on a daily basis for 18 years and up to a maximum of 240 million tokens. This is designed to drive up the price as they are in limited supply, but then you do have the tokens being released for the ICO to take into account.
The reason for the ICO is to get the funds to then buy the three assets, so they really do need this to get things up and running.
There is a mining operation as well with them using a Proof of Work algorithm with this part of the process. They will also use smart contracts to handle the release of new tokens especially those that come from genesis account holders.
The Advantages of Using Darico
Perhaps the main advantage of using the new platform is that you simply purchase tokens and sit back while you wait for those profits to develop. It really is just as easy as that, but then they are not unique in taking this approach either.
Of course, tying it into those three assets is a good move as they are things that everybody is going to be familiar with. This should provide some confidence in the token in general, which is just what you need with any kind of investment.
The Financial Aspect and the ICO
When we check out the ICO, then we see that they are accepting both ETH and BTC but if you are in either the United States or China, then you are going to be blocked from taking part. This is clearly the norm for so many projects, so that in itself is not a major concern.
There is a minimum investment figure set up for this project which has been set at $100. There is no mention of a soft cap, but there is a hard cap in place which is priced at $36 million. Also, during the ICO there is an exchange rate in place for the tokens which has been set at 1 DEC for $1. With other projects, this may be seen as being high, but as it is tied into different assets, then it does soften the blow somewhat of the higher price at this point.
With this phase, you are looking at 120 million tokens being released which is 50% of the total that will be created. However, with other bonuses, and the pre-ICO, it does push the figure up to 60% of the total released for the project. The rest will then be released gradually as was mentioned earlier.
Overall Conclusion About Darico and the ICO
Darico is attempting to make things as easy as possible when it comes to taking part in their ICO as well as the product that they are offering. They are aware that investments are everything within this industry, and by using something as stable as gold, well stable compared to cryptocurrencies, it does remove some of the worry about potentially seeing your investment drop over time.
There is nothing complex about what they are offering, and there is also nothing difficult about the technical side either. In fact, it is tough to think of something that is easier than this as you simply need to purchase tokens and that then equates to being given access to those three assets at the one time.
So, the question now is whether or not this is something that you should be investing in, and to be honest, we have to say that there is absolutely no reason for you to not dabble in what they are offering. The minimum investment part is not a problem as it is perfectly reasonable to have this included in this project and the only issue is that you need to be prepared to play the long game rather than getting a fast return.
Of course, you need to do your own due diligence whenever you are planning on investing in any project, so the final decision will still be up to you. However, on the face of it, this is something that is practical and worth checking out even if you are quite new to the whole investment kind of thing.
https://darico.io/en/
https://darico.io/en/Darico-Whitepaper.pdf