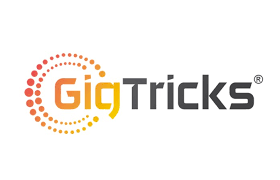 The gig economy is one of the fastest growing in the world, so the idea of putting it together with cryptocurrency is not exactly the kind of thing that should come as a surprise. This is the very thing that Gigtricks is looking at doing, and this is a project that is certainly well worth exploring in a bit more detail to see exactly what it is that they hope to achieve.
What is Gigtricks?
https://www.gigtricks.io
The team behind the project notes that there is a lack of trust and security within the freelancer and business relationship. One side is always worried that the other is not going to do something to uphold their side of the bargain leading to all kinds of complications and problems that need to be addressed.
Gigtricks states that by incorporating the blockchain into things that this is going to result in greater transparency and security for both parties leading to a far more harmonious general relationship. Thanks to their ecosystem, and by using the existing technology, it does mean that there is no opportunity for things to be forged via the blockchain which should make both sides feel considerably happier than they used to.
So, basically, what they are doing is creating a marketplace for freelancers to market themselves to potential clients while the clients include what they are searching for in a freelancer. It works in the same manner as general freelancer based websites but, of course, there is the added bonus of the blockchain being thrown into the equation.
The Technical Aspect of Gigtricks
The new project is using the Hyperledger fabric concept for their project, and it does come with a number of benefits from a technical point of view. For example, it will allow individuals to safely store their data on nodes within the blockchain with them being in full control of who is then going to be able to gain access to their data. This security side of things is massive considering the fears that we generally have surrounding all of this, and it will also prevent the information being made public and opening up the individual to potentially harmful activity.
For the freelancer, as they set up their profile and complete jobs, then that data is going to be available for others on the blockchain to view and to decide if they are going to hire them or not. It does provide complete transparency, but at the same time they are able to still control what is going on.
With the inner workings, it allows individuals to bid for gigs, be paid for them, leave reviews, message clients or freelancers, and anything else that you care to imagine. The only difference is using the blockchain and all of the pretty impressive benefits and advantages that come with it.
The Advantages of Using Gigtricks
There are clearly a number of advantages associated with using the platform as we have described throughout the previous paragraphs. If they are able to successfully remove the issues connected to security and both parties knowing what is going on, then it does build that all-important trust that is often missing in these kinds of scenarios. There is no doubt that the blockchain is able to achieve this, so if there is that increased security and better transparency, then you can see why people would be drawn to the project.
The Financial Aspect and the ICO
For the ICO, they are going to accept not only ETH but also BTC and some Fiat currencies. They have also included their soft and hard cap with the soft cap being set at $2.5 million while the hard cap is set at $35 million.
During the ICO, it should be noted that people from the United States, China and South Africa are excluded from taking part with the inclusion of South Africa being different from the norm. During this phase, there is an exchange rate of 1 GBTC equating to $0.248 while there is also a minimum investment figure of $100 which is perhaps slightly higher than a number of other ICOs that also include a minimum investment figure.
There will also be a total of 250 million tokens released for the ICO. This comes to 25% of the total that will be minted although those that are not sold during this phase will be destroyed to then leave the final total made available for the project. The reason why the percentage figure is at 25% is simply because they need the tokens to help the entire network to function, so there is less need for them to raise additional funds using this method.
Overall Conclusion About Gigtricks and the ICO
So, what can we say about Gigtricks and their ICO? Well, they do have a good concept to explore, and it is very easy to see where there would be a market for them as the gig economy is huge news at this moment in time. The fact that they are attempting to address some of the main concerns that people have surrounding this industry is another added bonus, and as long as they can achieve this, then there should not be too many problems in their project taking off.
From an investment point of view, the main concern has to be whether or not they can get enough freelancers to move across to their platform, and if there is enough work there for them to make money. If they can get this side moving, then the entire platform will work well and it would then turn into a good investment.
The gig economy is only going to continue to grow, so now could indeed be the right time for a project such as this to come to the fore just as long as the team behind Gigtricks does everything correct from the outset.
Website: https://www.gigtricks.io
Whitepaper: https://drive.google.com/file/d/1TFJsc9UfibgG3y0lOZD7R9jqX1nQ0-u6/view
Bitcointalk: https://bitcointalk.org/index.php?action=profile;u=1153986