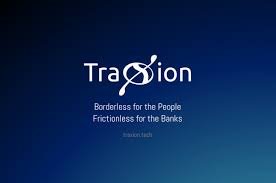 Traxion is a rather interesting concept and cryptocurrency project that is trying to take full advantage of the Hyperledger Fabric, which is something that has been avoided by a number of projects, up until now. However, we clearly need to explore exactly what it is that they are planning on doing to determine if there is a future for it or if they are completely missing the point.
https://traxion.tech/
What is Traxion?
The main thrust of the project is as a bank using the blockchain and cryptocurrency whereby the Hyperledger Fabric is able to create a more seamless experience for anybody and everybody on the network. They state that you will be able to do everything you would expect to do at a normal bank, but with the added security of it being on the blockchain.
However, they are hoping to cover more than just being a bank as they are also aiming to help people to become more philanthropic at the same time. They plan on doing this by creating an environment where both profit and not for profit can come together in order to help one another and they believe that this is all thanks to the new developments in the technology that surrounds the blockchain that makes it all possible.
The Technical Aspect of Traxion
The new project is built on the Ethereum platform, so that in itself is a good start for its development. What they have done is create a number of different platforms that are all connected but also capable of operating individually.
What they have is a section for personal finance, another for fundraising, yet another for making payments and so much more. Each platform and product that they operate and produce will then appear on what is known as the Traxion Chain and it is hoped that it will allow people to connect and form a community with their products at the heart of it all.
Each transaction, whether it be personal finance products, insurance, investments or donating money to an organization, is controlled by the use of Smart Contracts. Their intention is to create a crypto-ready economy which is completely decentralized in nature and allows for a greater sense of control for the individual rather than them being told what has to happen and when.
Also, by using the blockchain, they are going to eliminate the need for third-parties which, in turn, reduces costs with these savings then being passed onto the customer rather than lining the pockets of the financial institution.
So, the actual process side of things runs along familiar lines with people stating what they want to do and the information being placed on the blockchain and public ledger. This cannot then be altered with the Smart Contracts that are in place providing a sense of security for each party involved in the transaction. From this point of view, they are doing nothing different from the norm.
The Advantages of Using Traxion
It is pretty clear that there are various advantages of using the platform that the project is seeking to create. Obviously, the security that comes with using this technology is huge, but aside from that, the way in which the different platforms are all inter-connected and yet also working independently is a good move.
The way that third-parties are removed from the equation is also an advantage as that alone can make a huge difference to the fees that have to be paid, and by using Smart Contracts there is less chance of you losing money due to a scam.
The Financial Aspect and the ICO
When it comes to the ICO, then they are only going to be accepting ETH as the cryptocurrency, but that is no surprise as it is based on the Ethereum platform. Also, there is no mention of a soft cap for this part, but there is a hard cap in place which has been set at 100,000 ETH. You should note that there is no mention of a minimum investment, and people from the United States are going to be faced with different restrictions should they wish to take part.
During the ICO, there is an exchange rate in place of 1 TXN equating to 0.00035 ETH and they have a total of 250 million tokens for sale during this phase which represents half of the total that have been produced. However, those that are not sold during the ICO will then be destroyed leading to the final number of tokens that will be in circulation.
Overall Conclusion About Traxion and the ICO
The products and project in general are certainly interesting, and at least they're attempting to do something that is slightly different from the norm even though it could be easy to get confused as to the different ideas and platforms that are available.
Furthermore, it is known that they have a strong team behind them with experience in the relevant areas, so that should help them to form a good foundation for the entire project that they can then build upon. This can make a difference as it should mean that their products are better prepared for the market, and there should be less issues surrounding them.
So, is this worthy of an investment during the ICO? Well, if they are able to link up to a number of financial institutions and banks, then this project does have real potential. They have also already launched a number of their own financial products, so this is clearly something that has been very well thought out and that should make a difference.
Overall, as there is no minimum investment, then this could very well be something that you want to just test the waters with as it does come across as there being very little to lose. Everything is obviously going to be a gamble, but at the end of the day this may have less risk than other projects.
https://traxion.tech/
user: danbitcoin1
https://bitcointalk.org/index.php?action=profile;u=1153986