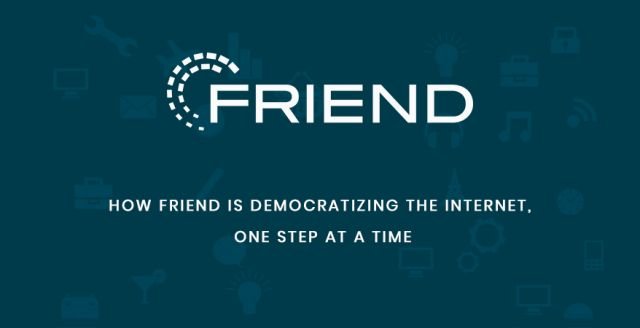 Today, everything we do is dictated, managed or controlled by the invisible tentacles of technology. While the role of technology has been a matter of debate for many, some technologies liberate users rather than drowning them in the confusing grasp of their tentacles. One such new offering is the Friend Unifying Platform which seeks to simplify the burgeoning mobile application industry by providing a unified workspace for developers and end users alike, making it possible to enjoy a vastly improved end-user experience free from today's interoperability problems inherent in the infrastructure.
Based on the Ethereum blockchain, Friend UP is making cloud computing accessible to developers and end users regardless of where they are or what device they are using. It allows extremely quick distribution, as well as the deployment of decentralized applications and its basic ethos seems to be in line with what Tim Berners-Lee, director of World Wide Web Consortium feels about it, "I've always believed the web is for everyone. That's why I and others fight fiercely to protect it." Clearly, the belief in the open accessibility of the internet is something that is resonated in Friend UP's commitment to make the offering available to everyone. The platform is entirely virtual, which means it can be accessed from any kind of device in order to use the Desktop-as-a-Service or DaaS tool that it offers.
Friend has been developed since 2014 and is now available in both, commercial enterprise license and open source. The Friend ICO will deliver an autonomous version of the enterprise software, where developers and end users can benefit from using an infrastructure which is owned and governed by its users.
Today, the company is involved in several governmental-technology projects, making public data more easily available to developers, small and medium enterprises as well as end users. The aim is to etch out a digital space that is conducive to collaboration. This makes it easy for users to share data over this decentralized medium without worrying about any one point of failure. With such firm control over the data being shared, the users can enjoy an unparalleled sense of empowerment in terms of how they use, operate and apply the information that they have.
The Friend Network is a unique Internet OS – a unifying platform that has a high regard for an openness of the internet. The Friend Network token (FRND) allows users to reap benefits for their hardware by sharing resources. To be able to receive tokens, users can run a node on the Friend Network and earn tokens by sharing computing power, bandwidth and storage. Such nodes can run on a wide variety of devices, as long as they are able to run an HTML5 browser. Therefore, anyone who has a basic device such as a smartphone, laptop or a smart TV, can pitch in, as can someone with a high-end gaming rig. Their contribution is rewarded via the FRND tokens that can be utilized in the Friend Store market place or be exchanged to other crypto currencies or fiat.
The Friend Store Marketplace and the Friend Network uses the FRND tokens as its currency. Users can propose changes and vote on them using the FRND token. Developers can earn tokens by submitting the code.
With a single accessible currency that can be exchanged to other cryptocurrencies or fiat, Friend is out there to change the internet, one step at a time.
Check full article here: https://neironix.io/news/partner_news/how_friend_is_democratizing_the_internet_one_step_at_a_time
Do not forget to visit our website:
https://go.friendup.cloud
And join Telegram chat to be a part of our Community:
https://friendup.cloud