EMP (Every Media Platform) is intended for ecosystems that provide equal and fair compensation to all players participating in it, such as advertisers, users, service administrators, content producers, and developers. Large and regular web portals and SNS media generate huge profits from users' personal content and information. However, until now, the data owner has not received compensation for his contribution. EMP is a media block platform, which compensates all participants.
To overcome the social problems caused by the BAADD media, we propose an ecosystem that can implement decentralized services by separating media mechanisms and combining blockchain and coin-ecosystem technologies for value exchange.
Project objectives
Among the main objectives of making this project, the developer identifies:
Creation of a mechanism for the fair distribution of remuneration from the placement of content and advertisements;
Support for developing social media;
Recovery of rights to control personal data;
Provide users with the content they want to see.
All trading activities carried out on the EMP platform will be stored in the Blockchain chain, and will be shared. It is important to note that unlike traditional monopolists, the management of this platform will be handled directly by its users. For this, autonomous management bodies will be formed.
The main participant in charge of the platform will be a "witness". These people will be able to manage basic platform policies, content creation and prizes in the form of EVE coins. In addition, "witnesses" can choose the head of the reception center, the distribution of remuneration for the use of personal information, the creation of applications and placement of promotional materials, which are ADD token holders. In this case, voting for the final results of the placement of content or advertising material is carried out between all coin owners from the platform. It is important to note that there will be 20 witnesses selected by EXP token holders.
The second participant in the platform management system is "the witness organization of the advertising node". They are involved in the supply and placement of promotional materials, but do not have the right to vote. These people represent nodes that generate ADD coins.
Platform Assets and EcoSystem
The EVE coin value made from the blockchain is not held by the coin itself but is held by an open and distributed ecosystem based on trust so that all participants carry out the network role faithfully. For the sake of this, we want to actualize a mechanism that more members can participate in the coin network .
The platform ecosystem consists of 3 assets such as EVE which is a fundamental coin, ADD is used to exchange advertising and data values, and EMP is needed to move the ecosystem smoothly.
The 3 distribution policies needed to operate these assets are as follows:
Contents are items of experience, so they are used to produce value of experience items and all participants receive gifts. The contribution rate is calculated quantitatively for a certain period (7 days) and is rewarded with relative evaluation. Another method for gift content is to receive profits earned from advertisements as gifts. One can receive additional advertising prizes for content generating prizes by measuring the number of impressions by paying advertising costs per 1,000 impressions (CPM, cost per impression). This is a method commonly used for digital advertising. Content that can generate prizes is only given once after measuring their contribution level for 7 days, but advertising awards can receive continuous rewards based on the number of impressions.

Assets that maintain a platform ecosystem are categorized into assets that have key functions such as value measures, means of exchange, and rewards and assets that have status, access, and power. The first asset is EVE coins, which are the basic trading tools of the main blockchain and prizes for content, and AD & DATA coins (hereinafter referred to as ADD), which are advertising awards. This can be traded outside the stock exchange market and liquid assets. The last asset is EVERY PULSE MEDIA (hereinafter referred to as EMP) which is stored for a long time.

The value of assets needed to safeguard the ecosystem, is between the link and network of platform participants. As such, all outstanding assets are based on interests and needs shared among participants, and if the participant group is added, functions can be added continuously.
TOKEN INFORMATION
Presale 1st stage:
2018 AUGUST 6th 19:00 (7:00 PM UTC +9) - 2018 SEP 6th

2nd Stage Presale:
2018 SEP 10th 19:00 (7:00 PM UTC +9) - 2018 SEP 21st

Presale 3rd stage:
2018 OCT 1 19:00 (7:00 PM UTC +9) - 2018 OCT
19th sale: TBD
Total supply: 1,000,000,000 EVE

Total tokens sold: 400,000,000 EVE

Private sales: 200,000,000 EVE

General Sales - Round 1: 150,000,000 EVE

Public Sales - Round 2: 50,000,000 EVE

Soft Cap:
30,000,000 USD

Hard cap:
Private Sale: 200,000,000 EVE
Public Sale - Round 1: 150,000,000 EVE
General Sales - Round 2: 50,000,000 EVE
Accepted currency:
Only ETH
DISTRIBUTION TOKEN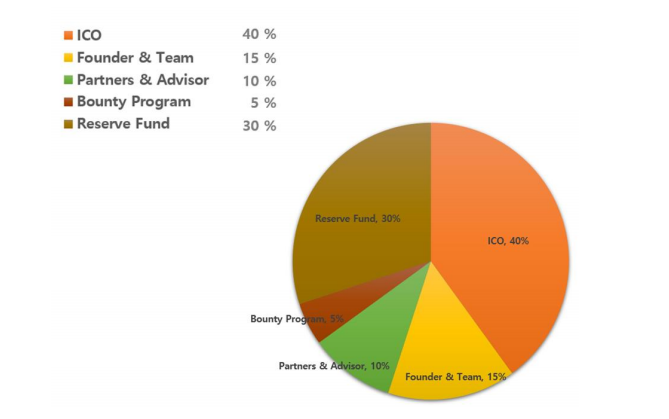 ROADMAP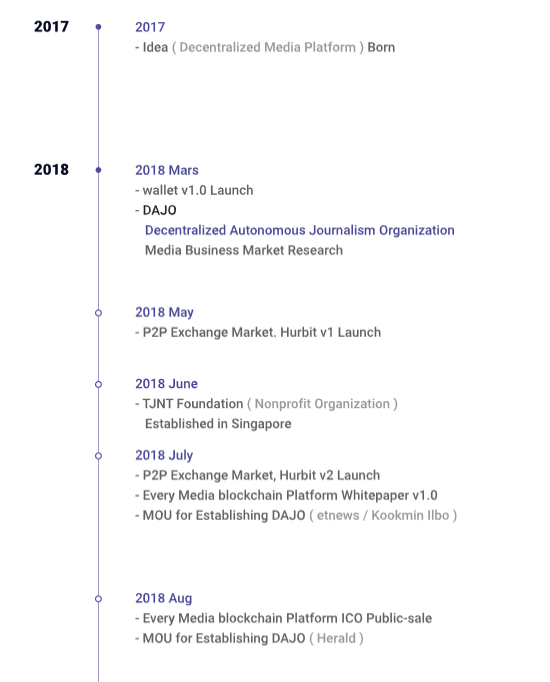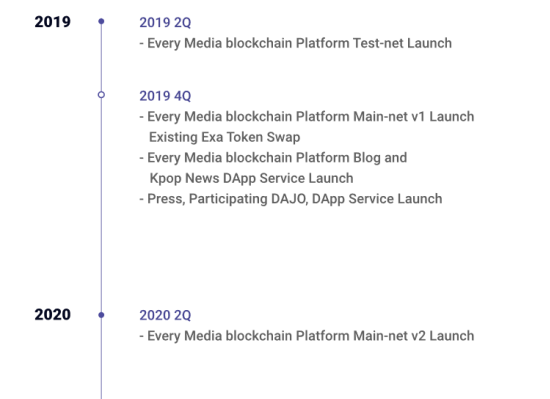 For more information about EMP, here is the link below:
Website: http://everymediaplatform.io/en/
Telegram: https://t.me/everymediaplatform
Whitepaper: http://everymediaplatform.io/en/whitepaper/EMP_Whitepaper_EN.pdf
Facebook: https://www.facebook.com/official.embp/
Twitter: https://twitter.com/emp_official_tw
Medium: https://medium.com/@emp_official
Youtube: https://www.youtube.com/channel/UCba6YlAB608FI9wWrNrMJ7A
Author:hitamku
Bitcointalk profile: https://bitcointalk.org/index.php?action=profile;u=1752412
Eth address: 0x282e1B443eB97CA37FcB0413ec33F021fc6b4f5D