Welcome to the review that I present to all of you in searching for information and knowing the ICOVO project that is currently being run by the team if there are shortcomings in explaining this article, don't worry, I have prepared a link for you to get accurate information. and of course you will be able to speak directly with the founder or our project team.
ICOVO is the first and only ICO platform in the world that can visualize healthy ICOs. The essence of the service is the DAICOVO smart contract, which is based on the DAICO concept, which was advocated by the co-founder Ethereum Vitalik Buterin in January 2018. Every government has developed regulations to create a healthy environment for ICOs, but this is difficult to achieve for unlimited ICOs only with use centralized regulation. We will solve project fraud and decrease motivation - issues raised by the ICO - through the decentralized DAICO approach.
With the mission of having all ICOs using DAICO, we will expand and open the DAICOVO source, which is in line with the thinking behind
DAICO. In addition, we will issue OVO tokens, which will be designated as currencies to get ICO.Ethereum investment, which has a high amount of distribution and is universal, is currently used as a major currency for procurement, but we will provide benefits to ICO investors because they use OVO to participate in projects on the ICOVO platform.
DAICOVO: Smart contracts that apply the DAICO model
In addition to the functions required by ICO project founders such as issuing, selling, and managing unique tokens, DAICOVO offers intelligent contracts optimized for ICOs that adopt the DAICO model. For ICO project founders who use DAICOVO to do their ICO on ICOVO Web, all work is needed, including token design, DAICOVO parameter settings, compilation, and deployment, free. We plan to release DAICOVO as an open source.
ICOVO App: A smartphone application that displays a wallet that is optimized for ICO
ICOVO iOS / Android has multi-token multi-account wallets that are compatible with ETH and ERC20 tokens based on a secure personal wallet, Wallet format with the aim of increasing security by storing private keys only on non-online mobile devices, which have been released and already used by many people, Tachyon, were developed from the beginning by our Nishimura CTO.
ICOVO App has a one-stop solution for investors and project founders. The project founder does not need to develop it anymore.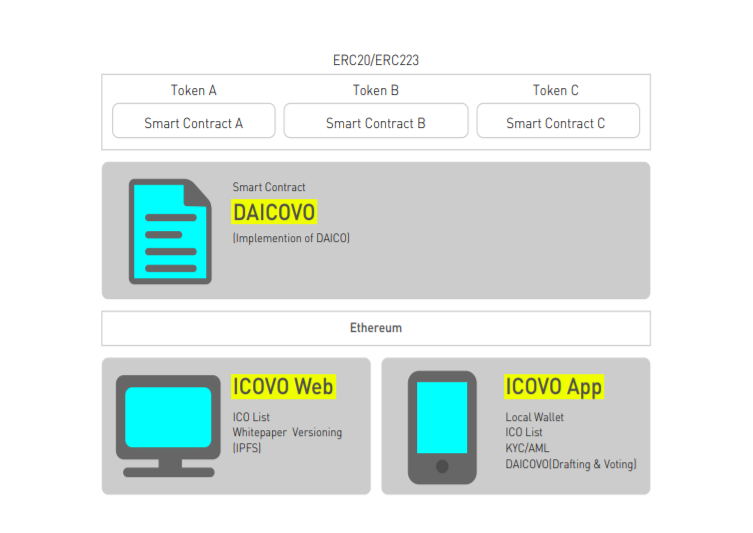 The ICOVO App also features a dashboard, KYC / AML, Whitelist registration, Whitepaper viewer, a list of ICO projects integrated with ICOVO Web and uploader of Photo IDs. These include the DAICOVO user interface and have an interface for Decentralized Exchange (DEX) where users can trade their tokens.
ICOVO Web: Site listing ICO with comprehensive ICO investor protection
ICOVO Web is a website for the founders of the ICO project to register their ICOs with investors. This really protects ICO investors and lists only ICO projects that comply with ICOVO requirements. The criteria for listing on the utilization DAICOVO ICOVO, planners KYC / AML as required by ICOVO, and disclosure of project progress
.The biggest feature is the whitepaper version using IPFS. All ICO project whitepapers listed on ICOVO Web are managed by IPFS and Block chains. The version whitepaper via IPFS storage and block chains makes it impossible to tamper with the whitepaper later. This means that even if investors fail to download the whitepaper before the ICO or lose it, they can always verify whether the project runs according to the original whitepaper, and if not, they can compile and vote for their money to be returned.
OVO is the only token in the world specifically for the procurement of ICO funds. The value of increasing the voice ICO is more done on the ICOVO platform, so OVO will function as a symbol and ICO environmental health index.
In addition to creating a healthy ICO environment with DAICOVO and OVO as the core, ICOVO has a mission to expand the reach of ICO investors and the ICO market itself. ICOVO will solve the problem by eliminating the servant for the process of participating in the ICO so that anyone can easily participate. They will be completed through the provision of the ICOVO App (iOS / Android), which integrates the world's only wallet that is optimized for the ICO, and ICOVO Web, which will increase usability when participating in the ICO via a personal computer. Through the provision of four services - DAICOVO, OVO, ICOVO App, and ICOVO Web - ICOVO will build an ecosystem for startups associated with reliable blockchain.
KYC required by ICOVO, which includes passport-based and AML-based ID verification, applies not only to investors but also to the founders of the ICO project. Furthermore, to improve the transparency of the ICO project activities, ICOVO shares the progress status of the project by measuring and displaying the use of the GitHub project, social media, and other key tools.
ICOVO also requires a uniform format for certain important whitepaper items so that each ICO project planner can be read in a uniform format. The ICOVO application is synchronized with ICO list information and bookmark functions so ICO investors can achieve participation all in one place. We also provide ICO project founders with white label dashboards for investors including referral programs, air drop programs, KYC / AML and more.
We will make DAICOVO, a genuine intelligent contract that combines DAICO mental ideas about decentralized token management. We will introduce a system that only allows withdrawals in accordance with capital requests from the project pre-loading schedule through the Tap system (setting the amount that can be withdrawn per unit time). This will prevent the developer from running away with the funds raised. In the event that an investor sees a problem with the project, they can withdraw their investment that was raised under the agreement as a refund.
The OVO token is a utility token that can be used as a payment tool on the platform. This can also be used for investments with discounts, to pay fees, access services, etc.
Token Info
Token: OVO
Peron: Ethereum
Typing: ERC20 / ERC223
Prices at ICO: 1 OVO = 0.30 USD
BONUS
Pre-sale + 40% Crowdsale 1 + 10% Crowdsale 2 + 5% Crowdsale 3 + 0%
Token for sale 120,000,000
Tokens and capital distribution
Tokens and funds will be allocated as follows: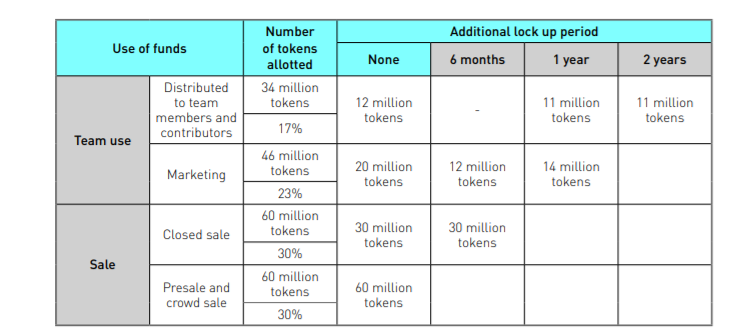 Project roadmap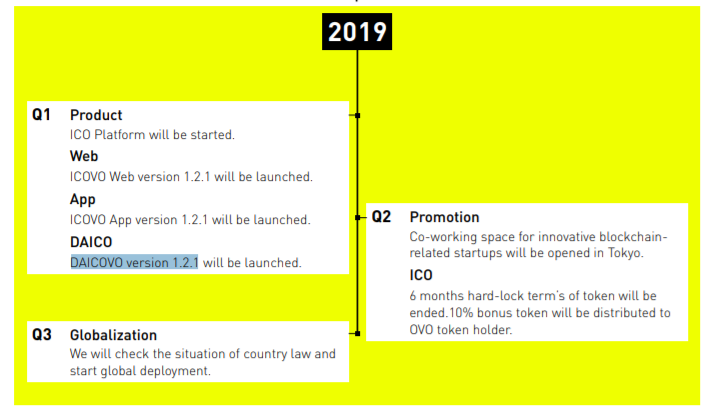 Team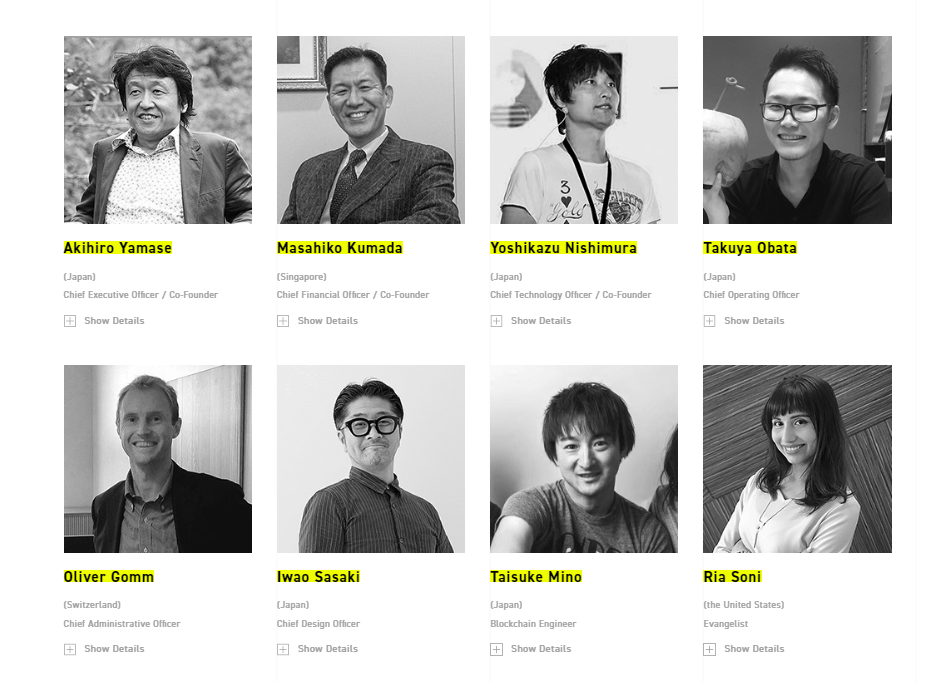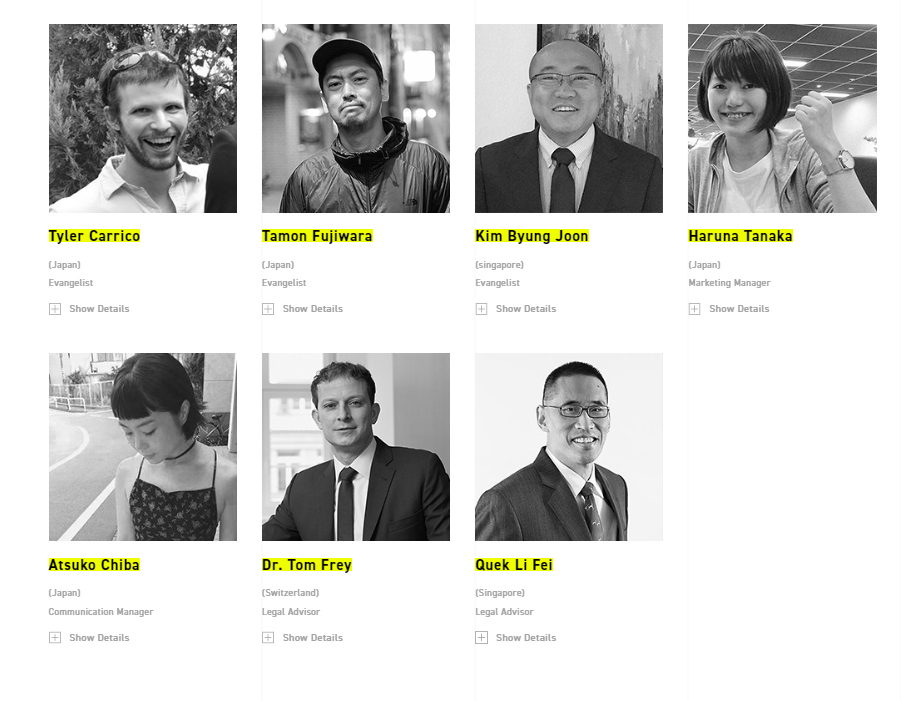 For more information about the project, contact the link below:
Website: https://icovo.co/
Whitepaper: https://icovo.co/whitepaper/20180831_wp_service_en.pdf
Reddit: https://www.reddit.com/r/ICOVO/
Twitter: https://twitter.com/ICOVOCO
Facebook: https://www.facebook.com/icovoco/
ANN: https://bitcointalk.org/index.php?Topic=4468796.0
Telegram; https://t.me/icovoco
Bitcointalk profile: https://bitcointalk.org/index.php?action=profile;u=1752412
Eth address: 0x282e1B443eB97CA37FcB0413ec33F021fc6b4f5D