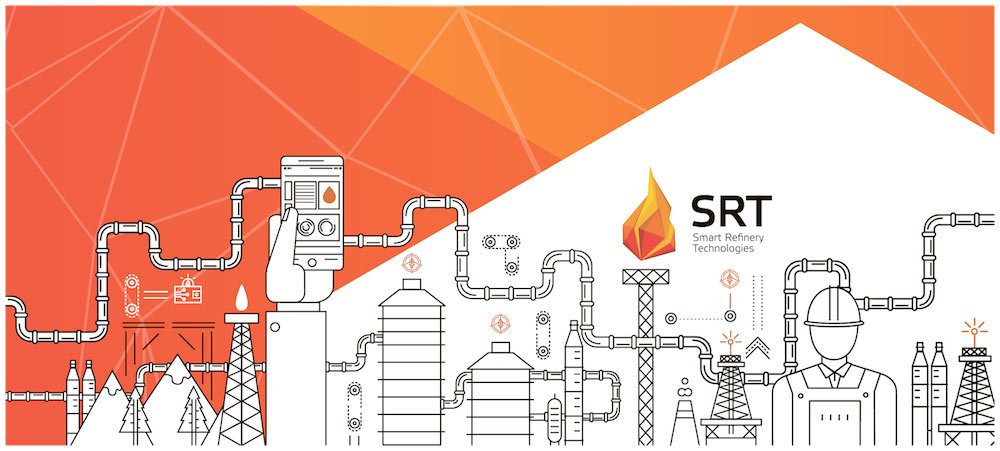 The ICO is now at the stage of the main sales token, which will run until 25 October
SRT Platform - is complex, showing all information about refining equipment work and calculating payments between parties.
The working mechanism will look like this:
The operating principle is based on an application that will provide infrastructure using the blockchain Ethereum.
this mechanism will also have independent contributors to confirm transactions, which will increase efficiency
An important component of a platform is a component related to equipment, sensors, to monitor and automate data collection.
calculations between participants will be carried out with the participation of tokens.
Crypto system platform allows all participants to have access to all data, controlling all refinery processes.

The first project aims to solve problems such as:
High fuel prices due to the complexity of logistics in areas with a shortage of refining capacity, by creating a small, decentralized refining network with fast construction cycles and intelligent CPD object commissioning (perfecting complexes).
The solution to the problem of severe environmental pollution in developing countries because of the low environmental standards of the oil refining industry will come from EURO-5 environmental class fuel production based on the SRT Group production module.
Thanks to blockchain technology, it is possible to decentralize oil exchange, vendor verification, transparency through smart contracts, artificial intelligence systems that will help traders, and SRT tokens that you can use to pay commissions comfortably and quickly. These components will help solve problems such as: high costs for oil traders, complicated payment schemes and high risks.
With the release of the international fuel card SRT with the ability to get discounts of up to 20% and payments for refueling as by way of money, and with the help of cryptocurrency solve the problem of the impossibility of payment of fuel at the gas station with the help of cryptocurrency.
The SRT-platform will also track the performance of members of the entire royalty network. Transfer of these licensed payments in US dollars makes it possible to get a crypto switch to operate the leased equipment. One key validity period is 14 days. If you don't include royalties every week, the key ends and the settings are turned off. Information about what volume of raw material is processed, will be collected on the sensors mentioned above and transmitted to the blokcheyn Platform.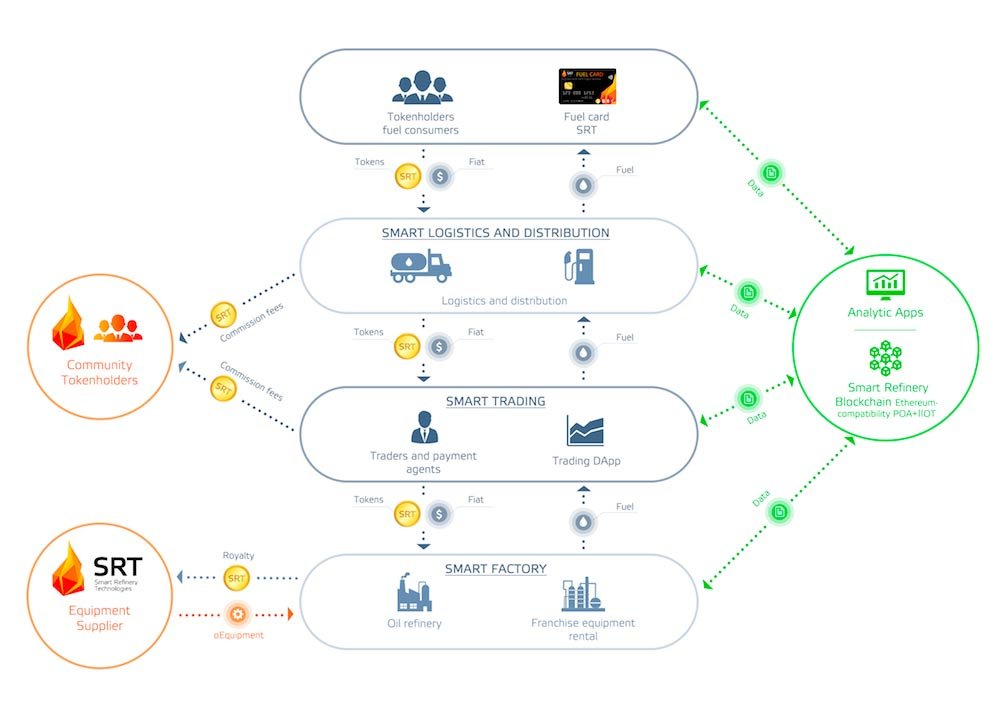 SRT Token
Coin SRT - this token tool for use in operations on the blokcheyn platform to manage royalties (royalties) to oil refineries, as well as to pay trade commissions and fees for transactions on the network. SRT-ERC-20 standard tokens will allow using the existing network infrastructure from the Ethereum blockchain to store tokens and make transactions. The release of tokens is limited to 100 million SRT coins. Also, this program will be carried out burning token "Payment for commission."
SRT tokens can be used to get discounts when completing payments between refineries and equipment suppliers. Tokens can also be used as collateral, as well as to confirm the status of participants in one role or another club active participants in the project. Details of ICO tokens and SRT: Sign symbol - SRT Standard sign - ERC-20 Total number of tokens - 100 million SRT Tokens for sale - 62 000 000 SRT Price of tokens in pre ICO - 1 SRT = 0.5 USD Prices at ICO stage - 1 SRT = 1 USD Currency received - ETH, BTC, LTC, ZEC, DASH, USD Soft cap - 500 000 USD hard stamp - 5 million USD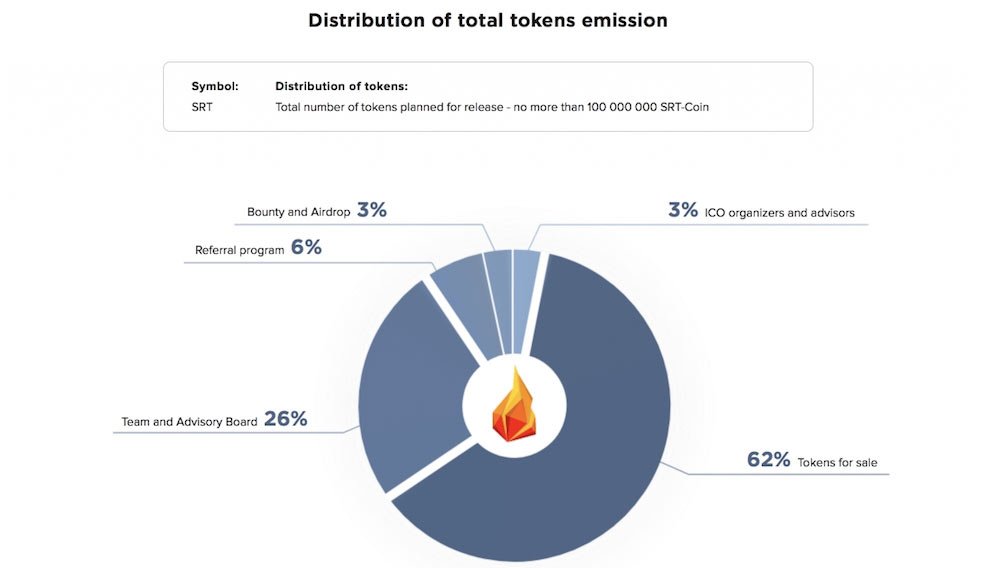 Now the ICO is in the main sales phase of the token, which will last until October 25th. During this period, you can get a 30% bonus for assets. Prior to this, the project managed to sell around one million tokens. Now the SRT token price is $ 1. The ICO team intends to harvest in the form of Hard Cap - 5 million green. Investments are received on Ether, Bitka, Laitcoin, Bitka Cash, and Dash. In the old way, investment restrictions were imposed on Chinese citizens, as well as residents and US citizens.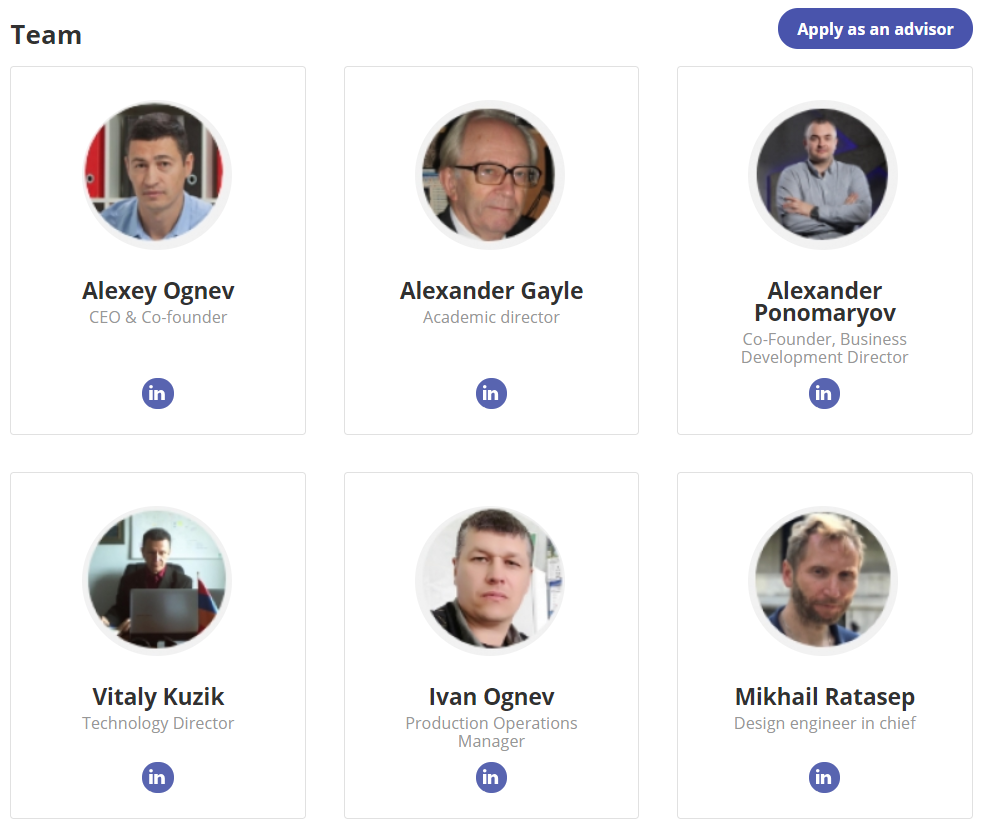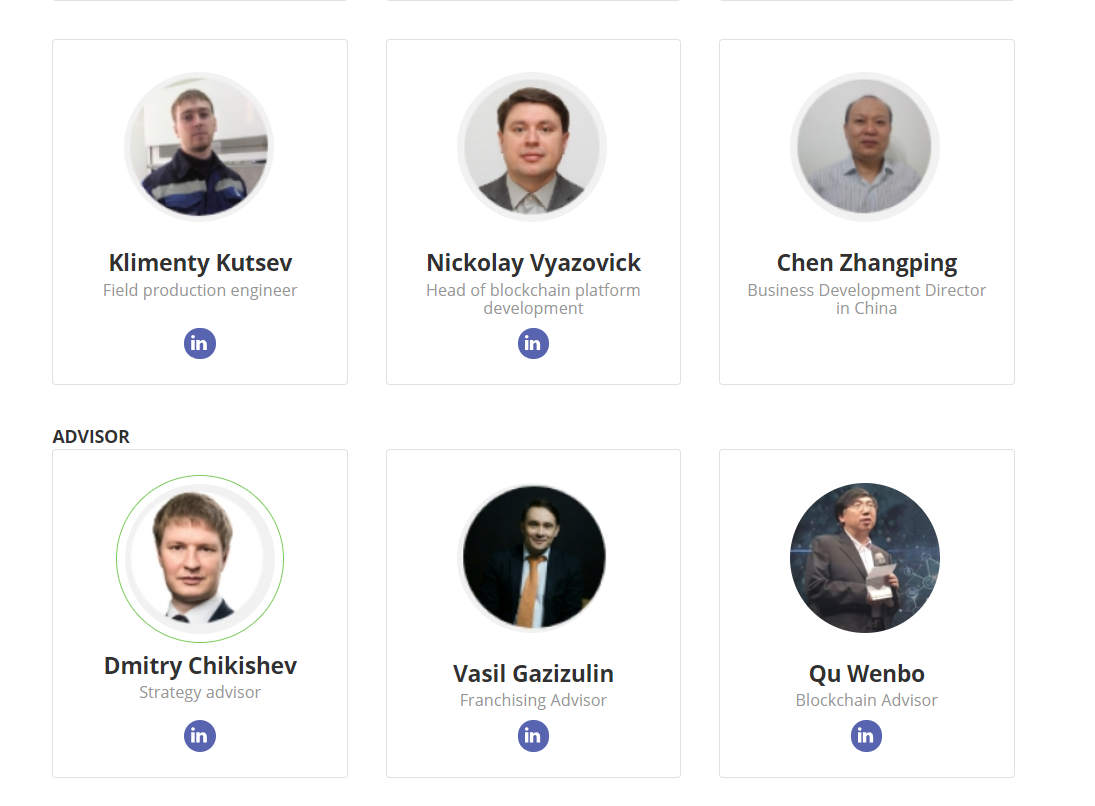 For more detailed information about the project that we live, contact the link below:
✅ Website: http://srtcoin.io/en
✅ Whitepaper: http://srtcoin.io/docs/en/wp.pdf
✅ Facebook: https://web.facebook.com/SmartRefinery/?_rdc=1&_rdr
✅ Twitter: https://twitter.com/SmartRefinery
✅ Telegram: https://t.me/SmartRefinery
✅ Likendin: https://www.linkedin.com/company/smartrefinery
✅ Medium: https://medium.com/@SmartRefinery
✅ Bitcoinwiki: https://en.bitcoinwiki.org/wiki/Smart_Refinery_Technologies_Group
Bitcointalk profile: https://bitcointalk.org/index.php?action=profile;u=1752412
Eth address: 0x282e1B443eB97CA37FcB0413ec33F021fc6b4f5D