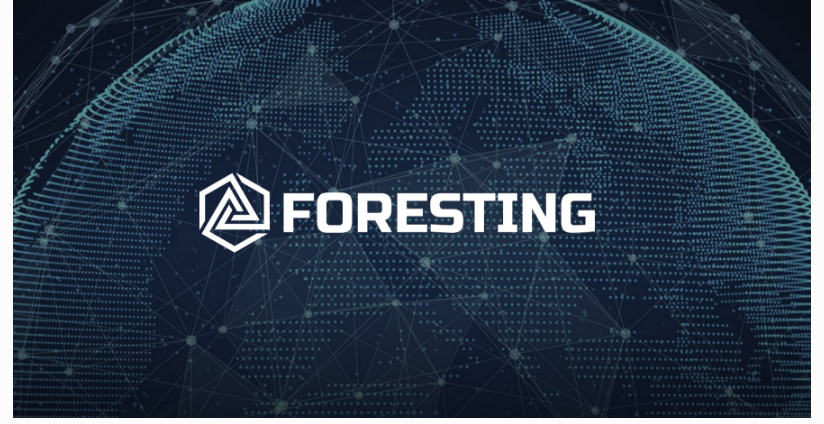 Social media marketing is a form of internet marketing that involves creating and sharing content on social media networks in order to achieve your marketing and branding goals. Although the terms e-marketing and digital marketing are still dominant in academia, social media marketing is becoming more popular for both practitioners and researchers. Social media marketing involves the use of social networks, consumer's online brand-related activities (COBRA) and electronic word of mouth (eWOM) to successfully advertise online. Social networks such as Facebook and Twitter provide advertisers with information about the likes and dislikes of their consumers. Social media marketing is the process of gaining website traffic or attention through social media sites. Social media marketing is the process of creating content that you have tailored to the context of each individual social media platform in order to drive user engagement and sharing.
The problem with Social Media Networks that leads to the need for foresting is that the traditional social media platform has excessive reliance on the revenue obtained from advertisement hence this results in:
Leakage and theft of personal information
Foresting will not pursue a profit-focused platform, rather it will create a content-centred platform that generates the revenue of direct contents.
The idea of foresting encourages the creation of better contents, it is also focused on the voting of users rather than the real traffic-oriented content valuation.
Foresting will be able to create a better content culture through the means of evaluation.
There is great unfairness in the distribution of value: Users usually do not obtain reward for the contents produced.
Foresting intends to resolve unfair value distribution for content creators. The platform will provide a fair value distribution system on blockchain through social media token application. The Foresting Network was created to realize the value of a new life in our society: "Work four hours a day, share everyday life, and manage your life." The Foresting Network will bring about a value shift of 'labor' in the existing society. It will be completed with the blockchain based rewarding social media and innovative financial services to fully support content creators.
Foresting is the new generation of social media service that is built on blockchain technology to provide economic freedom for content providers. Foresting is designed for those who are interested in social media platforms. It supports all forms of content videos, text, images, live broadcasting, and creates a social network based on a content-oriented reward service.
Furthermore, Foresting is a social media blockchain based platform that deviates from traditional platform social media distribu-tion systems. This provides a fair value distribution system for true users of the platform owner.They send content thr-ough blockchain technology and contribute to platforms in various forms. The forum will provide an intuitive blockchain based social media platform with high-end UX / UI and technology to support a variety of content, including images and videos. The use of the Foresting platform is very easy and supports high capacity content.
The Forestry Network will be accessible to anyone without needing prior knowledge about currency or crypto bans.The new concept involves creating a network platform that will allow users to realize the value of creating content. The Greening Network is designed to provide compensation for content creation and income distribution systems for suppliers. All types of content are entitled to remuneration, consumption and support in the content system.
Foresting Network has come up with a solution to provide a better place for the content creators. The project is using blockchain technology to develop a rewarding social media platform. The Foresting Network ecosystem consist of three main components:
Blockchain Based Rewarding Social Media Foresting
It will give rewards to the content creators for creating contenting and sharing it on the platform. The content creators can submit content in any form like text, images, videos, audio, or live broadcasting. The social media Foresting will encourage content creators to create content faster than traditional platforms.
Foresting bank will provide financial services to the content creators. The contributions of the users on the platform will be assessed by the Foresting bank. The quality of their content and their contribution on the platform will decide their which financial services will be accessible to them.
Foresting Lab will develop an offline infrastructure to support the platform community and the content creators. The content creators can get a physical space with equipment needed such as cameras, microphones, lights, speakers, etc so that they can come up with better and quality content.
Forestry will introduce a new ecosystem consisting of representatives from FOREST (community members) working on the concept of networking, connectivity and interaction. The ecosystem also includes the following functions: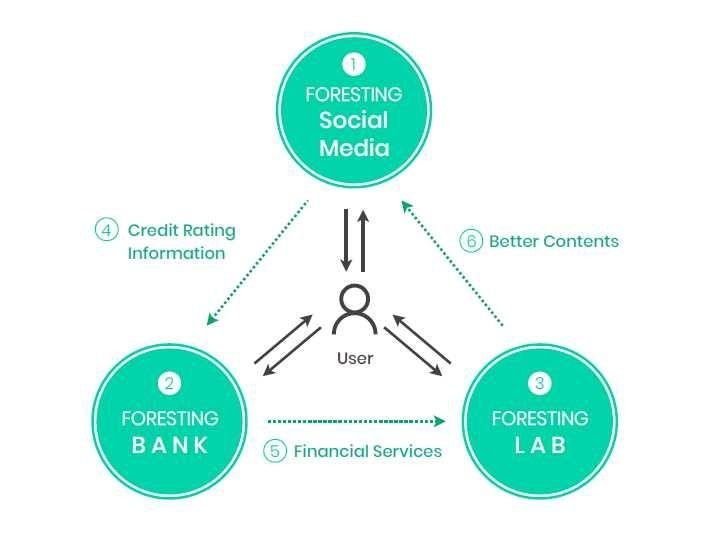 FEATURES OF THE FORESTING PLATFORM
Real-time Trade Function through Embedded Exchange
Provide real-time trading function by embedding major exchanges around the world.
Master Node-based P2P Transaction
Minimum of 10 coin openings per user (RPC module provided for each coin access).
Content Creator Sponsor Feature
Popular content is rewarded with real currency rather than plain likes.
Shedding the target/retarget ads that are centered around the advertisers and platform operator.
WHY CHOOSE FORESTING?
Convenient and intuitive interface;
Content monetization and fair distribution of earned funds;
Marketing support for all participants in the platform;
Access on all computer systems and gadgets.
The platform accepts and supports content of any format.
Features are taken into account the interests of all categories of users.
Protection, control and confidentiality of your information and data.
Availability of mobile application.
TOKEN SALE AND ICO DETAILS
FORESTING Network will be based on PTON Token; an ethereum coin that is built on ERC-20. The majority of the token's 24-Bn PTON issue will be for sale, while the rest will be distributed throughout the ecosystem. PTON Token serves as a value determinant to reward participants who donate their content to the Forest. PTON markers will be available according to the level of contribution of the participants. It is expected that some of that will also be used so that users can use the Foresting application.
PTON token works as a value determinant for rewarding the participants contributing content to FORESTING. The PTON token will be available as per the level of contribution of the participants. Part of it is also expected to be in use to enable users to benefit from FORESTING app.
Token Details
Token: PTON
Platform: Ethereum
Type: ERC20
PreICO price : 1 ETH = 50,000 PTONs
Price in ICO : 1 ETH = 33,333 PTONs
50% PTONs during the Presale.
Tokens for sale : 9,600,000,000
Min. investment: 1 ETH
Accepting: ETH
Distributed in ICO: 40%
Soft cap: 90,000 EH
Hard cap : 170,000 ETH
Token supply- 24,000,000,000 tokens
Token Distribution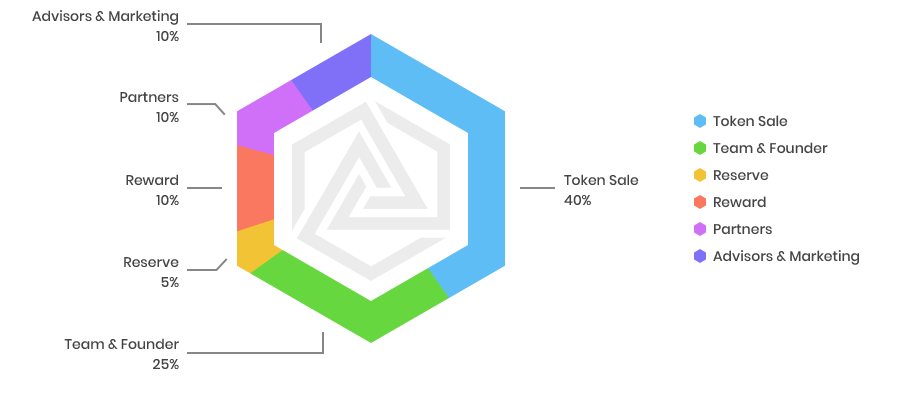 ROAD MAP


TEAM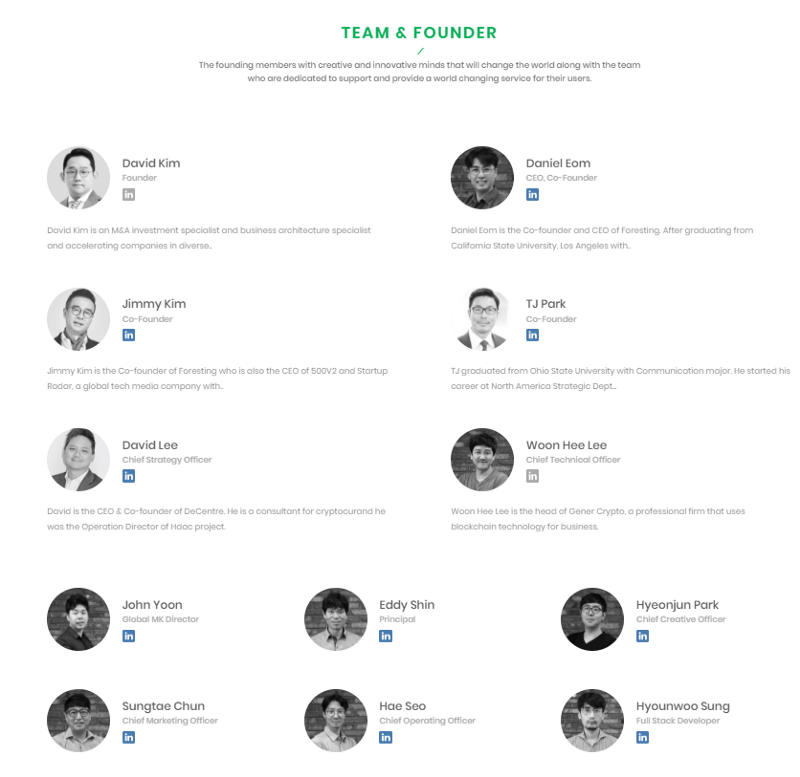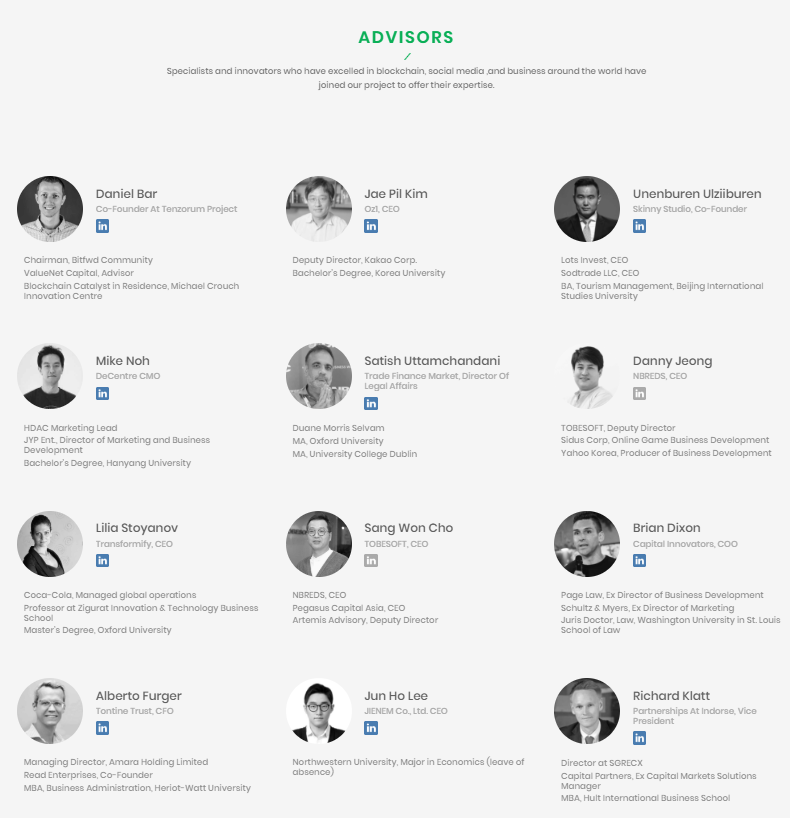 For more information, please visit:
Website: https://foresting.io/
Whitepaper: https://forestingetwork.com/whitepaper/FORESTING_Whitepaper_Eng_Ver.0.92.pdf?Ver0.2
Twitter: https://twitter.com/foresting_io
Telegram: https://t.me/foresting_global
Facebook: https://www.facebook.com/forestingHQ/
Instagram: https://www.instagram.com/foresting.io/
LinkedIn: https://www.linkedin.com/company/foresting/
Medium: https://medium.com/foresting
YouTube: https://www.youtube.com/channel/UCGgXs74rn_BuE90CH1qYBPA
Author: JigaMola
Bitcointalk profile: https://bitcointalk.org/index.php?action=profile;u=1847143