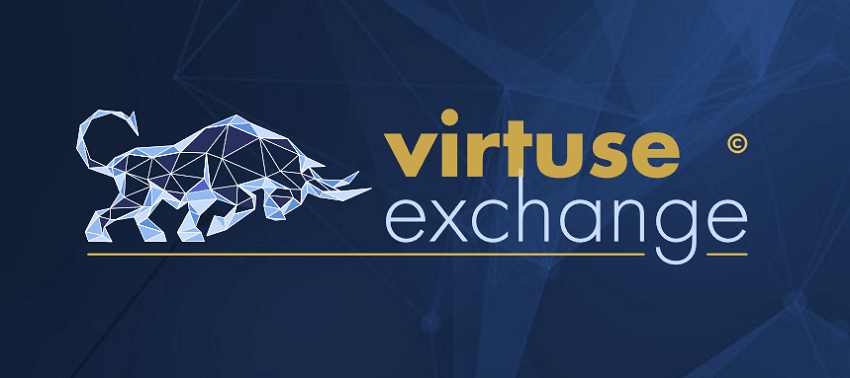 A modern model of the work of traders around the world was created over many years. Nevertheless — now this model is not always applicable in the market, as the market is adjusted for the assets that are used on it. In addition, 87% of all trading operations are concentrated in only 16 stock exchanges. This suggests that the centralization of trade exchanges actually leads to partial monopolization of trade operations and doesn't allow the development of small exchanges.
Meanwhile, a trader has to pay huge commissions to conduct transactions on large exchanges. And, of course, these transactions will not yield obvious benefits, because of such fees. To achieve significant success within a large exchange, it's necessary to work there for at least 6 months and all this time to be at least at the same level of assets, but it is almost impossible. With the introduction of blockchain into the exchange trade, all participants at the entrance have equal opportunities and differ only in their own assets, which they can provide with physical values.
As well as for many other branches of our life — the decentralization of Virtuse Exchange will allow to erase the borders between states and continents and will allow to trade wherever there is a connection to the Internet network. At the same time, you don't have to worry about the small amount of assets that you have at your disposal — this platform allows to so reduce the costs of trading, that carrying out transactions takes an extremely small share of the commission.
Virtuse is a next-generation blockchain-powered exchange that allows investors worldwide to trade a wide array of cryptoassets. It's a unique platform that combines the best of the traditional investment world with the new digital assets ecosystem.
Virtuse Exchange is a digital asset exchange that gives investors a bridge to real-world assets. It lets you invest in real-world assets in ten minutes or less from any Internet-connected device, anywhere in the world, and in any time zone. It's 100% CRYPTO, with no banks involved. Virtuse Exchange's world-first trading platform is set to change the industry. By integrating the trillions of dollars stored in traditional capital markets with cryptocurrency through the use of Digital Asset Collateralized Tokens (DACTs), we're enabling what could be the biggest change in investment history. With Virtuse Exchange, cryptocurrency investors can invest in a huge range of asset classes, simply by buying DACTs that are secured against real world assets. Not only does this offer an exciting new way to invest, it also provides an attractive way to store crypto profits during times of volatility (rather than having to exchange into FIAT).
The developers of the Virtuse Exchange platform decided that it would be nice to give all comers the opportunity to conduct trading operations faster, safer, with less risks. At the same time, the team proposes to use cryptocurrency assets as an analogue to any physical assets. If you have any reserve, for example, gold — using the resources of the platform you can freely trade them on the market in a cryptocurrency equivalent. At the same time, the developers promise during the transaction to replace centralized processes with decentralized ones, and thus ensure the best quality of the transaction and elimination of disadvantages of centralized processing system.
To realize its idea, the Virtuse Exchange team has created a platform that determines the value of physical assets in cryptocurrencies. Thus, we can distinguish three stages of trade.
The first stage involves giving a user the opportunity to use a certain amount of cryptocurrency in exchange for physical assets such as precious metals, oil, real estate, etc. Similarly, the liquidity of tokens that will participate in the exchange and trade process will be ensured. When you change the balance of physical assets, the corresponding number of tokens will also vary proportionally.
In the second stage, a special platform module, called Digital Asset Collateralized Token(DACT) enters the case. In fact, from this moment begins the so-called tokenization of your property. The DACT module is the fundamental process that ensures the operation of the entire platform. The module will provide different types of coins for the tokenization of different physical assets. At the moment, there are several types of such tokens. Also in the module will be available special analytic programs and programs for analysis of assets used for trade. All these data will form a separate database, access to which will be through the use of platform tokens.
The third stage of the platform's work is the creation of a database, which allows to identify separate groups of assets. For example, those that are at greater risk, or, conversely, at least risky. This tool will allow traders to clearly plan their work and consciously take risks for greater profit. Either this instrument allows to choose a security path and use the data collected by the platform for a more stable income.
FEATURES OF VIRTUSE
Our platform enables anyone in the world to trade both cryptocurrencies and financial assets at any time, in any location. It's the first true borderless platform that's 100% crypto.
Trade every global financial asset
Virtuse Exchange will initially launch with basic cryptocurrency pairs. In the second half of 2018, we'll be adding our unique Digital Asset Collateralized Tokens (DACTs) - asset backed crypto investments in stocks, bonds, commodities and other funds, allowing you to take advantage of every opportunity you can think of.
Revolutionary new digital instruments
In addition to DACTs, we'll also be offering expertly managed DAFs (Digital Asset Funds) – tokens that are comprised of several coins, with liquidity ensured. These funds will create a whole new class of investment opportunities with virtually unlimited potential - that aren't available anywhere else.
Our team has extensive experience in building secure financial trading systems and Virtuse Exchange will be no different. We're implementing state-of-the-art security technologies to ensure your funds stay safe from hacking and data breaches.
Our platform eliminates the need for clearing banks, custodians, excessive brokerage and high exchange fees. As a result, we provide all of the benefits of instant electronic trading, at a fraction of the normal cost.
VIRTUSE TOKEN (VIRT)
VIRT Tokens is a valuable digital asset, Virtuse Exchange platform's token, which will be used/tradeable at/on the biggest crypto currency markets. With the help of ICO Virtuse Exchange plans to attract the investment resources at a wide range. As suppose, the token sale will be interesting for the owners of digital assets, who would like to transfer them into the more secured investment tool and not to tremble anytime they hear the news about the possible Bitcoin rate falling.
The VIRT token will be based a standard ERC20-agreeable token on people in general ethereum arrange, also, will be utilized as the settlement gadget for all exchanging exercises on the platform. The exercises incorporate, yet are not constrained to, exchanging, settlement of agreements, protection, and use. At this arrange, the Virtuse platform permits the exchanging of cryptographic forms of money, utility tokens, resource swaps, and fates on items. In ensuing platforms, we intend to stretch out the platform to the exchanging of rates and choices on values, ETFs (Exchange-Traded Funds), and other appealing resource composes. Virtuse Exchange is opening financial markets worldwide to "asset digitization" – all through the tokenization of commodities.
VIRT holders can work on the Virtuse platform as merchants or resource backers. Resource backers ensure each exchange by giving insurance against the danger of default by the merchants (counter gathering hazard); both benefit and hazard are computed because of a reputational motor worked inside of the platform.
In other to participate in the ICO, follow these steps below:
Purchase the tokens: Virtuse Exchange will issue a number of tokens during the ICO.
Receive dividend payments: As a token holder, you have the right to receive payments equivalent to shareholder dividends.
Convert your tokens into shares: As a token holder, you also have the right to convert your tokens into Ordinary Shares.
Token Information
VIRT Token type: ERC20
A strict limit of: 1,000,000,000
Hard Cap: $20,000,000
Soft Cap: $5,000,000
Price: 1 ETH = 8,000 VIRT
Token Allocation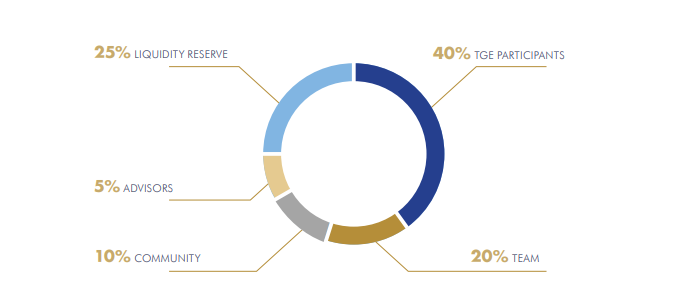 Use of Funds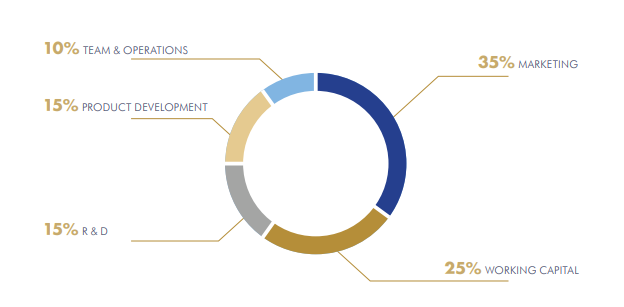 ROAD MAP
2006
Establishment of Virtuse Group
2015
Virtuse Group headquarters relocated to Singapore from Prague
MAR 2017
Inception of Virtuse Exchange business model
JAN 2018
Whitepaper drafting
Initial roadmap established
MAR 2018
Platform development commenced
MAY 2018
Virtuse Xchange Ltd Plc registered in Singapore
White paper circulated
AUG 2018
Platform Alpha version released
ICO date announced
SEP 2018
Platform Beta version
Private sale
OCT 2018
Start of ICO
Launch of DACTs Dapp beta
NOV 2018
ICO ends
DACT platform release
DEC 2018
Token distribution
Compliance with IE SG for Commodities trading
Q1 2019
Started DAF
Virtuse Gold DACT created
Q2 2019
Q3 2019
Launch of Virtuse Startup Fund & Commodities Performance Fund
2020
Singapore' RMO License (Registered Market Operato)
2021
1% of global commodities traded on platform
2022
5% of global commodities traded on platform
TEAM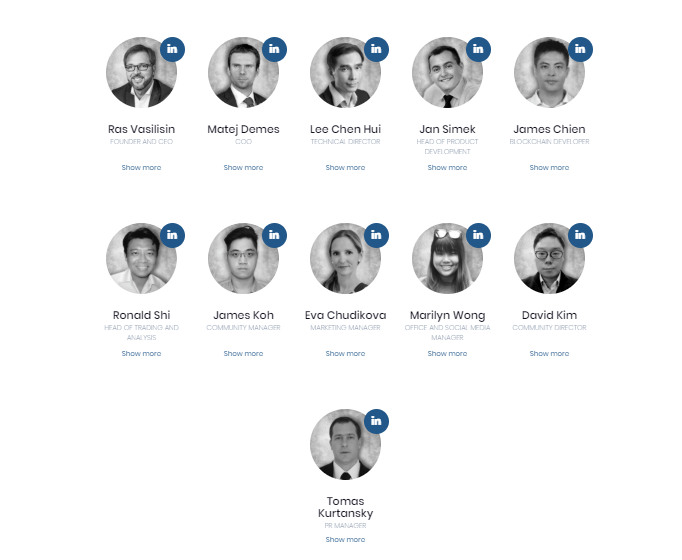 For more information, please visit:
Website: https://www.virtuse.com/
Whitepaper: http://virtuse.com/public/pdf/whitepaper.pdf
Telegram: https://t.me/virtuse
Facebook: https://www.facebook.com/virtuseexchange/
Twitter: http://twitter.com/VirtuseExchange
Reddit: https://www.reddit.com/r/VirtuseExchange/
LinkedIn: https://www.linkedin.com/company/virtuse-exchange/
Youtube: https://www.youtube.com/channel/UCLpPphr8lul1BElmw5LrkaQ
Medium: https://medium.com/@virtuseexchange
Author: JigaMola
Bitcointalk profile: https://bitcointalk.org/index.php?action=profile;u=1847143