OVERVIEW
Blockchain technology has been a massive development and innovation. It fosters transparency and makes the world
a fair place if blockchain technology if implemented in our day to day lives.
As a beginner or an expert, we face a lot of issues in the cryptocurrency world on a daily bases such as having to deal with multiple exchanges and sign ups, getting information on cryptocurrency to invest as we do not have an all in one encompassing solution to all the issues been faced in the cryptocurrency industry.
This is what cryptassist tends to solve. it tends to give us a much needed solution that we have been looking for. It simplifies usage of cryptocurrency. it makes the both the novice and the veterans have access to tools so as to be able to succeed in this industry. They are a mobile application that provides all cryptocurrency users access to information, knowledge and tools in order to simplify the usage of cryptocurrencies in the modern world.
THE PROBLEM CRYPTASSIST IS LOOKING TO SOLVE
The issue that cryptocurrency is passing through today is that, it has no real use case and people have not been able to be using it in the rel life. For now, it lacks adoption. It hasn't been effective been put into use in our day to day activities.
Blockchain is one of the most powerful innovation but the issue facing it now is to implement it into user adoption and for to go mainstream. This has become an issue as many newbies find it very much difficult to get started with cryptocurrency and also, without adoption, it would be quite an issue before cryptocurrency would be used in our daily lives. This is exactly what cryptassist is set to solve. It makes it easier for everyone to get started with cryptocurrency even for the newbies as well. This makes a need of the concept of cryptassist a needed concept in this industry.
CRYPTASSIST VISION/ECOSYSTEM/FEATURES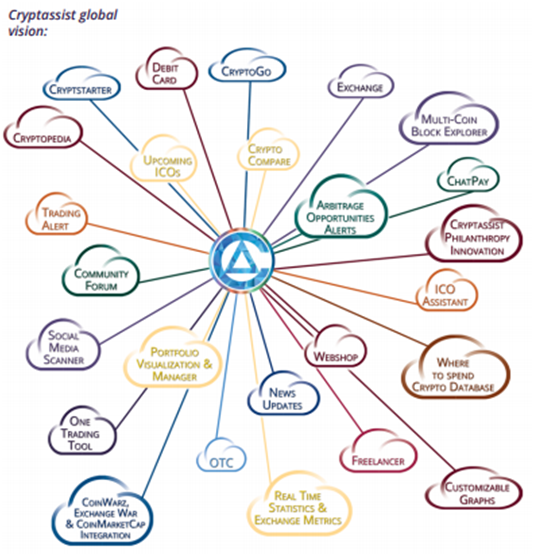 This is a much needed solution in this industry and their are some key features that this platform is offering and this can only improve the way we use cryptocurrency and also simplify the usage of cryptocurrency in our lives. some of the talking points in the ecosystem are;
ABILITY TO RAISE FUNDS
Strangely they additionally enable clients to raise money for ventures they consider, in a gathering funds application. This is very good as they are making new business start ups able to raise money for their ventures as this is one of the hurdles facing new business start ups
EXCHANGE
Cryptassist has this powerful feature in their ecosystem. They enable OTC(over the counter trades) and this enables low valued transactions to take place and this also enables users that have low volume trades to be able to use the platform as well. During these transactions, the platform acts like an escrow service to the both parties buying and selling using the platform.
However, their tools enables users users to be able to have access to many exchanges which is very nice for all the users(newbies and experienced). This tool also gives price alerts to users to know what prices are like on different exchanges and a smart trader can use this to his advantage.
CRYPTO GO PLATFORM
This feature/characteristics is one of the features that this platform offers. This platform aids in handling different airdrops for projects. This would make cryptocurrency known world wide as this would aid worldwide adoption and also draw people close to the world of cryptocurrency and also help the users that are not able to invest into this industry.
DEBIT CARDS
This is one of the features that is really nice and this is the first of its kind in the history of cryptocurrencies. They allow a lot of cryptocurrencies to be used on the card. This would make massive adoption to take place and make people adopt cryptos as this is the much needed the solution that people crave for.
DATA SYSTEMS
Cryptassist has a tool in which users can use in tracking all their transactions in one place. This enables people and save people a lot of time to track their transactions.
CHAT-PAY SERVICE
This feature enables users to have an effective communication on the platform using this service. This function is fully encrypted and been able to communicate would enable worldwide adoption to become a reality.
Cryptassist also offers the feature of where one can spend his/her crypto as this is very much important in the mass adoption of cryptocurrency. Having cryptos and not been able to spend would breed less interest but with more constant update on how to spend cryptocurrency, it would draw users to start making use of cryptocurrency.
Some other features and comparisons to other blockchain service are;
Cryptassist utilizes DAG which means "Direct Acyclic Graphy" and this would enable more transactions per second as compared to other blockchains projects. see below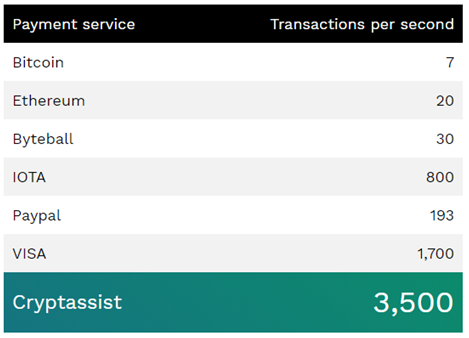 THE TEAM
The team is made up of experienced people from all works of life and this team no doubt would make this project shoot for the stars. Below is the image of the team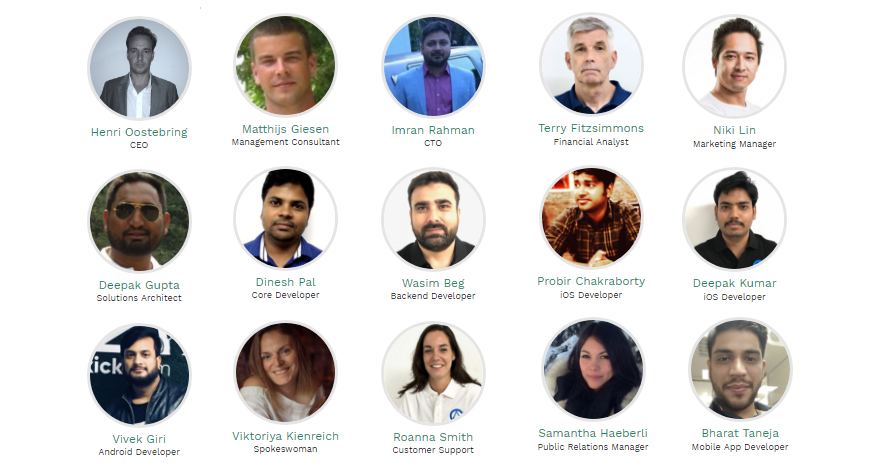 ROADMAP
This project has a well drafted roadmap that would allow them achieve their aim. See below;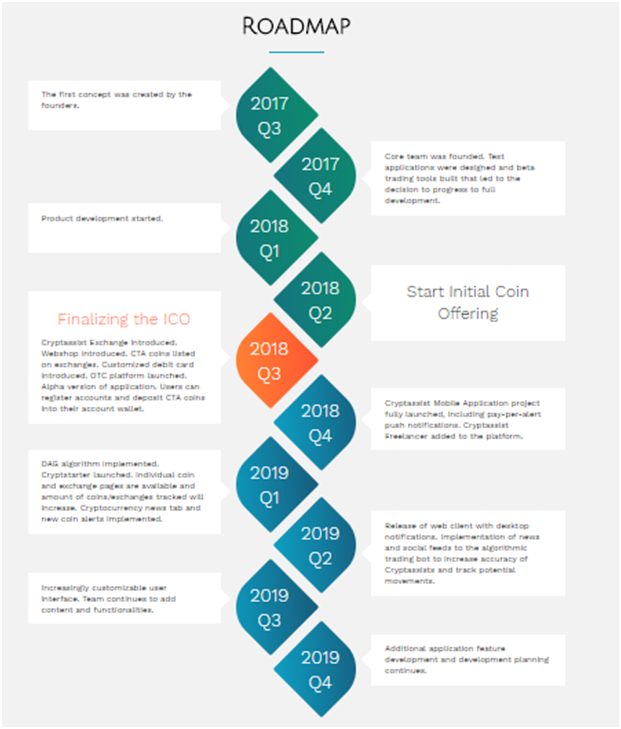 Website: https://www.cryptassist.io/
Whitepaper: https://www.cryptassist.io/assets/downloads/whitepaper.pdf
Facebook: https://www.facebook.com/CryptAssistCoin
Twitter: https://twitter.com/cryptassistcoin
YouTube: https://www.youtube.com/c/CryptAssistCoin
Medium: https://medium.com/@cryptassistcoin
Telegram: https://t.me/cryptassistcoin
Bitcointalk Ann- Bitcointalk ANN https://bitcointalk.org/index.php?topic=4553885.0
My bitcointalk profile- https://bitcointalk.org/index.php?action=profile;u=2084457