In a fast paced and rapidly changing world of cryptocurrency, it is important for cryptocurrency owners, investors, analyst and everyone in the cryptocurrency space to be kept abreast of current trends, innovations and analysis. Absolute control over information is an herculean task if not nearly impossible, there is increased risk of harsh user experience in the world of cryptocurrency and a rapidly advancing technology such as blockchain.
In a world of hackers, fraudsters and individuals who seek to take advantage of other people's naivety, it is important to have access to tools, data, analysis and information to keep one up to date of current event happening in the everyday crypto space. Information is power, with the right tools, you are indomitable. But gathering these information from various sources proved to be a time sapping and effort consuming task. A perfect solution would be to have an ecosystem which provides these tools to everyone ranging from investors to cryptocurrency experts or people who are newly venturing into the crypto world in one giant platform and this is where Payperblock comes in.

PAYPERBLOCK is a blockchain-based freelancer platform, which is owned and operated by Payperblock Ltd and is used to connect professionals and jobs. The primary customer pool for the company includes freelancers who are blockchain experts and organizations.
With the recent global economic trend, working at a single firm with ones truckload of labor skills and technical know-how is not healthy for any economy that needs a boom in innovations and wider knowledge, geared towards increasing productivity and equally paying cognizance to the employer. It is also salient that those who contribute favorably towards the progress of any firm or company they find themselves should be meant to exercise their expertise through the share of their labor and service to two or more firms to enhance their pocket or income because rewards for labor breeds more innovations in the productivity of work force in any organization, this fact gave rise to PAYPERBLOCK with the idea of freelancing.
The Vision
Leading the way for a smarter future, by connecting the right talents with the right jobs, so that every potential blockchain project has the best prerequisite to succeed.
The Goal
The number one goal is to offer transparent and fair platform with lowest fees possible. It's that simple.
The Main Idea Behind ​​Payperblock
Payperblock is a blockbuster project organized by a team headquartered in Oulu, Finland. Its main idea is to create an absolutely decentralized, fully transparent and honest freelance platform for blockbuster specialists with lower commissions and decentralized arbitration.
Payperblock will in many respects differ from other platforms for freelancers, both centralized and decentralized. At a minimum, it is mostly designed for block-specialists, so that the founders of projects can use the platform to form teams for start-ups.
This does not mean that freelancers on the platform will be exclusively block-developers. Project teams also include software developers and web sites, web designers, marketers, PR specialists, copywriters and many other experts in their field, so Payperblock has a place for everyone.
The main feature of the platform is decentralization of all processes, including guaranteed payment for work done and security of payments, low commissions and community voting, resolution of disputes and prevention of their occurrence. All this is achieved through the use of its own blockbuster - PayB Blockchain, as well as PayB Token tokens.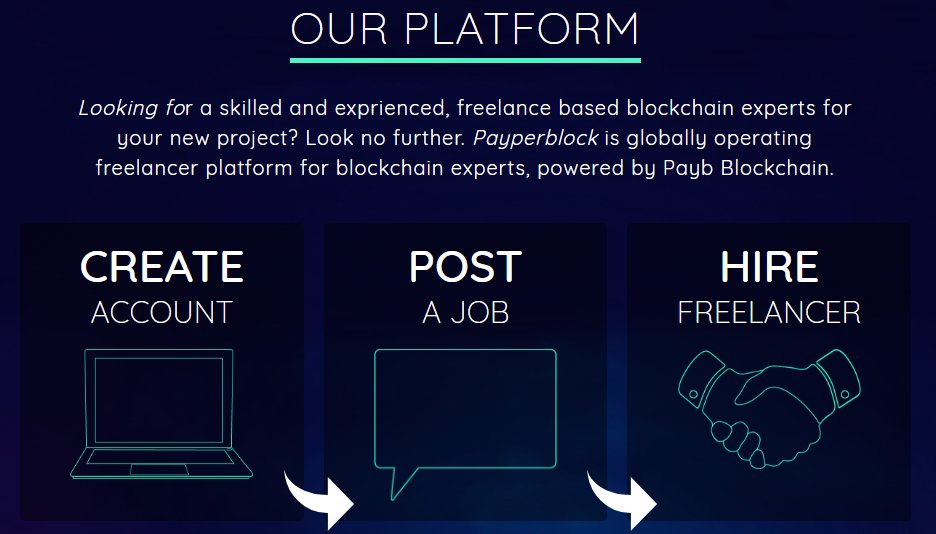 Some of the most notable and inherent issues with the conventional model of freelancer platforms include the following:
A centralized authority exists in the organization that raises concerns among freelancers about fair dispute resolution and justifiable policy changes.
Getting paid can become a chore in many cases if the client is not supportive.
The issue of unjust negative reviews left by clients or freelancers for reasons like personal bias or frustration.
Payment for work is not always guaranteed.
The fee for using the platform service can be very high in many cases including the costs related to creating a contract, accepting a contract, a share of the payment received, currency conversation and withdrawal fee.
THE COMPANY UNIQUE SELLING PROPOSITIONS (USP)
The business model of Payperblock is based on the Payb blockchain for communication and transfer of all transactions. In addition to the blockchain method of operations, the whole organizational structure is intentionally kept distributed to ensure that both clients and freelancers get fair treatment. The unique and superior business model of Payperblock is very robust and is very likely to gain attention and trust of both clients and freelancers due to its USPs that are unmatched in the whole freelancing industry.
These USPs include:
Lowest fees in the industry
For all our clients on Payperblock, there is a provision of 1% fee if they are using PayB coins for payment. Even if clients use Bitcoin currency, fees will go up only to 2%, which is significantly lower than with any rival company.
Decentralized authority
The company policies are not decided by a single authority team, but instead, all policy decisions are taken in a voting process among all the token holders of the organization, which is a large and diverse group of people.
Guaranteed payment
Payperblock adopts a vigorous process to ensure that freelancers never have to worry about getting paid. For every project, the agreed-upon amount is instantly frozen on the Ethereum account of the client and is released to the freelancer upon completion of the project. If there is any dispute, the resolution is performed by a diverse group of token holders who review the case and provide a fair resolution.
Enhanced and fair dispute resolution process
Both the clients and freelancers working on Payperblock have access to a distributed dispute resolution process. The resolution may refer to a dispute on the quality of the work performed by a freelancer, a dispute on payment, or the issue of an unreasonable or unjustifiable negative review for a project.
Dispute elimination method
We will implement a method that will considerably diminish the occurrence of disputes altogether. We will set up a robust management system that both parties can monitor for a solid workflow that will lead to a successful project.
ICO
A grand total of 10 billion Payperblock tokens will be minted for the freelancing platform business operations. Out of all the tokens minted, 45% will be made available to general public for purchase, 25% of the tokens will be reserved for the task of future development of cold storage, 15% for the development team and project advisors, and the remaining 15% for the bounty program and bonus provisions on the Payperblock platform.
Currencies that will be accepted on the Payperblock platform and for the purchase of Payperblock tokens include ETH, BTC, and LTC. The exchange rates for Payperblock tokens will be determined a day before the ICO begins.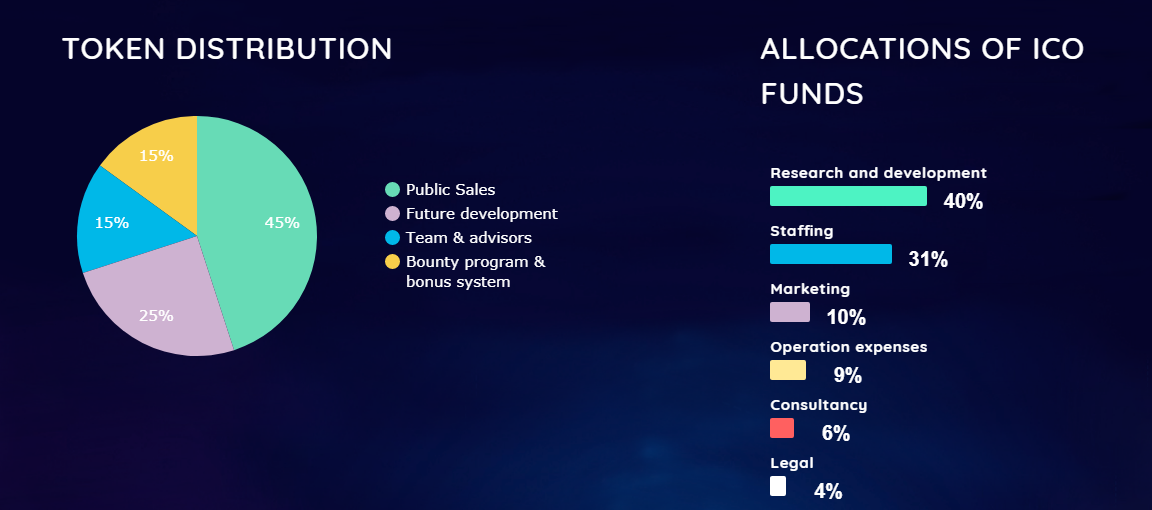 TOKEN SALE
SoftCap: 1 million Dollars
HardCap: 5 million Dollars
PRE-ICO BONUS:
10% Bonus
Bonus Lock-up time: 3-6 months
ICO BONUS:
Week One 5%
Week Two 3%
Week Three 2%
Bonus Lock-up time: 2-3 months
PAYPERBLOCK will be opening sales for their token for investors to invest and make reasonable profit during distribution, below is a simple analysis of the ICO funding;
10billion payperblock will be minted,
45% for public purchase
25% reserved for future development
15% team development
15% bounty program
ROADMAP



Team Members




ADVISORS



For more information, please visit:
WEBSITE: https://payperblock.com/
WHITEPAPER: https://payperblock.com/whitepaper/
ANN THREAD: https://bitcointalk.org/index.php?topic=4686095
FACEBOOK: https://www.facebook.com/Payperblock-821176318089462/
TWITTER: https://twitter.com/payperblock
TELEGRAM: https://t.me/joinchat/IZbKTlFWa0v9Oph89EK9cA
Morin1:https://bitcointalk.org/index.php?action=profile
Eth:0xe902b9558b0024d4aca1a2ed25e23517cc245580