This is my entry for the sponsored writing contest organized by @monajam. You can find the contest here
---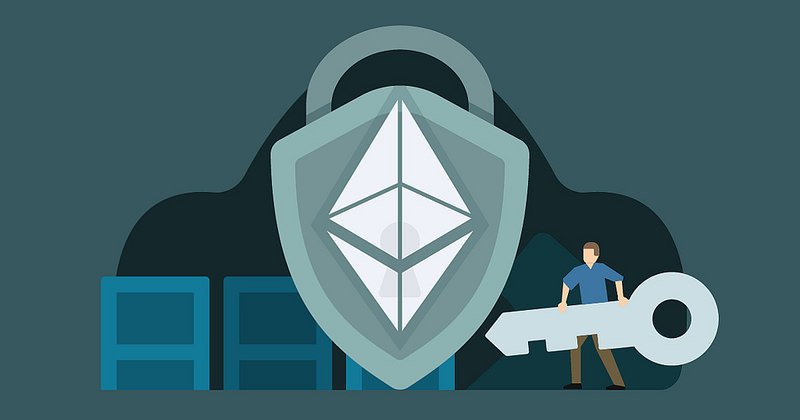 Source: Flickr - CC by 2.0
---
Introduction
Today, Cryptocurrency, Artificial Intelligence, and CRISPR are the industries beaming with good potentials and are of interest to researchers, investors and business personnel alike. However, Cryptocurrency has been at the forefront in terms of adoption and popularity.
Startups, as well as established businesses, are beginning to introduce their own token to boost their income generation, get capital and promote their services. In performing this, an Initial Coin Offering (ICO) to investors and potential users is embarked on.
ICO involves offering the token or coin to investors (and potential users) at a reduced price than its potential worth on release using the expected profit for the buyers on release as the incentive to attract buyers. Only this year, ICO has raised a combined $3.25 billion making it projected to become a multi-trillion dollar industry in the nearest future.
These tokens, that are distributed during the ICO program are generally classified into either Security token or Utility token. The major difference being the regulations binding investment in them and the quota they hold in share or the access level it gives their holders.
What are Utility and Security tokens?
In simple words, Security token represents a tradable share in a company's stock usually offered by owners and invested in by buyers according to some official regulations defined by the government. An example is Polymath
Utility tokens are tokens void of any regulations and are used to serve a purpose, such as promoting a function or giving holders access to a service of the firm. It is offered like a digital coupon rather than an investment as with security tokens, making it exempted from federal laws governing securities. An example is the BON token
So, any firm aiming to raise funds through ICO need to decide whether they will release their token as either a Security or a Utility token.
Security Vs Utility tokens
The adoption of cryptocurrency is already facing many drawbacks especially because of its volatility. The presence of trading regulation and restrictions of investment in some tokens, add salt to the injury.
Utility tokens are tokens which are not bound to any investment contract, buyable by anyone and traded freely without any form of restrictions. Just like retailers roll out digital coupons to customers allowing them to buy cheaper, utility coin are offered during ICO or token sale at a reduced price by firms so to promote and generate funds for their token launch.
Security tokens, however, are offered in an investment contract, according to some regulations, giving the buyers access to a share in the firm's stock tradable on token launch at an expectedly increased worth. With these restrictions, interest in it is usually from a few investors.
The main reason for these regulations is because of security and monitoring of fraudulent activities as Utility coins are open to fraudulent act because of lack of regulations.
Problem faced by adopting security tokens
The major restriction a business face in adopting security token is the pressure of complying with the set regulations. These restrictions destroy the effects of network and prevent the development of the platform in terms of free adoption and open trading and in turn, results in an extreme reduction in the liquidity of such token.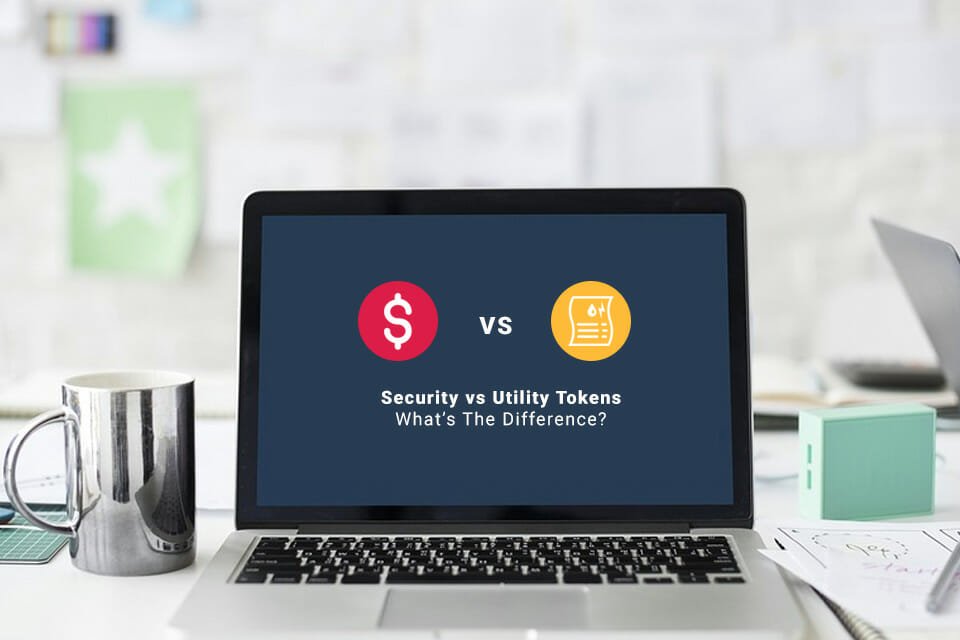 Cryptocanucks
Any bright side in security token adoption
With the current framework of the SEC regulations, security tokens adopters are in better hands as It allows them to transform their money into capital and generation of higher profits.
Security tokens because of its lower legal risks are much easier, faster to set up and cheaper to adopt than utility coin. So, for long-term vision, such token with good security potentials should be every business' top priority. Thus, there's need for a system that allows easy and safe adoption of security tokens which is where MOBU comes in.
MOBU and its Solutions
MOBU is a decentralized organized ICO platform for security tokens that offers a unique protocol called the MOB20 standard that helps facilitate the release of validated security tokens.
Through a smart contract technique, it ensures that all legal requirements for security tokens offering are met when the token is launched. This gives the organizers assurance that they won't be violating any rule and makes the release of security tokens easy.
For investors, there is confidence that the coin they are buying is complying with all the legal requirements without performing extra checking as they only need to comply with the flexible rules set by MOBU hence making the use of security tokens same standing as their traditional counterparts in terms of security and adoption.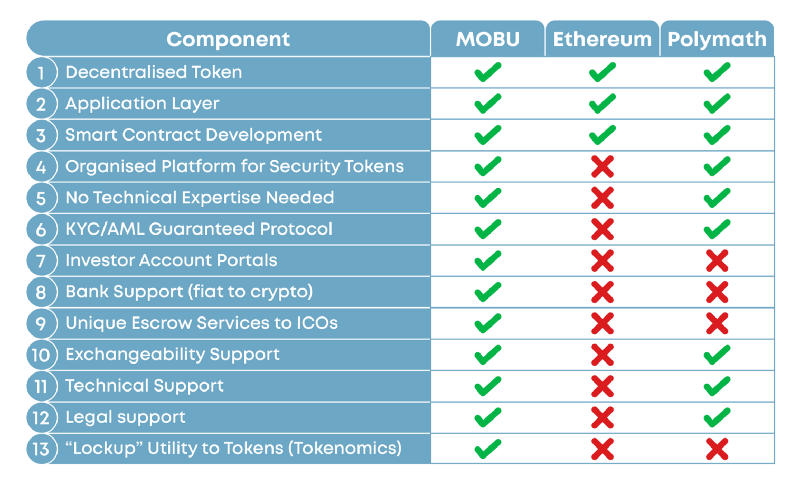 Source: MOBU Medium Page
How they do this?
MOBU offers KYC, AML, and SEC approval, innovative escrow services to ICOs, bank support to investors when fiat is converted to crypto and smart contract development and facilitates all other processes needed to raise funds
So, when a security token is offered through MOBU it passes a verification process that sees to who is qualified to buy or sell in accordance to the SEC rules. Unlike the existing system, it offers a user-friendly interface that allows companies with little technical skill to set up a security token at negligible fees, instant settlement times and round-the-clock trading.
Solutions they offer?
Unique method of escrow services to ICOs allowing an investor to exit the ICO after the crowd sale if the organizer doesn't comply with the project thus, enhancing a higher Return on Investment (ROI).

Lockup utility to token known as tokenomics allowing users to deposit MOBU token to ascertain their long-term presence on the platform giving buyers assurance of a reliable investment.

Investor account portals that allow for easy access to the account in case of death or loss of password. This is activated after 6 months of dormancy and assets are moved to an alternate wallet.

Easy fiat to crypto conversions around the world, legal support and enabling of a more efficient and scalable system.
Team
---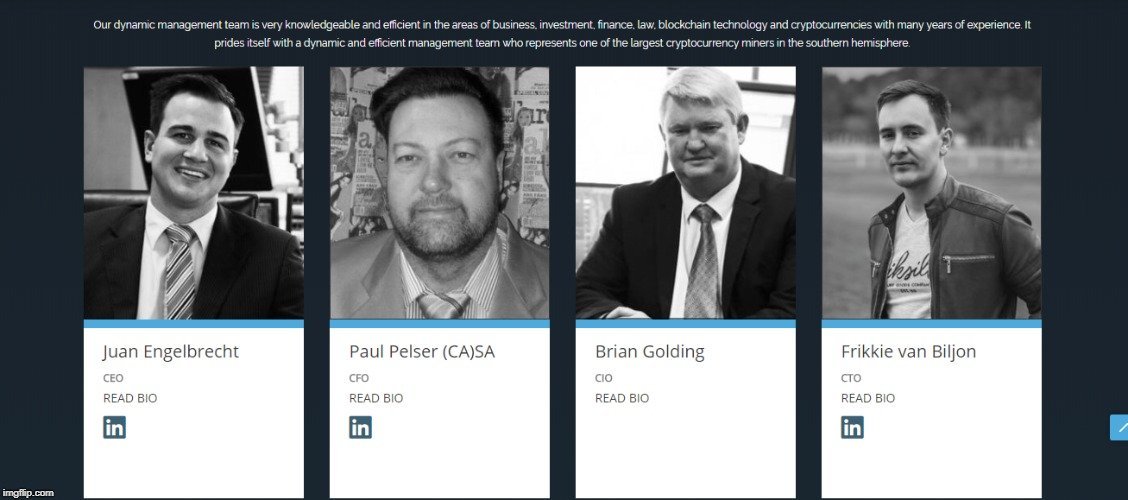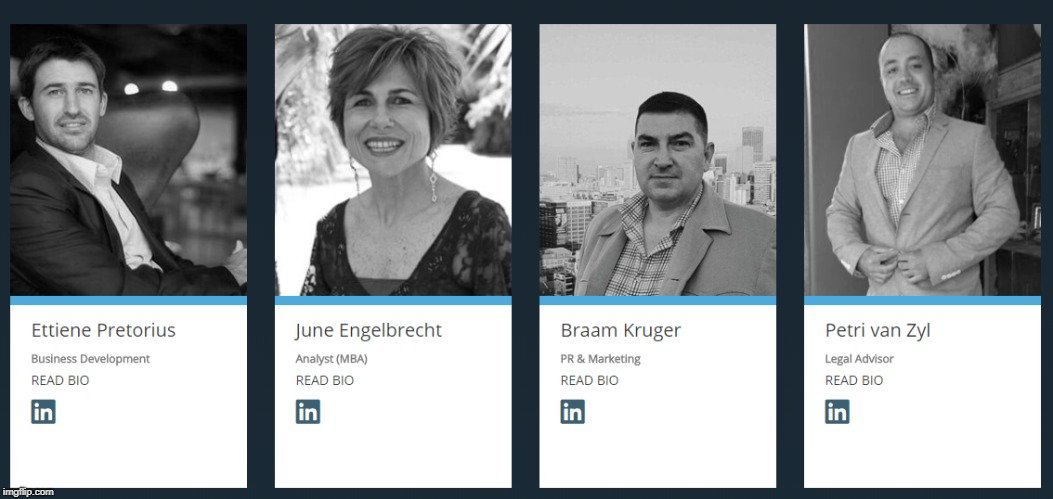 Roadmap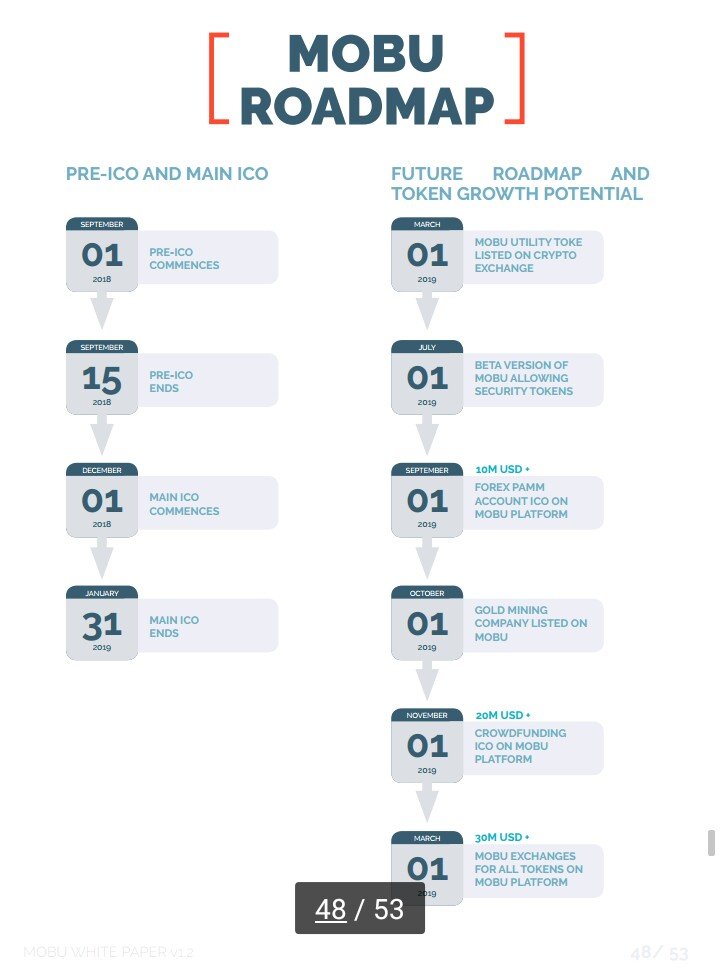 Conclusion
MOBU gives digital token easier adoption chances against the traditional currencies.
References
If you want a more detailed information about Mobu, feel free to visit:
• Mobu Website
• Mobu Whitepaper
• Mobu Medium
• Mobu Twitter
• Mobu LinkedIn
• Mobu Team