On 1-5 November SteemFest² was held in Lisbon, the capital of Portugal. SteemFest is an annual event organized by founders of the social network Steemit.com - a blockchain-based rewarding platform for bloggers. Platform aims at monetization and promotion of high quality content by means of rewarding publishers with Steem tokens. Steemit is famous for its crypto community which is populated with investors, miners, developers and regular blockchain enthusiasts.
SteemFest Blockchain Hackathon was also conducted in frameworks of the fest as an integral part of the event. It took place in the location of LX Factory - a modern area of Lisbon, industrial zone that was transformed into creative cluster.
The task was to develop working APP running on networks of prize-sponsor partners (Steem, Bitshares or Decent) for 24 hours.The prize pool consisted of three "Big Fat Fake Checks" for 1111 bitUSD, 1000 Steem and 2000 Steem (bitUSD - Bitshares Crypto Exchange token, steem - token of Steemit.com).
There were three main criteria for judging:
Useability and Value (the level of adding value to blackchain and end users)
Tech (the level of technology advancement)
Design and Interaction (the "polish" level of the concept)
SteemFest² itself involved more than 400 participants from 38 countries, but only 70 dared to take part in hackathon.
All teams demonstrated high level of their knowledge in realm of blockchain. Among offered solutions there were ones that are to be mentioned with respect, those are: the service for recognition of Not Safe For Work content (NSFW rating), a platform for matching geolocation and blog posts ("steem roadmap"), the service for supporting minnows on steemit, and others.
One more interesting solution was suggested by developers of Phenom team. They built a platform for conducting ICO on the basis of Steem and Bitshares blockchain with direct emission of token thereon. Today most token sales are based on Ethereum blockchain, due to its popularity and easiness of adding tokens to the exchange. However, people seem not to notice that the same can be executed directly on Bitshares blockchain as decentralized exchange. In doing that organizers of ICO can immediately list their token after the end of ICO, and thus, avoid long negotiations with exchanges and attract more investors. Digital assets on Bitshares are called User Issues Assets (UIA). It is very easy to generate UIA, but at the moment there is no solution which would automatize the process of token distribution and emission, which is integral in ICOs. Phenom Team presented a platform that solves this problem.
The platform is a multi-blockchain adapter that allows you to receive investments in different crypto-currencies (BTC, LTC, BCC) and emit tokens at Bitshares address provided by user in his or her personal account. Moreover, the emission is carried out in real-time mode, therefore investors do not have to wait for the end of the ICO to obtain their tokens. The platform is integrated with the Testnets of BTC, LTC, BCC, so anyone can send test bitcoins directly from the public faucets and get SteemHack tokens.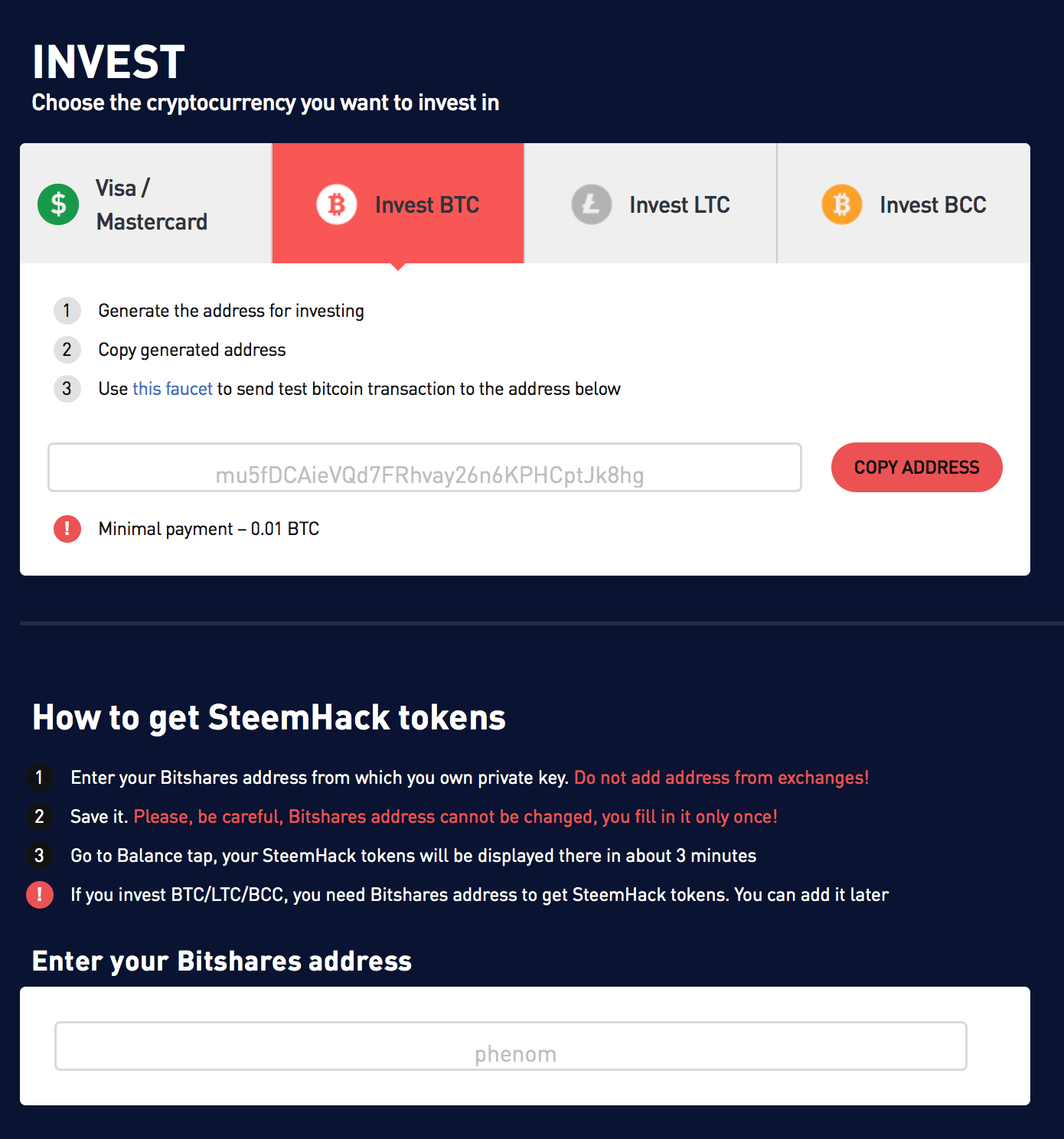 Pic.1 Interface of Investment platform
All transactions and investor's balance are displayed at the Balance section; as soon as transactions reach memory pool, investor can see them, and by clicking on the number of emitted tokens, investor will be able to see a transaction emission in the blockchain-explorer, therefore the process of investment is fully transparent.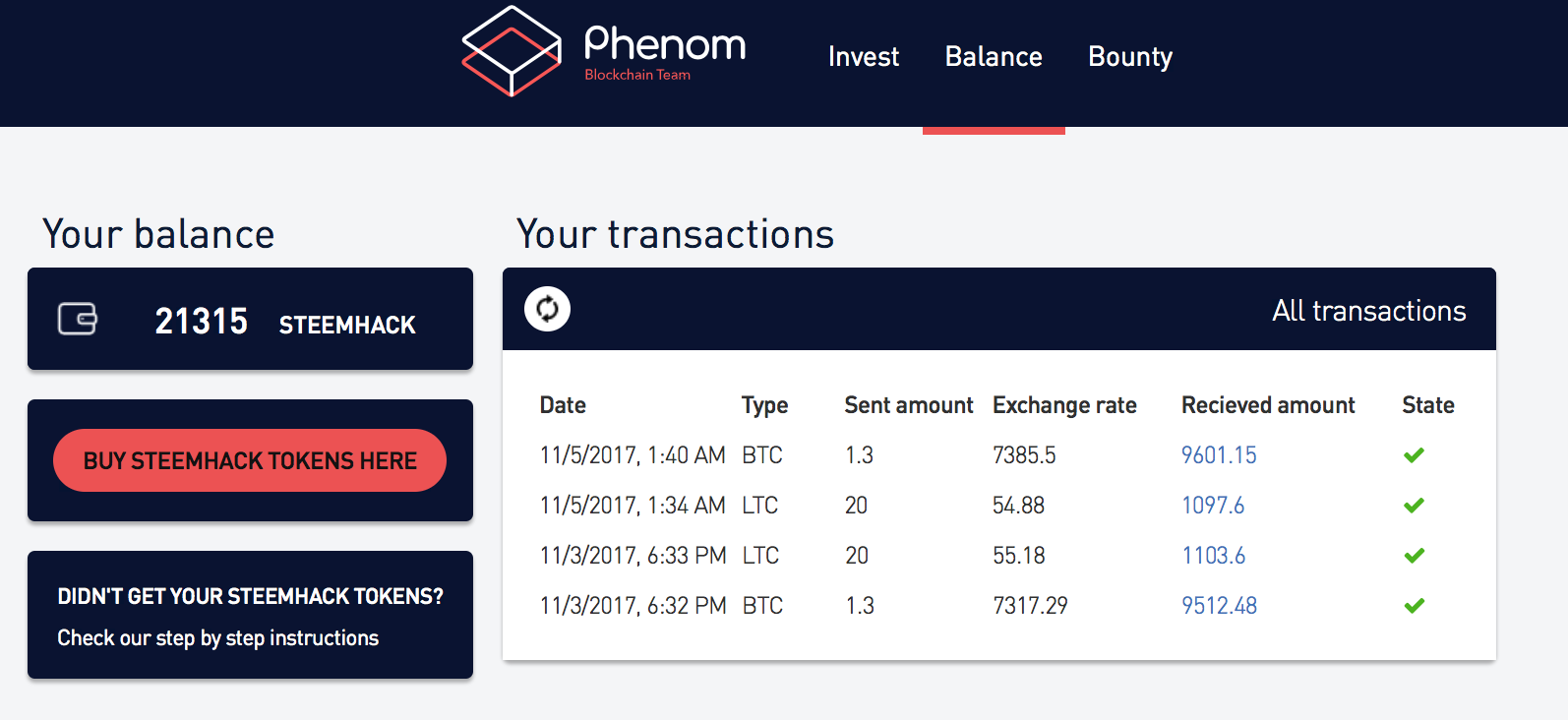 Pic.2 Balance tab of the investment platform
Bounty Platform is the second part of the project , which allows organizers of ICO to incentivize Steemit crypto community to promote the relevant ICO. In order to receive a token of the project, it's enough to make a repost, like or just comment posts in organizer's Steemit blog. Moreover, the number of tokens depends on Steemit reputation of a bounty campaign participant, the number of his followers and his activity level at the platform. All these data is extracted directly from Steemit blockchain - that allows for avoidance of problems of fake "likes" on Facebook, Twitter etc.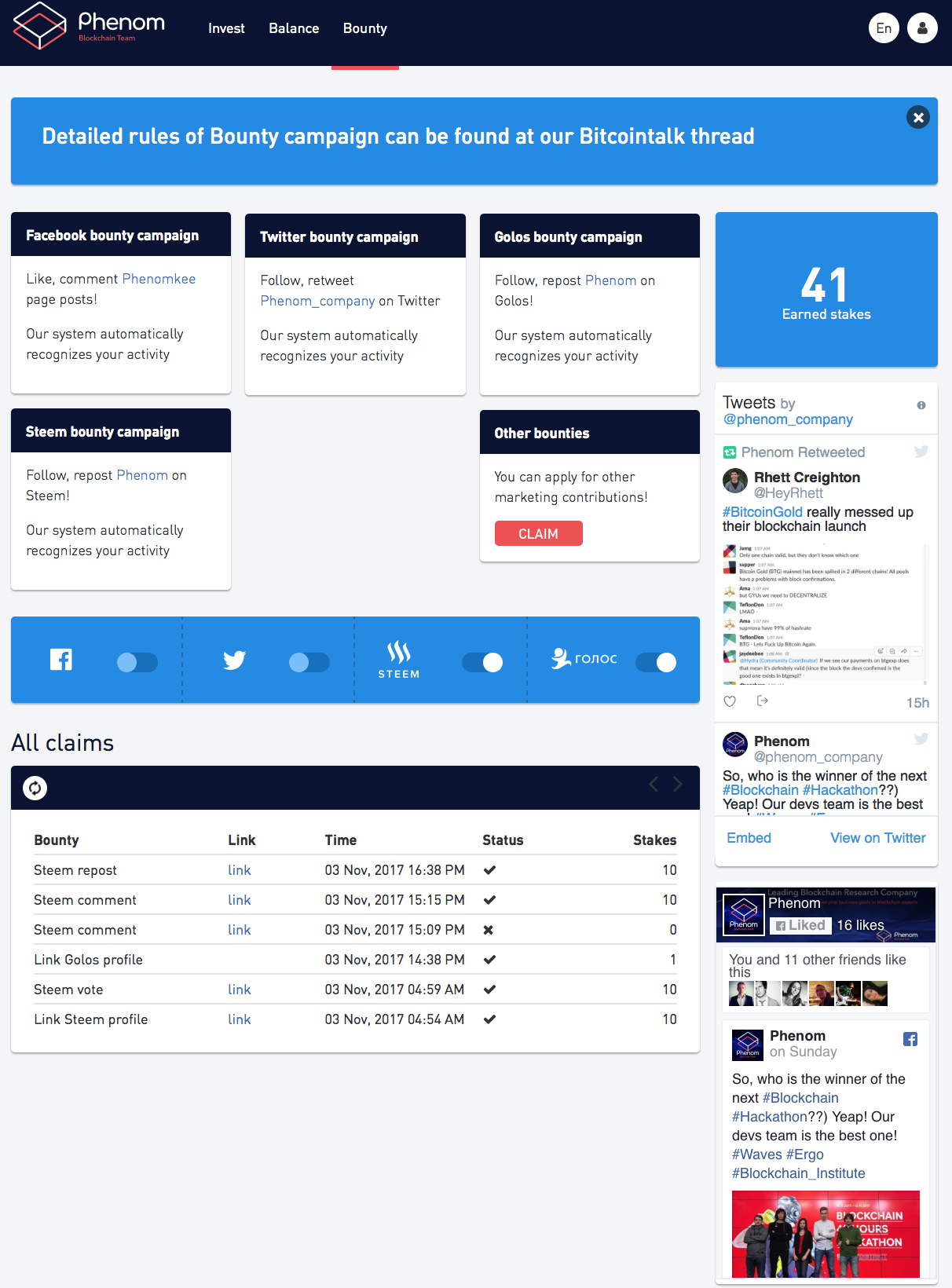 Pic.3 Bounty platform interface
The video of team's presentation is available here.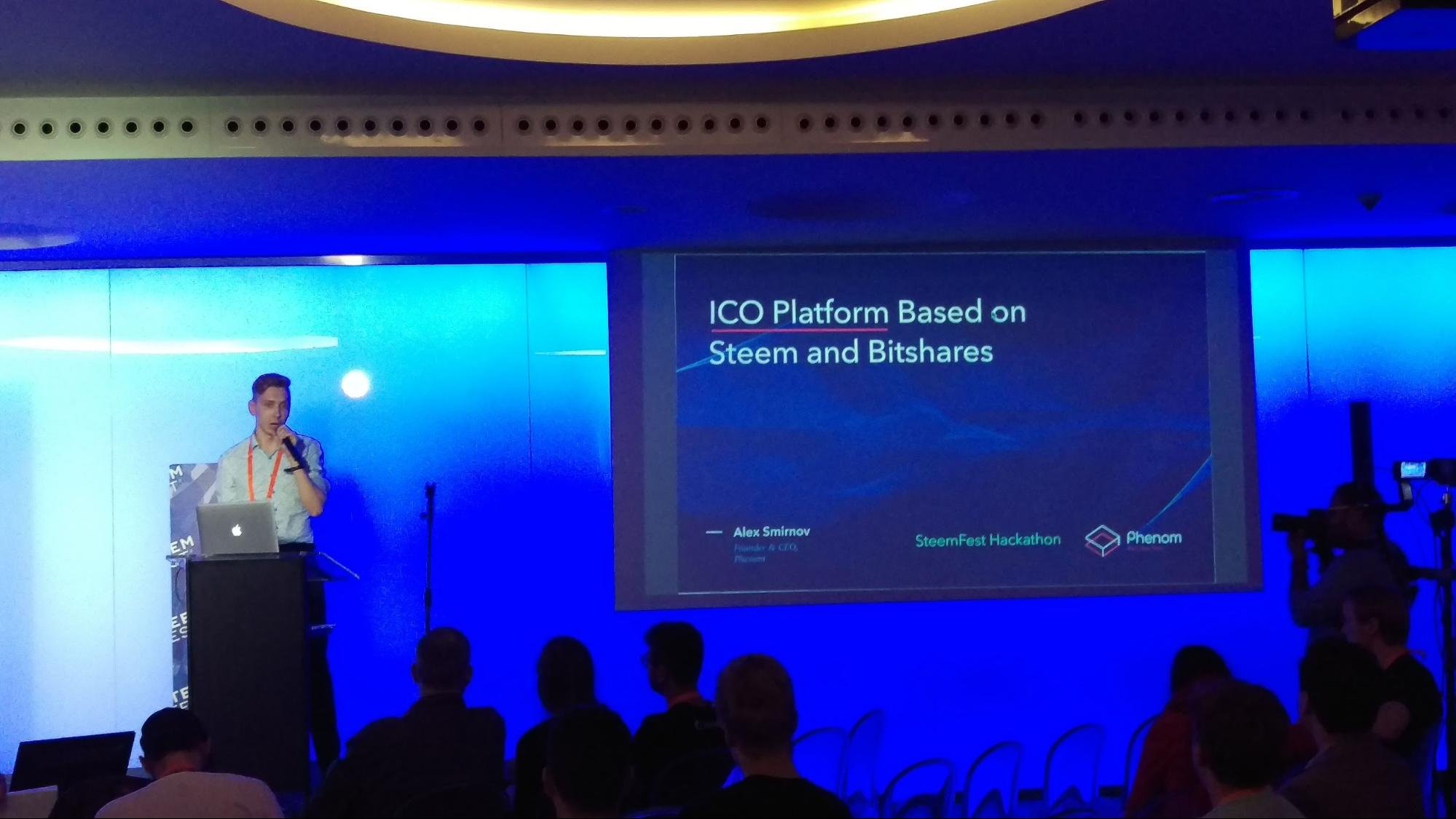 For the above described blockchain solution Phenom team was nominated as the Bitshares Winner of SteemFest Hackathon and received the cheque for 1111 BitUSD as the prize.
It's noteworthy that the prize itself was granted in the spirit of blockchain, as the reward was paid in tokens and token payment is ensured with blockchain on the basis of 'workers' technology deployed in bitshares blockchain. This system is the escrow service for salary payments; Bitshares itself uses this service for paying the wages to its employees who develop and support blockchain and relevant services. This system allows any person to support bitshares development and to receive revenue for it. In order to do it, one needs to fill in the form and send it as transaction on blockchain, then, if token holders approve the sender, he will be able to develop bitshares ecosystem and receive payments in their tokens.
The huge success motivated the development team to take part in another hackathon titled "Blockchain 48 hours hackathon" organized by Educational Center of Binary District in Moscow. The event took place on 10-11 November at the Digital October Center. Within 48 hours Phenom team built a decentralized library solution based on IPFS and Ethereum technology, ultimately winning in two nominations. The video of the team's presentation is available here (link in Russian), and more information about "Blockchain 48 hours hackathon" can be found in the next article.