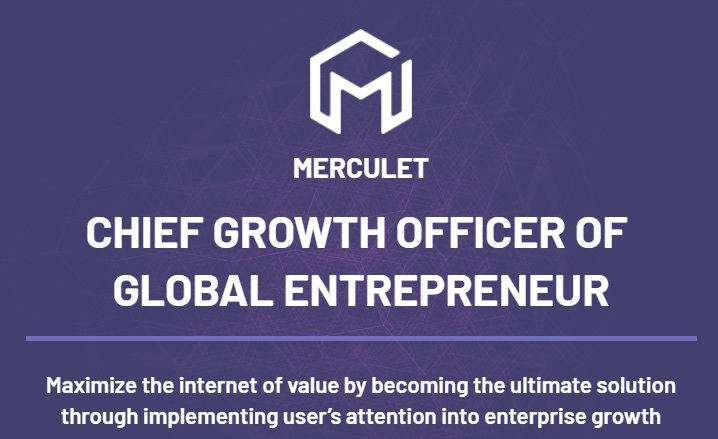 Website| Whitepaper | Telegram | Twitter | Facebook | Blog  
It`s hard to imagine someone who doesn`t use social networks. But even without realizing it, we perform a huge number of actions, which characterize our behavior. And surprisingly this data is a very important tool for business. But even now, collecting this data will take a whale of time, and as a rule, requires either special experts or special software that can interpret this data. And even after all of these actions, the entrepreneur will not always understand the behavior of an average user. In general, what is missing here? Basically, a simple and at the same time intelligent system that can perform all of this work. The team of developers from China is ready to solve this problem by creating a decentralized platform Merculet.
Tasks of the project
The objectives of Merculet is to create a platform that can transform the actions of a user into materiel assets, creating new relationships between consumers, producers and investors. Everything is based on blockchain.
About the platform
 Merculet is a decentralized platform that transforms users' actions into the information that helps analyze the behavior of potential buyers. One of the main concepts in the system is "Value Attention" literally "Useful attention", which is performed by a buyer. It sounds a bit weird, but I guess it would be hard to call it in a different way. Possibly due to this project this expression will gain popularity all over the globe, as a measure of a new human parameter. The given startup is aimed to measure most of the actions performed by users, such as time spent on the site, frequency of visiting those sites, specific actions of a user and other parameters, so that this data is convenient for business.
Main components of the project
 1) User Attention Value (UAV) is an effective evaluation system. UAV provides the information of workload and work itself.
2) Attention Incentive system: UAT (User Attention Token) token of incentive system. This component allows users to create their own tokens on the platform Merculet, with the help of which you can pay the users of the platform. And then they can be exchanged into the main token.
3) Open Content Platform, which by means of a blockchain allows to circulate quality content in order to attract a suitable reader.
Problems solved by Merculet
1) Improving the outdated analytical systems, which, in general, do not give business to assess users` actions efficiently.
2) Users` actions (likes, reposts) will bring some kind of a reward to a user, which basically is monetization.
3) Companies will be able to understand what content is interesting to a particular user. Thus, they can better adapt to a client.
4) Authors of the same content are given an excellent opportunity to post their content in order to reach the reader and not to look like advertising.
5) The user gets exactly the content that is more likely to be interesting for reading and, as I have mentioned above, it will not look like advertising.
6) Content creators are rewarded for their product.
7) All collected data is legitimate, as a user initially agrees to the terms and conditions of work with the platform. Do you remember the difficulties faced by Facebook for such a data collection? This situation cannot happen here.
Merculet Team:
 Ivan Jiang - Chief Executive Director, worked for HP as a developer for 6 years.
ShenJun Zhang - Chief Technical Director, has extensive experience in IT sphere. He also worked for HP, Dell, SAP, EMC.
Jerry Gao - Production director. Worked in UI / UE and mobile products for 20 years.
Advisers of the given project are pretty well-known personalities in the world of blockchain.
Shen Bo - the founder of BitSharesRoger
Lim –  co-founder of NEO
In order to promote the project there was invited an interesting team from KRYPITAL GROUP, which promote ArkBlock and CyberMiles.
 ICO
Token: MVP
Total amount of tokens that will be released 10 000 000 000 Hardcap: 31000 ETH
Softcap: 10000 ETH
Cost: 1 ETH = 87500 MVP
The major part of sales is taking place right now, and will end on April 16th, 2018. The distribution of tokens will be performed as follows: fund - 35%; implementation - 30%; the project team and advisers - 20%. marketing - 15%;
The result
In fact, there are no analogues of the project on the market. Yes, there are decentralized platforms for viewing the content (Steemit, golos), but they are only a means of transferring the content.
_________________________________________________________
 Exclusivly for the telegram channel @stevesbounty 
BTT account: AccidentalGenius