Introduction
It's amazing how technology keeps advancing everyday.
Even so, its ripple effect in the industry place has not gone unnoticed. Take the finance industry for example, the impact of recent technologies has been massively felt here. Starting with introduction of the automated-teller machines (ATMs) and point-of-service (POS) terminals, followed by the reality of mobile banking, right from the comfort of our homes, just to name a few.
Well, each of the aforementioned financial tech tool in one way at least, has contributed to continued thrive of the banking industry and by implication the world of finance too. However, the fact that all of these innovations till date, have all shared the need for a third-party constitutes a major worry for both veteran and newbie investors together. And, this was what the Bitcoin cryptocurrency was created to primarily arrest.
As at the time the first cryptocurrency, bitcoin became live on the main-net, it was so that it would help alleviate two major problems, first - to eradicate monopoly in the global marketplace, by decentralising the whole conduct of things in many of the ailing sectors. Second, to minimise third-party exploitations and the costs associated with it, by applying the immutable peer-to-peer tool; blockchain.
Although cryptocurrencies are relatively still new in many climes, their role in the shaping of today's financial-technology industry is no longer news. In fact, it might interest you to know that in mid-december 2017, crypto-assets gained quite unprecedented value and attention, reaching a market capital as high as $600 billion. That year, a lot of investors joined the sphere and for quite a chunk of these, its about the best decision they've ever made. However, many participants are still grappling with making significant profits within the sphere, not to talk of staying relevant. To make matters worse, majority of the existing cryptocurrencies suffer price volatility every now and then, making it almost impossible for an average user to accumulate wealth. As an example, a typical cryptocurrency today may rise as high as 16% and before dusk, fall to 3%. This alone is capable of diminishing the confidence of potential entrants. Perhaps, here's the reason for the reasonably low adoption of cryptocurrencies globally.
Another drawback of cryptocurrencies is the issue of account vulnerability to cyber-attacks. For every address in the crypto sphere, there is a corresponding private key and public key. And by convention, the only way to access a cryptocurrency account, and the contents of the wallet therein is through the private key, without which it is impossible to usurp control. The reality today is some hackers have been able to successfully build perfectly-camouflaged Trojan horses to steal these private keys, even in a process that is as trivial as a copy and paste . So we are very vulnerable to a host of cyber attacks, and all it takes is the push of a button.
In times past, many IT brands have tried to solve these problems so that the cryptocurrency sphere can continue to grow abroad, all to no avail. Gigzi is a new brand on the blockchain that intends to provide a lasting solution to these problems.
The rest of this article bodies an extensive review of Gigzi and how it will revolutionise the cryptocurrency sphere.
Let's dive in.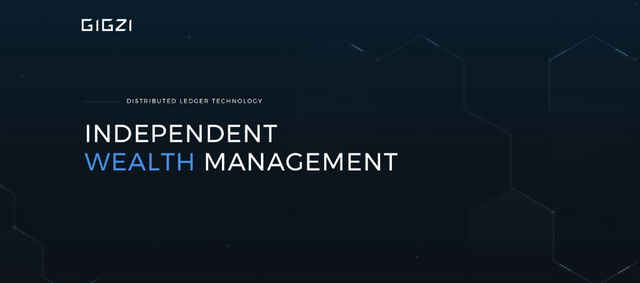 What is Gigzi?
Gigzi is a new fintech company in the cryptocurrency sphere that attempts to improve the general outlook of the sphere by eliminating the existing bottlenecks. One of the many ways Gigzi plans to achieve this is by reintroducing some elements of our traditional financial system. Each crypto-asset on the platform will be backed to an equivalent of 1g of precious metal including gold, silver, platinum. These physical assets are especially preferred because of their relatively stable value over a long period. Here, the assets have been customised and tailored to suit the needs of the community. They include- Gigzi Black (GZB) and Gigzi Metal (GZM), of which the latter is subdivided into: Gigzi Silver (GZS), Gigzi Gold (GZG), Gigzi Platinum (GZP) .
Gigzi Black
GZB's value is strictly market-dependent, unlike the other crypto assets on the Gigzi platform. The total supply of the token is 1billion, out of which 10% will be distributed during crowd sale.
The uniqueness of GZB is borne from its gold reward system that is generated from the transaction fees levied on the platform.
Also worthy of note is the fact that Gigzi's architecture incentivizes users to have confidence in the market. And this is done by distributing the gold rewards based on the number of GZB held and duration of hold.
Gigzi Metal
This crypto-asset unlike the first is subdivided into- GZG, GZP and GZS, and interestingly, each one is backed by the precious metal in its designated name.
The supply of each one is directly proportional to the underlying physical asset that its anchored to.
Gigzi portents a wide range of benefits for the crypto-sphere, some of them are discussed in the paragraphs that follow.
Advanced Security
Gigzi recognizes that security is a germane aspect of any emerging organization that intends to brand itself as people-centric one. To this end, Gigzi has been working tirelessly in the background to seal up partnership deals with some top brands in the world of security. Today, Gigzi has successfully availed partnership with a leading biometric security tech company, IriTech.
IriTech will provide all Gigzi wallet owners with a better security option. Users can choose to access their account via the private key or biometric scanning of iris. This will help reduce the occurrences of account hack that is common today.
Fiat Channel
Truth be told, many cryptocurrency platforms today are already in the know of how a fiat channel is paramount to building investors' interest and confidence. However, only few have successfully been able to avail a very functional one.
Gigzi platform is integrated with a fiat channel that enables users to easily cash out their cryptocurrency and use to service debts and make payments.
Risk Management
The platform's structure and modus operandi is such that it shields users from the risks associated with dealing with typical cryptocurrencies. Aside USDT which is a relatively stable cryptocurrency, the rest in the sphere are largely volatile.
But Gigzi will hedge its users from this market volatility by providing the hybrid tokens that have already been discussed above.
Use Case
Segun is a cryptocurrency trader with a few years of experience. He joined the market when all was bubbling. But since the market turned bearish, he's been finding it difficult to accumulate anything substantial and this is majorly due to the fact the value of the coins keep fluctuating.
Of recent, he began to nurse the idea of pulling out for good from the sphere but hasn't been able to go through with it. One day, his friend speaks to him about Gigzi and giving it a try. After intense digging, he migrates to Gigzi and 6months down the line, his holdings are already doubled.
Conclusion
Personally, Gigzi is a timely intervention in the emerging cryptocurrency market. It couldn't have come at a more auspicious time. And, I strongly believe that it will supercede public expectation.
FOR MORE INFORMATION PLEASE VISIT LINKS BELOW
Website: https://gigzi.com
WhitePaper: https://www.gigzi.com/whitepaper.pdf
Telegram: https://t.me/gigzi
Facebook: https://www.facebook.com/gigziofficial
Twitter: https://twitter.com/gigziofficial
Medium: https://medium.com/gigzi
ANN: https://bitcointalk.org/index.php?topic=5047392.0
Author: anelka
Bitcointalk profile: https://bitcointalk.org/index.php?action=profile;u=2273527