Hello there! Today I want to talk about an innovative ecosystem called Alcedo. The platform's sphere of activity can be described as the implementation of cryptocurrency into our common lives. The Alcedo project is aiming for new levels of convenience and trust for all the industry.
What exactly is Alcedo?
Well, first of all, Alcedo is a token. The platform's digital utilisation currency that is. You can use it for purchasing stuff and trading. It will also be a currency for loyalty programs and many other things.
Secondly, it is a wallet. Your digital wallet for purchases, exchanges and sharing your assets with fellow users shall the need arise. The wallet is designed to be as safe and secure as it gets. Once you've downloaded the wallet, you'll receive 20 tokens for abso-lutely free.
By the way, there is an integrated form of a traditional business thingy regarding gold. Expensive metals mean stability for the investment plan. Innit HOT?
The next thing totally worth mentioning is the ecosystem card. You'll be able to purchase cryptocurrency with it using ATMs. Just hold on a second. Cryptocurrency. ATMs. Wow! This is the future we deserve. No longer you'll have to waste years of your life waiting for that single blasted transaction you really needed done asap.
ATMs will be connected into a network, bringing all the ease and convenience you could ask for to the table. The idea is being brought to life in Germany already.
Once the project's out, there will be a special offer to get a card for free. All you have to do is to be amongst the first 1000 people to purchase over 10000 tokens. If this isn't a great deal - I don't know what is.
ICO program
A 24 hours tech support will be present on the platform. The start-up itself will be operating in the form of franchising. That means you'll get a consultant's assistance whenever needed. All the transactions will be using Alcedo Coins for currency.
The coin basically is the main component. It's based on Ethereum ERC-20 standard.
By the way, there is a reward system on the platform. Nothing is better to be rewarded for using what's actually the best in the business, right? The best part is that you'll choose the reward cryptocurrency yourself. That's hot.
It is the most optimal to use Alcedo Coins on the platform, of course. If there are 10000 or more coins in your wallet, you won't be charged a transaction fee.
Token Name: ALCE
Total Number of Assets: 100 000 000 ALCE
Hard Cap: 40 000 000 ALCE
Accepted Currency: ETH, Pay Pal, BTC
There will be 3 stages of ICO in total.
The end date is May 31.
Current stage is the second, it will last until March 31.
Current token price is 0.3€.
Current discount: 25%.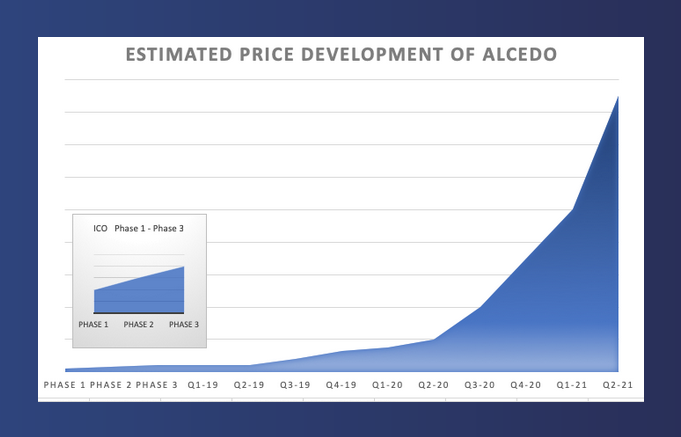 More information
Website: http://alcedoplatform.com
Whitepaper: https://www.alcedoplatform.com/assets/images/Alcedo-whitepaper-eng.pdf
ICO: http://alcedoplatform.com/
Author: https://bitcointalk.org/index.php?action=profile;u=1638726