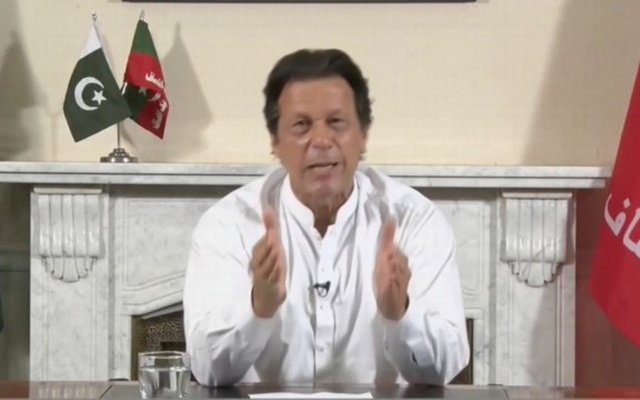 Tehran-e-Insaf (PTI) leader Imran Khan, who emerged as the single largest party in Pakistan's general election, expressed interest in frozen ice between regional rivals India.
In an half-hour speech on Thursday evening, the 65-year-old politician from the cricketer, who also spoke about his desire to pursue trade relations between Delhi and Islamabad and resolve the dispute with Kashmir.
"I really want to sort out the relations between the two countries, if you come one step forward, we will move forward," he said.
In the 'President Style' given by Islamabad before the announcement of the final results of the elections, the PTI chief commented on the foreign government's foreign policy and relations with India, said NDTV.
In the Indian media, he has appeared as 'Villein of Bollywood, when I come to power, all will get worse', Imran said that it was also 'a little disappointed'.
"I have visited India many times due to cricket, I want good relations with them."
The former Pakistan captain's World Cup winning captain has also spoken a lot about the issue of Kashmir in the speech.
"The biggest conflict among us lies in Kashmir. Need to talk about this, we're still stuck in Square One. India is watching Balochistan, we see Kashmir This kind of blame game should be stopped. If you take one step, we prepare for two steps.
"Kashmir situation, human rights violations, army deployment there, people of Kashmir are suffering. Leaders must find ways to get out of it, "said Imran.
India is a bit worried because of the general elections held on Wednesday, NDTV said. New Delhi: A victory of hardliners like Tehrik-i-Insaf can affect Jammu and Kashmir and the entire security situation in India.
Indian diplomats say they are capable of working independently even after the Pakistani army's latent support behind Imran Khan's success, says the diplomat
Rana Banerjee, former secretary of the Indian Cabinet Secretariat, says that the role of the army behind Imran's victory can not be denied in any way.
"Although Imran has won quite well, there is no doubt that the victory that has been in accordance with his agreement with the army. As a result, I am confident that at the beginning of the foreign policy, he will teach the army to be a bully. He Will Part the Army's Position. So, I do not think there will be any change in India's policy of sarcasm, "Rana said so to the BBC.
Nearly commented by the former Foreign Secretary of India, Salman Haider
"This is what Imran Khan is said to be the Army's 'Chosen One' - how much freedom he will have in his work. I do not want to reach any conclusion soon, but then there is still a question about it," he said.
After coming to politics, many anti-India statements made by Imran, in support of suicide attackers in Kashmir, there is a doubt about India that he has a suspicion, Salman said.
Imran Khan's personal charisma might be able to "change that picture a bit", hoping the former diplomat said.
Optimist Pakistan's former Foreign Secretary and ambassador to Delhi, Riaz Khoka
He told the BBC that "a completely new leader, a new person and a new party came to power - in my opinion that India and Pakistan are a great opportunity to improve relations for both countries." His victory was commendable, India would surely have noticed it. "
Imran, who emerged as the leader of the single largest party in the general election, under the continuation of '22 year war struggle' after being involved in politics, also spoke about Pakistan's development, stability and economic growth in his speech. The emphasis is on increasing trade with India.
"The priority list of any government should have a business relationship with India first," he said.
Though the PTI claimed that the elections were delayed by the results, Nawaz's Muslim League and others accused him of rigging votes.
The Election Commission of Pakistan has released the results of 94.89 percent of seats till the last news reached Friday morning.
As a result, Imran's team won 272 out of 110 seats. Rival Pakistan Muslim League-Nawaz received 63 votes.
Proof of majority, any party must win at least 137 seats. Though the PTI is finally unable to achieve it, it is assumed that it will be able to form a coalition with regional and small parties.