Indian Geographical Location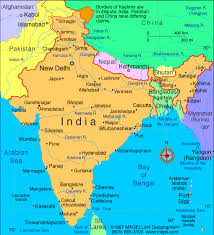 A. Lying between latitude 4′ N to 37°6′ N and from longitude 68°7′ E to 97°25′ E, the country is divided into almost
equal parts by the Tropic of Cancer (passes from Jabalpur in MP).
B. The southernmost point in Indian Territory, (in Great Nicobar Island) is the Indira Point (6°45′), while
Kanyakumari, also known as Cape Comorin, is the southernmost point of Indian mainland. The country thus lies
wholly in the northern and eastern hemispheres.
C. The 82°30′ E longitude is taken as the Standard Time Meridian of India, as it passes through the middle of India
(from Naini, near Allahabad).
Area Geography & Boundaries Geography
India stretches 3,214 km from North to South & 2,933 km from East to West.
Geography Area of India : 32,87,263 sq. km. Accounts for 2.4% of the total world area and
roughly 16% of the world population.
Mainland India has a coastline of 6,100 km. Including the Lakshadweep and Andaman and Nicobar Islands, the
coastline measures about 7516.6 km.
In India, of the total land mass:
A. Plains Geography: 43.3%
B. Plateaus: 27.7%
C. Hills: 18.6%
D. Mountains Geography: 10.7%
In the South, on the eastern side, the Gulf of Mannar & the Palk Strait separate India from Sri Lanka.
Total land neighbours: 7 (Pakistan, Afghanistan, China, Nepal, Bhutan, Bangladesh and Myanmar).
India's Islands include the Andaman & Nicobar Islands in Bay of Bengal and Lakshadweep, Minicoy & Amindive
Islands in the Arabian Sea.