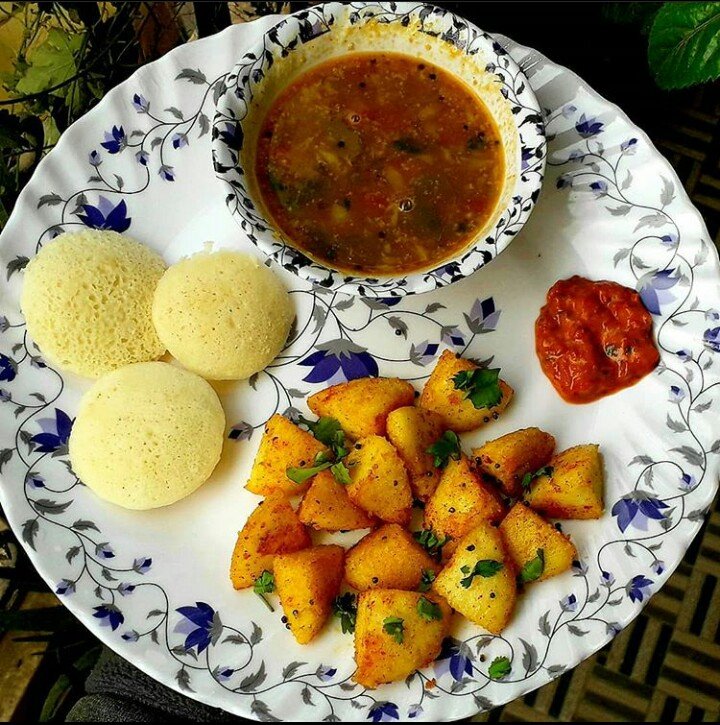 Image source:
https://www.instagram.com/p/B5wjkE3lUwv/?igshid=10aqv54isssz7
---
Hello my dear steemians , hope you all are doing well.
Idli Sambar is a traditional South Indian breakfast. These breakfasts are nowadays becoming very popular not only in the south but all over India. Idli is made of fermented rice and black gram batter and steamed in molds. Sambar is basically spiced lentil soup. The main ingredient in Sambar is tamarind concentrate. The tanginess of tamarind cuts through soft and bland idlis, making the whole idli-sambar combination a big hit in Indian cuisine.
---
Ingredients for making sambar
1 cup/150 gms toor dal
salt
1/4 tsp turmeric powder
2 tbsp oil
1 tsp rai/mustard seeds
1/2 tsp methi seeds
2-3 dry red chillies
1-2 green chillies
10-12 curry leaves
1/2 tsp hing
1 big onion sliced
2 tomatoes chopped
1 carrot
some pumpkin pieces
10-12 brinjal pieces
8-10 pieces singi/shinga
1/2 tsp red chilli powder
2 tsp sambar powder
4-5 tbsp tamarind pulp
1/2 onion into cubes
piece of gur/jaggery
Fresh coriander
---
Ingredients for making Idli
URAD DAL - 1 GLASS
CHAWAL / RICE - 3 GLASS
WATER - 2 1/2 GLASS TO MAKE BATTER
METHI DANE / FENUGREEK SEEDS - 2 TSP
NAMAK / SALT - 1 TSP
BAKING POWDER - 3 TSP OR BAKING SODA - 1 1/2 TSP
OIL FOR GREASING
---
Important tips
You can reduce the quantity by half for everything if you want to make less idli.
Dal/pulses and rice should always be in 1:3
Soak everything at least for 6-8 hours.
Grind dal/pulses as fine as possible
Grind the rice coarsely
Keep aside the mixture for fermentation, time may vary acc to the climate
Always stir the mixture in only one direction
You can skip baking powder, but adding it will give you much spongy idli
Using a cotton cloth in the steamer to steam idli, results in more spongy idli, use a clean cloth, considering all the hygiene.
To demould the idli, always first wet it with some water and then demould it, it will be much easier to do so....
---
I love this dish very much. This is very famous and amazing. Give it a try!!😋😋
---
Hope you liked it and please try it once!!
Thanks for stopping by. 💚💙💗💜💛
---