Mint-Cucumber Raita Recipe
Ready in 40 mins.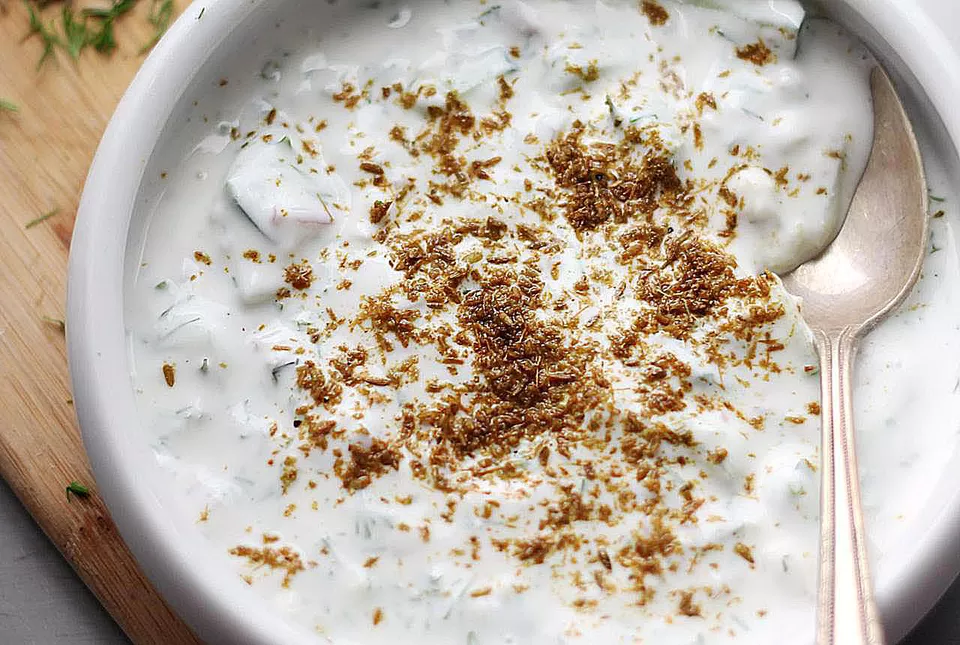 Serve this cooling mint-cucumber raita dish with practically anything! It tastes especially good with stuffed parathas (flat bread) as well as biryanis and pulaos (rice dishes).
There are many different varieties of raita featured throughout recipes under the umbrella of Indian cuisine. In fact, raita is not only an Indian dish. It is a Pakistani and Bangladeshi side dish. The main feature of raita is the yogurt, which is also referred to as curd. That is blended with raw or cooked veggies, but sometimes it can include fruit. In the case of boondi raita, for example, there are fried batter droplets from besan in the yogurt.​
Raita is often referred to as a condiment, but it is quite different than condiments as we know them in Western countries. Raita is used to cool or contrast hot spices in curries and kebabs in Asian cuisines. In India, it is used mostly as a dip and often paired with chips or flatbread, along with chutneys and pickles.
A wide range of seasonings can go into raita, depending on the recipe or the region from where it is derived. These include roasted cumin seeds, mint, chaat masala or coriander. Cilantro is another interesting flavor substitute for raita. A wide range of raita recipes exists, from potato raita and pumpkin raita to carrot raita and beet raita. Mango raita, banana raita, and pomegranate raita are a few common varieties of fruit-based raita.
What You'll Need
2 cups thick yogurt (whisked till smooth)

1/2 cup mint leaves (chopped fine)

1 large cucumber (grated)

3/4 teaspoon cumin powder

1/4 teaspoon red chili powder

1/2 teaspoon sugar

Salt to taste
How to Make It
Grate the cucumbers and chop up the mint leaves. To eliminate excess moisture from the cucumbers, press them into a towel to remove extra water. This will keep the mix from becoming too runny.

Mix all the ingredients together in a large bowl, removing any major lumps.

Chill and serve.
Diet-friendly Raita
Overall, raita is a cooling agent when your taste buds seem on fire from some of the regular Indian spices.
That may be the intention of raita, but it is perfectly delicious served alone or with flatbread or chips. Why not try it out as a yogurt-based salad dressing, which incorporates a little creaminess into your salad along with more healthy veggies?
With all of the yogurt products available, you can make raita with either Greek yogurt or regular yogurt. You may want to try full fat, low fat or nonfat yogurts depending on any dietary requirements. It is a great way to get more calcium into your diet along with the wonderful benefits of yogurt, which is packed with probiotics as well as vitamin D and calcium.
Nutritional Guidelines (per serving)
Calories 22
Total Fat 1 g
Saturated Fat 1 g
Unsaturated Fat 0 g
Cholesterol 4 mg
Sodium 34 mg
Carbohydrates 2 g
Dietary Fiber 0 g
Protein 1 g
(The nutrition information on our recipes is calculated using an ingredient database and should be considered an estimate. Individual results may vary.)
Thanks
@alldeal4u