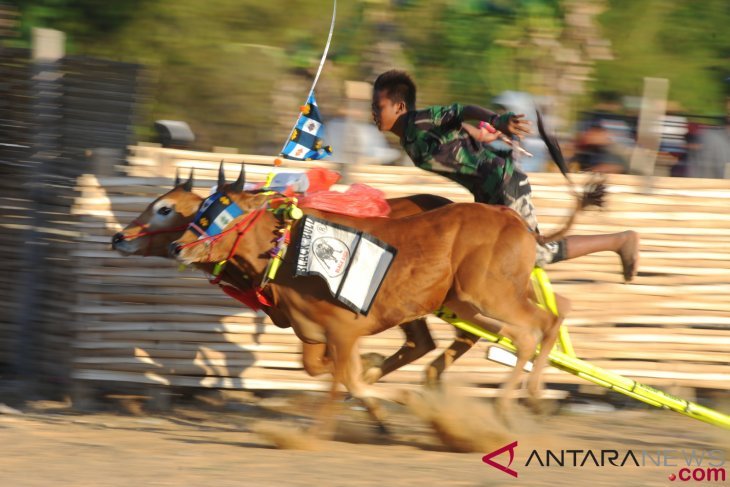 Sumber foto: antaranews.com
Once upon a time, King of Sumenep made an inspection trip to a village. At there, accidentally King saw a farmer at a rice field and ride paddy plow that pulled by a cow.
The King was interested to ride that paddy plow which pulled by the cows.
Like as person who rides wagon was pulled by two cows, the King was thought about that.
The King was tried to ride that paddy plow.
It was fun.
However The king had to learn how to ride and control that cows.
How to pull them and control the speed. The King had an Idea.
Actually if that plow did not burden the cows, tha the fourth leg animal would have run fast.
Well. how about that couple cows were given a tool as a person acted who plowing the rice field.
Only one difference that the plow was removed.
After that, the plow was changed to foot steep so a rider could stand to ride it.
The King was tried to ride it again.
Evidently, it was turn out become entertaining show.
The king decided to introduce that activity to his soldiers.
They really enjoyed that activity.
In the afternoon, The King of Sumenep gathered his citizen and soldiers.
The king said,"We do not have to merely only work to manage our own land. We need entertainment. After our work was done, it is okay to play this bull racing "
Then, this activity is well known as karapan sapi.
It is meant to manage or to plow soil.
Karapan sapi event is still held until now and become a pride of the people of Madura.
(Folktale of people East Java Province)
This translation was purposed for education, promotion and support Gerakan Indonesia Berbagi Buku Digital (Indonesia Sharing Digital Book Movement)
---
Bahasa Indonesia
Suatu hari, Raja Sumenep mengadakan peninjauan ke sebuah desa.
Di sana, tak sengaja Raja Sumenep melihat seorang petani sedang naik sebuah bajak yang ditarik oleh sapi di sawah.
Sang Raja Sumenep tertarik ingin naik di atas bajak yang ditarik sapi itu.
Seperti orang yang naik gerobak yang ditarik oleh sapi, pikir Raja Sumenep.
Sang Raja Sumenep pun mencobanya.
Ternyata sangat menyenangkan.
Namun, Raja Sumenep harus mempelajari dulu cara-cara mengendalikan sapi.
Bagaimana cara menarik mereka dan mengatur kecepatannya.
Raja Sumenep kemudian mendapat ide.
Sebenarnya bila bajak itu tidak membebani sapi, hewan berkaki empat itu dapat berlari cepat.
Nah, bagaimana kalau sepasang sapi itu diberi alat seperti orang sedang membajak.
Hanya yang dihilangkan adalah bajaknya.
Setelah itu, diberi pijakan kaki untuk tempat berdiri si pengendaranya nanti.
Raja Sumenep pun mencobanya lagi.
Ternyata, sebuah pertunjukan yang sangat menyenangkan.
Sang Raja Sumenep segera memperkenalkan kegiatan itu kepada prajuritnya.
Ternyata, mereka pun menikmatinya.
Sore harinya, Sri Baginda Raja Sumenep mengumpulkan penduduk dan para pengawalnya.
Raja Sumenep berkata, "Kita tidak harus bekerja di tanah garapan terus menerus. Kita juga perlu hiburan. Setelah semua pekerjaan selesai, tak ada salahnya melakukan permainan karapan sapi."
Akhirnya, permainan itu dikenal dengan nama karapan sapi.
Yang berarti mengelola tanah atau membajak tanah.
Permainan karapan sapi itu masih biasa dilakukan sampai sekarang dan menjadi kebanggaan rakyat Madura.
Terjemahan ini ditujukan untuk mendukung pendidikan, dan mendukung Gerakan Indonesia Berbagi Buku Digital (Indonesia Sharing Digital Book Movement)
(Cerita rakyat Provinsi Jawa Timur)