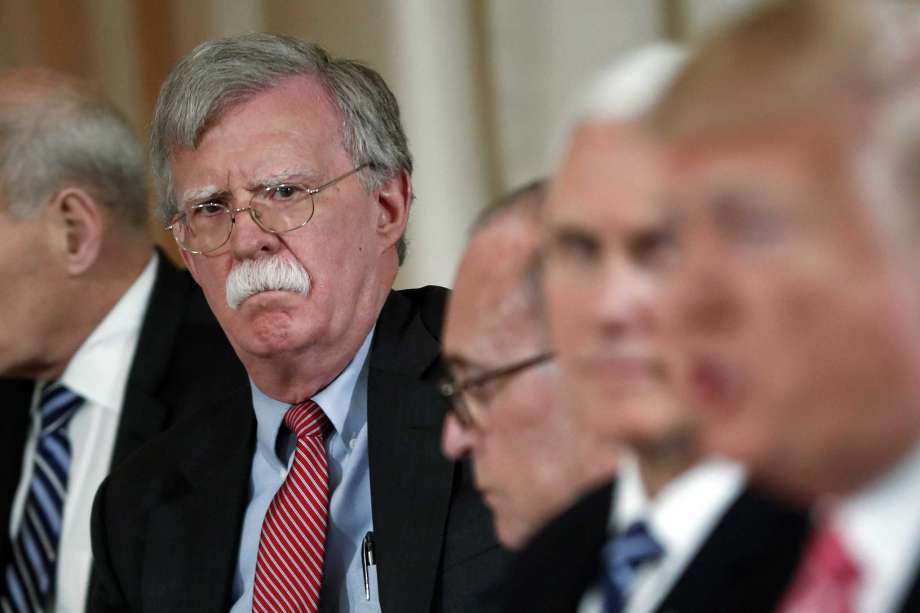 "John Bolton is absolutely a hawk," Trump told NBC in June. "If it was up to him, he'd take on the whole world at one time ! But that doesn't matter now, because I want both sides."
John Bolton has been booted from his post of National Security Adviser to the Trump administration and I am sure that most people that know of his methodology and idea,s on how the world should be "policed " by America and kept in check with "boots on the ground " with deaths on both sides will breath a sigh of relief to see him go!
With countless deaths of civilians and many good Patriot Americans soldiers being killed needlessly in the War of attrition and Dust with the murderous army of Isis that hides in it ! This surely must be a good thing for Peace in the World and yet again Trump is proving to be a strong President with a clear intention of focusing more on America,s internal issues and problems rather than this " interventionist " policy of recent administrations seen under the three rogues of Clinton, Bush and Obama !
Here are a couple of videos that I have selected for you to look at, if you would like more information on this, I think Great and Beautiful turning point in the Foreign Policy of the New United States of America born under this Magnificent Administration of Trump and the cool more level headed Patriots that stand beside him in this Monumental fight against the insane Industrial Military Complex run by the hidden hand of Evil Do,ers in this World !
Rand Paul ! Trump was Right to remove Bolton!
It was a marriage that was never going to last: Trump and Bolton rarely saw eye to eye on global hotspots. The national security adviser held far more hawkish views than the "America first" president on matters like Iran, North Korea and Afghanistan.
JOHN BOLTON OUSTED!! Neocons be Mad
The Red Elephants Vincent James
Published on 10 Sep 2019
So Yeah ! Goodbeye Mr Bolton ! Dont let the Door Hit You on the Way Out !!