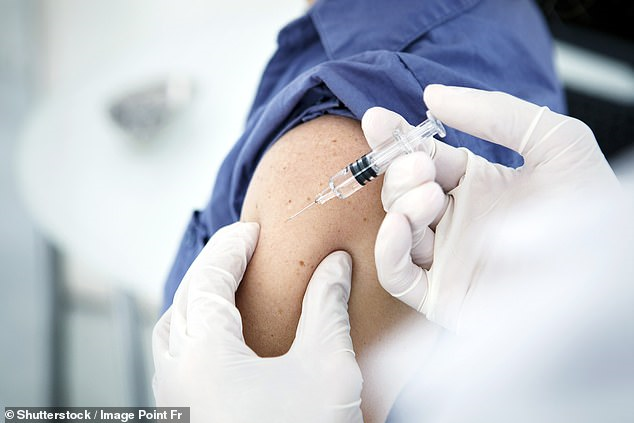 Most parents incorrectly believe the flu shot can cause the flu, a new survey reveals.
The vaccine, which contains an inactivated virus, is recommended by the CDC for all Americans, particularly the most vulnerable, to lower their risk of infection or lessen the intensity of the virus if they do catch it.
However, rates of vaccinations are going down, and US Surgeon General Jerome Adams says the dip was partly to blame for the record-high death toll from flu last year - 80,000 people.
The new national survey of 700 parents suggests a reason: 47 percent fear it could be dangerous, and 66 percent believed it could be futile for their children.
Source: https://www.dailymail.co.uk/health/article-6282829/Half-parents-think-flu-shot-causes-flu-study-reveals.html
This sounds like good news to me. People need to question the flu shot because it's complete garbage and a waste of money. This story is completely in support of the flu shot but there's some very important information missing from it that people need to be aware of.
First, the flu shot is not just one virus. It contain multiple virus from different strains of flu because big pharma cannot accurately predict the strain of flu virus that is will be prevalent each year so they add multiple ones to the vaccine in order to increase the odds they will protect someone.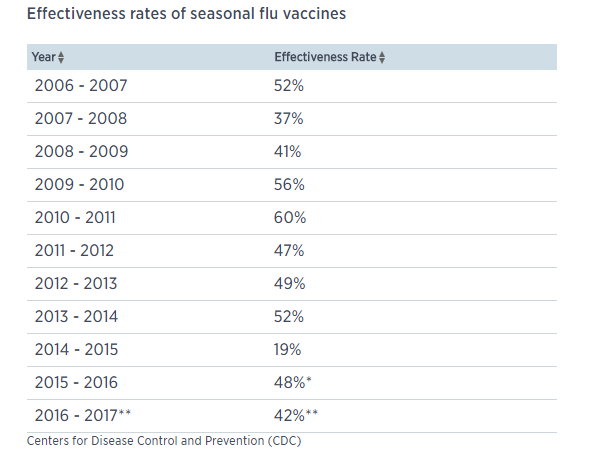 CDC: Flu vaccine 36% effective, highest for young children
The CDC's 36% effectiveness estimate is based on data from 4,562 children and adults. The vaccine effectiveness was greatest for children 6 months through 8 years (59%) and adults 18-49 (33%), the only two groups for whom protection was statistically significant. It was lowest for adolescents ages 9-17 (5%).
Vaccine effectiveness for influenza A (H3N2) viruses, which have been predominant this season, are estimated to be 25%, down from 32% last season. For weeks, many have been bracing for low rates following reports of 17% effectiveness against H3N2 in Canada and 10% in Australia.
http://www.aappublications.org/news/2018/02/15/fluvaccine021518
Last year the flu shot was pretty much worthless for kids to get and not very good for adults either. On average the flu shot is about 50-60% effective at protecting you from the flu. The only reason people get the flu shot is because they hand them out for free or your insurance pays for them. If you had to pay $50 to get your child vaccinated and you knew it was only 5% effective would you still do it?
My personal experience with the flu shot is the same as these parents believing the flu shot causes the flu because that's what happened to me when I got my free flu shot. I had the flu once when I was a about 5 years old but at the age of 25 I got the flu shot and guess what happened about a week later? I was puking my guts out with diarrhea and a fever for about 4 days. That was the sickest I've been since I got the chickenpox at age 12.
I will never get another flu shot because of my experience. I'm guessing more people have had the same results and are starting to question the whole safe and effective bullshit they advertise about the flu shot.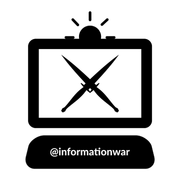 Interested in joining or supporting the Information War?

Use tag #informationwar to post your own stories about the lies and propaganda being pushed on the public. @informationwar will upvote posts worthy of the cause.
Join the discord: https://discord.gg/t5JFAXZ chat with like minded individuals like myself and share your articles to receive additional support
Delegating Steem Power:

Another way you can support the cause is to delegate SP to @informationwar.
Note: remember to keep around 50SP in your account so you don't run into any bandwidth problems.
How to delegate SP, join the fan base and more: https://steemit.com/informationwar/@truthforce/you-can-make-a-difference-join-the-informationwar-and-help-support-others-today