"But who will build the roads?" This is the type of question that comes up in many peoples minds when confronted with the idea of anarchism. Somehow our cultural evolution has brought us to a point where we can't imagine an orderly society without the coercive power structure, the government, we've built over time.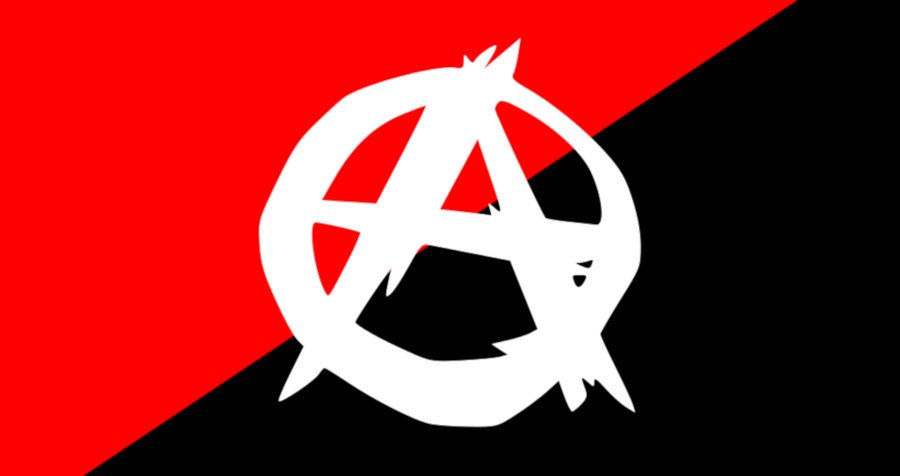 source: Wikimedia Commons
My opinion on anarchism is ambiguous, not because I worry about who will build the roads (it'll be the same people who always done it; we the people), but more on grounds of evolutionary psychology and it's role in the evolution of our cultural societies. Centralization in itself is not good or evil, and there's nothing wrong with the mere existence of leaders and followers; I believe all social creatures naturally assign leadership, a hub of decision-making to speed up the process in times of need. It's when leaders become rulers that the problems start, and an aspect of anarchism I'm much attracted to is the notion that all forms of ruling stem from the ability to exercise force; one of the core elements of anarchism is it's anti-violence principle.
In my opinion direct democracy is the best organisational political model to make concrete the core ideas behind anarchism. Unfortunately most anarchists I meet are also strong believers in the free market and they believe that's the best organisational structure to guarantee individual freedom without the need of a centralized hub to decide who builds what roads where at what time. They believe we should let the markets govern us, instead of us governing ourselves through some form of collective, decentralized decision-making. Or they equate the free market economy with such decentralized collective decision-making, and that's just wrong; there is no invisible hand.
The simple truth is that capitalism sets us up against each other on the most fundamental level. It requires us to act as self interested agents who aim at maximizing our personal wealth and freedom, as one follows from the other. It's the illusion that acting in one's own self interest is the best thing to do for the good of the larger community; as a thought experiment, just shrink the size of your country's population to the size of a family, and see how that works... Mum doesn't share the thanksgiving turkey. Dad keeps all of his paycheck for himself as he yells at his four year old twins to make themselves useful if they want a bite of the cheeseburger he got himself, you know, with his wife hoarding the whole turkey for herself... No, we share and we discuss options in a joint effort to make life better for the whole family, and when we've heard each other's ideas, we vote.
Capitalism concentrates wealth and power in the hands of a select few. Even if you think this si just temporary, that wealth changes hands regularly, this still is not what anarchism entails as it strives toward a total lack of hierarchical power structures. And this can only be achieved by democracy, if it's in the family or in society at large doesn't matter. And as ownership is the same as power, it's ownership that needs to be democratized. And that's really all socialism is; making the workers also the owners of the means of production. Then it's not a board of directors, assigned by a board of shareholders who decide what to produce, how much to produce, where to produce and what to do with the wealth that production creates, but the workers who will democratically decide these things.
All I'm saying is that we may be able to someday live peacefully in a world without governments, but not if we just swap the coercive power of government for the coercive power of market forces; again, there is no invisible hand. There are many forms of anarchism, most of which denounce capitalism for the reasons I've so often written about. Please watch this video for a better explanation of the most common misconceptions about anarchism and anarchists; anarchism in itself isn't as far-fetched or scary as some of you may think it is.
Ten things everyone gets wrong about Anarchists!
---
Thanks so much for visiting my blog and reading my posts dear reader, I appreciate that a lot :-) If you like my content, please consider leaving a comment, upvote or resteem. I'll be back here tomorrow and sincerely hope you'll join me. Until then, keep steeming!

Recent articles you might be interested in:





Thanks for stopping by and reading. If you really liked this content, if you disagree (or if you do agree), please leave a comment. Of course, upvotes, follows, resteems are all greatly appreciated, but nothing brings me and you more growth than sharing our ideas. It's what Steemit is made for!





I am a proud helpinaut! @Helpie is looking for new members! Helpie has been growing nicely and we are always on the lookout for new valuable members. We are very supportive and community oriented. If you would like to be scouted for @helpie , please drop a comment on THIS POST or contact @paintingangels on discord at paintingangels(serena)#3668.




Just for Full Disclosure, I'm invested in these crypto-currencies:

Bitcoin | Litecoin | EOS | OmiseGo | FunFair | KIN | Pillar | DENT | Polymath | XDCE | 0x | Decred | Ethereum | Carmel | XYO





@helpie is a WITNESS now! So please help @helpie help you by voting for us here!