We now have a domain name! https://infowarsapp.com and for now it points to the discord https://discord.gg/jMrR88E https://discord.infowarsdapp.com


https://steem-engine.com/?p=market&t=INFOWARS
Soon Infowars will be on telos, and an infowars Free Speech DAC to promote Freedom of Speech in countries that need it using VPN Torrent IPFS and Steem + EOSIO & BTC Blockchain to get around tyranny using technical tools. Telos proposals will fund a small research grants to pay bot makers and software developers, people like @gerber and Neoxian City members to replicate some of their tools in an infowars discord, and to pay for the telos infowars token Dapp to be built into a special discord tool that reposts someones steem posts to DSTOR and Torrent and IPFS to maintain free speech under censorship. And we can create personal dead man switches for users to allow documents to be uploaded and automatically posted across several chains and platforms, if a user doesnt check in once a month or so, to confirm proof of life. We could have all sorts of wikileaks style tools for @infowarsdapp and @infowarsdac can help manage funds for proposals for infowars users to go out and market, and develop tools for infowars listeners. Imagine a proposal to go reach out and have meetings with Alex Jones old advertisers who paid him to promote storable food and gold and other products. We could sell those products, we could promote that stuff, we can sell ads on our new up coming nitrous site https://infowarsdapp.com and we can have the advertisers who pay us to sell storable food and gold and gun kits from polymer80 ALL pay us in INFOWARS tokens for the ads to create a demand for the token!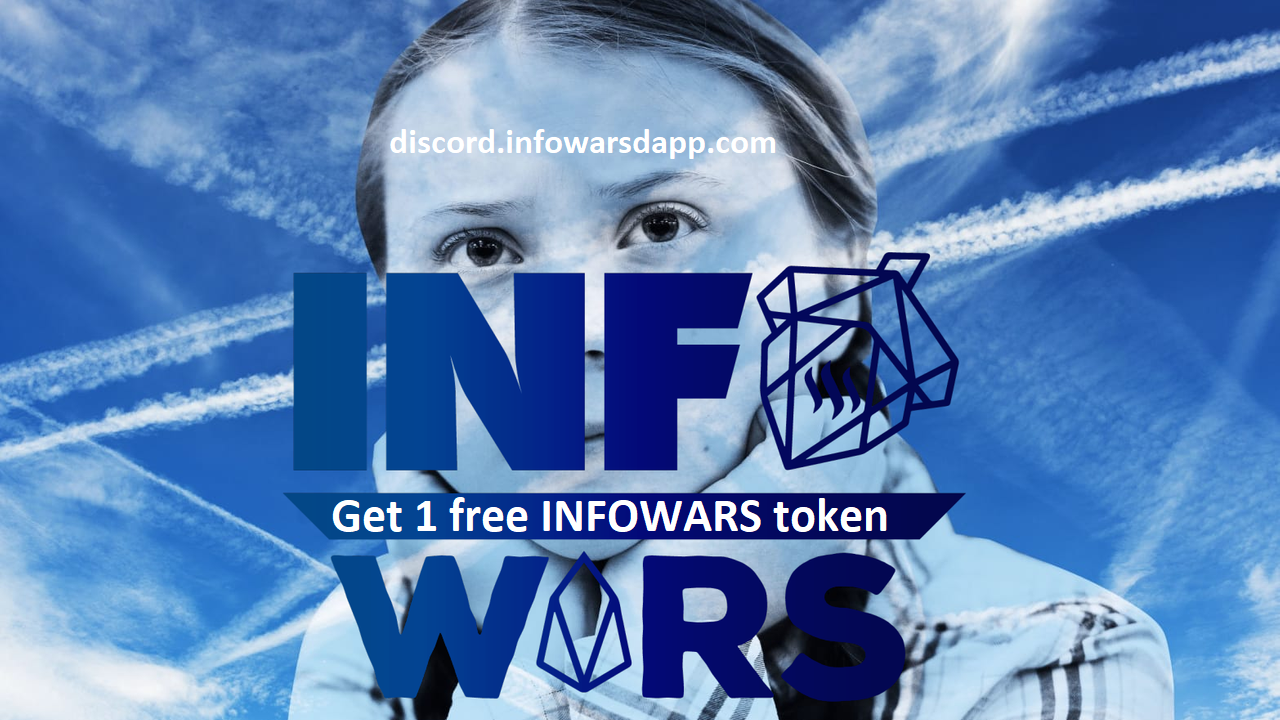 We can have a fully functioning network of infowarriors retooling for a 21st century fight. I am john conner and the time machine is about to be built and we have to get humanity ready with the tools to develop their own tribes, dapps, dacs and post on social media where they own their data, and where they own their own digital destiny! We can sell Infowars tokens to ALL of Alex Jone's WEALTHY listeners in the uSA and around the WORLD. A Newdex Listing will be a huge shock and get people coming to post on the tribe + a new telos based ScotBot is being discussed with @ackza and @holger80 who I hope to have respond to requests for a SCOTBOT based on a telos token for a telos main net based social media back end, for @eonwarped 's nitrous front end to plug into. We may need to simply ensure we have the right telos API nodes ready to go, with a teos token that has its keys plugged into scot bot, and we just need a special scot bot settings page for telos (and later more EOSIO ) tokens, so we can create our own eos based social media, telos based social media, and have people from the eos world invest millions of dollars into an actual global effort to bring an infowars @dtube or @threespeak or @vimm @vimm.tv stream online that runs 24/7 using all the content uploaded to a infowars dtube -- $140 or 1000 steem and we can add this to the infowars tribe (We also need delegation another 1000 eng, but once we have this, and pay the 2000 eng for eos-ex and 1000 eng for telos-ex we will be on steem eos and telos. i believe telos should be first for creating an infowars telos dac toolkit for free speech globally, country by country, and then an eos infowars newdex listing can allow us to make a huge splash in the mainstream crypto world.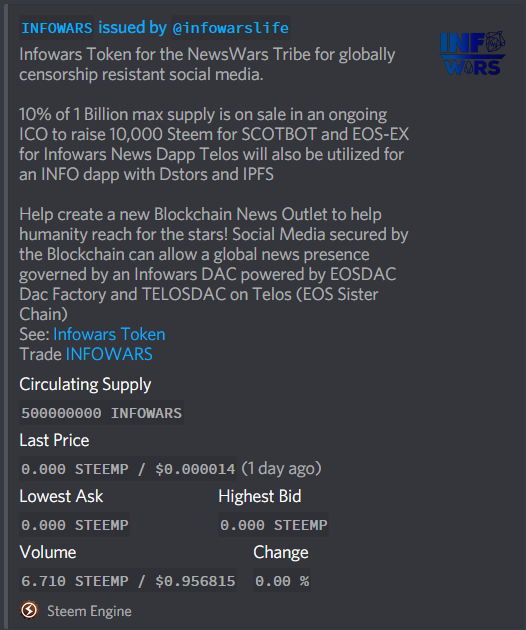 Come to the Discord and get 1 Free Token, or come hangout with others in the Telegram and help spread infowars to 1 billion users , not for Alex Jones but as a general Purpose Freedom of Speech Engine and Liberty protocol!
Soon we will have a very nice wordpress site with a description of the token and the dac and the future dapp. We will use infowarsdapp.com as our forum built on steem and we can even a progressive Web App to show our Nitrous Site, AND use @steempeak when we raise 1000 more steem to list infowars as a tribe on https://SteemPeak.com/tribes WHICh will be useful when steempeak is on mobile. For now you can still access infowars on steempeak here https://steempeak.com/trending/infowars