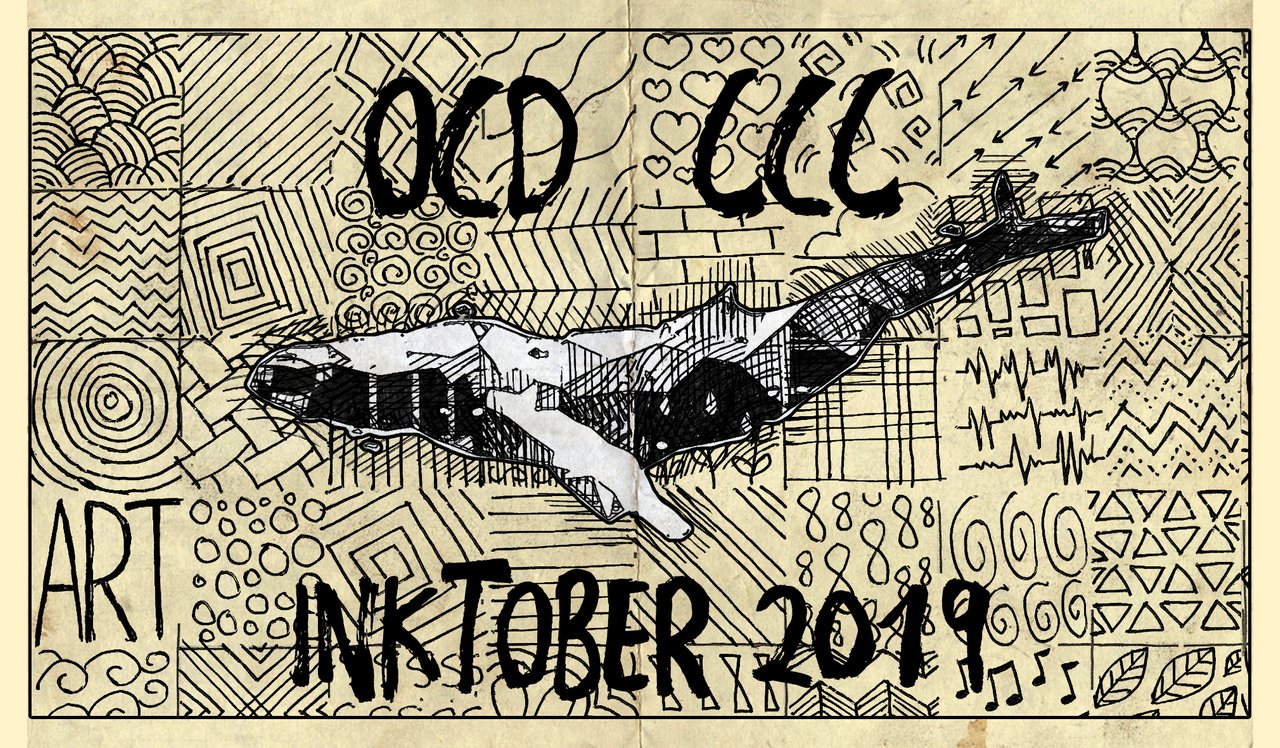 Welcome to OCD and CreativeCoin #Inktober 2019 Event!
Recognizing certain key events is a mark of a thriving platform and here at OCD/CreativeCoin, we are excited to encourage, promote, and reward quality engagements! From year to year, the annual event known as
#Inktober
has grown to be a global phenomenon and with it, artists from all over the world come together for an entire month of October to create. In turn, this creates a surge of energy, of excitement, and of activities across all the social media platforms.
We would like Steemit's visibility to rise through this event by encouraging participation and cross-posting of contents through artists' external blogs.
Inktober
What is Inktober?
Simply put, it is a challenge to all artists to draw every day for 31 days in the month of October. The drawing should include Inking element but both traditional and digital medias are welcomed. Inktober started in 2016 and it has continued to gain momentum year on year.
This is the official site: http://inktober.com
There is a list of 'prompts' that is released every year from the official site. For this particular event, OCD/CreativeCoin will only accepts artworks done with the official prompts.
For 2019, this is the list: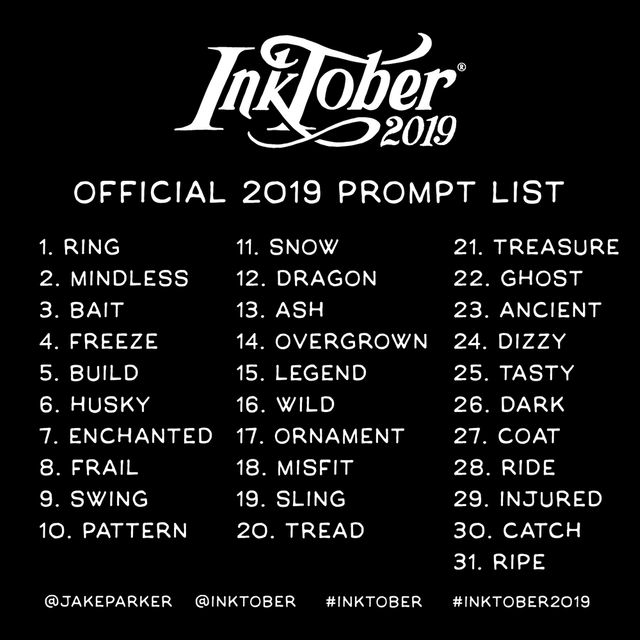 The Event – Daily Rewards !
To participate:
Create drawings using the daily prompts
Post your inktober piece daily on Steemit (or your preferred front-ends)
If you can include the Day number and Prompt word somewhere in your title, that'd be great!
Tag it with #inktober, #creativecoin and #oc
That's it!
OCD/CreativeCoin curators and judges will then browse the platform every day to collect your entries and winners will be announced daily !
But, wait, there's more!
If you choose to also cross post your Steemit post on your external / other social media and link to your Steemit post, you will have a chance to have an even bigger prize!
Just a couple of rules
Only original content (OC) with rightful ownership will be eligible to win. Any drawings that are traced, copied or based off an existing drawing piece can join the contest, but will not be picked as winners.

All the posts must include at least one (1) picture of the drawing process with the author's Steem username written on a piece of paper. This is to avoid any controversy and polemic regarding authorship, original content issues and any problem regarding abuse of this contest.
Prizes
For every day's topic, our judges will pick three winers. Those winners will earn a 40% @ocd+trail vote as well as 200 staked CCC (creative coins).
If a winner also crossposted their art on their other social media, then the prize will be a 50% @ocd+trail vote and 250 staked CCC (creative coins).
Judges
Meet your judges for the event :D !
The final call depends on the judges and there is no room for appealing on their selections. The judge's criteria to pick the winners will be:
Creativity and Originality
Presentation
Clarity of the theme
Overall impact
Final Gallery
At the end of the month, we'll have 93 outstanding pieces that will be part of the Steem's Inktober Art Gallery, more information about that in a few days.
Disclaimer
All the liquid rewards from every OCD post related to Inktober will be used for a final surprise at the end of the month, more info about that in a few days. All the Steem Power generated from the posts will go for the judging team, OCD won't keep any rewards from the posts.
Ten percent (10%) of this post rewards will be donated to the Steem DAO.
Good luck everyone! We wish a creative Inking for all the artists out there!