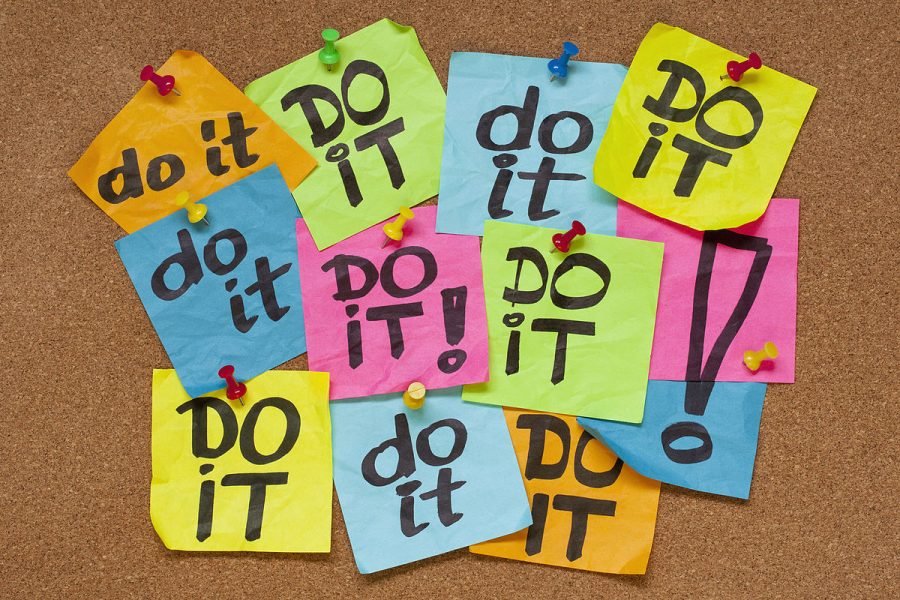 To stop procrastinating, turn off your phone and play white noise or music without lyrics to help you focus. Break your task into small chunks that you can tackle one by one and work hard for 15 minute intervals, giving yourself short breaks in between to help you stay on task. Aim to finish the task, not make it perfect—you can always fix it when you're done. Give yourself a quick pep talk to get you going and promise yourself a reward, like a sweet treat or funny video, when you're all done!
Stop punishing yourself for procrastinating. The more stressed out you are, the harder it'll be to get your work done. Don't be mad at yourself. Move on and focus on what you've got to do instead.
Guilt and regret are draining emotions. Wasting time yelling at yourself for not starting this essay two weeks ago will only make you extra tired and frustrated. This will make it impossible for you to finish your assignment right now.
Tackle your most important task for 15 minutes. Instead of thinking about the total number of hours you're about to work for, just start. Tell yourself you've only got to do it for 15 minutes. This will deal with the intimidation factor, and you'll likely spend much longer than 15 minutes on your task before you stop working again.
If 15 minutes still sounds too intimidating, do something for 3 minutes.
Once you come up for air, take a two-minute break. Then start up on another set of 15 minutes of work.
Break tasks down into small chunks. It can be overwhelming to think about finishing a whole essay or getting through an entire week's worth of tasks. Instead of thinking about everything you have to do as one big obstacle, break it all down into really tiny pieces. You'll be able to get started on the smallest crumb and go forward from there.
For example, instead of thinking, "I need to finish this essay by 10PM tonight," tell yourself, "I'm going to make a short outline, fill that in, and then look for quotes."
Consider trying a specific technique like pomodoro, where breaks happen at planned intervals.
Avoid making a long, disorganized to-do list. This is just setting yourself up for failure. Instead, create subcategories like "Home," "Work," "Family," and "Fun" and just try to cross off a few entries from each list every day.
Start your day with the hardest tasks. Make yourself a plan in the morning and pick the hardest task first. You'll be most energized in the morning once you've eaten breakfast and woken up fully. Tackle the hardest thing on your docket right then. You'll feel better once it's done, and then you can move on to a few easier tasks for the rest of the day.
Figure out when you are most motivated and alert and plan out your day so you use this time best. For example, if you're a morning person, do your toughest work right after you wake up. On the other hand, if you tend to be groggy in the morning, you risk making careless errors or frustration by going headfirst into a difficult task.
Give yourself a pep talk for motivation. "Self-talking" is a great way to calm yourself down, get focused, and meet your goals. Talk to yourself, using your name. Tell yourself that you can (and will) do this.
Self-talk by saying something like, "Jenny, I know this week has been hard and you're tired. You've written a million essays before, and you're going to rock this."
You can also ask yourself questions: "Jenny, why are you nervous about this? You know you can handle it."
Self-talk out loud if you can. It'll also work in your head if you're in a public place.
Aim for done over perfect. Imagining the perfect essay, assignment, or project could be what's holding you back. It's nothing at all if it's not finished, so abandon your vision (or fears) of the perfect product. You also can't fix what doesn't exist yet.
Promise yourself you'll get a reward when it's done. You're probably dreading the next however many hours you need to finish this task. Just tell yourself that when it's over, you get to celebrate with one of your favorite things. Use that anticipation to push yourself through the pain.