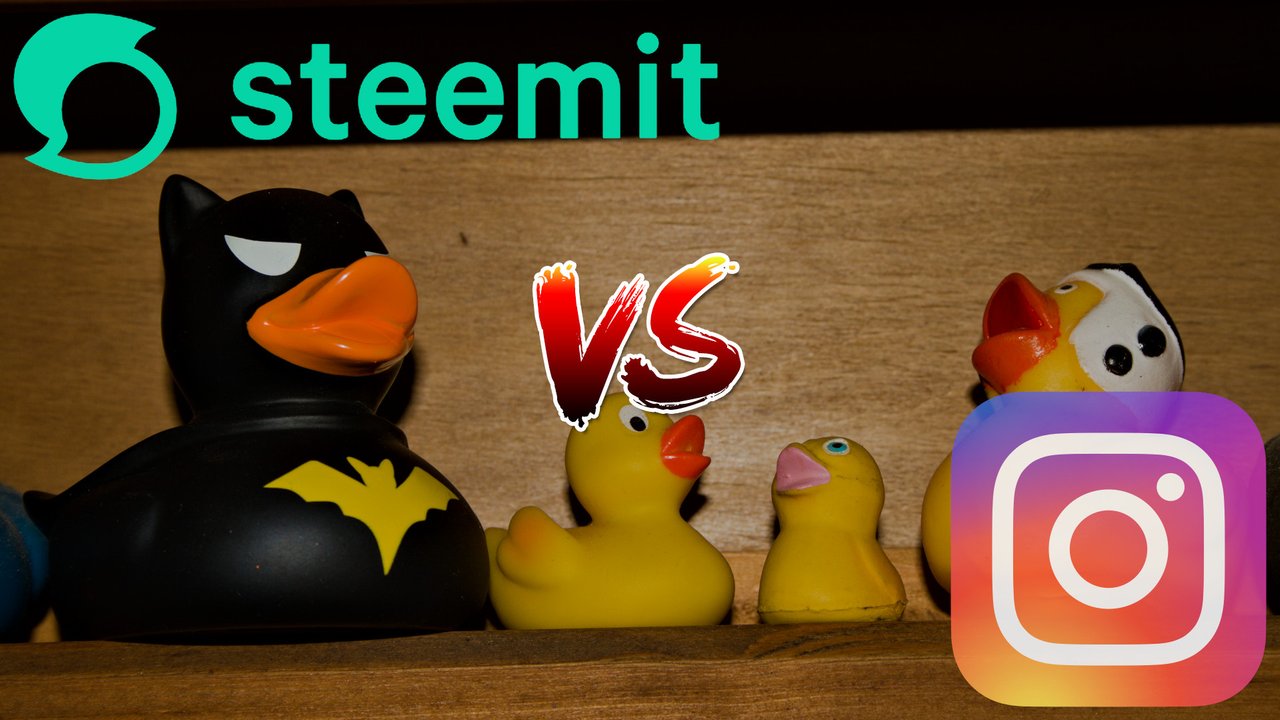 🥇🏆 Guess who's back? Back again. My break from Steemit + Instagram Interlude 💪😎👍
My break from Steemit
Is Steemit like the Batman Rubberduck, or should I say Rubber Batduck? Is it not the hero we need, but the hero we deserve?
You can stop reading now. After this epic build-up, the rest of the article will just disappoint you. 🙈😅
I started my Instagram account in November.
I was not active on Steemit for 7 months now.
This is a short update post without many details. One of the reasons I stopped posting on Steemit was that I didn't feel rewarded enough for hours of thoughtfully crafting articles. So this is what you get instead 😜. Not quite a shitpost, but not far from it either.
Yes, I'm very ungrateful. Yes, GaryVee told us to provide good content for free and expect nothing in return. Well, if I was in his position with that much money, it would be easy for me to say that too. 😇😜
(half-joking, half-complaining, fully self-aware 😅)
Old enthusiastic Me would write more interesting and helpful stuff on each topic... but this is my older, even wiser, but disillusioned Self writing. So just Google anything you wanna know in more detail. 😜🖖❤️
Oh by the way, on a side note, I heard that Google is preferring actual real valuable content. Their algorithm knows if a website/page/article is just filled with keywords for SEO optimization, or if it really speaks in detail about a topic. 🧐🤓 That's something that should be obvious but seemingly wasn't always in the past. Means less chance to game the system and more chances for good content creators...hooray! 👌
My Instagram Interlude
Welcome to the dark side of centralized social media 😈😅
I decided to share my personal amateur photography on Instagram. Approaching 900 followers now 🏆 💪😎👍 😅
This is from the perspective of somebody who hasn't accomplished shit on either platform, keep that in mind.
Basically, the two platforms are very similar (shocker! 😅)...(subjectively) quality posts don't get seen or upvoted. The organic reach is low everywhere. Okay, upon thinking twice about it - it's way better on Steemit.
I haven't tried promoting my content on Instagram yet, though. I don't see the value for a small personal page like mine. On Steemit I can promote through bots so it's a win-win situation - get more reach AND get my money back partly. Kinda like eating my cake and having it too 😅.
That's just my rather uninformed opinion. I didn't put that much effort into growing my account or genuinely trying to interact with people on Instagram. You know, the thing that puts the "social" into Social Media. What I did do: some following of users with similar content, (a lot of) liking their content and a little genuine, warm-hearted commenting. No automated stuff, all manually - except unfollowing those who don't follow back or don't interact with my content. The last week I've gained a few hundred followers using this method, with a time effort of maybe an hour a day. Probably not really worth it, but I wanted to try this just for fun and for the experiment's sake.
So my conclusion is
Just posting my stuff (decent amateur pictures with witty caption text) is not enough to grow (considerably/at all).
After a few days without posting anything, my follower count started to decrease. Maybe the decline stayed the same with the difference that no new people followed me, which makes a net negative. I should investigate that 🧐😅
I'm having fun with the process itself. Taking pictures, editing them, writing funny captions, ...so I'll probably keep doing it for a while.
My photography and editing skills have improved a decent bit in my humble opinion.
Here are some changes I made:
Using GIMP over Paint.NET: Both are free and are extendable through plugins, of which there are quite a lot. Paint.NET is easier to use, GIMP's learning curve is steeper. GIMP wins because of its bigger function range, with almost the power level of photoshop. Also, it's Open Source.
Shooting in RAW over JPEG format
Using Manual mode over automatic camera presets
I'll also start sharing/cross-posting some of my pictures from Instagram to Steemit in the upcoming days/weeks.
Any feedback is highly appreciated!
Let me know what you think...general thoughts, tips, tricks, questions, advice, funny comments, disses, bashes, whatever!
By the way
There will be a big announcement soon, so make sure to follow me on Steemit to stay up to date!
Thank you to everybody 😘.
Have fun and stay awesome! ❤️ 🖖
---
| Follow me: |   |
| --- | --- |
| | 🔥 Taste my wisdom 🧙‍♂️. ✍️ Articles about life, philosophy, travel, tutorials, gaming, videos, live streaming, development, meta-blogging, photography, and more... |
| | 📰 Wanna stay up to date? Twitter is the best place for quick and short announcements. |
| | 📷 Posting at least one of my own pictures a day. Topics: Everything and nothing, and all the things in between. |
| | 🎞️ 🥇 Watch my best gaming moments. Highlight clips, videos & live streams. |
| | 🎮 ✌️ Watch me live stream games like Heroes of the Storm, Hearthstone, Minion Masters. Hang out, say hi! |
| | 🤝 ⁉️ Subscribe to my Subreddit. Discuss anything. |
| | 🗣️🎙️ 🔉👂 Join my Discord server. Come have a chat, let's play some games or talk about anything. |