Andreas M. Antonopoulos is a speaker, an educator, and one of the world's most respected Bitcoin entrepreneurs and blockchain experts. Andreas is author of books like Mastering Bitcoin, The Internet of Money and Mastering Ethereum.
In our interview, we were also interested in his view on social networks on a blockchain, such as Steemit.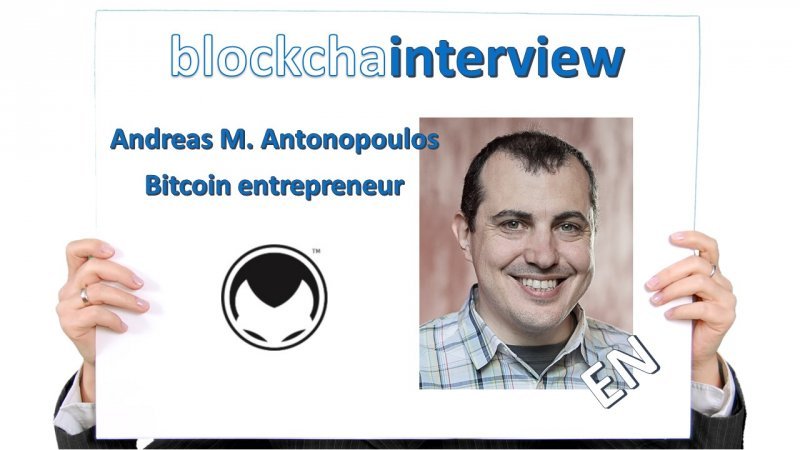 Hello Andreas, thank you for joining our interview. Let's go straight ahead. What do you think could be the biggest threat for Bitcoin?
I think the biggest weakness that Bitcoin has, is that the base layer blockchain is insufficiently private. It does not have strong enough privacy and anonymity guarantees. If you are trying to build a currency on top, that threatens the currency's fungibility.
What is fungibility?
In a system of money, it is important that you are not able to distinguish between units.
Imagine if I am holding a 1000 Czech crown paper bill and go to a store. And I want to buy something with this paper bill and the storekeeper will tell me: "Do you have any other 1000 Czech crown bill?". I could ask why.
"I don't know. The serial number starts in a number four and I don't like that. I want a bill with a serial number that doesn't start in a four. Do you have another?" They can't do that. In fact, it is illegal to do that. They must accept my 1000 Czech crown bill as being the same as any other. They can't even say, "The corners are a bit creased. This bill is only worth 950 Czech crowns."
But why is it a problem?
If you had that kind of situation with Bitcoin, it would be a problem. You might receive Bitcoin from someone who received it from another person, and that person received it from someone, who stole it from Mt. Gox. Then some exchanges can say, that they don't want this Bitcoin and they may even shut down your account. That might be a big problem.
Do you see it already happening, the problem with some Bitcoins being different?
No, not at the moment. I don't think we´re seeing significant signs of that, although there are some cases where people pay extra for Bitcoin who is newly mined versus Bitcoin that has history. But its not really significant threat at the moment.
Do you think fiat onramps and offramps can be a problem? Because here in Czech, most banks don't allow people sending money to crypto exchanges. If governments tight up KYC and AML policies, then they can make for an average person more difficult to reach their own financial independence.
I do think that the onramps and offramps are the only place, where governance can play pressure. That's the common place for them to play pressure and it's the only place where banks can exercise anticompetitive behavior and governments are allowing them to do that.
But for me, I think, crypto is something that should be seen more as a currency unless an investment, so I would like to see more people earn crypto by producing their labor, services or products rather than buy crypto on exchange for fiat.
And I think the more governances and banks put pressure on onramps and offramps, then more likely people are to use their labor to get crypto and also stay in crypto instead of switching back and forth.
What is your opinion on social networks on blockchain like Steemit, while they might be censorship resistant in some way?
It´s great idea to monetize content creators, and also to own your own data.
But I am skeptical to them having separate chains to do that. Because they are problems with using utility tokens. They can have limited liquidity; they can have problems with maintaining high level of security and some other issues.
Is cashless society potential problem in a future? It gives governments and banks more power over people.
Cashless society is fascist society! It will be a problem, crypto can solve it. Every government, which will force people to stop using physical money and using only electronic money has fascist behavior.
Is it a privacy problem?
Yes, of course. You can see that freedom is decreasing all around the world.
So, would you say it's a paranoia to accumulate private coins and use CoinJoins?
It´s not a paranoia. We need our freedom; we need our privacy.
Is deflationary character of Bitcoin a problem? While the value will be increasing over time, people will not use Bitcoin, they will only HODL, right? Well, it can still be just store of value and the transfer of value can be solved with different cryptocurrencies.
I think deflationary system is not a problem. It prevents wasting money for unwanted plastic stuff. It can make people more safe money than wasting it for stupid things.
I like to use Bitcoin. Actually, I use it every day. I pay for goods. I pay for a coffee. I pay to my employees. I really like to use peer-to-peer digital currencies in my daily life.
What are your next steps, do you plan to write another book? What will be about?
I will publish my next book in August this year, I don't want to say more before it. Wait for it, it will be very soon.
Are you planning to visit the Czech Republic again? Do you like the idea of Paralelní Polis – a place where you can pay with crypto only?
I love Paralelní Polis in Prague. I have been there several times.
I don't have plan this year to visit the Czech Republic, but next year I would like to come.
Thank you for your time, Andreas!
---
You can follow work of Andreas through his Twitter account or YouTube Channel, where he is spreading his thoughts and explanatory information.
Interviews such as this one you can find in webpage blockchainfo.cz.

---
And a few questions for you, I would love if you spread your word down below this article:
What is your opinion about the cashless society?
What do you think of Bitcoin with privacy on a base layer? Do you think it's necessary?
Do you agree with Andreas on his opinion about Steemit and other social media on the blockchain?