Would you read my story to discover why I join steemit, what I will be posting and what I'm doing?
My friend sent me a link to Mr. Jerry Banfield video on Youtube, btw Jerry if you are reading this, You are great and I read Your posts everyday especially those for dummies and beginners (haha). But where we ended, oh yes on the You Tube video, so I think yeah another big thing to earn money and do nothing (my friend likes such things, I don't know why o.O), but he keeps texting me about that, so I look at it. I was shocked how amazing the steemit community is. So many talented and ambicious peopel around here and I think to myself "This is the right place for me". So I register........ and I waited......... a week to sign up (I'm a little bit of "can't wait" when I like something). I'm very curious, because maybe I will learn something new here, maybe I will see something new or someone's passion will interest me, who knows? But enough of that, now I will properly introduce myself and tell You a glimpse of my life. Of course I can't tell all, for now :)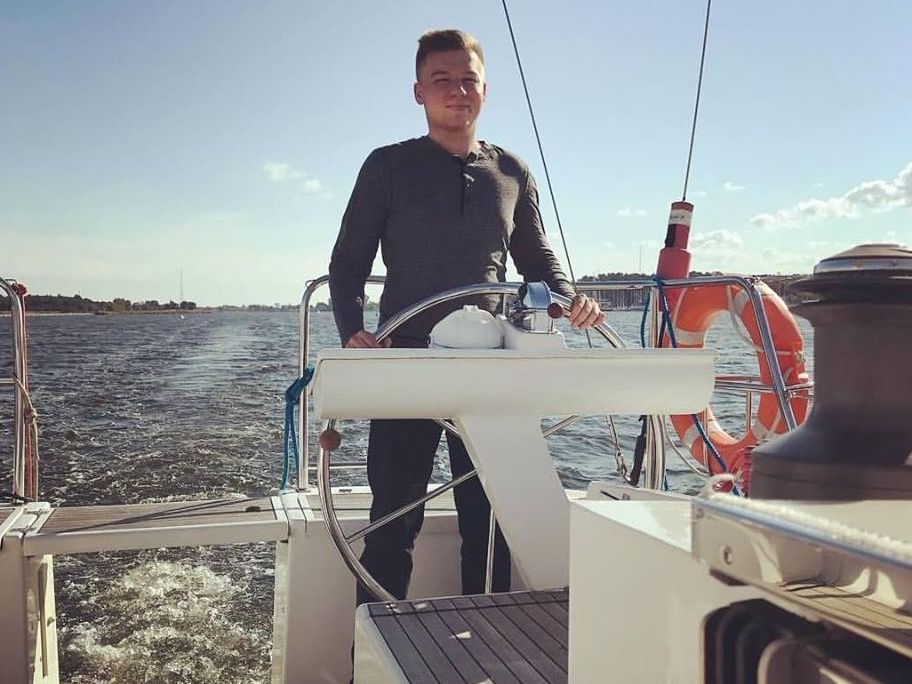 That's me on Baltic sea (I love the sea and beaches)
My name is Wojciech, I come from Poland and more precisely from the city of Łódź. I joined the Steemit community literally by my annoying friend. I'm 22-year-old guy, studying Management Engineering at the University of Technology in Lódź, but besides of this I've been running my own coffee project (I love coffee) for over 1.5 years. It is a very hard job, especially when you start with 600 PLN in your wallet or about 174 USD. I will say straight away that in Poland it is NOTHING. Even to legally set up a company, you don't have enough money, but from this small amount everything started. Also I'm investing in shares of foreign companies, My favourite for now is SkyWay Capital (very innovative idea of future public transport. Later I will make post on it). I like boats, sailing, I'm writing my own book (Sci-fi), I have my own scientific publication written in Polish for the Faculty of Chemistry of the Lódź University of Technology on the subject of "Self-cleaning surfaces". I'm very positive about life despite my very difficult beginnings. I have fallen and lifted up many times in my life and continue to do so. It is important to never stop moving forward. I surely sounded like a motivator (haha). Believe it or not, but few years ago I wasn't so outstanding and I often escaped from the tram because there were too many people in it.... sometimes I still do it but let it remain our little secret (haha).
If you want, you can find me on:
Facebook - https://www.facebook.com/wojciech.zalech
Instagram - https://www.instagram.com/cpt.zalech

If you wanna look how I designed and created my website and e-shop, links below:
Main website - http://www.essenceint.eu
eShop - https://www.essenceintshop.eu
Facebook - https://www.facebook.com/essenceint.eu
Instagram -https://www.instagram.com/essence_international
They are in Polish but I will add English version because of my customers.
Moving on, I would like to post good and valuable content, but as everyone I will need some time to learn, so be ... merciless xD. Each additional note, suggestion is valuable and teaches something and nothing turns me on like the development of myself. Mainly I would like to show you what I'm doing, what drives me, what interests me, what kind of victories I have, what failures (the best teachers, "true story bro") and what I draw from them. How I dealt with difficult situations, what helped me to get through, how I support my friends, what I love to read, how I prepare for business meetings or talks with investors of new projects (I mentioned that I will be starting 2 new companies for people of my city, no? So more on that later), but the most important is, how did my path look like from this one small decision, when they dumped me from my first studies, then from my work, a girl left me and just died my grandfather and all in one day. Truly the worst and the best day of my life. I got the best possible advice from my grandfather in the hospital that grandchildren can get and therefore I will be always grateful for it.
I want to post it, not to show off what I have, but mainly I would like to focus here on the fact that, if my path will motivate You to change something in your life for a better, then I will be very happy about it. Because I know how much strength and work I needed to put in to achieve all what I have now. Which is why I will be happy to help, and if you have any objections to do something, I can be the first person to kick You in the ass, because sometimes this is the one thing that We need to move forward (and I say this from experience of my own).
I hope you will visit me often. Stay warm, because we have -10 degrees in the sun and I wish everyone a nice day.
Love,
Wojciech